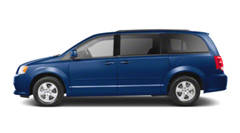 DODGE Grand Caravan (or similar)
(European equivalent = Renault Espace)
Class: G (MVAR ot SVAR)
Max. seating capacity:
7
(4 adults + 3 children)
Luggage capacity: 4 pieces
Total trunk size: 17.5 cu. feet (496 litres)
Number of doors:
4
---
Engine: 6 cylinders
Fuel consumption: 12.9 litres / 100 Km
Accessories: AM/FM Radio, CD player, air conditioning, power windows and locks
NOTE: All rental cars in Canada have automatic transmission. Don't hesitate to ask the rental agent for driving instructions.