Adresse
5920, River Road P.O.Box 808, Niagara Falls, (ON) - Voir la carte
Détails
Durée : 30 minutes
Départ : Toutes les 15 minutes
Horaire : 9h45 à 16h45
Saison : 1er mai au 24 octobre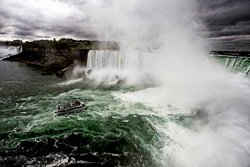 Ne manquez pas cette excursion historique et incontournable, à bord du fameux bateau Maid of the Mist, de réputation internationale!

Depuis 1846, des millions de visiteurs se sont laissés emporter par les puissants bateaux naviguant sur les eaux turbulentes et les chenaux rocailleux à la base de la chute américaine et de la magnifique chute en fer à cheval canadienne.

Rien n'est plus excitant que de se faire arroser par les eaux tumultueuses dans le bruit infernal des chutes. Une demi-heure à vous donner des frissons!

Bonne croisière au pied des chutes les plus puissantes d'Amérique du Nord!




Tarifs
chargement des tarifs...
Localisation
Avis des Voyageurs