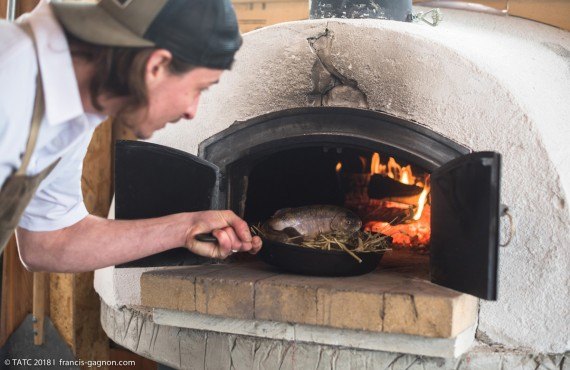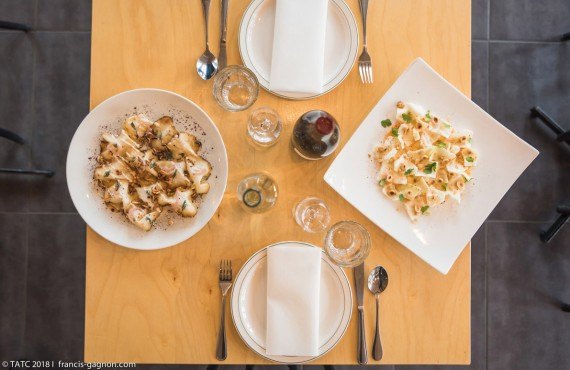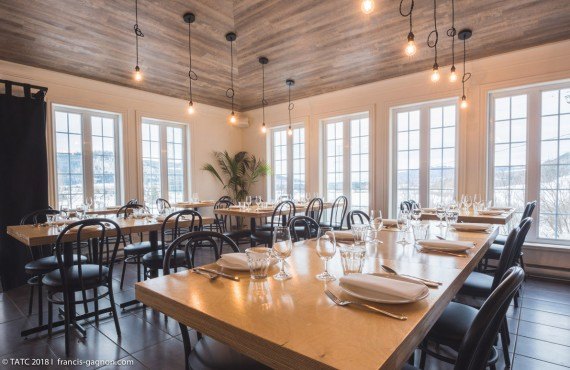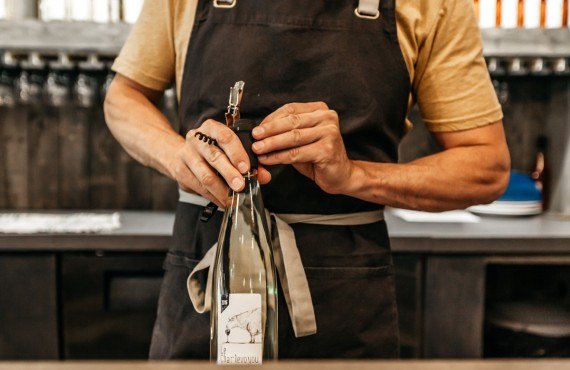 Description
Duration: About 2 - 2 1/2 hrs.
Season: Year-round (Thursday to Monday in summer; Friday, Saturdays and school holidays in winter)
Reservation time: 6:30 p.m.
Service schedule: 7:00 p.m.
Location: Faux Bergers (Baie St Paul)
Located on the premises of the Maison d'Affinage Maurice Dufour cheesemaker, come enjoy a true Charlevoix culinary experience, and discover sophisticated instinctive cuisine that showcases the terroir specialties of local Charlevoix producers.
With their custom-designed vertical rotisserie and bread oven, Sylvain Dervieux and Emile Tremblay offer a modern country-style dining experience in the form of a 6-course tasting menu.
Welcome to Faux Bergers and bon appétit!
* A lunch menu is also possible. Ask your travel agent for more information.
Rates
Season
Adult
12 to 15 yrs old
5 to 11 yrs old
0 to 4 yrs old
2023/06/09 to 2023/06/12
2023/06/15 to 2023/06/19
2023/06/22 to 2023/06/26
2023/06/29 to 2023/07/03
2023/07/06 to 2023/07/10
2023/07/13 to 2023/07/17
2023/07/20 to 2023/07/24
2023/07/27 to 2023/07/31
2023/08/03 to 2023/08/07
2023/08/10 to 2023/08/14
2023/08/17 to 2023/08/21
2023/08/24 to 2023/08/28
2023/08/31 to 2023/09/04
2023/09/07 to 2023/09/11
2023/09/14 to 2023/09/18
2023/09/21 to 2023/09/25
2023/09/28 to 2023/10/02
2023/10/05 to 2023/10/09
2023/10/12 to 2023/10/16
2023/10/19 to 2023/10/23
2023/10/26 to 2023/10/30

£

89

£

43

£

35

£

0
* It is also possible to have lunch at the restaurant with a surprise menu and a faster service (about 1 hour for lunch). For more information, contact your counsellor.
Location
1339 Boulevard Mgr de Laval, Baie-Saint-Paul, (QC)
Travel reviews
nice discovery
(Translated by Google) We had a wonderful evening. The dishes were in perfect harmony with the wines presented by Emile and Tonny, our hosts and entertainers for the evening. The 2 cooks (I forget their names) are exceptional in the way they create their dishes and present them. Kudos to this great team. To do
quality/quantity/price to be reviewed
(Translated by Google) We imagined tasting typical dishes of the region. The dishes are certainly original, but rather refined and "new cuisine" oriented. Very expensive in the end to be hungry after the meal.
Good but....
(Translated by Google) so yes it is a very beautiful setting and I adhere to the principle of plate sharing...but still the portions are very small. until the main course which is correct. but everything is good and very fine. the wine/dish pairings were really of a high quality.