MOST UNITS PUT IN SERVICE IN 2010 AND 2011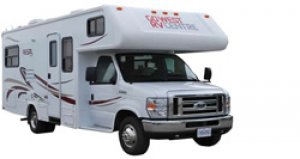 MAXIMUM CAPACITY


2 adults and 2 children*
*Child = under 12
SPECIFICATIONS
Class C motorhome
Ford engine

Length: 22 - 24.5 ft. (6.7 - 7.5 m)
Width: 8.2 ft. (2.5 m)
Interior height: 6.5 ft. (2 m)
Power steering, power brakes


Cruise control


Fuel capacity:
55 gal. (209 L)
AM/FM radio with CD player

SLEEPING SPACE
Beds
1 rear double bed,

4.5 x 6.2 ft. ( 1.35 x 1.9 m)

1 double overcab bed, 5 x 6.5 ft. (1.5 x 2 m)
1 dinette bed, 3.2 x 5.9 ft. (1 x 1.8 m)
SUPPLIER

---

FEATURES
Dash and roof air conditioner
Fresh water tank: 30 gal. (114 L)
Grey water tank: 64 gal. (243 L)
Black water tank: 64 gal. (243 L)
Hot water 6 gal. (23 L)
Propane tank: 17 gal. (66 L)
Propane furnace
Toilet, vanity
Inside and outside shower
Fridge with freezer
Propane stove
Microwave
---
BEDDING (OPTION)

Duvet and/or blanket
Pillow & pillow case
Bed sheets
Bath towels
---
KITCHEN EQUIP.
(OPTION)
Plates, cups and glass, kitchen ustensils, steak knifes, set of pots and pans, frying pan, set of bowls, meat platter, can opener, cork screw, whisk, spatula, 2 carving knives, peeler, serving spoon, cooking spoon, cutlery tray, cutting board, kettle, 2 tea towels, pair rubber gloves, sieve or strainer, broom and dustpan, flashlight / tool set, fire extinguisher, pair of scissors, waste basket, axe, cleaning cloth, first aid kit, pot holder set, small bottle dish soap.
---
FLOOR PLAN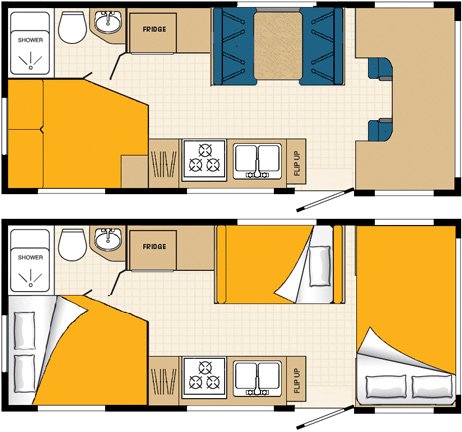 IMPORTANT NOTE: Actual layout may differ from that shown in the floor plan. There are several types of vehicles for any given category.
---
PHOTOS