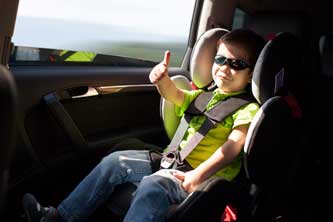 For convenience and peace of mind when travelling with your child, we strongly suggest that you bring your own car seat.
First, most airlines will let you check a car seat with your luggage, free of charge
Second, you know how to fasten your seat securely, and your child is comfortable in it. You should also be aware that, for insurance reasons, car rental agents are not allowed to help you install a rented car seat.
Finally, with a rental cost of about $8 per day, you will save money by bringing your own seat.
Canadian regulations
A new Quebec Highway Safety Code measure comes into effect on April 1, 2019. In general, Canadian law requires that a child be at least 145 centimetres tall or at least 9 years of age before wearing the seat belt alone.
Infant seat: from birth to at least 10 kg (22 lb)
Child seat: child weighing 10 kg (22 lb) to 18 kg (40 lb)
Booster seat: minimum of 18 kg (40 lb) and until the age of 9 and a height of 145 cm

It is also strongly recommended that children aged 12 or younger always sit in the back seat. This is the safest place for them, since they are seated as far away as possible from the points of impact in the event of a head-on collision.
For more information on differences in child seats and regulations, we invite you to consult those road safety websites of the canadian provinces:
---
RELATED TOPICS