Details

Sheraton on the Falls is a contemporary four-diamond hotel with stunning views of Niagara Falls.
Located directly across from the Canadian and American Falls, in the heart of the Fallsview district, this world class hotel is the cornerstone of the largest indoor waterpark, hotel and entertainment resort in North America.

With its direct indoor connection to Casino Niagara and Fallsview Indoor Waterpark with 3 acres of water fun for the entire family, this hotel is the ideal vacation destination for all ages. The Sheraton is located on the 20-acre Falls Avenue Resort, offering direct access to Adventure City, Rainforest Café, Hard Rock Café & Club, MGM Studio Plaza, and the famous Hershey's Chocolate store.


ROOMS
After an enjoyable day with friends, family or that special someone, relax in the warm comfort of a Sheraton guestroom, now 100% smoke-free. Your "Superior Falls View" room offers the following amenities: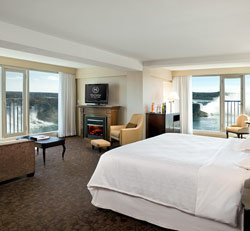 * View of the Falls
* Sheraton Sweet Sleeper™ bed
* Bi-level suite
* 100% smoke-free rooms
* Coffee and tea maker
* Iron & ironing board
* Balcony
* Wet Bar
* In-room movies
* High-speed Internet
* Telephone
* Cribs
* Hair dryer
* Wakeup service
* Alarm clock radio
*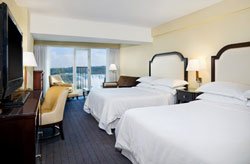 Air conditioning
* Cable channels
* Fireplace
* Turndown service
* Office desk
* Garden-view rooms
* Room service
* Housekeeping
* Refrigerator
* Rollaway beds
* Accessible rooms for guests with disabilities


SERVICES AND AMENITIES
Combining the best views of Niagara Falls with world-class amenities, Sheraton on the Falls offers exceptional recreation options for your enjoyment. A one-of-a-kind spa offers a full range of spa treatments, massages and packages in treatment areas directly overlooking the falls (all treatments are payable on location). Pamper yourself while enjoying the wonder of the Falls through floor-to-ceiling windows. The hotel also has an indoor heated pool and a fully equipped fitness centre.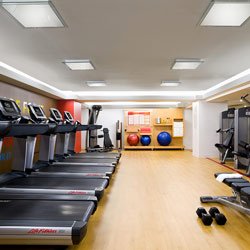 * 100% non-smoking rooms and facilities
* Fitness centre
* Spa
* Currency exchange
* Dry cleaning
* Laundry service
* Smoke detectors
* Safety deposit box
* 24-hr security
* Water slide
* Nearby golf course
* Car rental service
* Dispensers
*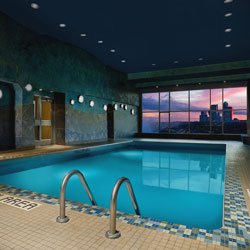 Wheelchair access
* Ice machine
* Floral Service
* Multilingual staff
* Luggage storage
* Wakeup service
* Bellhops/porters
* Babysitting
* Concierge service
* Business centre
* 24-hr front desk
* Shops
* Solarium
* Tour desk
* Casino
* Parking
* Indoor heated pool
* Fallsview indoor water park
* Outdoor heated pool

* Some services and facilities may not be available 24/7 or without prior request, and/or may be subject to extra charges.


RESTAURANT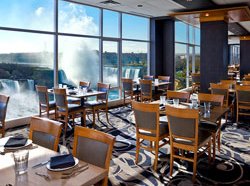 Sheraton on the Falls is home to the world-renowned Fallsview Buffet, featuring breathtaking views of Niagara Falls and a sumptuous 24-metre five-star buffet. Open for breakfast, lunch and dinner, the Fallsview Buffet is the best place in town to enjoy a meal with a view.
For the convenience of its guests, the hotel also has a Starbucks in the lobby and a lounge and piano bar overlooking the Falls.
Rates
from

$

90

* Rate per person
* Extra charges apply on weekends and holidays

* Prices include:
- A night's accommodation in a superior room with a view of Niagara Falls
- Buffet breakfast
- Tip and applicable taxes.
Location