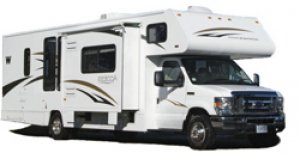 MAXIMUM CAPACITY


4 adults and 2 children*
*Child = under 12

* 1 child seat can be installed in this vehicle.

SPECIFICATIONS
Chassis/engine: Ford V10
Fuel consumption (approximate): 25 L/100 km
Length: 30.2 - 32.4 ft. (9.20 - 9.86 m)
Width: 8.3 ft. (2.52 m)
Interior height: 6.5 ft. (1.98 m)
Automatic transmission: 4 speed overdrive
Fuel capacity: 205 L
Cruise control

Tilt steering wheel

Power steering, power brakes
AM/FM radio with CD

SLEEPING SPACE
Beds
1 double overcab bed, 4.5 x 7 ft. (1.37 x 2.13 m)
1 rear double bed, 4.5 x 6.3 ft. (1.37 x 1.93 m)
1 dinette bed, 3.6 x 6.0 ft. (1.07 x 1.68 m)
1 sofa-bed, 3.6 x 5.5 ft. (1.07 x 1.68 m)
SUPPLIER

---

FEATURES

Dash and roof air conditioner
Fresh water tank: 150 L
Black water tank: 101 L
Grey water tank: 142 L
Propane tank: 69 L
Shower + hot water
Flush toilet
Refrigerator
Microwave, stove + oven
Propane furnace
---
BEDDING (OPTION)

Duvet and/or blanket
Pillow & pillow case
Bed sheets
Bath towels
---
KITCHEN EQUIP.
(OPTION)
Kettle, pots and pans, draining board, plates, cutlery set, broom, coffee cups/glasses, hand towels/dishcloths, mixing bowls, salad bowl, assorted kitchen utensils, steak knives, colander, can opener, corkscrew, cutting board, food savers, coffee filter & thermos, teapot, basic tool kit, flashlight, axe, lawn chair, instruction manual, road maps/directions, bucket, extra dinner set (guest), dustpan, clothes hangers and clothespins .
---
FLOOR PLAN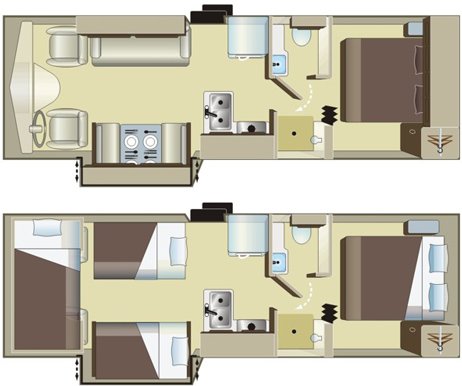 IMPORTANT NOTE: Actual layout may differ from that shown in the floor plan. There are several types of vehicles for any given category.
---
PHOTOS