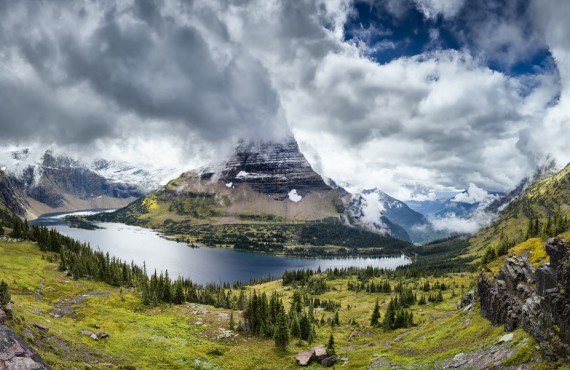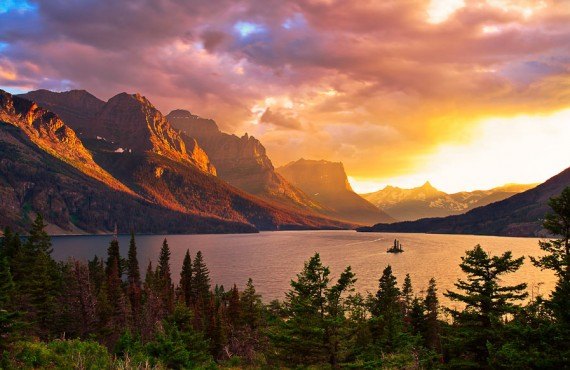 When to visit
Very Favourable
Favourable
Unfavourable
| Jan | Feb | Mar | Apr | May | Jun | Jul | Aug | Sep | Oct | Nov | Dec |
| --- | --- | --- | --- | --- | --- | --- | --- | --- | --- | --- | --- |
| | | | | | | | | | | | |
What to do
Noteworthy
Worth the detour
Must see
Glacier National Park, one of the great national parks in the American West, is so vast... that it stretches across the border into Canada, under the name of Waterton Lakes National Park! It is important not to confuse Glacier National Park in Canada, which is located near Revelstoke, BC, with Glacier National Park, Montana. The latter is by far the more impressive of the two.
What makes this park exceptional is the primitive and unspoiled beauty of its landscapes. Since being established as a national park in 1910, special attention has been made to preserving its natural ecosystem. More than one hundred years later, these efforts allow visitors to enjoy a truly exceptional experience.
Many Native Americans still call the park "the Backbone of the World" in recognition of the immensity, solidity and awe-inspiring nature of its landscapes. Since the 19th century, Glacier National Park has also come to be known as "the Crown of the Continent". Given its northern location and its jewel-like beauty, it is easy to understand the inspiration for this name.
Glacier National Park features 25 glaciers, more than 700 lakes and dozens of hiking trails for exploring the beauty of nature. Its smaller Canadian section, Waterton Lakes National Park, offers an ideal habitat for a wider diversity of wildlife than can be found anywhere else in the Rockies. If you are lucky you may see wolves, coyotes, cougars or bears. Keep your distance and try to capture the moment with your camera.
On the Canada/USA border between Glacier and Waterton Lakes parks lies the Waterton Glacier International Peace Park, a UNESCO Historical Site. To visit the peace park, you will need to check the border crossing operating hours.

AUTHENTIK TIP
Watch out for the valley's natural inhabitants: it is important to remember that deer, coyotes and bears are part of the landscape. Drive slowly, especially in the vicinity of wildlife. You will better appreciate the scenery and avoid causing any unfortunate accidents. As a preventive measure, do not leave food in your vehicle.
NOTE: National Parks require an entry fee. If your trip is starting here, consider purchasing an Interagency Annual Pass for $80. This pass allows up to four adults (aged 16 and over) in a single vehicle to enter an unlimited number of American national parks for a period of 12 months. Children under 16 are admitted free of charge.
Where to sleep ?
Road trip
Location
Climograph
Very Favourable
Favourable
Unfavourable
Month
Average temperature
min (°C)
Average temperature
max (°C)
Precipitations
(mm)
Overall score
January
-11
-1
43
February
-8
2
30
March
-6
5
46
April
-2
11
54
May
3
15
88
June
6
20
110
July
8
25
34
August
7
25
34
September
5
20
48
October
1
12
46
November
-4
5
41
December
-9
0
46