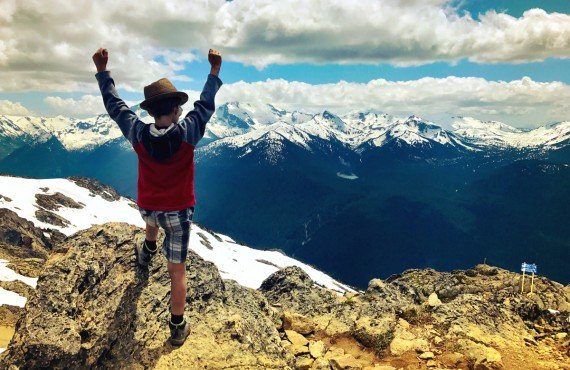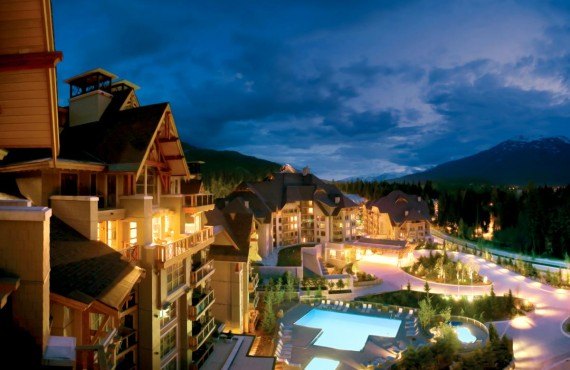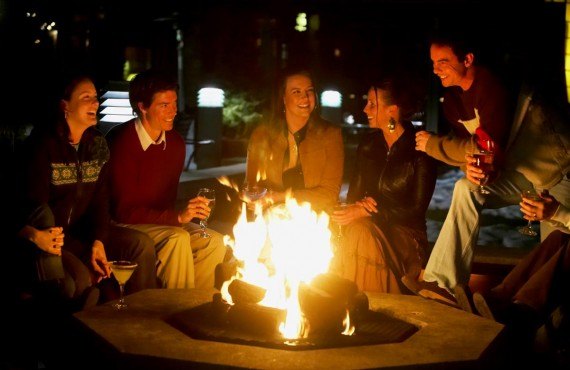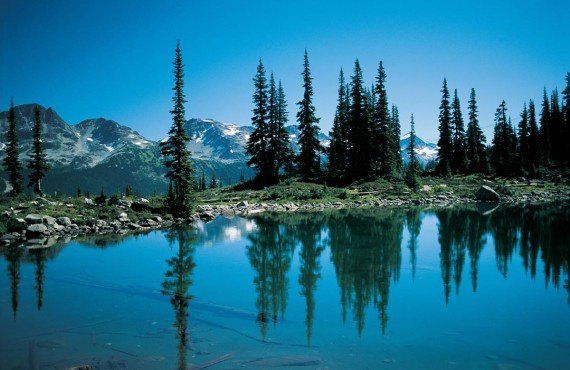 When to visit
Very Favourable
Favourable
Unfavourable
| Jan | Feb | Mar | Apr | May | Jun | Jul | Aug | Sep | Oct | Nov | Dec |
| --- | --- | --- | --- | --- | --- | --- | --- | --- | --- | --- | --- |
| | | | | | | | | | | | |
What to do
Noteworthy
Worth the detour
Must see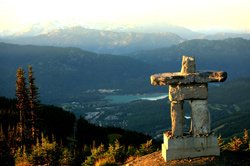 Whistler is a resort town about two hours from Vancouver. Nestled high in the southern Pacific Ranges of British Columbia's Coast Mountains, Whistler offers exhilarating outdoor adventures and activities year-round and is one of the most popular tourist destinations in Canada.
Best known for its world-class ski slopes, Whistler also boasts golf courses, tennis courts and many hiking trails with magnificent views of the surrounding mountains.
WHAT TO DO
* = Interesting ** = worth a detour *** = worth a trip
Whistler Village**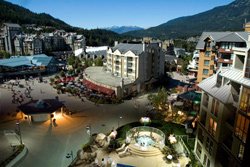 Located at the base of Whistler and Blackcomb Mountains, Whistler Village is the central neighbourhood of the town of Whistler. There's always something to see and do, and the sights and sounds change with the seasons. With its magnificent scenery and panoply of outdoor activities of all kinds, the Village will be your gateway to adventure! Relax and enjoy the friendly Whistler atmosphere and unique mountain culture!
Picnic at Lost Lake Park*
Situated around tranquil Lost Lake, this secluded park offers a sandy beach, pristine swimming waters and more and is within walking distance from Whistler Village. It is a perfect place to recharge your batteries or to enjoy a quiet picnic. After lunch, hike one of the many trails and drink in the spectacular mountain scenery.
Seaplane tour**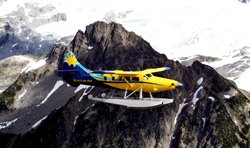 Enjoy a bird's eye view of breathtaking Garibaldi Provincial Park. This scenic flight will take you over majestic glaciers, dizzying mountain peaks, volcanic formations and alpine meadows surrounding the turquoise waters of Lake Garibaldi. And if you watch carefully, you may spot a wandering black bear feeding on wild berries, or mountain goats looking for a salt marsh. This is sure to be a high point in your Western Canadian adventure!
Peak 2 Peak Gondola*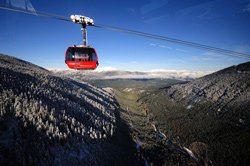 The Peak 2 Peak gondola, which links Whistler and Blackcomb Mountains in about 11 minutes, is not your average gondola ride. A feat of engineering, it boasts the longest unsupported lift span in the world (3.024 kilometres) and is the highest lift of its kind with an elevation of 436 metres. The special glass-bottom gondola is a thrilling experience that offers stunning 360-degree views of Whistler Village, mountain peaks, lakes, glaciers and forests. Open year-round.
NEARBY
Sea to Sky Gondola***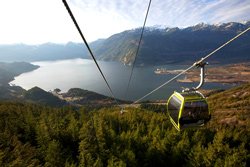 British Columbia's "Newest Attraction", the Sea to Sky gondola lives up to its name, transporting visitors high above the coast for a thrilling adventure and stunning vistas.
Your adventure begins with a 10-minute gondola ride to 885 metres above sea level. The ride up to the summit provides sweeping views*** of Howe Sound, the majestic coastal forest and surrounding mountains.
Once at the top, many other adventures for all ages await. You will have access to a wide array of outdoor experiences including the spectacular Sky Pilot Suspension Bridge, picnicking, a café terrace, rock climbing and many hiking trails.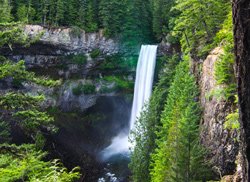 Brandywine Falls*
A twenty minute drive from Whistler, Brandywine Falls Park is home to Brandywine Falls, a spectacular 70 metre waterfall. The waterfall is best seen from the viewing platform, which also presents some marvelous views of Daisy Lake and the surrounding mountains. The 30-minute round trip hike to the viewpoint is easy and well worth the effort!
---
Optional activity
Where to eat
$ Inexpensive
$$ Moderate
$$$ Upscale
$$$$ Fine dining
WHERE TO EAT
Araxi Restaurant & Bar ($$$
Voted the best restaurant in Whistler, dinner at Araxi is a gourmet pleasure every visitor should experience! With its menu entirely built around regionally-sourced ingredients (right down to the fish and seafood) and a very extensive wine cellar, Araxi is a favourite with locals and visitors alike!
4222 Village Square, Whistler, BC / 604-932-4540
Creekbread ($$)
If you're in the mood for a good pizza, Creekbread is your destination! All of the cooking is done using a wood fired oven or cauldron with locally-sourced organic and natural ingredients. The friendly relaxed atmosphere makes this a great place for the whole family!
2021 Karen Crescent, Whistler, BC / 604-905-6666
Where to sleep ?
Festivals
TELUS World Ski and Snowboard Festival
Date: April 8 to 17, 2016
Location: Whistler
Description: A ten-day gathering of winter sports, music, arts and culture for snowboard and ski enthusiasts. An eclectic mix of snow sports contests, fashion shows, film screenings, photography showdowns and non-stop nightlife make this a don't-miss winter festival favourite.
Kokanee Crankworx Freeride Mountain Bike Festival
Date: August 7 to 16, 2015 (2016 dates to be confirmed)
Location: Whistler
Description: Annual celebration of downhill mountain biking with world-class competitions, demonstrations, extreme events and more. Huge crowds of spectators gather to watch the many events in each year's line-up.
Road trip
Location
Climograph
Very Favourable
Favourable
Unfavourable
Month
Average temperature
min (°C)
Average temperature
max (°C)
Precipitations
(mm)
Overall score
January
-6
1
129
February
-4
4
58
March
-3
6
99
April
1
11
47
May
4
17
35
June
7
20
44
July
9
26
14
August
9
25
43
September
6
21
70
October
2
12
114
November
-2
3
150
December
-6
0
114