Address
Secteur Lac à Noel, Poste d'accueil Mercier km 94 route 175, Québec, (QC) - See map
Services
Wi-Fi
no
parking

restaurant
no
swimming pool
no
gym
no
laundry facilities
no
Details
The cabins are located on the shores of Lac à Noël lake in Réserve Faunique des Laurentides wildlife reserve (15 km from Jacques-Cartier National park) and are equipped with running water and propane and/or electric equipment (lighting, water heater, stove and fridge).
They have everything you need to prepare and enjoy meals, along with washroom facilities (shower and toilet). A wood stove will add a touch of coziness to your stay.

Your stay includes the following services and amenities: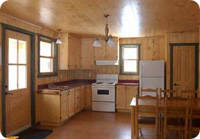 - Cabin accommodation
- Bedding
- Kitchen equipment
- Shower and hot water
- Fireplace or wood stove
- Firewood
- Stove and refrigerator
- Electricity
- Rowboat to go on the lake
- Picnic table

It does not include:
- Access to Jacques-Cartier National Park
- Meals and food (plan ahead: there are no groceries available in the parks)
- Beverages

* What to bring: Warm clothing, camera, binoculars, food, sunscreen, backpack for day trips...


Location