Authentik Canada has developed a car rental price comparison system that lets you quickly find the best vehicle available for you, at the best price.

Step 1: Select your city and your dates

When you click on the Car Rental tab at the top of our website, you will be asked to enter your pick up location, pick up and drop off dates, and the pick up and drop off times.



If you want to drop off your car in a different city, select "Drop off in a different location".



Once you have entered your cities and dates, click on the "SEARCH" button.


Step 2: Your offers
The search tool will find and display all available vehicles in order of price, from the cheapest to the most expensive.


Refine your search results (optional)
Your search results will include all available car rentals, featuring an array of vehicle types and rental companies.
Some filters are provided at the top of the page. They are there to help you refine your search, if you wish.



Once you have selected your filters, you can update your search results according to your preferences by clicking on the magnifying glass.


Choose your car
The price comparison tool will then display all available vehicles that meet your search parameters. By default, the offers are sorted from cheapest to most expensive.
Note that you can consult the car's technical sheet by clicking on the photo.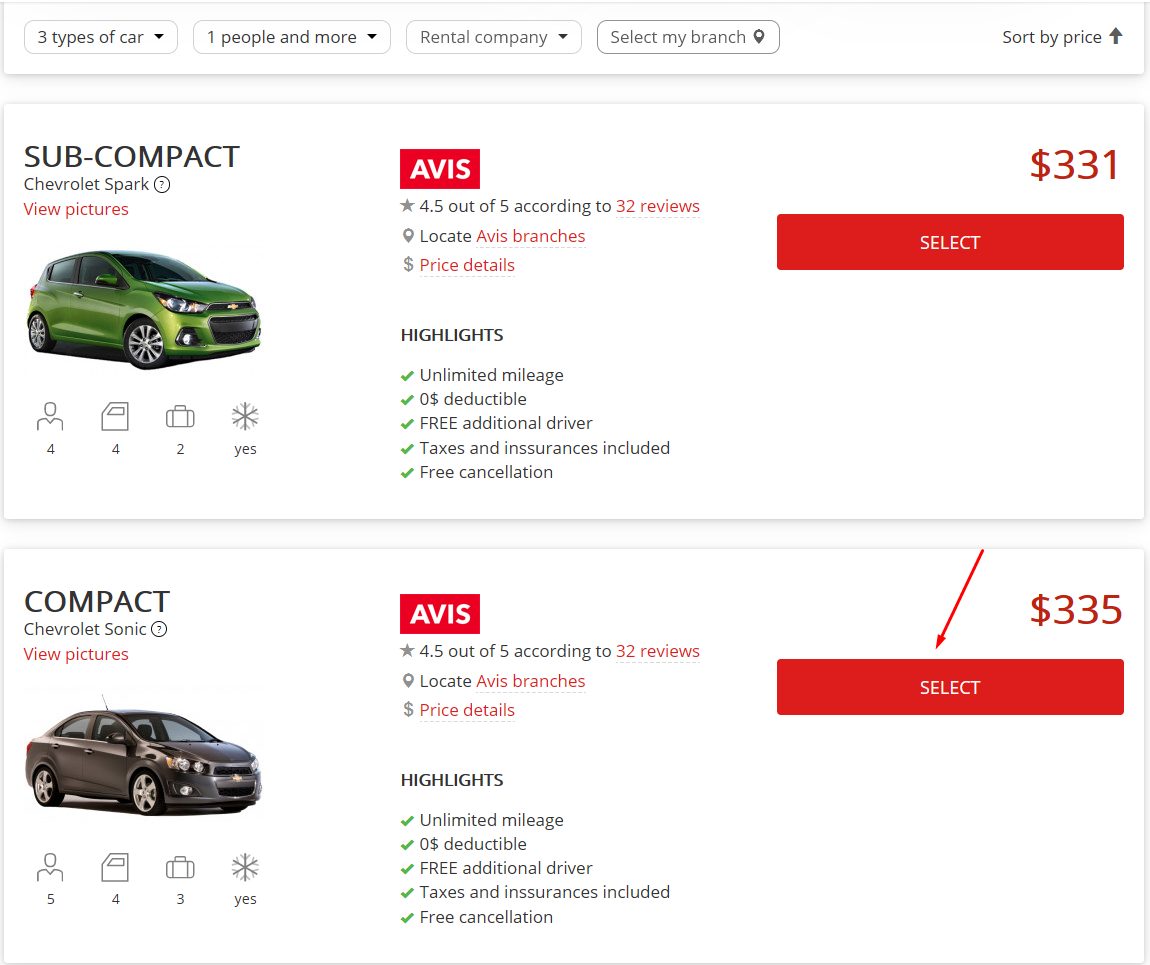 Once you have chosen your car, simply click on the "SELECT" button. You can always return to the list of available vehicles by clicking on ''Offers'' at the top left of the page.


Step 3: The quote

Choose your options
Once you have selected your vehicle, you must choose a branch and any options you need (if applicable).
First, the type of vehicle is indicated, along with the rental price. You can see the details by clicking on "Show details".



Then, you must choose your rental branches. Before choosing your pick up and drop off locations in the drop-down menu, you can click on the "pin" icon to open a map showing the different options.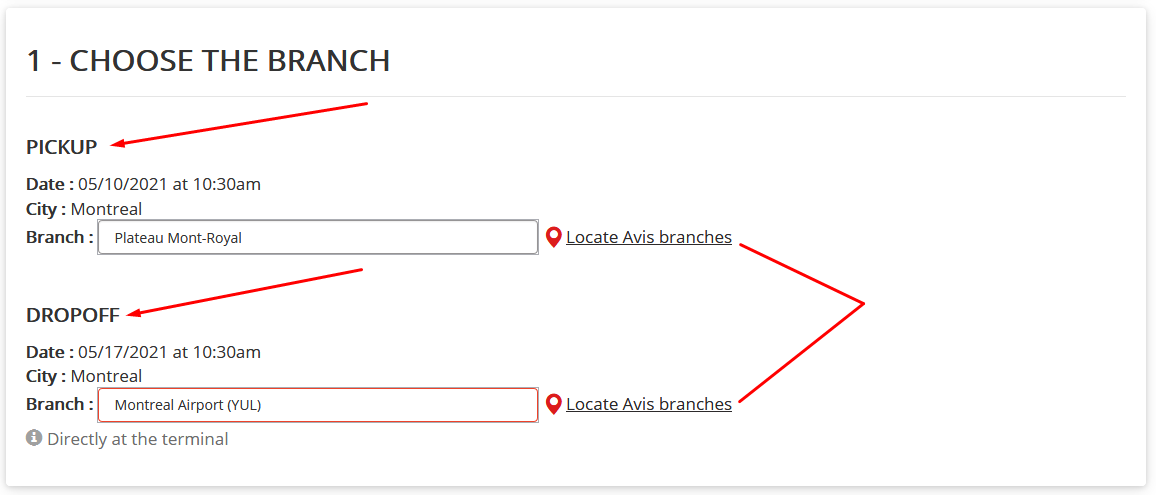 You will then be asked to select your options (if applicable). Each time you select an option, the total price of your rental will be automatically adjusted.
Finally, the bottom section provides the details of your rental, what is included and not included, and a section of "Important notes" you should read to avoid any surprises.
Note that the insurance details are in this section (Important Notes).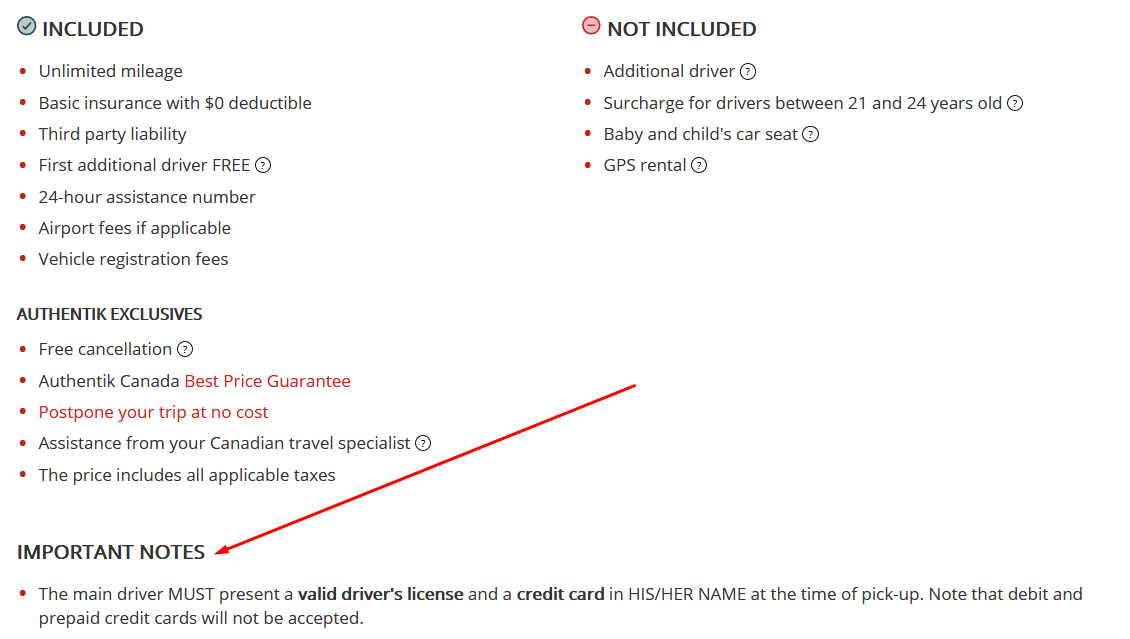 When you are ready, simply click on the red "BOOK" button at the bottom of the page. If you prefer, we can send you a quote by email.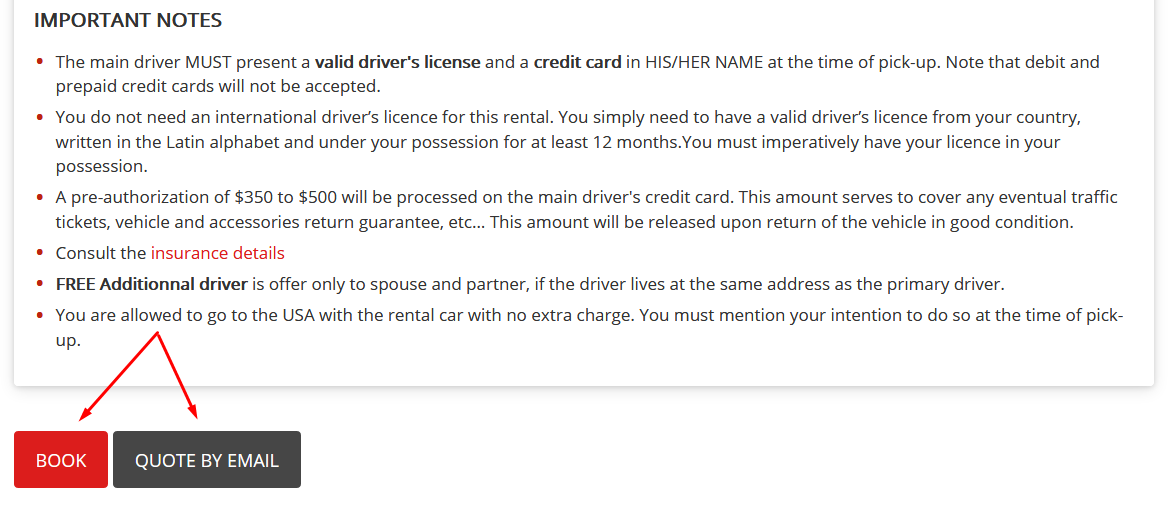 Step 4: Book or Quote by email

1- Book
To book your car, simply complete the online payment form that appears when you click on "BOOK".
You will be asked to pay a deposit of 20% to confirm your booking, and the balance is payable 60 days before the pick up date. It is still possible to pay the balance before the required 60 days.

2- Quote by email
You can also receive your car rental quote by email, or share it with someone else, by clicking on "Quote by email".
The quote will contain a link allowing you to easily return to your online quote, where you can change and/or book your rental.
---
Client Space
You will then be directed to your Client Space. Read our tutorial How do I use my Client Space? to learn more about this new section of the Authentik website.