Top 10 most beautiful lakes in Quebec [with map + photos]
With 12% of its surface covered by water, it's hardly surprising that Québec boasts more than 500,000 lakes!
To make your choice easier, here are my top 10 lakes that will leave you with unforgettable memories during your trip to Quebec.
 
#1. Lake Kipawa 
Abitibi -Témiscamingue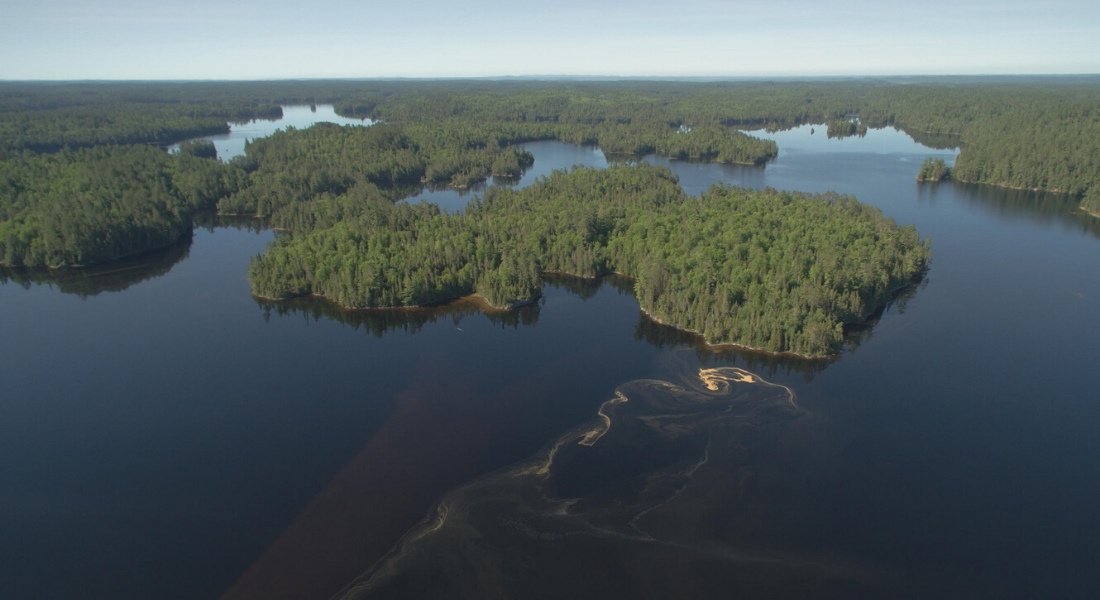 Lake Kipawa has many coves, arms and bays which branch out to reveal hundreds of small islands.  
Another distinctive feature of the lake is its depth, at an average of 104 m, which gives it a surprisingly dark appearance.  
With its irregular shape and dark waters, when seen from the air, the lake is often said to resemble a giant spider web.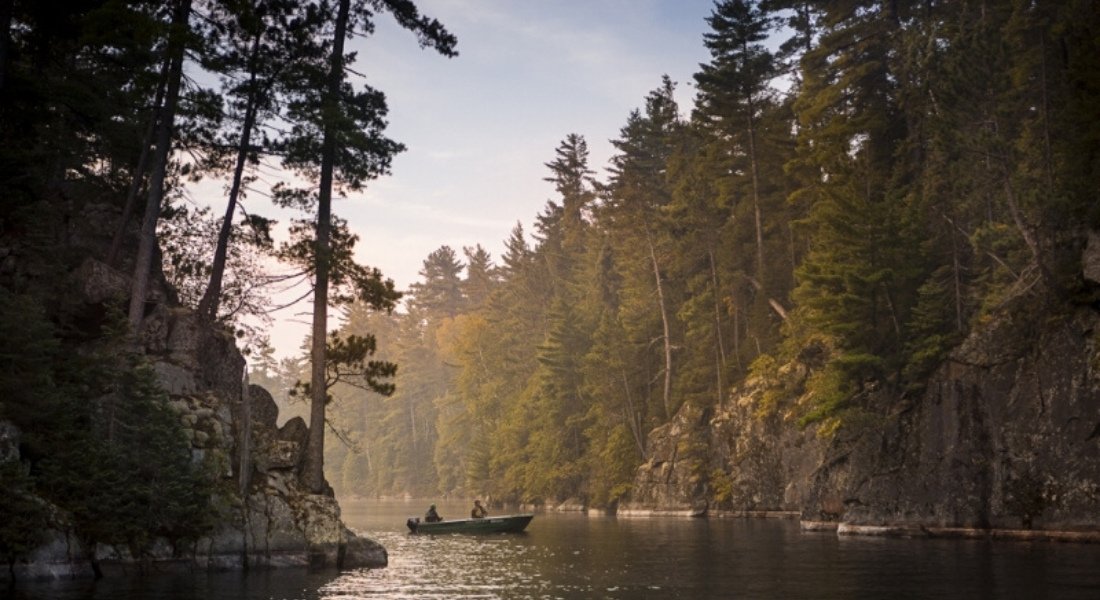 The area around the lake is also rich with history. The first logging companies, including the famous Hudson Bay Trading Company, settled here in the 1850s.  
Not to mention the millennial presence of the Anicinabek people, a Algonquin First Nation that still inhabits this territory. The ancestral site at Hunter's point   is a must to learn more about their culture.  
Rent a car and explore this legendary and enigmatic corner of tranquility by canoe or kayak, or even diving. Fishing is also permitted.  

#2. Wapizagonke Lake
Mauricie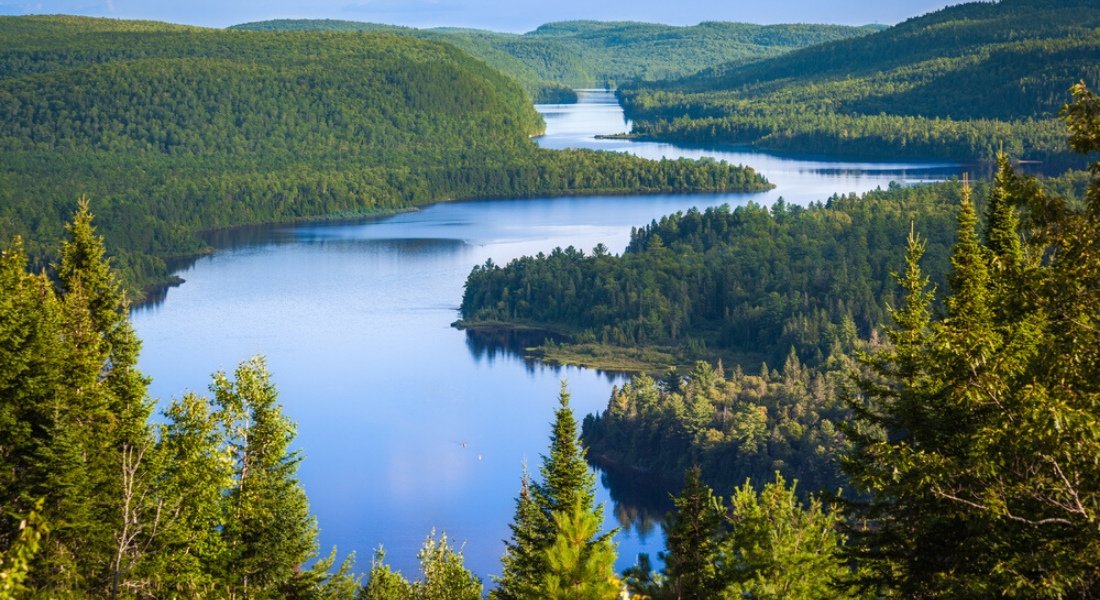 Located in the western section of Mauricie National Park, Wapizagonke Lake is a favourite spot for visitors to the park.  
The lake has an elongated shape and stretches for about 15 km through lush forest, surrounded by the Laurentian Mountains. 
It is a little piece of paradise with no human activity to be seen for miles around.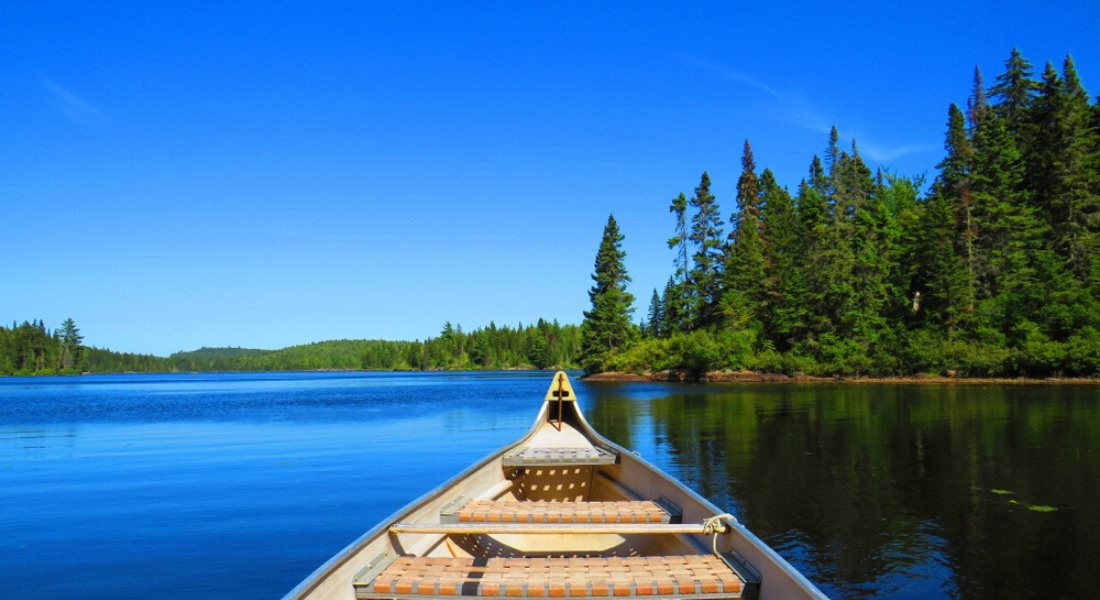 There are a number of campgrounds, hiking trails and activities in the area. It is also possible to rent water sports equipment on site.  
That will be very useful if you want to take the famous trip to Waber Falls . 
#3. Lake Témiscouata 
Bas St-Laurent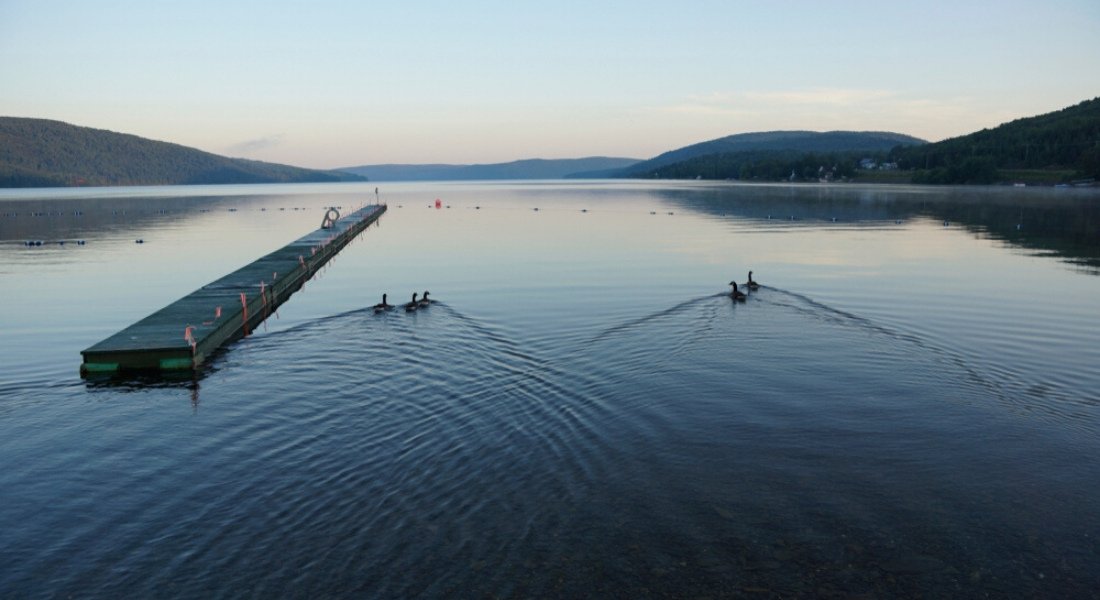 Lake Témiscouata stretches 45 km through the centre of a long glacial valley. It is the second-largest lake on the south shore of the St. Lawrence River.  
The name Témiscouata comes from a Mi'gmaq word meaning "deep lake" and it's easy to see why, given the hilly landscape surrounding the lake.
The hills rise sharply, only to disappear under the water a few hundred metres away.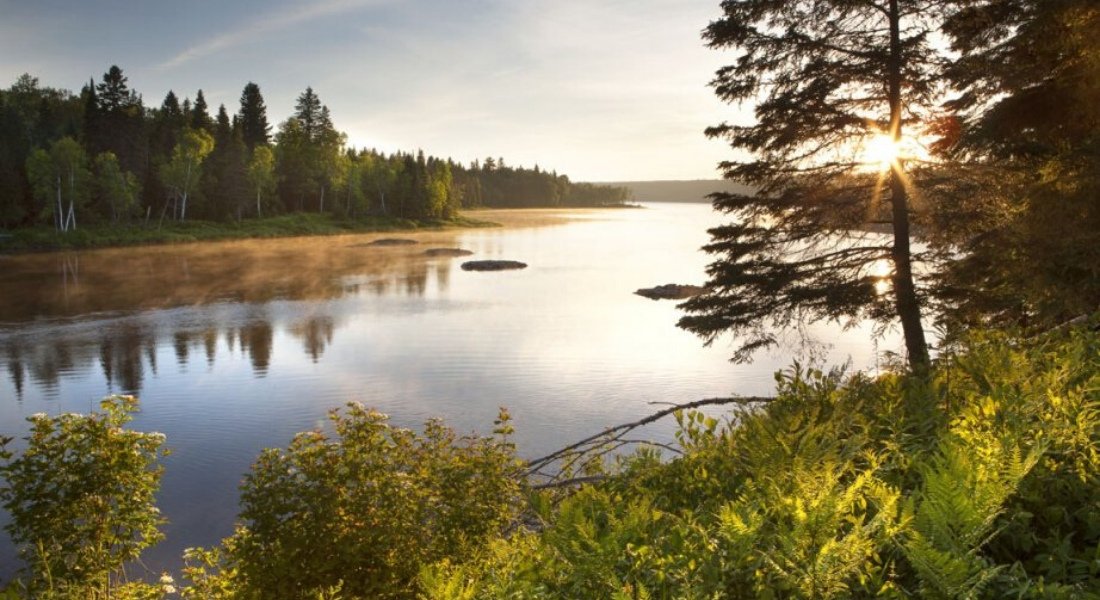 With its many beaches, Lake Témiscouata is perfect for swimming. It's a must during your family vacation in Quebec.
There is a national park of the same name, where you will find hiking trails offering spectacular views of the lake.
Canoeing, kayaking and paddleboarding are permitted in the park, and guided water sports tours are also available. 
#4. Lac à l'Eau Claire
Mauricie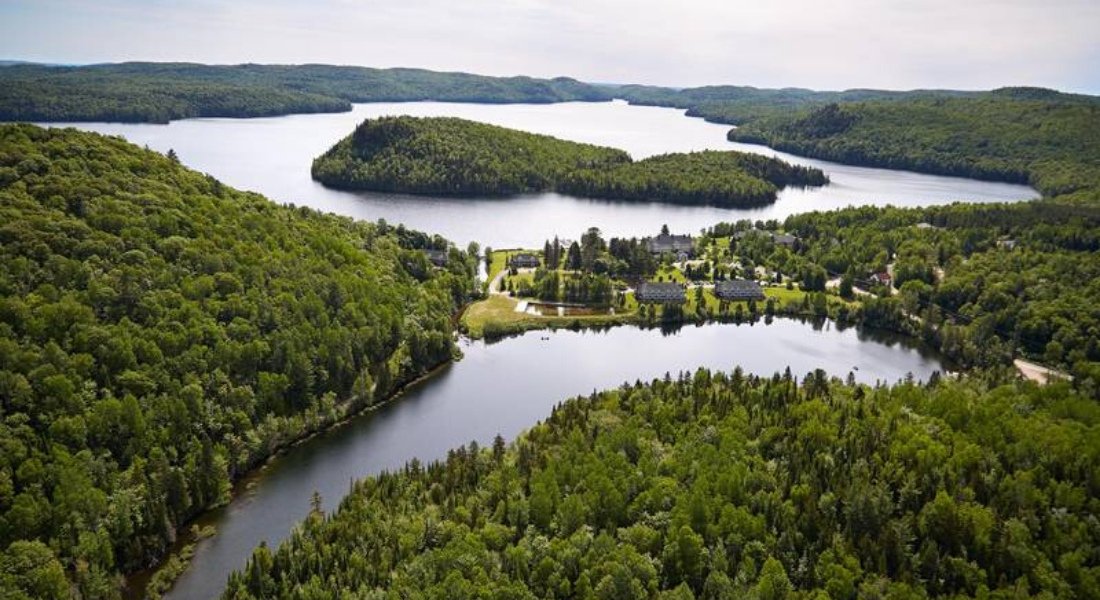 Surrounded by the Laurentian Mountains, Lac à l'Eau Claire Lake has a circumference of 42 km and stretches across two municipalities: Saint-Élie-de-Caxton and Saint-Alexis-des-Monts. 
The lake also boasts a charming little island, Ile Margaret.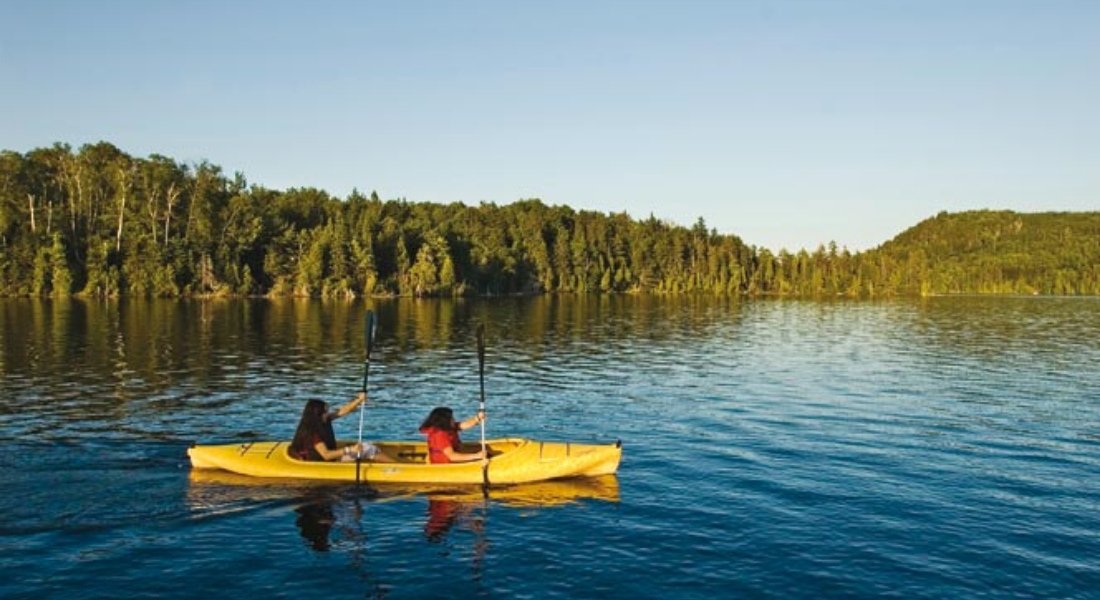 While the Saint-Élie-de-Caxton side of the lake is not very touristy, the Saint-Alexis-des-Monts side is a different story. 
Originally a large private estate, the place was developed into a choice vacation resort in the 1980s. It now offers an inn with a spa and several cottages for rent.  
It's a great place for bear and beaver watching, water sports activities like canoeing and boating, and fishing.  
#5. Lake Sacacomie 
Mauricie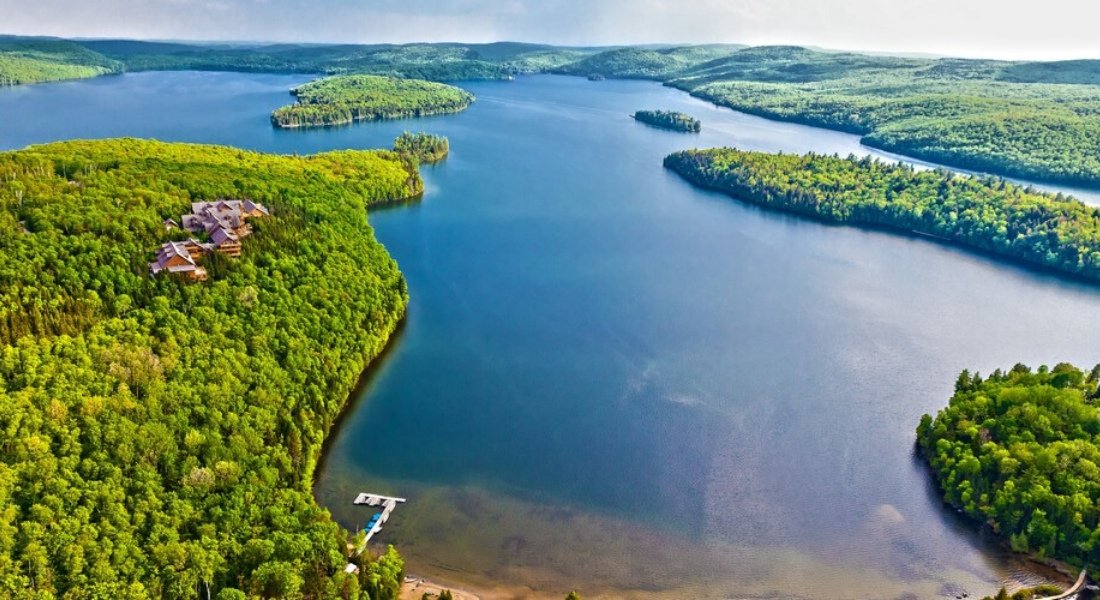 Also located in Saint-Alexis-des-Monts, Lake Sacacomie has a circumference of 42 km and its shape resembles two adjacent rectangles.  
These rectangles are separated by two peninsulas that converge towards Grosse île, the island at the centre of the lake. 
Lake Sacacomie has a total of 5 islands and the same number of deep coves.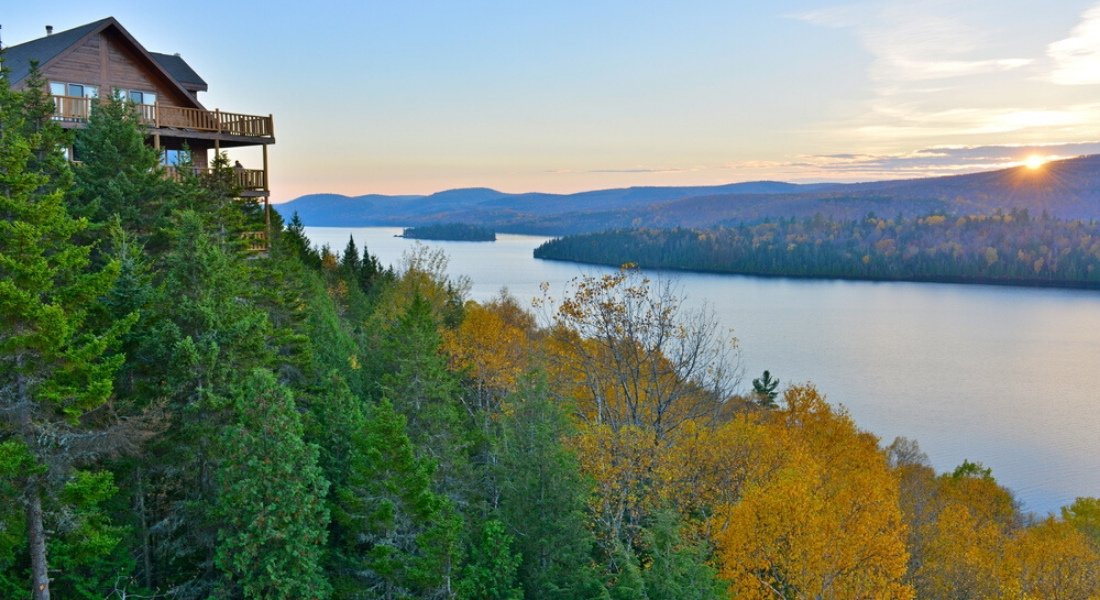 We can't talk about Lake Sacacomie without mentioning Hotel Sacacomie  perched on the hill overlooking the lake.  
This log-style hotel complex is known the world over for its quintessentially Canadian aesthetic and its 500-km2 property, where activities are offered in every season.  
This is likely where you will stay if you visit the lake. You can also rent boats to explore the lake!  
#6. Lac Saint-Jean 
Saguenay Lac St-Jean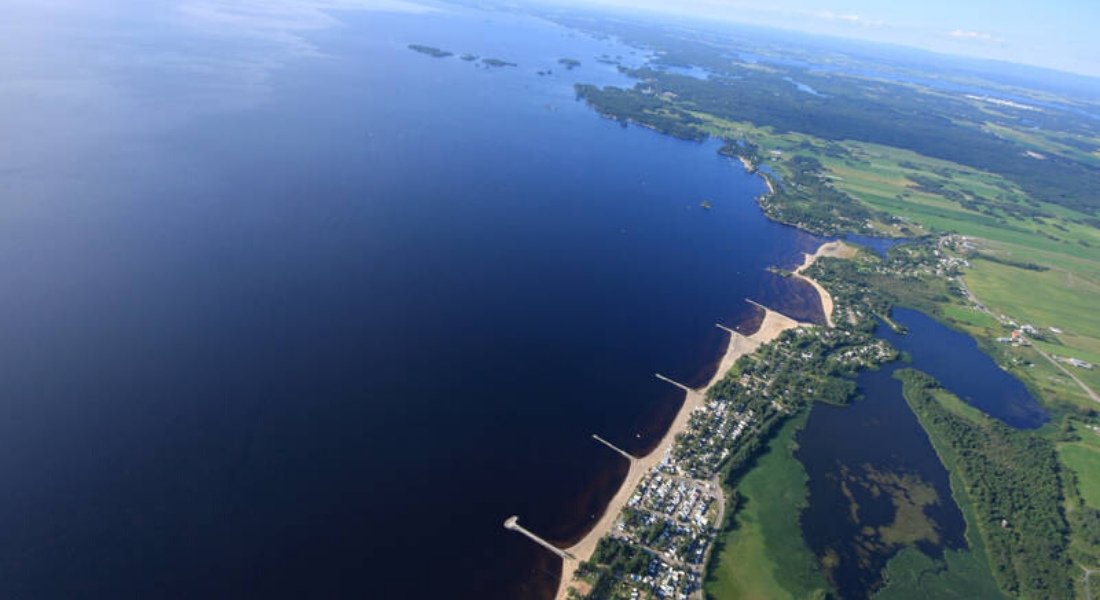 The third-largest lake in Quebec at 1,076,03 km2, Lac St-Jean gives its name to the region, Saguenay Lac-St-Jean .   
The Innu who gathered on the shores of the lake during the summer season called it Lake Piékouagami, meaning "flat lake".  
You will understand where this name came from once you get there. It appears to stretch endlessly into the distance in several locations. Lac St-Jean is as wide as the St. Lawrence River near Tadoussac.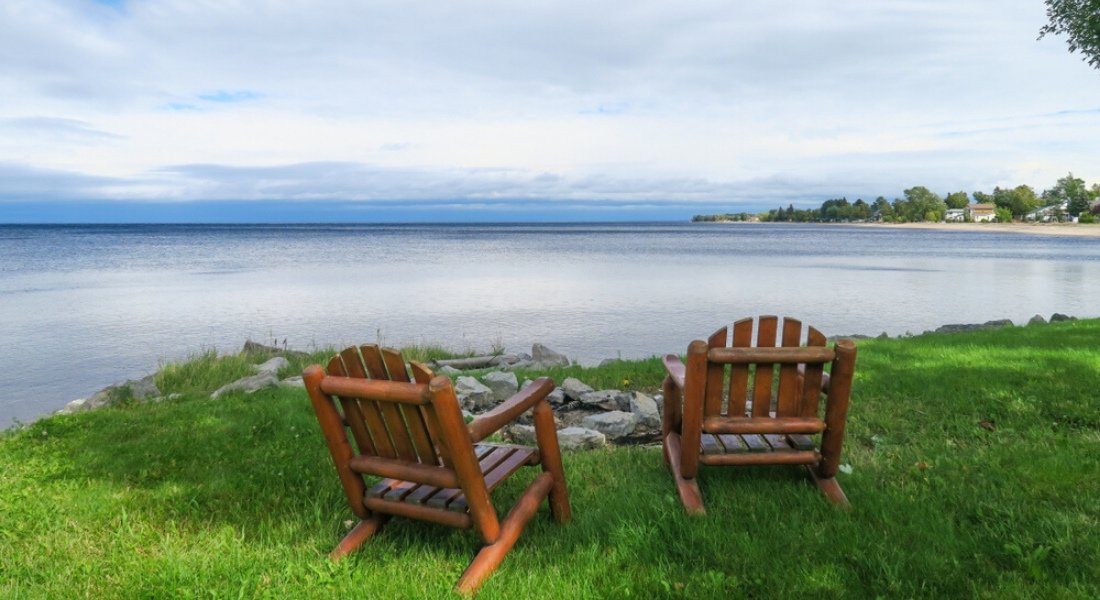 The shores of Lac St-Jean are very popular today and have many beaches, campgrounds, cottages and homes. 
The activity par excellence remains sport fishing, as its waters are teeming with fish. The lake is home to 28 species of fish.  
Lac St-Jean also hosts one of the largest endurance swimming competitions in the world every year. The Traversée internationale du Lac St-Jean requires 32 km of effort and is considered by many to be the Everest of freshwater swimming.  
#7. Lake Massawippi 
Cantons-de-l'est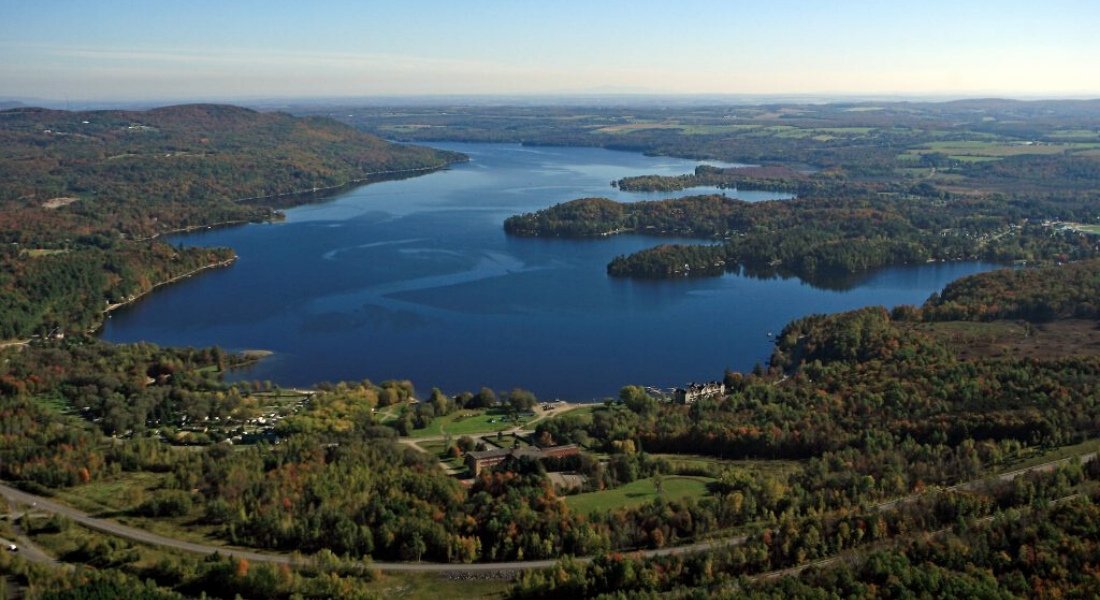 Lake Massawippi is the deepest lake in the region, reaching a depth of up to 86 metres in some places. In fact, its name means "large deep lake" in Abenakis.  
The lake's history revolves largely around fishing. For many centuries, the lake was a privileged fishing territory for First Nations people.  
Today, many fishing tournaments attract hundreds of fishermen from across the continent.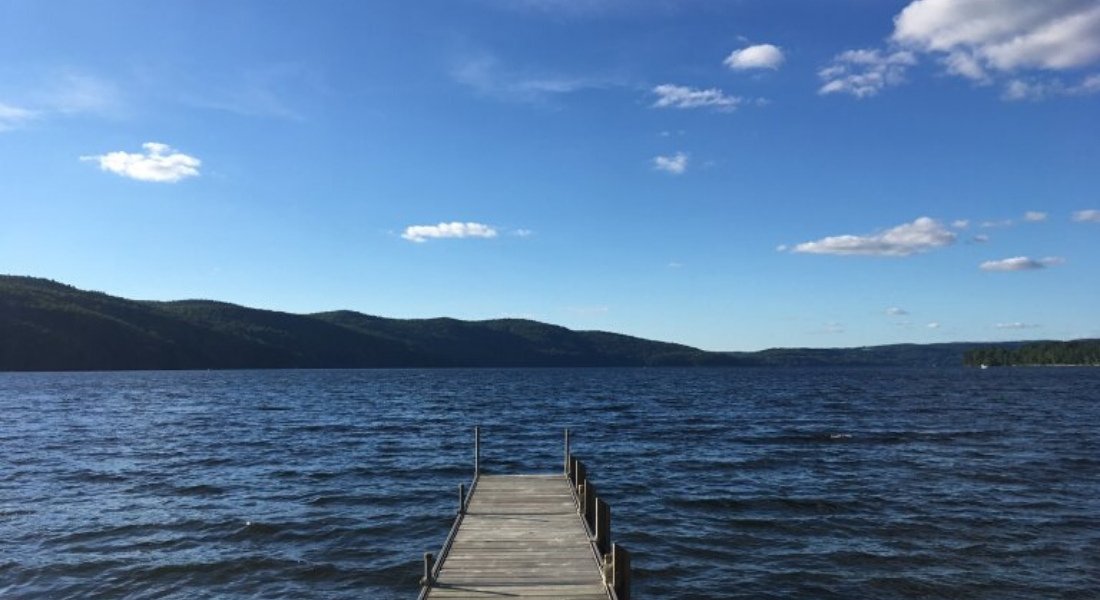 The area also abounds in wildlife. You may be lucky enough to spot moose, white-tailed deer, beaver and wild turkeys. 
The lake is a bird watchers paradise, especially in the months of October and November when it serves a rest area for thousands of migrating birds, including great blue herons.  
#8. Lake Tremblant 
Laurentides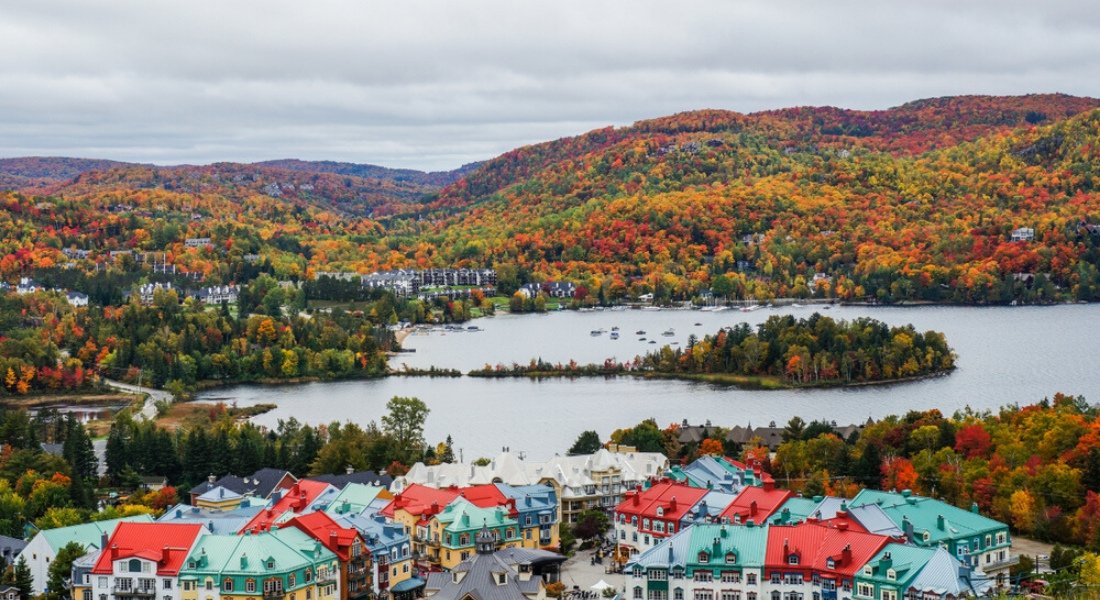 Lake Tremblant stretches for 15 km at the base of Mount Tremblant. 
Although you can't see it from the village of Mont Tremblant , it is a significant part of the landscape as you venture higher up the mountain.  
Like the national park of the same name, the lake is particularly spectacular in the fall. In fact, the region is one of our top 5 places to enjoy the fall colours.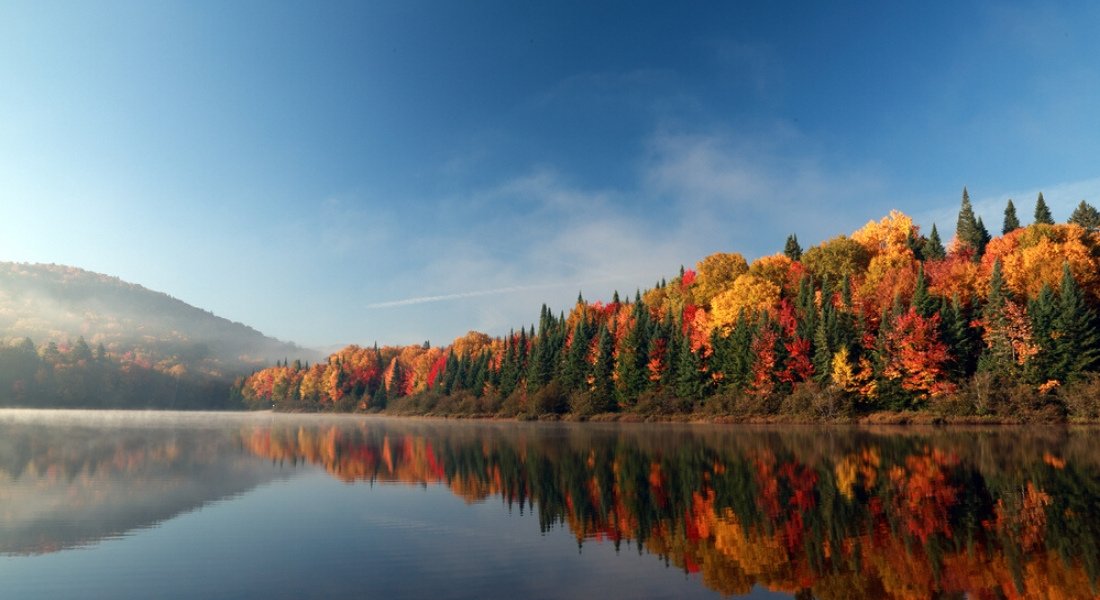 If you have ever searched for images of autumn in Quebec, you have probably come across a photo of Lake Tremblant.  
In addition to hiking trails, the area around the lake is mostly home to cottages, offering a quet place to stay close to the pedestrian village and Mont-Tremblant National Park. 
Lac Tremblant nautical centre rents canoes, kayaks, paddle boats and even boats. There are also cruises for those who prefer to explore the lake in a more peaceful way.  
#9. Lake Walker 
Côte-Nord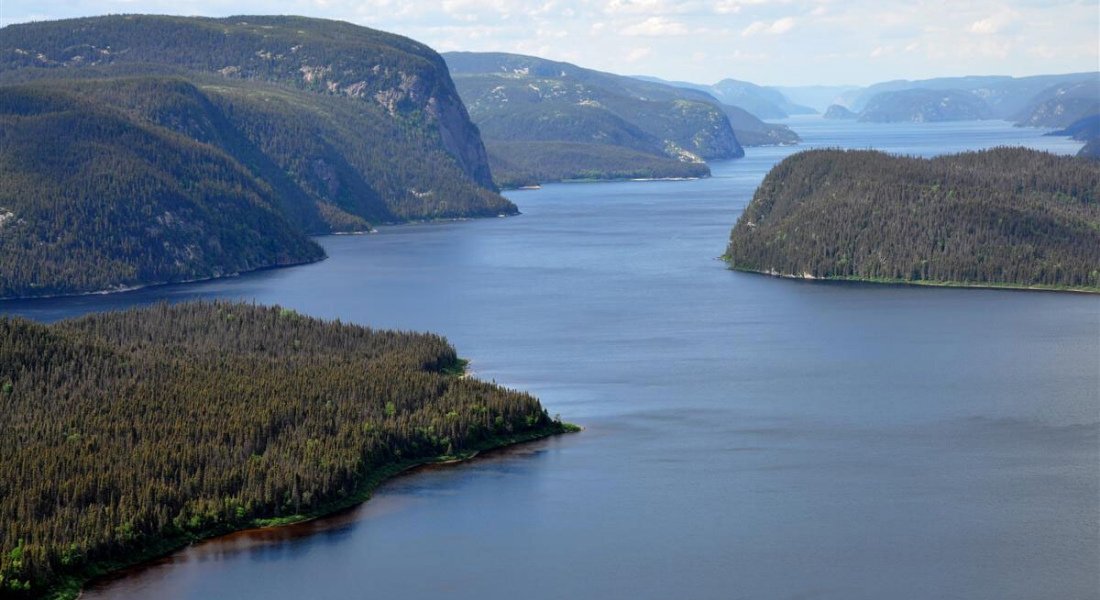 Nestled in a glacial valley in the Port-Cartier-Sept-Îles Wildlife Reserve, Lake Walker is the deepest lake in Quebec, with a depth of 280 metres. 
Surrounded by high rocky cliffs, it is over 30 km long and 4 km wide. 
The lake takes its name from British Admiral Hovenden Walker, who failed in his attempt to capture Quebec City in 1711.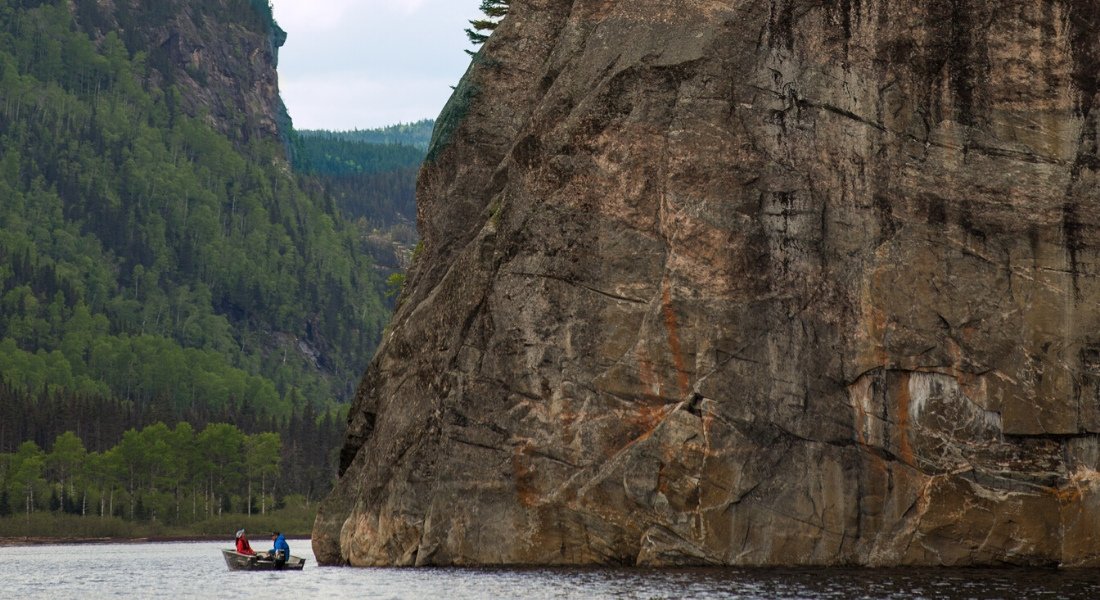 You can explore the lake by boat, rowboat, canoe or kayak. 
While it is not ideal for swimming, the surrounding area is a great place for outdoor activities. The steep walls are perfect for rock climbing.
Fishing and hunting are also possible. Special regulations apply. 
#10. Lac aux Américains 
Gaspésie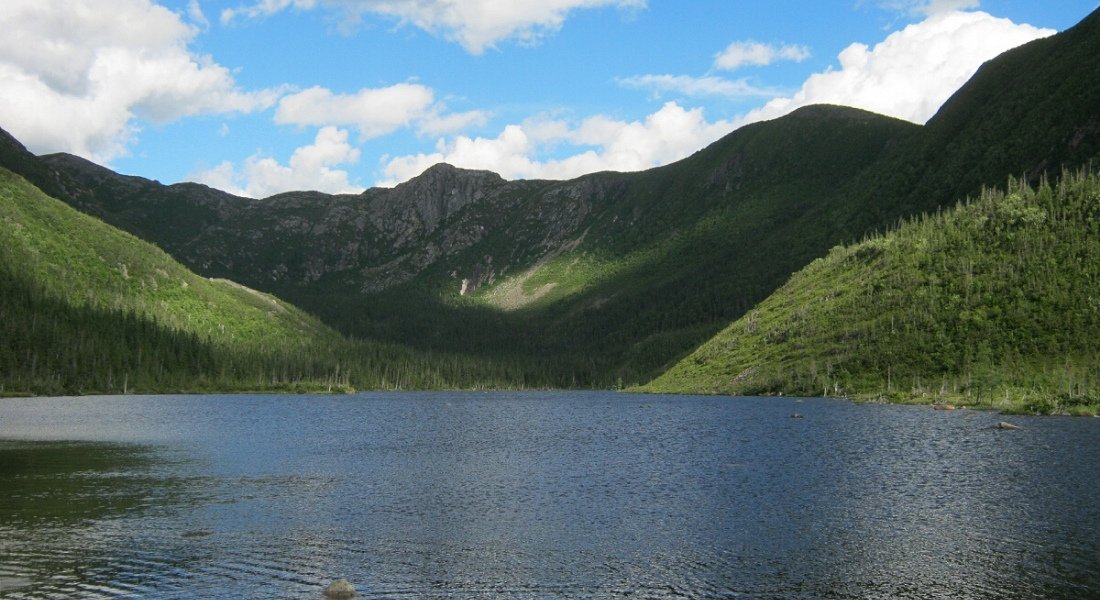 Lac aux Américains is located at the heart of Gaspésie National Park . 
It is named after the American botanists who established their camp there at the beginning of the 20th century.   
To reach the lake, you will have to take the trail of the same name. This easy 2.9 km trail leads through the forest and is suitable for the whole family.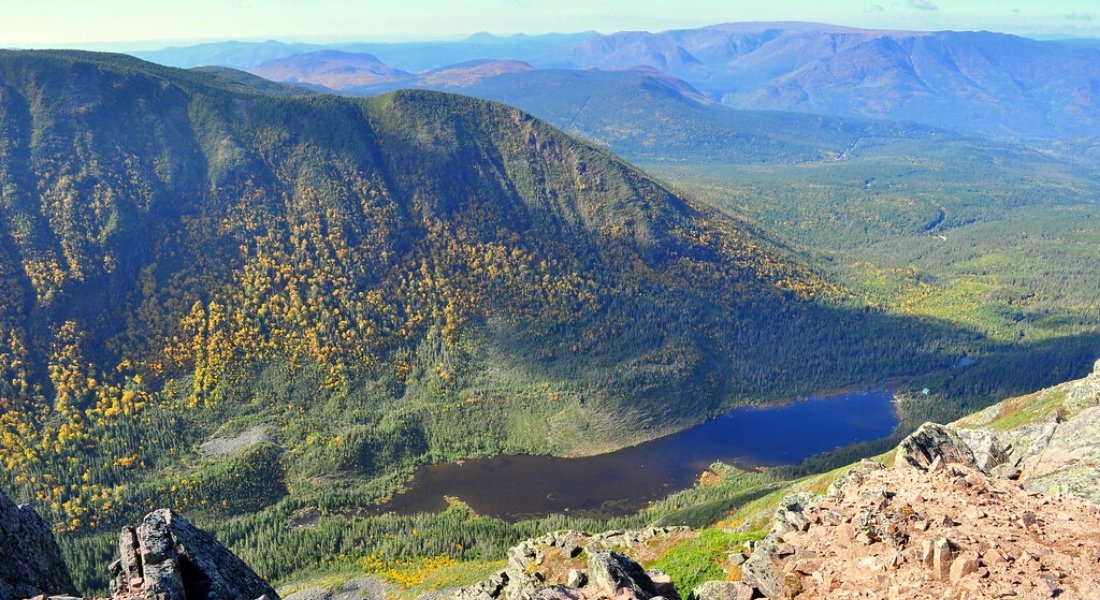 The view from the end of the trail is simply breathtaking. Surrounded by mountains, this lake is considered a glacial cirque.  
I recommend going in the late afternoon, when the light gives an impressive relief to the landscape. 
Lac aux Américains Trail
Distance: 2.9 km 
Elevation gain: 109 m 
Level: easy
---
Map of the 10 most beautiful lakes in Québec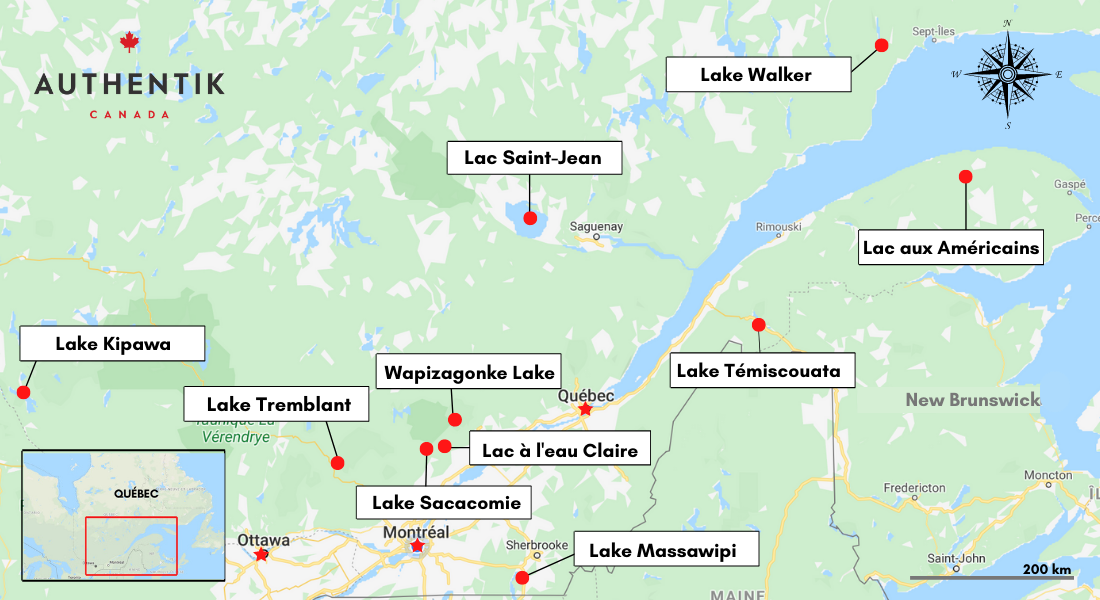 You're now ready to discover these Quebec treasures. What will be your first stop?
If you have any questions or would like to nominate your favorite lake, don't hesitate to leave a comment below!