Top 10 places to canoe in Quebec
Quebec is the perfect destination to try canoeing, a quintessentially Canadian activity. Everywhere, thousands of lakes and rivers allow nature lovers to discover our great outdoors, one paddle stroke at a time.
Here are the 10 most beautiful places to explore during your next family vacation in Quebec.
 
#1. Jacques-Cartier River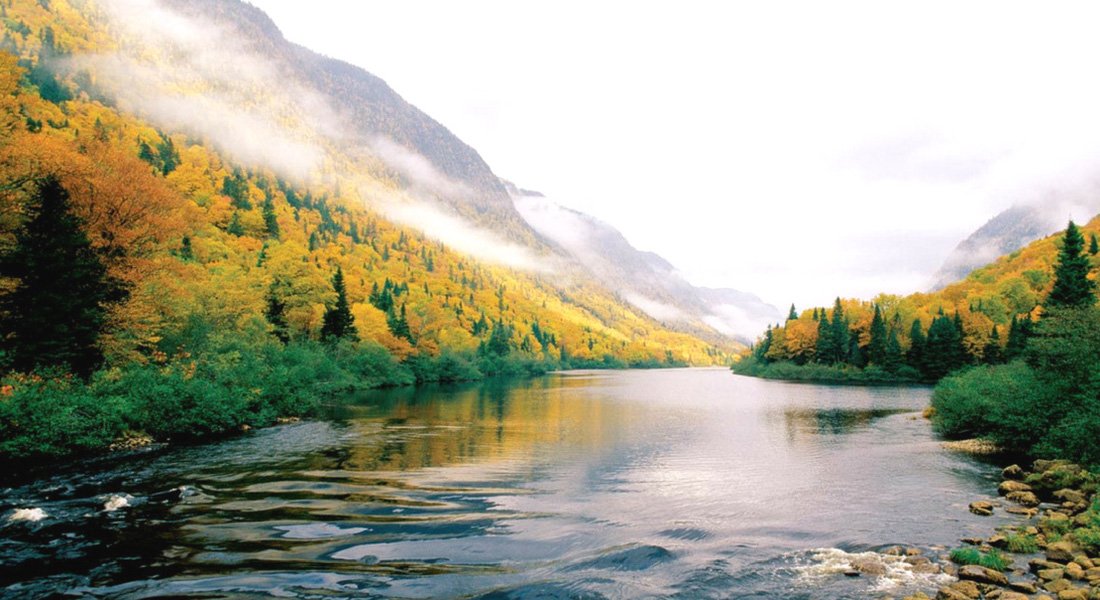 With 26 kilometres of navigable waters within Jacques-Cartier National Park, this river is a must for whitewater enthusiasts. 
Winding through a 550-metre-deep channel in one the most beautiful glacial valleys in the province, it is the only Quebec river that is part of the Canadian Heritage Rivers System. 
Guided excursions are available.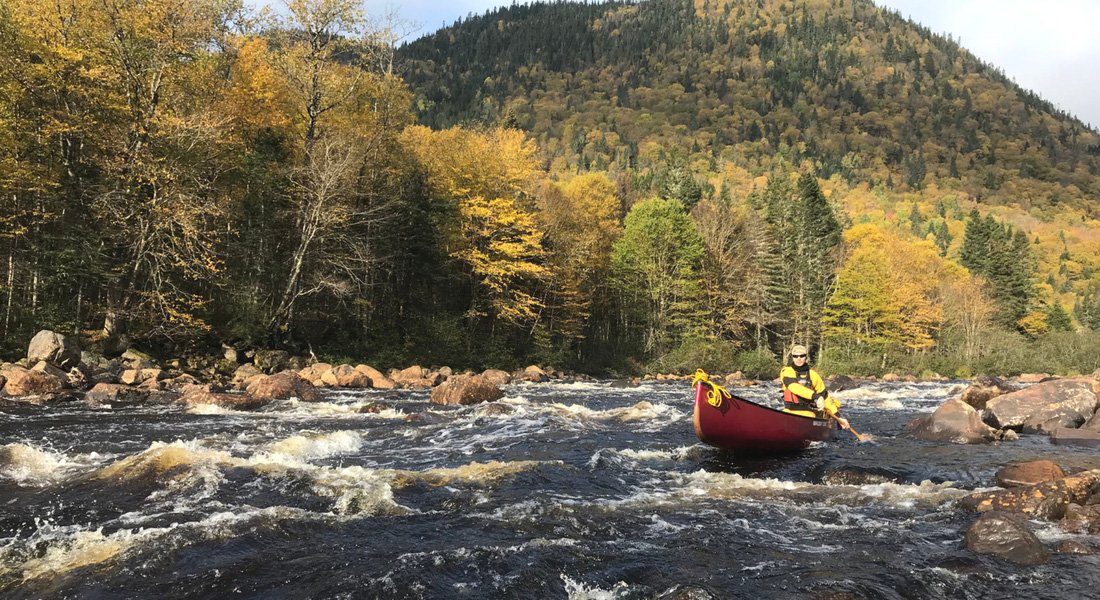 Calm in some places and turbulent in others, the Jacques-Cartier River is an excellent place for beginners to learn basic canoeing manoeuvres. 
Of course, you can also explore at your own pace, without a guide. 
#2. Bonaventure River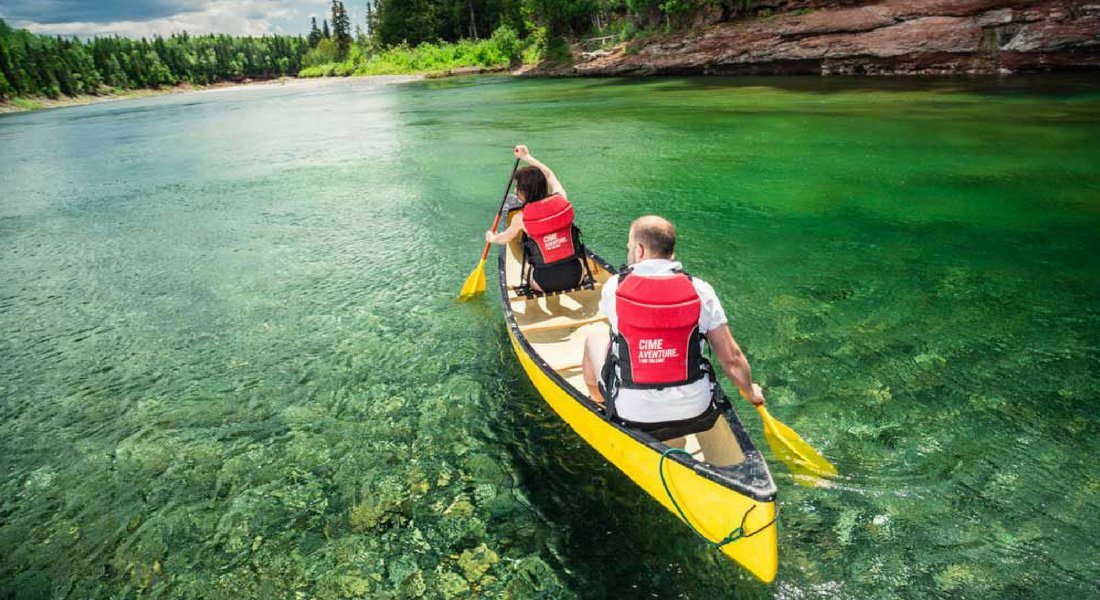 A canoe run down the Bonaventure River is one of the most enjoyable activities you can do in Quebec!
This salmon river, considered one of the clearest rivers in the world, is sure to impress with its emerald waters. 
You can rent canoes and set out on your own adventure, but the guided excursion is an interesting option!
Under the watchful eye of a certified guide, you will travel about twenty kilometres, dotted with small rapids. Your guide will ensure your safety and take care of your stomach with a delicious lunch on one of the river's many pebble beaches. 
You will have the opportunity to discover the most beautiful scenery in Gaspésie while learning basic paddling techniques.
#3. Wapizagonke Lake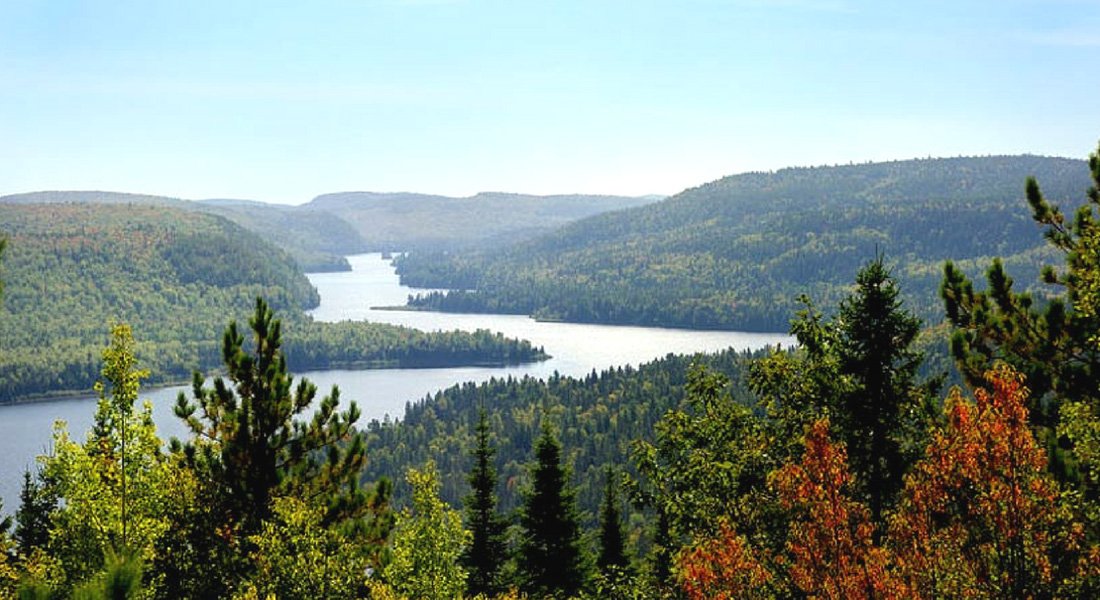 Mauricie National Park is a paradise for outdoors enthusiasts. It is also home to Waber Falls, one of the most beautiful natural treasures of La Belle Province.
To visit them will take you the better part of a day. 
First, you will have to paddle about 4 km across Wapizagonke Lake, which is surrounded by the Laurentian Mountains. 
The pristine wilderness you will find here is probably what you imagine when you hear Canada referred to as the "land of lakes and rivers".
Back on shore, a 3-km hike along an intermediate-level trail leads to the falls.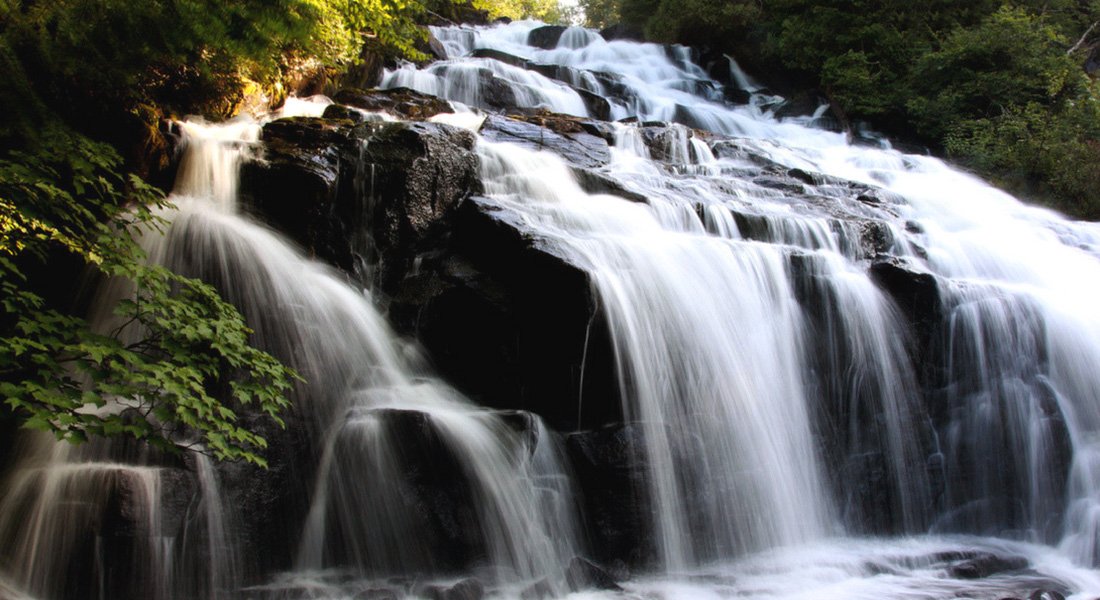 Once you get there, it's time to enjoy a picnic lunch on the rocks. 
Don't forget your swimsuit, because you can also go swimming in the falls. 
But save your energy, because the same challenge awaits you on the way back!
#4. Diable River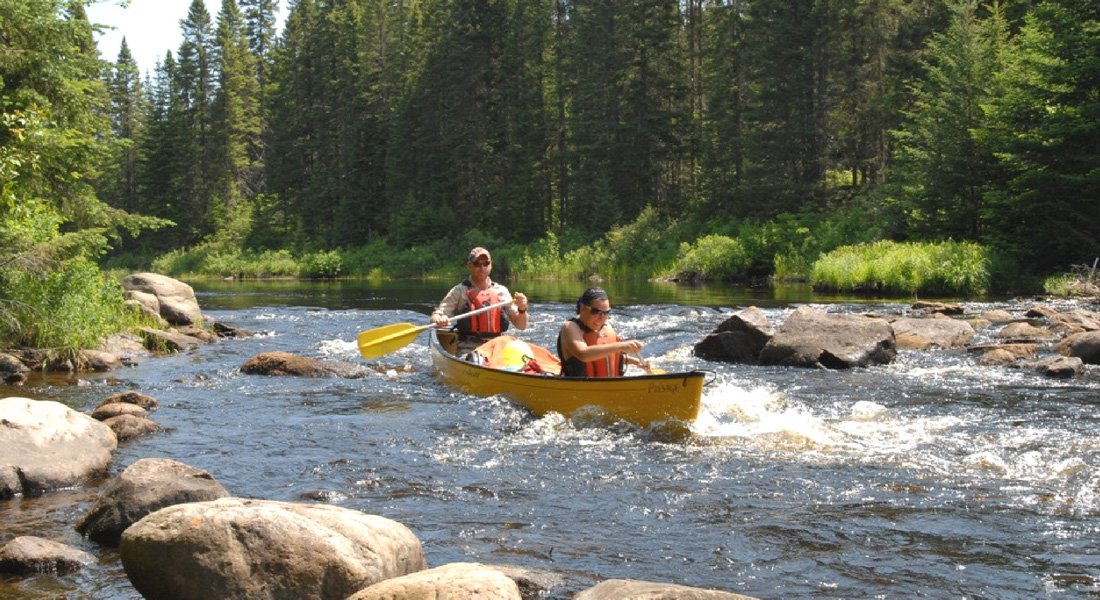 With 6 rivers and more than 400 lakes, there is no lack of choice for visitors to Mont Tremblant National Park. 
The calm waters of the Diable River are an excellent option for budding canoe enthusiasts. 
Starting at the equipment rental centre, a half-day unguided excursion lets visitors paddle peacefully along the meanders of the river and enjoy the sandy beaches along its banks. 
At the end of the route, a shuttle transports the paddlers back to their starting point.
For more information, click here. 
#5. Malbaie River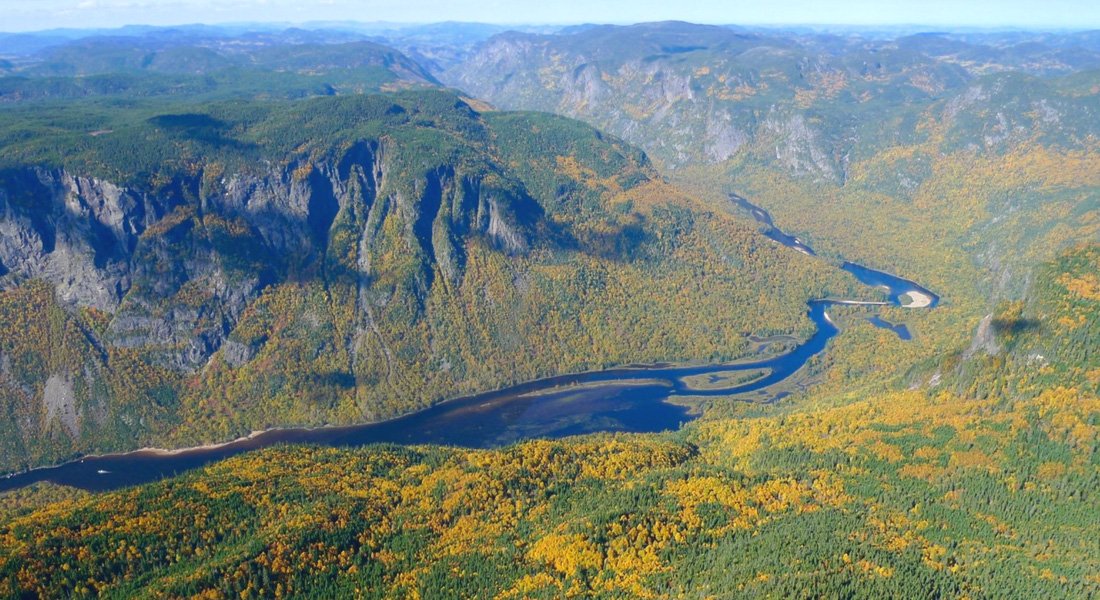 Paddling in the heart of the Malbaie River Valley will leave you with lasting memories of our great outdoors.
Hautes-Gorges National Park, whose main attraction for visitors is the legendary Acropole-des-Draveurs trail, offers spectacular scenery.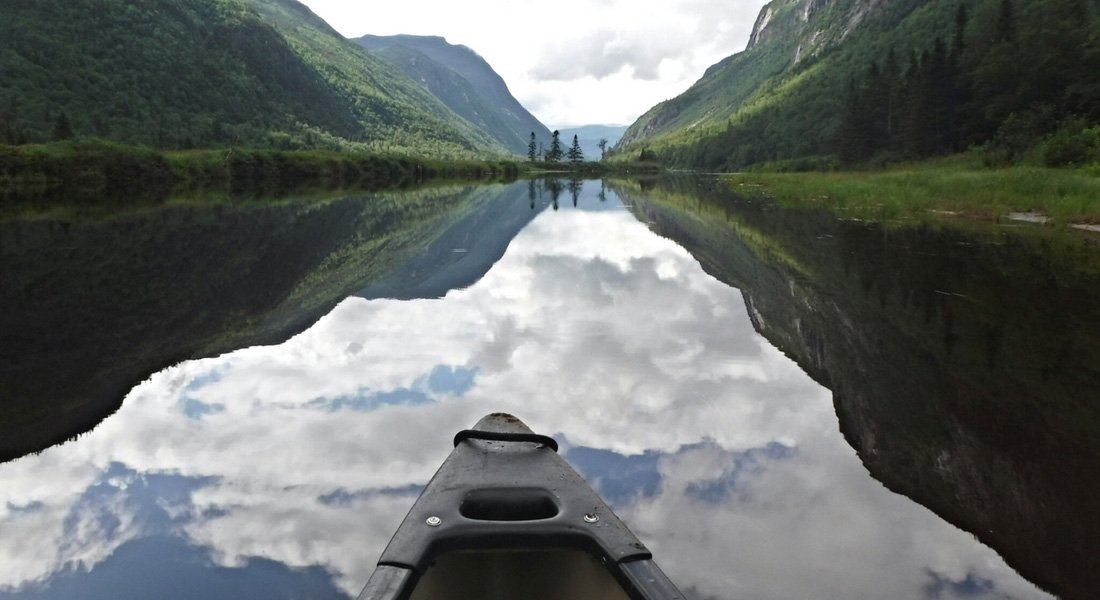 A trip along the river, which is bordered by some of the highest rocky cliffs east of the Rockies, will allow you to discover the beauty of the mountains from a whole other angle.
Time permitting, don't hesitate to combine the two activities. You'll have a real feast for the eyes!
#6. Bras-du-Nord River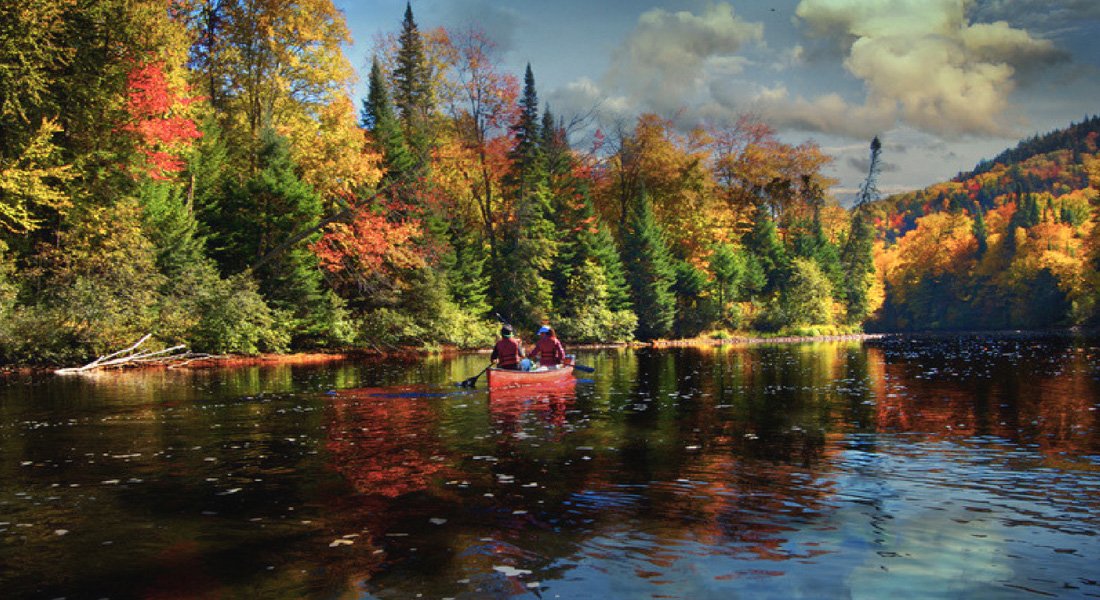 Canoeing on the calm waters of the Bras-du-Nord River is the perfect family activity to enjoy in the Portneuf region.
Little known by tourists, the Valley's wilderness landscapes offer visitors an enchanting setting for an introduction to canoeing.  
Rental of a canoe, which can accommodate 2 adults and one child aged 10 or under, includes shuttle service.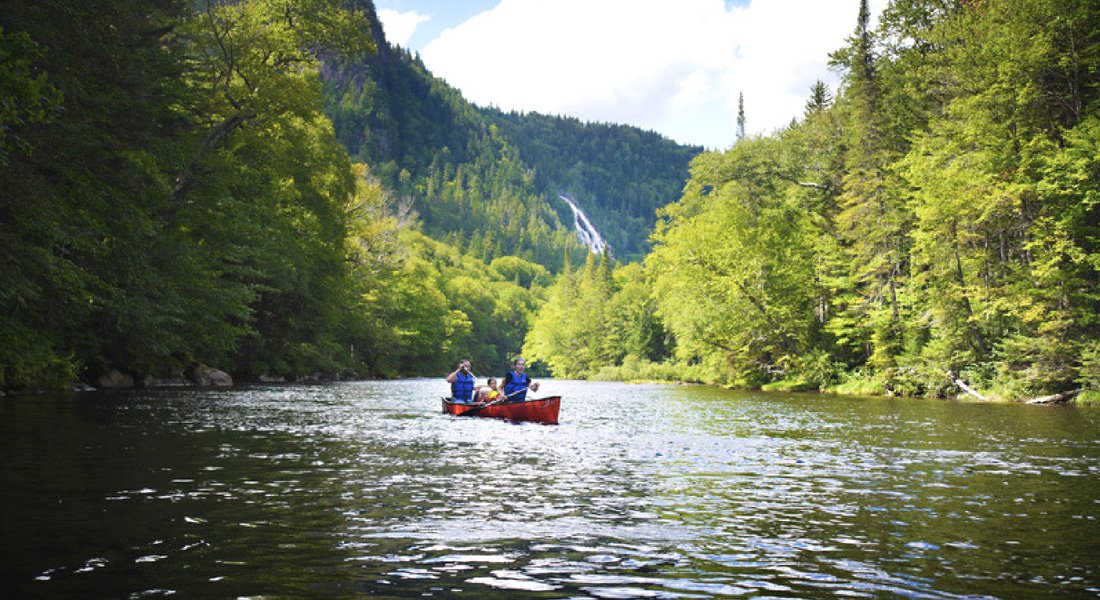 This allows you to explore the river as calmly or as energetically as you like, without worrying about the return trip. 
The distance is about 17 kilometres and takes between 3 and 6 hours.
#7. Rouge River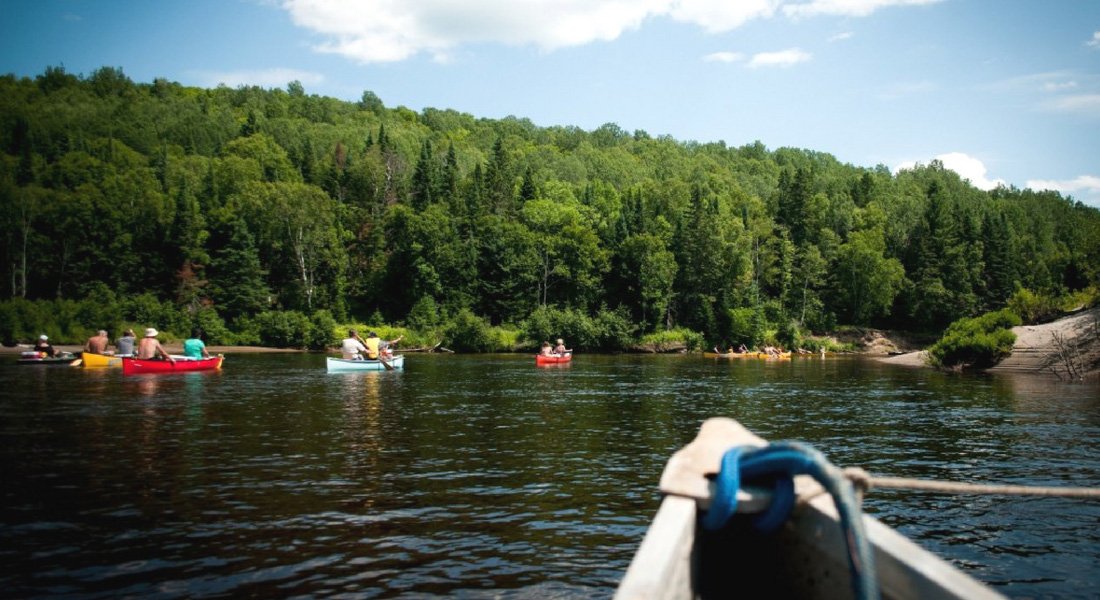 At 30 minutes from Tremblant, the Rouge River offers several routes with distances varying from 9 to 27 km. These calm water excursions are accessible to everyone.
All canoe packages include a shuttle service, which will bring you back to the starting point of your excursion.
That way you can enjoy your day to the max, without worrying about the time. 
Whether it's to go for a swim or enjoy a picnic lunch, the many beaches along the river allow you to stop as many times as you like.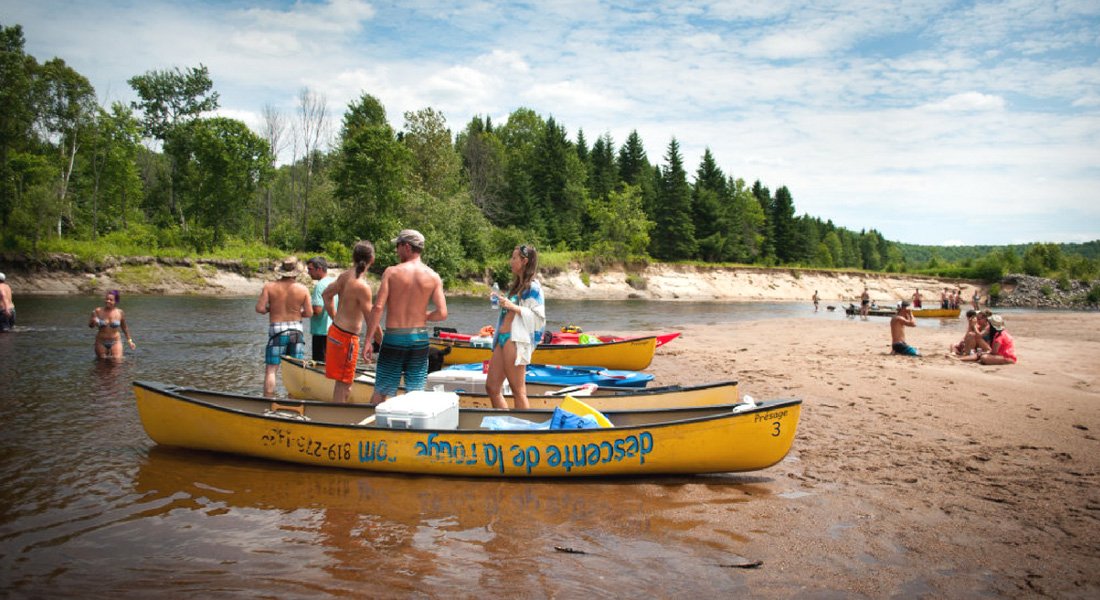 By the way, if you don't have a cooler or simply don't want to go shopping, don't worry!
When you make your reservation, just ask and they will prepare a healthy lunch box for you.
#8. Missisquoi Nord River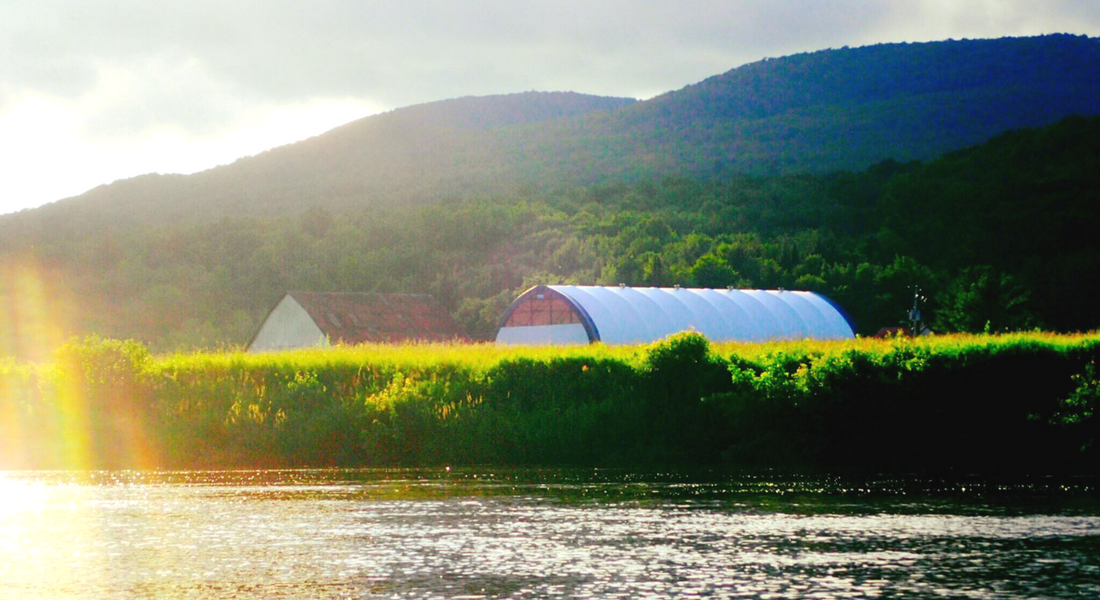 The Eastern Townships region is known for its rural landscapes, its picturesque villages and its many wineries.
The sugar maples, which dominate the region's forests, make it a favourite place to enjoy the fall colours. 
At the heart of the flamboyant landscape flows the Missisquoi Nord, a calm, shallow river.
A shuttle service will drop you off at the starting point of your choice, so that you can make your way down the river at your own pace, over a distance of 10 to 15 kilometres. 
And if the Wine Route has tired you out, it is possible to rent a canoe for just an hour, without transport. 
#9. Lake Taureau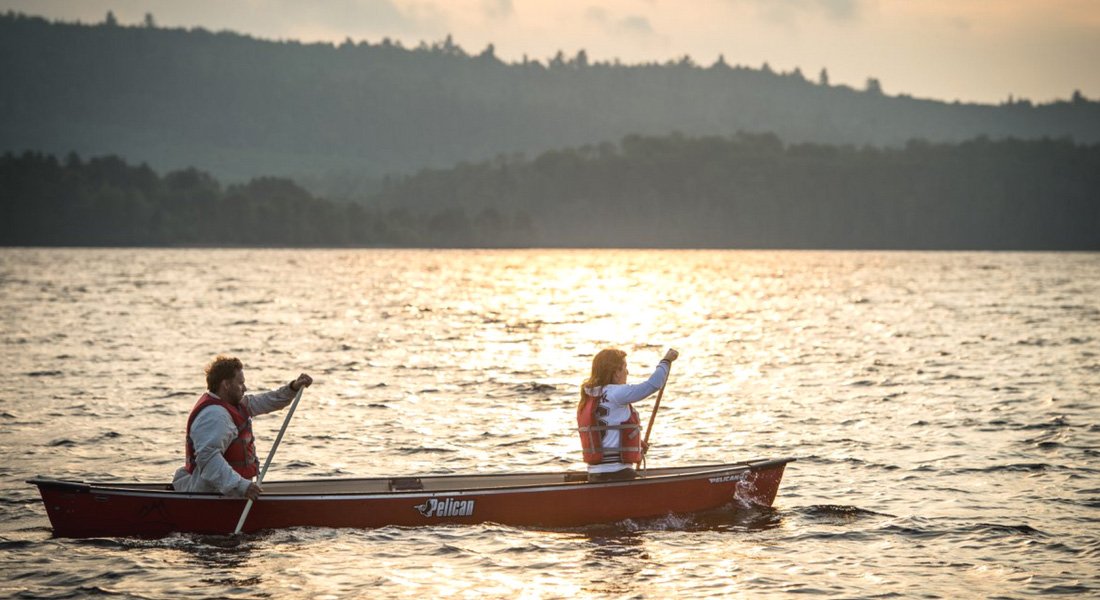 Lake Taureau is an immense lake (in fact, it's a reservoir) covering 95 km², and a well-known holiday destination. 
It's the perfect spot if you'd like to go for a leisurely paddle between two swims.
With close to 32 km of shoreline, numerous sandy beaches and more than 45 islands to discover, it's a great place to enjoy a day of water activities with the family.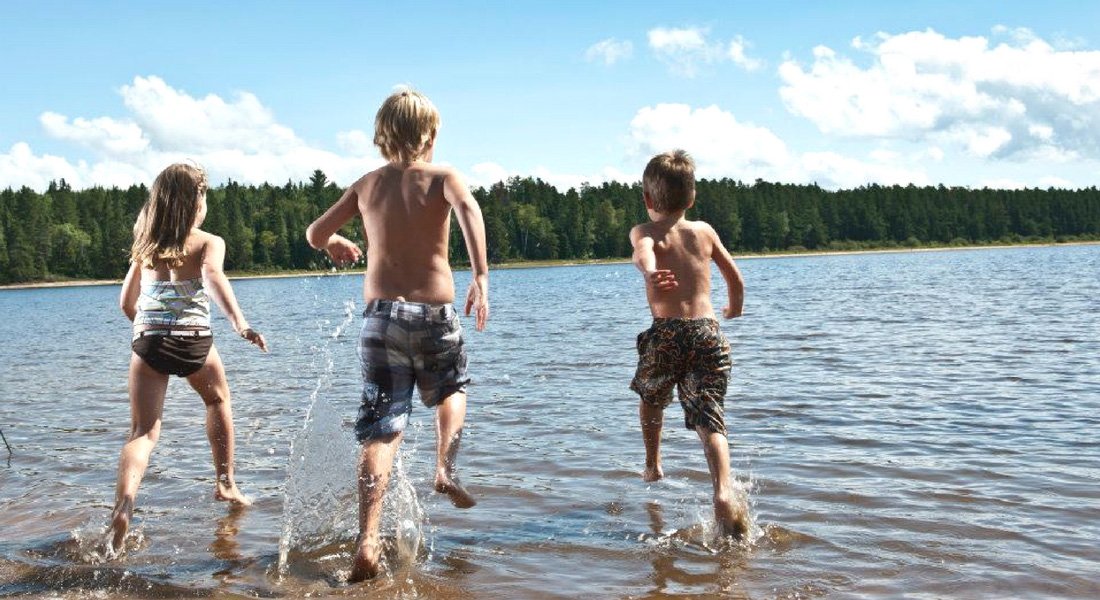 However, don't go there looking for wilderness.
Auberge du Lac Taureau Inn, which sits on the shores of the lake, is a real vacation resort that welcomes large numbers of tourists.
One thing's for sure, you will have a lot of fun, but you won't be the only ones on the water.
#10. Seigneurie du Triton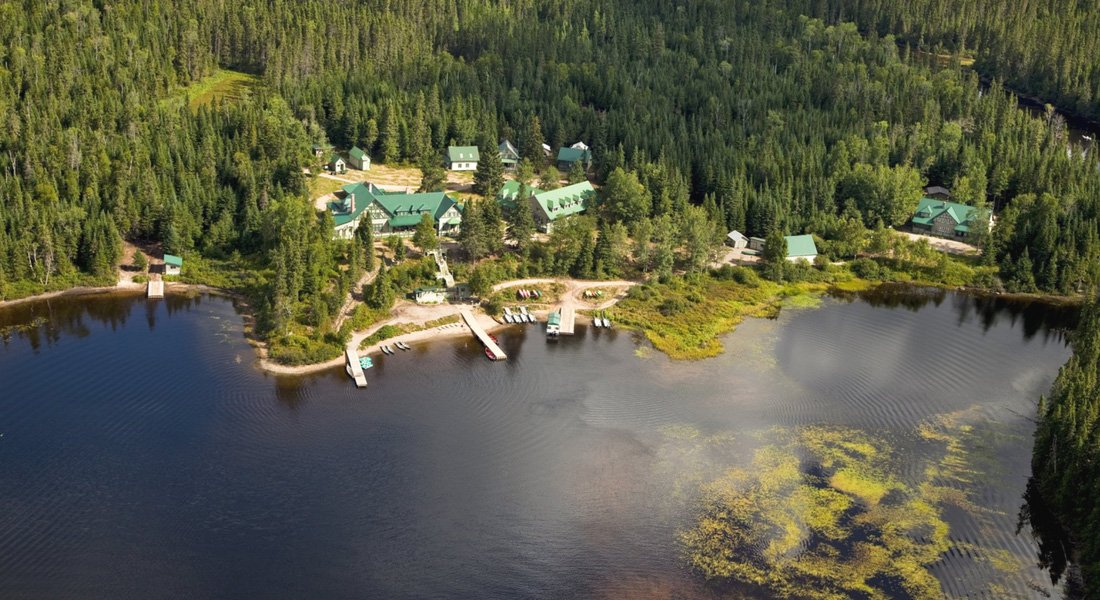 Surrounded by majestic forest, the Seigneurie du Triton has everything to fire the imagination of visitors from abroad.
The famous hundred-year-old outfitter is the perfect place to recharge your batteries and connect with nature.
The site, which is home to 12 lakes and a river, can only be reached by boat. 
All the bodies of water are navigable, and stays at the outfitter include rental of canoes and other nautical equipment. Don't hesitate to explore our great outdoors, off the beaten track.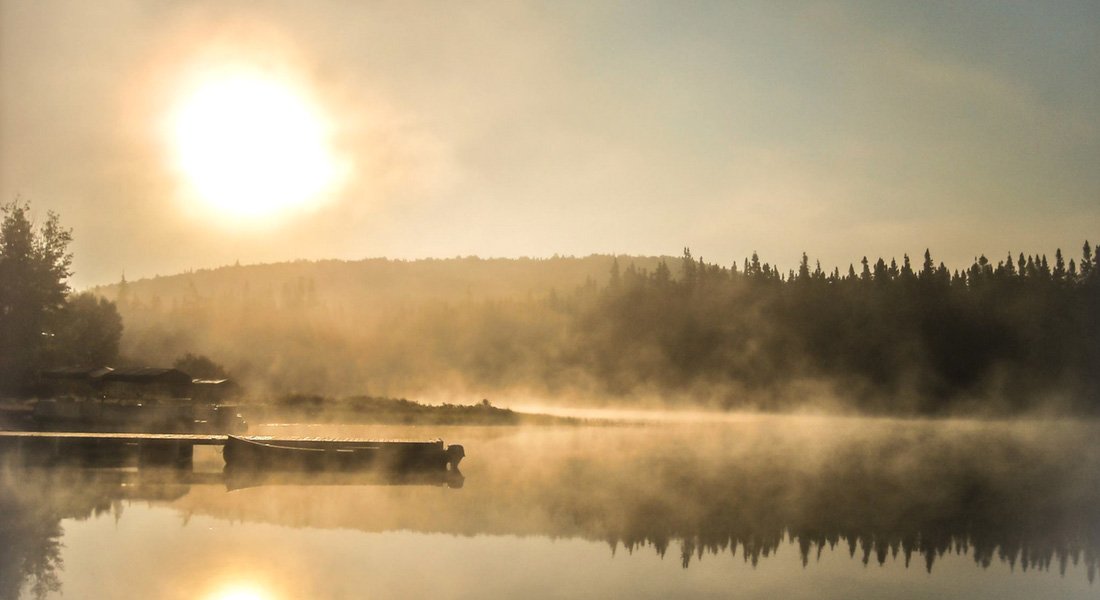 If you're looking for a truly authentic experience, the Travers River excursion will provide plenty of excitement.
Accessible to anyone in good physical shape (even kids), this 2-night stay in a rustic log camp will take you into the very heart of the wilderness.
Activities include portage trails, canoeing on lakes and rivers, meals in the great outdoors, stargazing, and more. 
Locate the best places to canoe in Quebec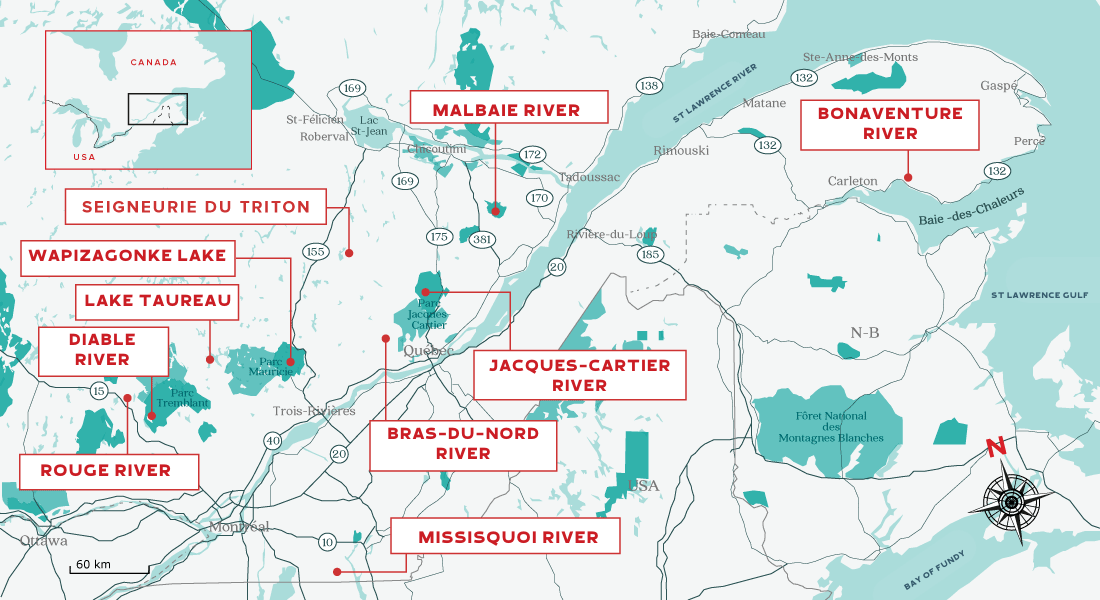 And there you go!
If you have any questions and/or suggestions, don't hesitate to share them in the comments section below.