The Client Space dedicated to your RV rental is only accessible after you have made a booking or received a quote by email. If you have any questions about using the RV price comparison tool, read the tutorial How do I use the RV rental price comparison tool?
To access it, you must first log in by clicking on "My Account" in the black header of our website (top right), and then on "Login". You will need your email address (the one you used for your quote or booking) and your password to log in. If you have forgotten your password, click on "Forgot your password?" at the bottom of the login window. If you have trouble logging in, read the tutorial How do I access my Client Space?
If "Hello" followed by your first name appears in the header, you are already logged in.

1- The sections of the Client Space
Your Client Space is a tool created to provide you with easy access to all the information about your trip and more.
This is what you will see in the header once you are logged in: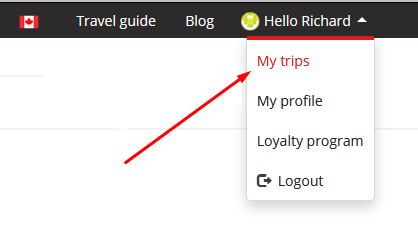 1.1- My trips
This is the main section of your Client Space. This is where you will find your RV rental quote or booking.
"My pending quotes" includes all quotes you have made on the Authentik website but have not booked.
The "My bookings" section is just below and contains all the services you have booked (on which you have paid a deposit).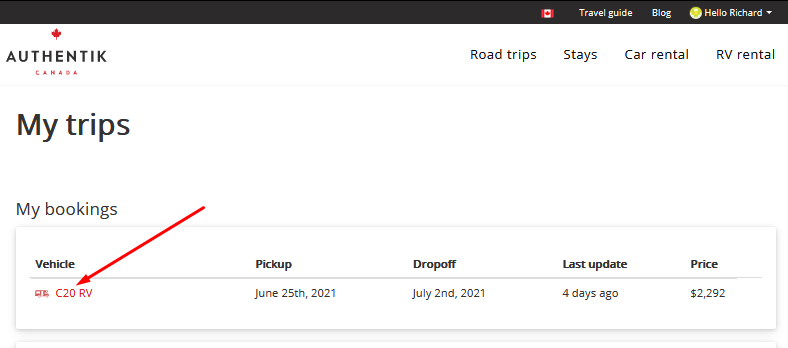 1.2- My local travel agent
This section allows you to contact your travel agent directly.
Use the message box, or make a phone appointment by clicking on the red "Phone Appointment" button under the photo. You can also arrange a Skype video call by clicking on the "Videoconference" button.
1.3- My profile
Visit this section to update your personal information, add a profile photo or change your password.
1.4- Loyalty program
Consult this section to see how much Authentik money you have collected with our Authentik loyalty program.
You can use this amount for your next trip to Canada, or to the United States via Authentik USA.
1.5- Logout
To end your visit and log out safely.


2- How do I use my Client Space?
In the "My trips" section, click on your quote or booking to access your rental.
For your RV rental, you will find 4 tabs:
2.1 - "My rental" tab
The "My rental" tab provides a summary of your RV rental.
It contains relevant information such as the type of vehicle, the pick up and drop off locations, and the price.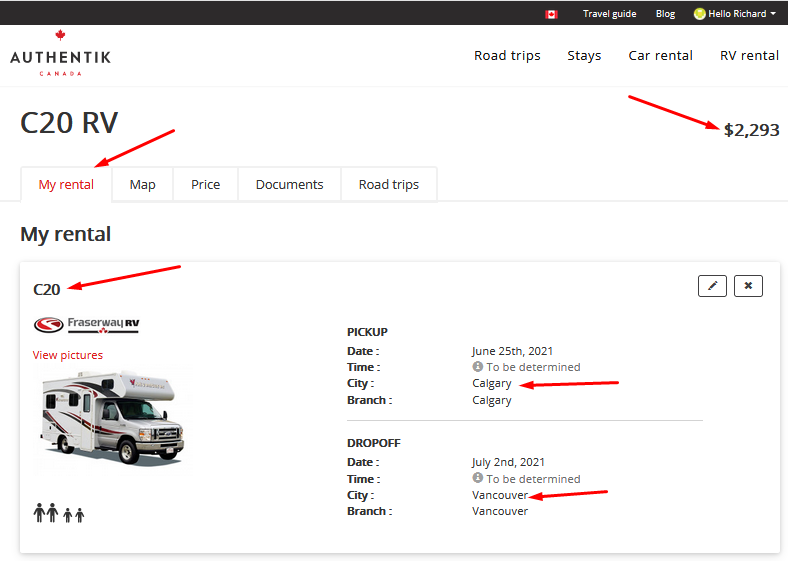 It is on this page that you can request the modification or cancellation of your RV rental.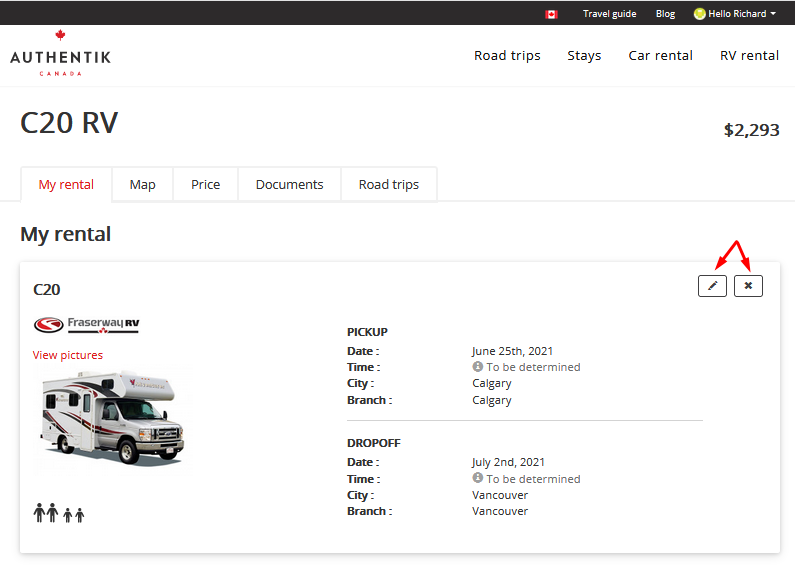 If you click on "modification request" or "cancellation request", a dialogue box will open. You can then write directly to your travel agent, indicating the changes you want to make.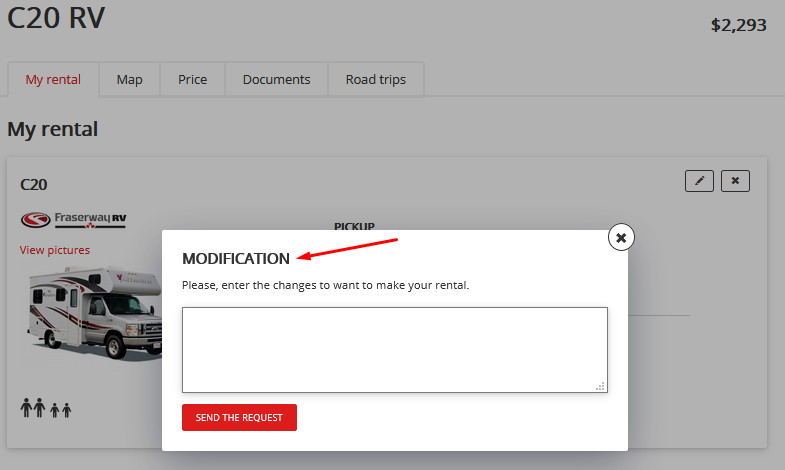 2.2 - "Map" tab
The Map tab shows a map with the pick up and drop off locations for your RV rental.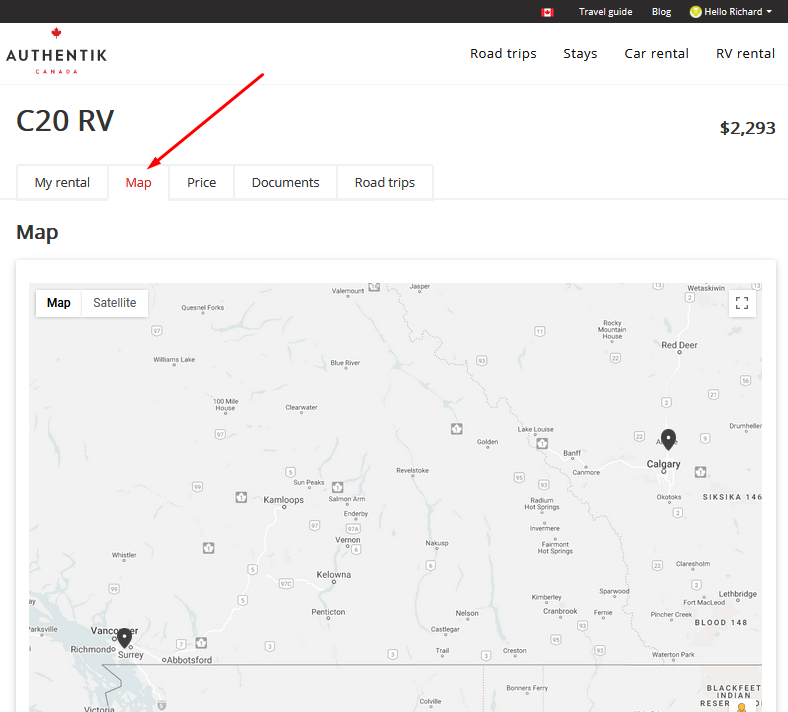 2.3 - "Price" tab
At any time, you can consult the details of the price of your RV rental as well as all the inclusions and exclusions of the contract. Also take the time to read the Important Notes to avoid any unpleasant surprises.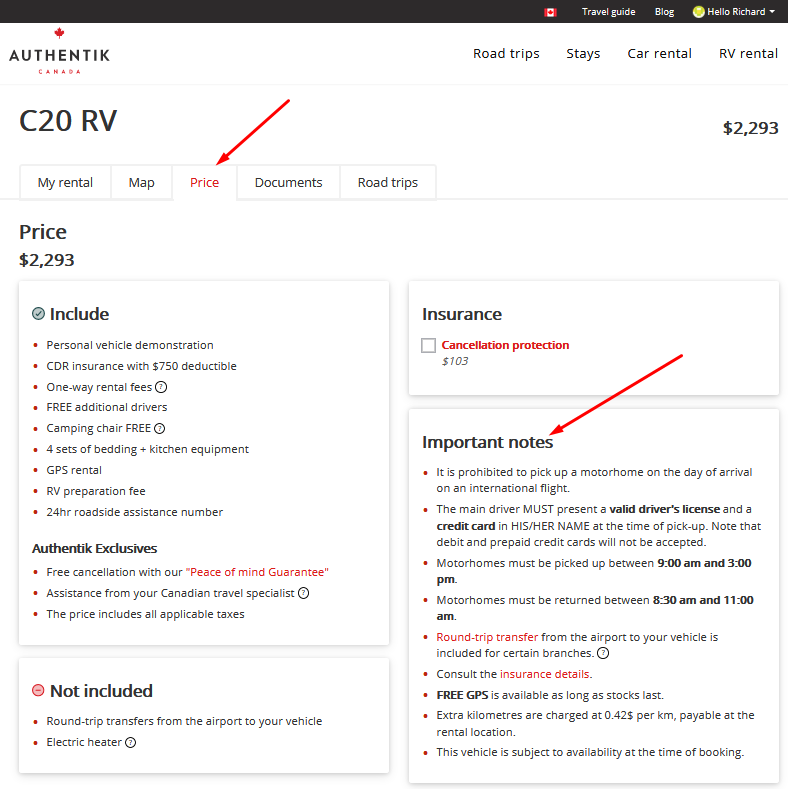 2.4 - "Documents" tab
When you enter the "Documents" tab, you will immediately see the status of your booking.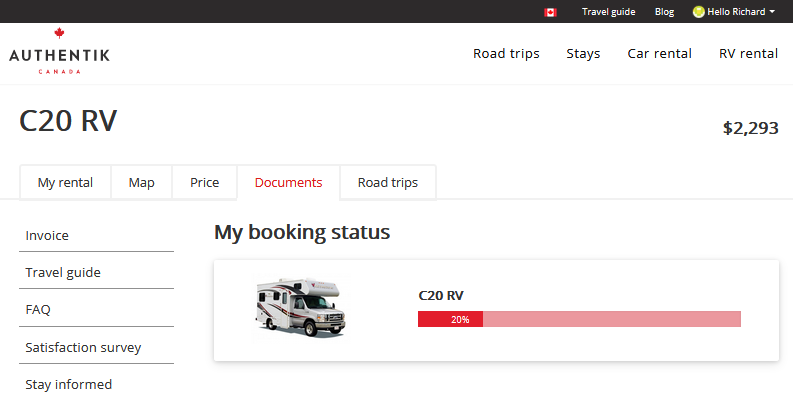 The menu on the left contains the following 5 sections:
1- Invoice: Consult and print your invoice.
2- Travel guide: Consult or print our free travel guide.
3- FAQ: A host of Frequently Asked Questions to help you plan your trip.
4- Satisfaction survey: When you return from your trip, you will have access to a questionnaire allowing you to post your feedback, whether positive or negative, on our website.
5- Stay informed: Sign up for our exclusive monthly newsletter featuring new blog articles, travel contests and a wealth of practical information.