Top 4 must-sees on Vancouver Island
You simply must add Vancouver Island to your list of "places to visit before you die"!
Vancouver Island is four times bigger than Corsica. The island is sparsely populated, with most people living in the southern part in and around Victoria, the capital of British Columbia.
Wether you want to take it easy with the family or are looking for exceptional coastal views on your honeymoon in Canada, the island will deliver.
Without further ado, here is my tour of Vancouver Island in 4 must-see destinations.
 
#1. Victoria

Victoria is an excellent departure point for your Vancouver Island adventure during your trip to Canada or the USA. It is very close to the US border, making it easy to combine your visit with an American road trip.
Victoria, the capital of British Columbia, offers a world of calm and charm. It is a small city with a British feel where you can enjoy afternoon tea, stroll through enchanting flower gardens and admire fine Victorian architecture.
Don't miss the Butchart Gardens and the Royal BC Museum, where you can learn all about Canada's First Nations people through highly creative exhibitions.

#2. Pacific Rim National Park

I highly recommend the Long Beach area, on western Vancouver Island between the villages of Ucluelet and Tofino. It's the perfect place to do some hiking along the edge of the Pacific Ocean.
The Long Beach sector of Pacific Rim National Park offers kilometre upon kilometre of deserted beaches, with surprising vegetation and an abundance of marine and land-based wildlife.
This sector of the parc has 9 trails, with most of them taking less than an hour to walk.
Watching the sun set over the Pacific Ocean is a must-do activity.
And while you're here, be sure to pay a visit to nearby Tofino, a picturesque fishing village.
#3. Cathedral Grove

Don't miss Cathedral Grove in MacMillan Provincial Park, home to the largest trees in Canada. This wonderful place is one of the last remnants of the temperate rainforest that covered all of Vancouver Island more than 1000 years ago.
Cathedral Grove is a stand of giant trees and a fascinating ecosystem that is reminiscent of the giant redwood forests one can visit on a trip to California. When you walk through this ancient forest, the vegetation is so dense that you can't see the sky.
For the First Nations of Vancouver Island, Cathedral Grove was a sacred place. You will quickly understand why.
#4. Telegraph Cove

The magnificent little village of Telegraph Cove is in northern Vancouver Island. You will be charmed by its period houses on stilts, connected by wooden sidewalks.
Not to mention that Telegraph Cove is the best place in the world to observe orcas (killer whales). You will have a wide range of whale-watching experiences to choose from.
To find out more, visit the Telegraph Cove website.
Map of the 4 must-see destinations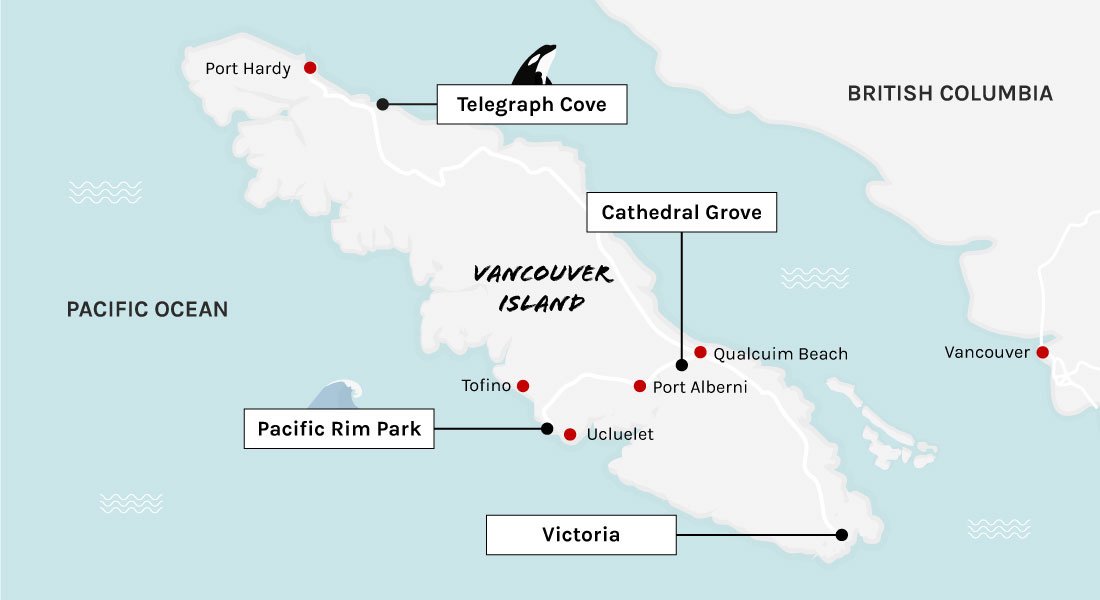 Without a doubt, if you're looking for a wilderness destination, Vancouver Island has a lot to offer. For nature lovers only.
What would you add to this Top 4?
Don't hesitate to share your thoughts in the comments section below.