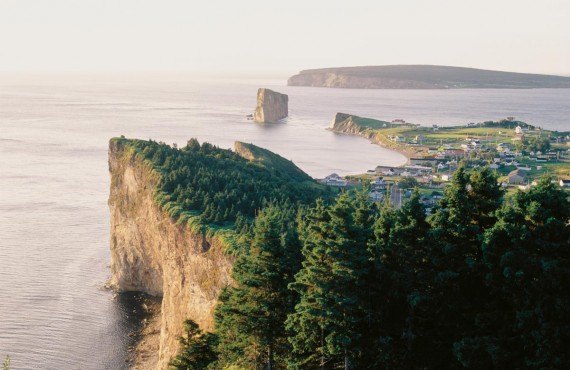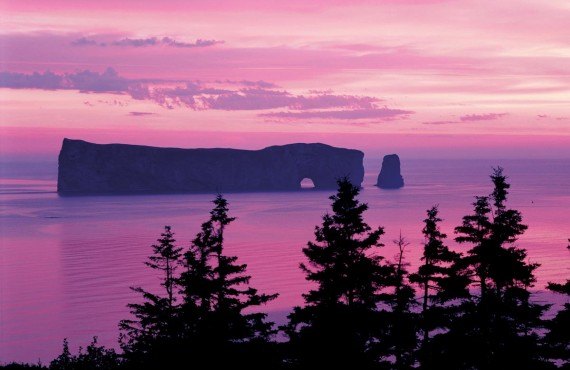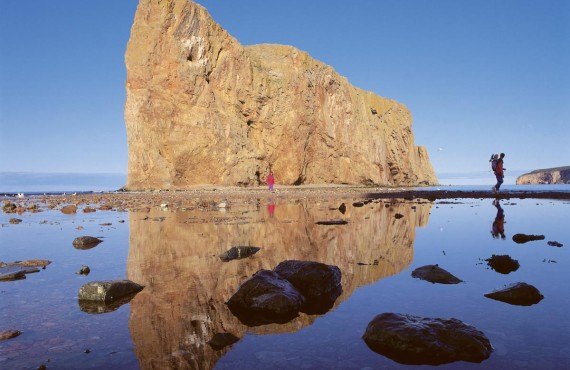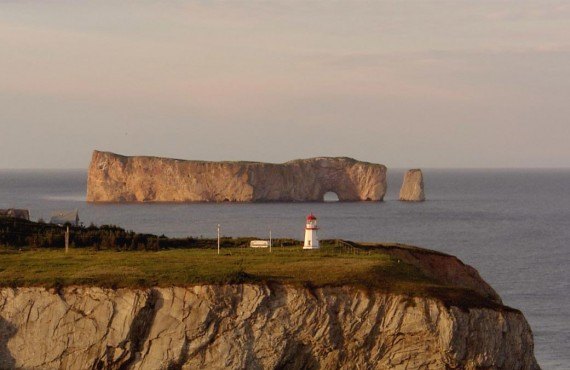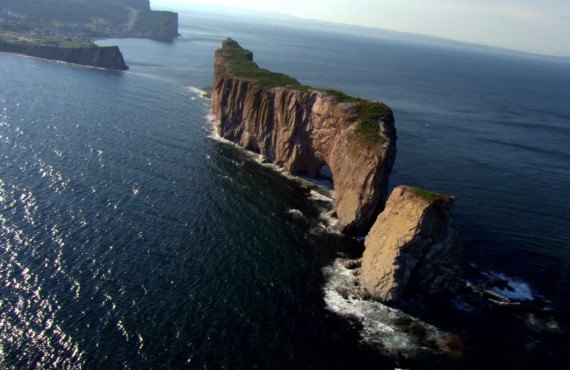 What to do
Noteworthy
Worth the detour
Must see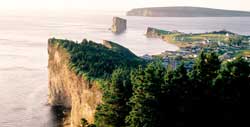 The village of Percé owes its name to the iconic Rocher Percé (which means "pierced rock"), located just offshore. The impressive sheer rock formation is 471m long, 85m high and has a hole measuring 10m in diameter; it is the tourist emblem of Quebec.
Percé is known around the world for its beautiful scenery. It is a great place to take a stroll, and is known as one of the most beautiful villages in Québec. You are sure to leave with unforgettable memories of your time spent here.

BONAVENTURE ISLAND AND ROCHER PERCÉ CRUISE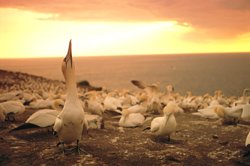 This cruise is indisputably one of the most popular activities in the area, and for good reason! After enjoying a close-up view of Rocher Percé, you will be transported to Bonaventure Island, known for its seals and its large migratory bird sanctuary, including a famous colony of Northern Gannets.
During the cruise, you will have the option of going ashore on Bonaventure Island to pursue your exploration on foot. You can soak up the captivating island atmosphere along four hiking trails totalling 15 km.
Bonaventure Island offers the spectacular sight of some 250,000 sea birds including razorbills, seagulls, guillemots, Atlantic Puffins and the largest Northern Gannet colony in North America. Duration of the boat excursion: Approximately 90 min, or a minimum of 3 hours if you go ashore on the island.
Daily departures on the hour, starting at 9 a.m., from mid-May to the end of October.

PERCÉ GEOPARK
UNESCO Global Geoparks are geographical areas whose mission is to protect and conserve the integrity of a site for the benefit of present and future generations, while promoting education and sustainable development. The Percé Geopark obtained this status in 2018. Are you ready to discover 500 million years of Earth's history? Several activities and facilities are available on site, such as hikes, science mornings, an indoor play area, a suspended glass platform, a zipline, a multimedia zone with a Tektonik show and more.
The Geopark is open year-round, but the activity schedule varies with the seasons.

RIVIÈRE AUX ÉMERAUDES WATERFALL
The Rivière aux Émeraudes (Rivière-du-Portage) site, in the Coin-du-Banc area, is one of the trailheads for the Sentier des Rivières Trail, which stretches 27 km through the forest. From the parking lot, a short hike on a portion of the trail called Rivière-du-Portage Sector will take you to the bottom of the valley to admire a waterfall of rare beauty. The color of the water is breathtaking. Choose a sunny day for this excursion. Bring your camera and your swimsuit!
Accessible from early May to late October.

NEARBY
---
NOVA LUMINA
Enjoy an out-of-the-ordinary immersive experience with "Nova Lumina", an illuminated seaside night walk created by renowned Montreal studio Moment Factory. Explore a magical forest trail carrying the light of a fallen star, with the mission of returning it to the night sky. The trail is 1.5 km long and the experience lasts about 60 minutes. You can buy your tickets online on the website. Closed shoes are recommended. First departure at 9 p.m.
Open from the end of June to early October.

MAGASIN GÉNÉRAL HISTORIQUE AUTHENTIQUE
A trip back in time awaits you in this authentic general store dating from 1928. Interpreter-storytellers in period costume offer guided tours while sharing humorous anecdotes about the history of the local pioneers. The store's interior reveals the daily life of yore through many objects, tools and wares.
Open daily from mid-June to early October, 10 a.m. to 5 p.m.
---
Optional activities
Where to eat
$ Inexpensive
$$ Moderate
$$$ Upscale
$$$$ Fine dining
Microbrasserie Pit Caribou ($)
This microbrewery, located in a picturesque fishing village close to Percé, has been brewing quality craft beers using Gaspé ingredients for more than 10 years. On site you will find the brewery, beer on tap, a store, and a terrace overlooking the water where you can enjoy your brew.
Open daily from 10 a.m. to 9 p.m.
---

La Boîte à Fruits de Mers ($$)
Located in downtown Percé, La Boîte à Fruits de Mer is said to offer the best fish and seafood in the Gaspé Peninsula. It is both a fishmonger and a restaurant where you can eat in the dining room or on the terrace overlooking the sea. The lobster is a must! To take out or eat in.
Open from 10 a.m. to 10 p.m. daily.
---

La Maison du Pêcheur ($$-$$$)
La Maison du Pêcheur is a classic spot for fresh lobster and a wide variety of fish and seafood. They also serve excellent wood-fired pizza.
Open early June to mid-October from 11:30 a.m. to 3 p.m. and 5 p.m. to 10 p.m. (in low season from 5:30 p.m. to 9 p.m.).
---

Café-Bistro de la Vieille Usine ($$-$$$)
Located in L'Anse-à-Beaufils south of Percé, this dynamic cafe-bistro offers fish, seafood and regional specialties, many prepared with locally-sourced ingredients. Offers live shows throughout the summer.
Open Wednesday-Sunday from 9 a.m. to 11 p.m in high season.
---

La Maison Mathilde ($$$)
A little gem of a restaurant that simply must be experienced. Quality lobster, fish, seafood, pasta, meat and poultry dishes are served in a friendly and inviting atmosphere.
Open daily from 7 a.m. to 11 a.m. and from 5:30 p.m. to 9:30 p.m.
---

Hotel La Normandie Restaurant ($$$-$$$$)
A dining room with a view of Rocher Percé and an haute cuisine dining experience await you at the Hotel La Normandie restaurant. The menu offers a good variety of fish, shellfish, meat, poultry, grilled and pasta dishes.
Open from mid-June to early October, for breakfast from 7:30 a.m. to 10:30 a.m. and dinner from 6 p.m. to 8:30 p.m.
---
*** Hours may vary ***
Where to sleep ?
Festivals calendar
Les Percéides Film Festival
Dates: mid-August
More than thirty films (feature-length and short films, documentaries, fiction and animated films) are screened at this annual international film festival. Other activities include open-air cinema activities, presentations and discussions with filmmakers, the public and artisans of the screen.
Map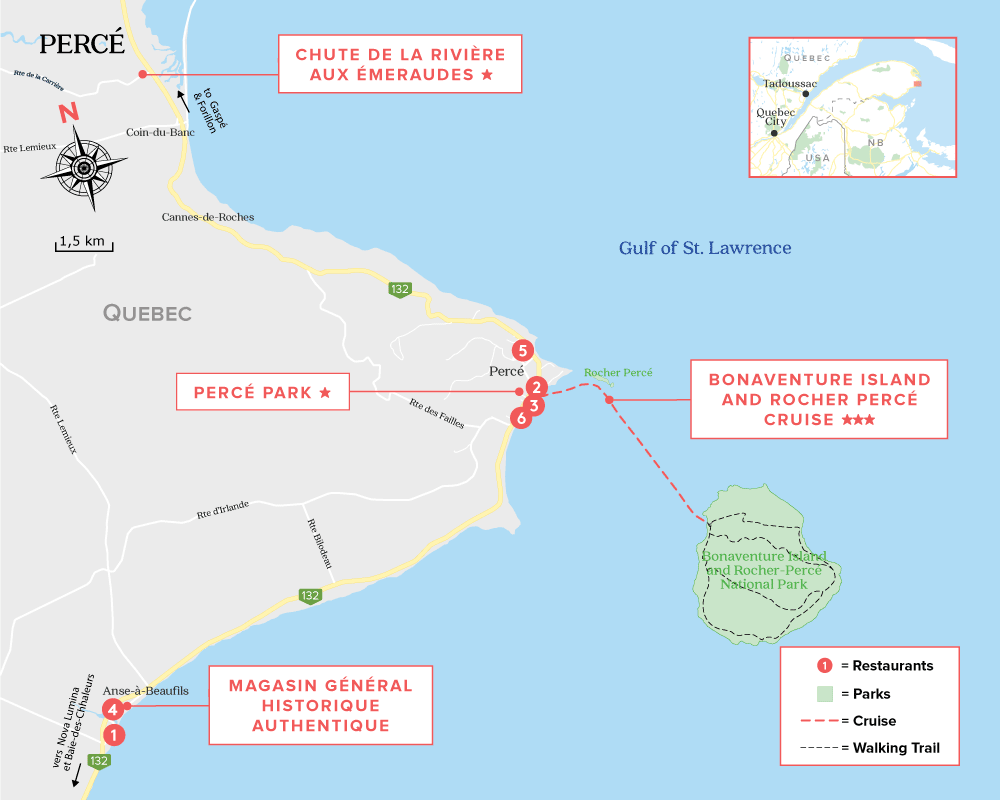 When to visit
Very Favourable
Favourable
Unfavourable
| Jan | Feb | Mar | Apr | May | Jun | Jul | Aug | Sep | Oct | Nov | Dec |
| --- | --- | --- | --- | --- | --- | --- | --- | --- | --- | --- | --- |
| | | | | | | | | | | | |
Climograph
Very Favourable
Favourable
Unfavourable
Month
Average temperature
min (°C)
Average temperature
max (°C)
Precipitations
(mm)
Overall score
January
-14
-6
94
February
-14
-5
69
March
-8
-1
94
April
-2
4
64
May
3
10
80
June
8
16
81
July
12
19
77
August
12
20
71
September
8
16
73
October
3
10
108
November
-2
5
88
December
-9
-2
86
Travel reviews
impressive rock formation
great weather, walking and exploring
Download our travel guide
Relevant posts