The best 2-week Quebec road trip
With its vast area, Quebec really does have something for everyone!
There is so much to see and do that it can be difficult to choose.
If you'd like to take a vacation in Quebec and see everything it has to offer, here is the best 2-week tour for discovering the various splendours of La Belle Province! 
 
Road trip map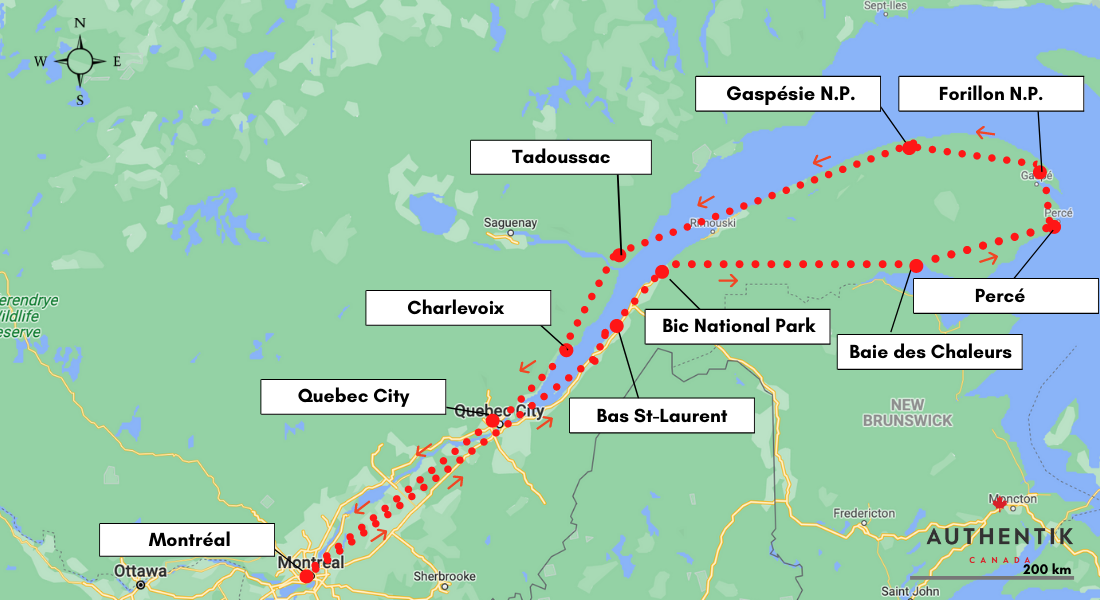 Road trip summary
Day 1 : Montreal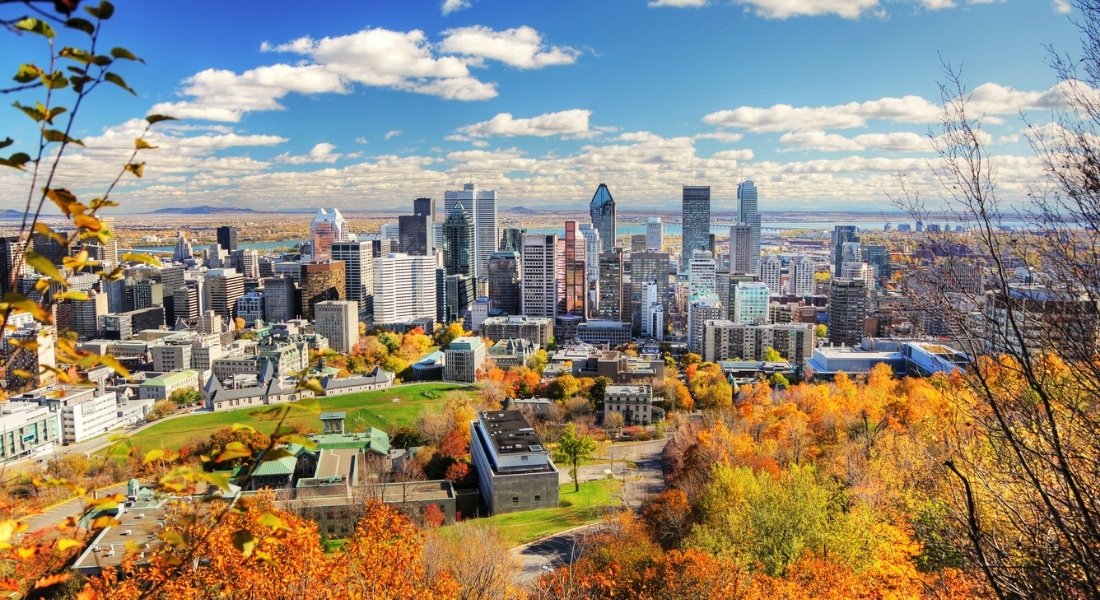 Your trip to La Belle Province begins with your arrival in Montreal, one of the largest French-speaking cities in the world. 
Take advantage of your short stay here to visit Old Montreal , a district filled with history and European-style architecture.
Rue St-Paul  and Place Jacques-Cartier  are pedestrian-only during the summer months and enjoyable places to take a stroll.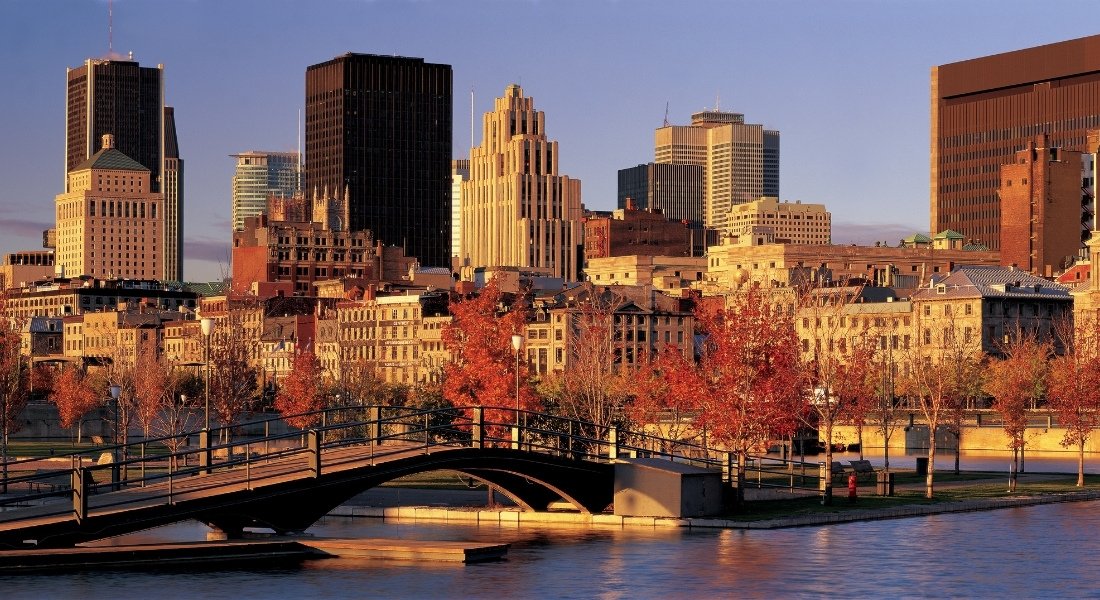 Nearby, the Old Port of Montréal  bustles with a multitude of activities: a labyrinth, a zipline, an aerial obstacle course, pedal boat rentals, a science centre, and much more. You're sure to find something to your liking.
In the evening, go and admire Notre-Dame Cathedral , one of the city's architectural and historical gems. 
Then it is time for a good night's sleep. Your great Canadian road trip adventure begins tomorrow!

Day 2 : Bas St-Laurent 

 (423 km / 04h07)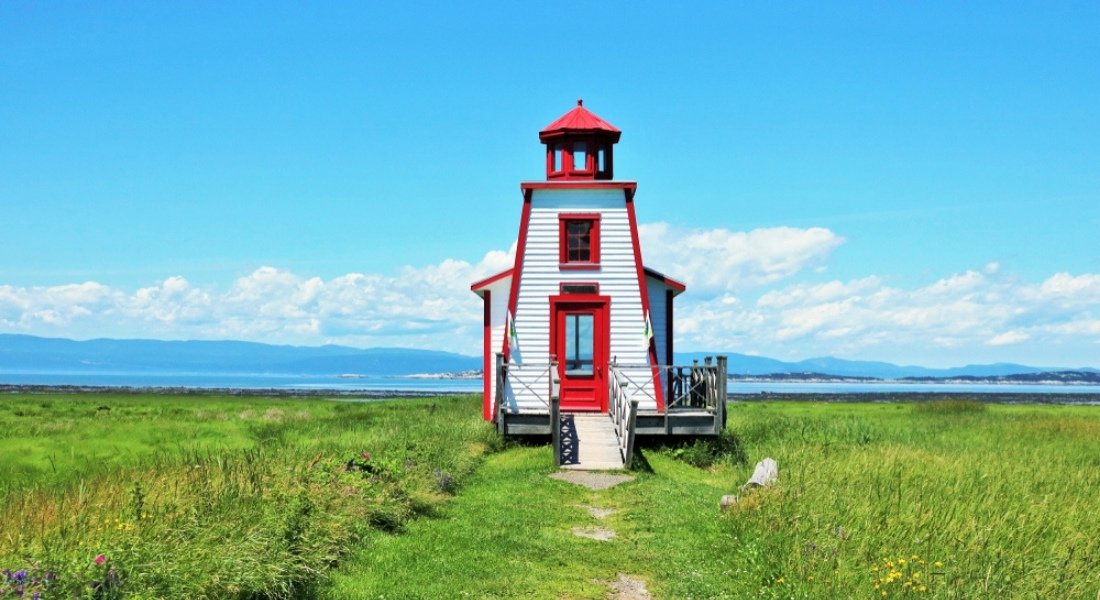 This morning, pick up your Montreal rental car and hit the road! 
Your first destination is simply charming: the Bas St-Laurent (Lower St. Lawrence). This region is home to several picturesque little villages. 
You will be delighted by the serenity of the landscapes in the "bas du fleuve", as the area is known to Quebecers.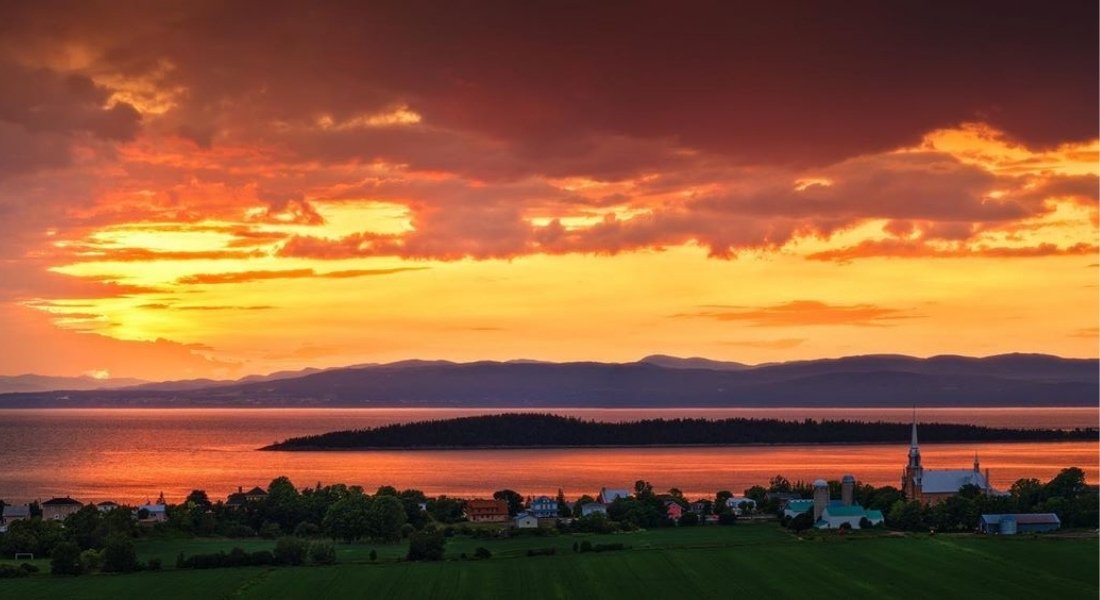 The municipality of Kamouraska  is definitely worth a detour.
According to National Geographic, Kamouraska has the second most beautiful sunsets in the world. 
The Bas St-Laurent is increasingly known for its gourmet tourism, so be sure to take this opportunity to sample the local flavours!
Their specialties are seafood, maple treats and craft beers.

Days 3-4 : Bic National Park

(146 km / 01h38)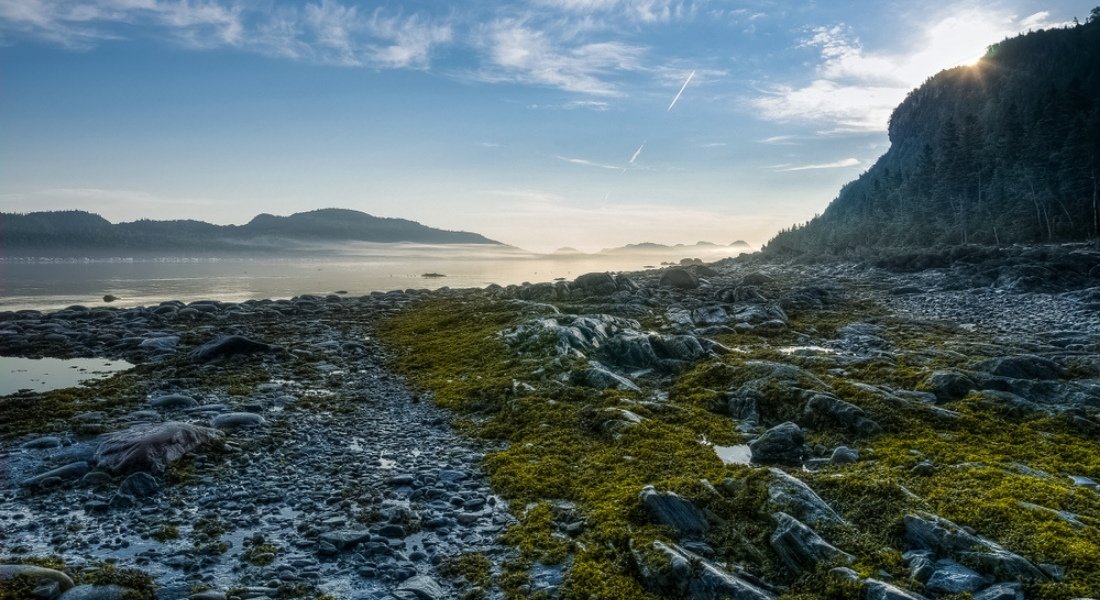 Since your destination for the next two days is in the same administrative region, you can spend a pleasant morning walking along the banks of the St. Lawrence River.
After all, you're on vacation, so relax and enjoy the scenery and the fresh ocean breezes!
Then make your way to Bic Park, a national park to discover in Quebec, which is quickly becoming a favourite with travellers and locals alike.
In Bic, capes, bays, coves, islands and mountains come together to create a unique and radiant landscape.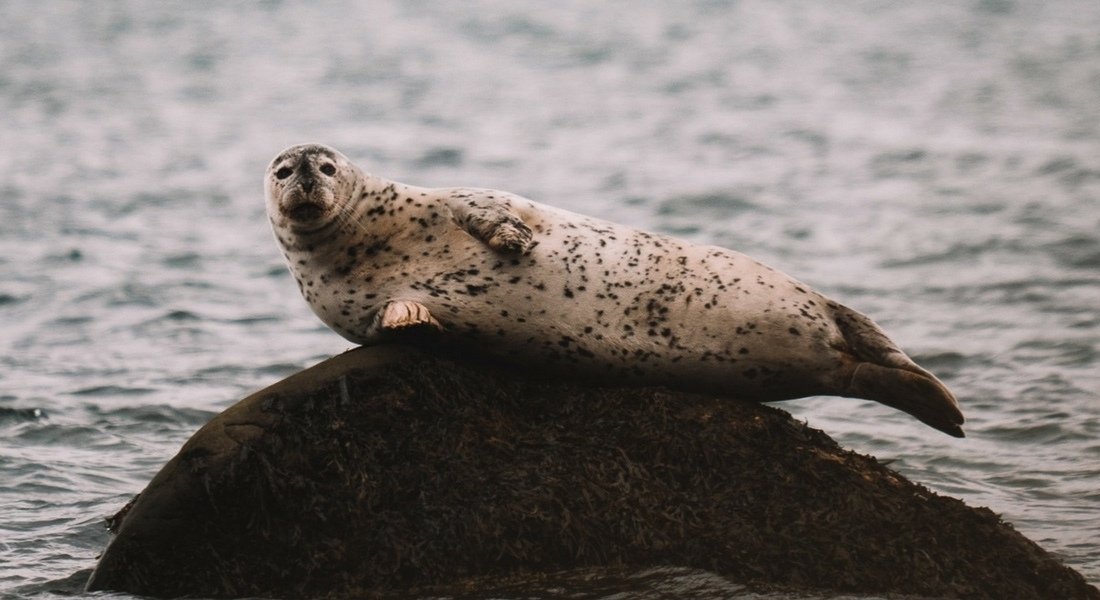 Begin your visit by watching the seals . They can be found at Cap-Caribou or Pointe-aux-Épinettes. Ask where best to see them when you get there.
For your second day, there are plenty of options. If you enjoy hiking, 25 kilometres of groomed trails await.
If you prefer water activities, the sea kayak tours are sure to please.
And if you're hoping to see wildlife, the park is home to some fifteen species of birds of prey each year in addition to common eiders, porcupines, fishers and white-tailed deer. 
Day 5 : Baie des Chaleurs 

(198 km / 02h22)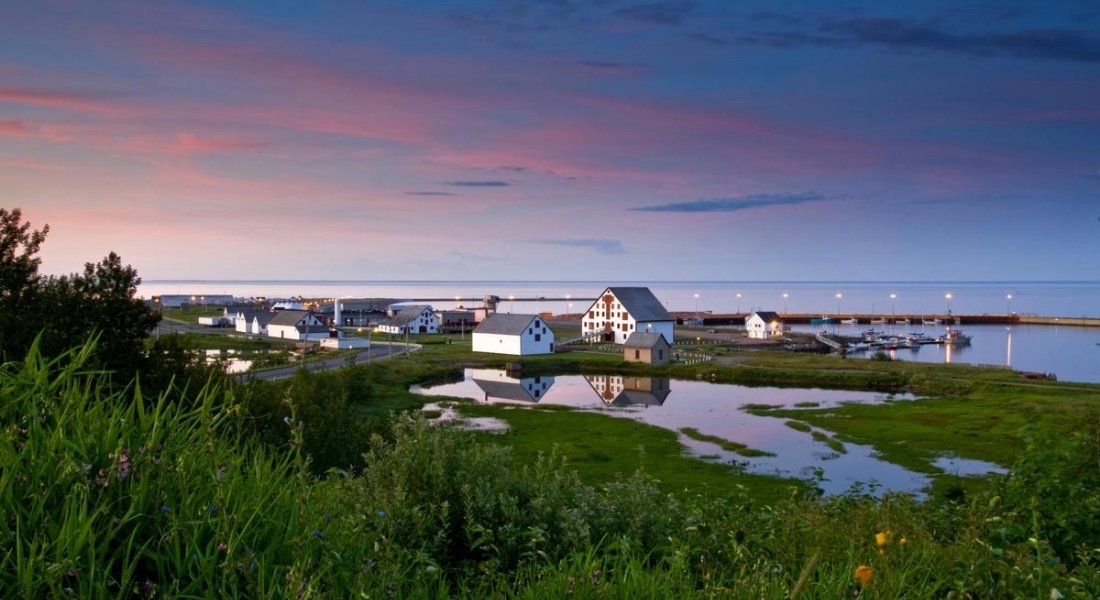 This morning, set a heading for Gaspésie . More precisely, its southern section: Baie des Chaleurs (Chaleur Bay).
The scenic route will take you through the Matapedia Valley. There is plenty to see and do there!
The region is known for many things, not least of all its people. The locals are known for enjoying the good things in life and, above all, for their legendary hospitality!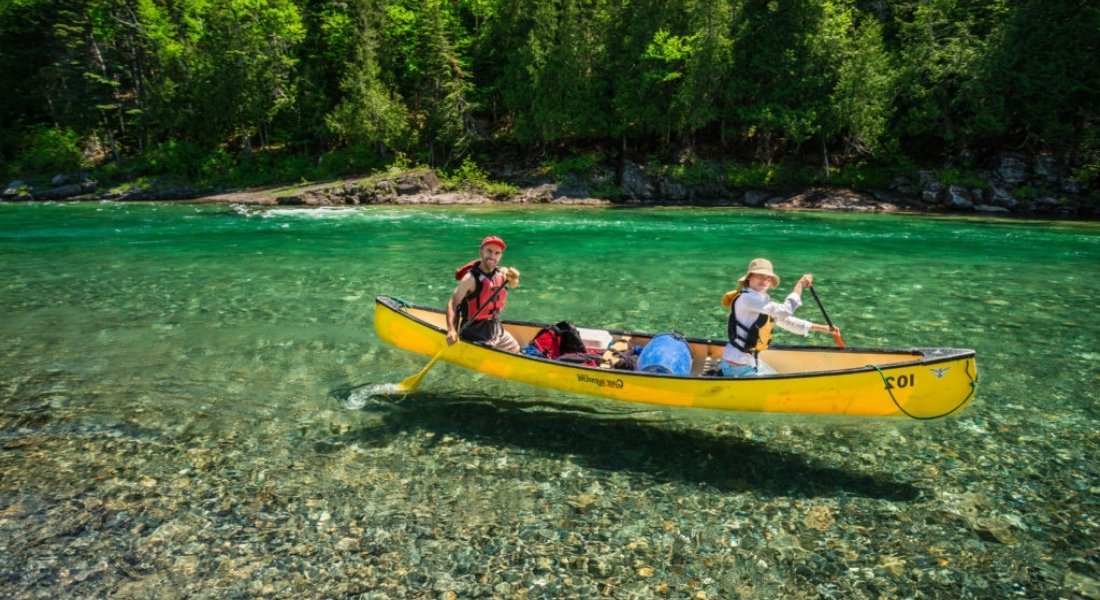 Take advantage of your stay here to climb Mont St-Joseph  or visit Miguasha Fossil Park .
These natural sites are steeped in history.
Mont St-Joseph was considered a sacred site by the Mi'kmaq, the first inhabitants of Carleton-sur-Mer, while Miguasha tells the story of life as it existed here 378 million years ago through its fish and plant fossils.
In the morning, before leaving Baie des Chaleurs, make a stop at the Bonaventure River . 
Its crystal-clear waters will surprise you. It is one of the most beautiful rivers in the province and one of our top 10 places to go canoeing in Quebec!
Days 6-7 : Percé 

(216 km / 02h48)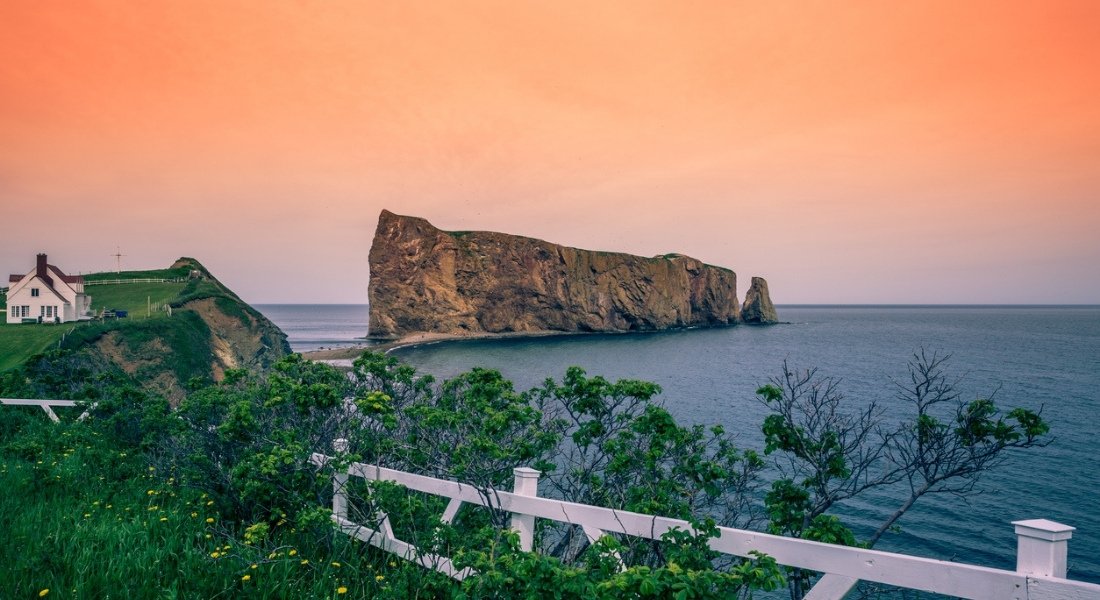 Today's destination, Percé, needs no introduction. The iconic Rocher Percé, sculpted by time and the sea, awaits you there.
If you feel like taking it easy, a short hike along the Sentier des Rivières trail near Coin-du-Banc leads to Rivière aux Émeraudes . You will quickly understand how this stunning river got its name!
It is one of Quebecers' favourite secret places.
If you would like to learn more about the region's fascinating geological history, pay a visit to Percé Geopark . The site offers many activities and installations for an enjoyable and informative experience!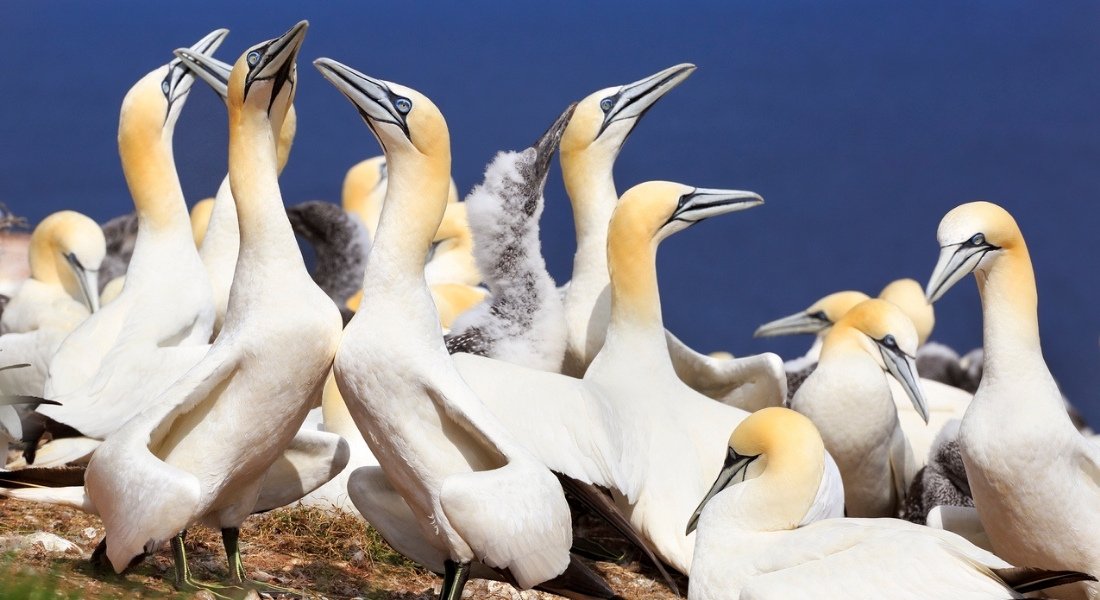 On your full day in Percé, you simply must pay a visit to Île-Bonaventure-et-du-Rocher-Percé National Park . A short cruise will take you to Bonaventure Island. 
The island abounds in beautiful wildflowers, but it is the huge colony of northern gannets that will remain etched in your memory. Bonaventure island can be easily explored in one day. Bring a picnic lunch!
And for an enjoyable ending to a great day, who not treat yourselves to a delicious local lobster dinner?  You won't regret it!
Day 8 : Forillon National Park

(63 km / 00h48)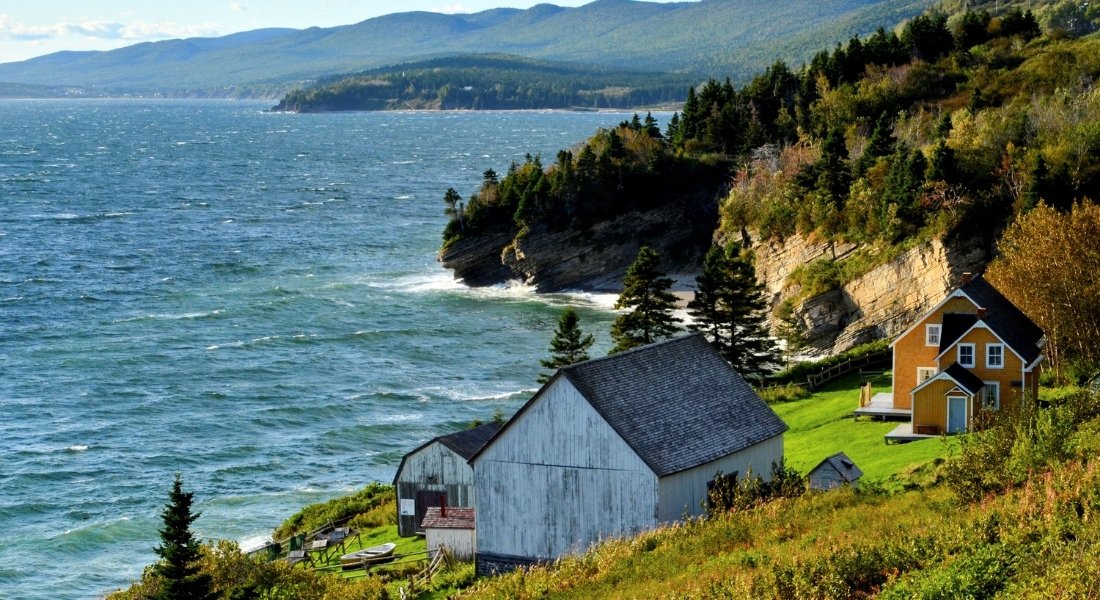 Another day exploring the beautiful Gaspé Peninsula. Today you discover the spectacular Forillon Park.
Covering 244 square km, Forillon Park is a place of majestic landscapes composed of sea, cliffs and mountains, inhabited by colonies of seabirds and enigmatic arctic-alpine plants.
The Grande Grave hike is a must.
This 3-km loop features several carefully restored original buildings that will take you back to the time of the settlers who established the salt cod trade in the area.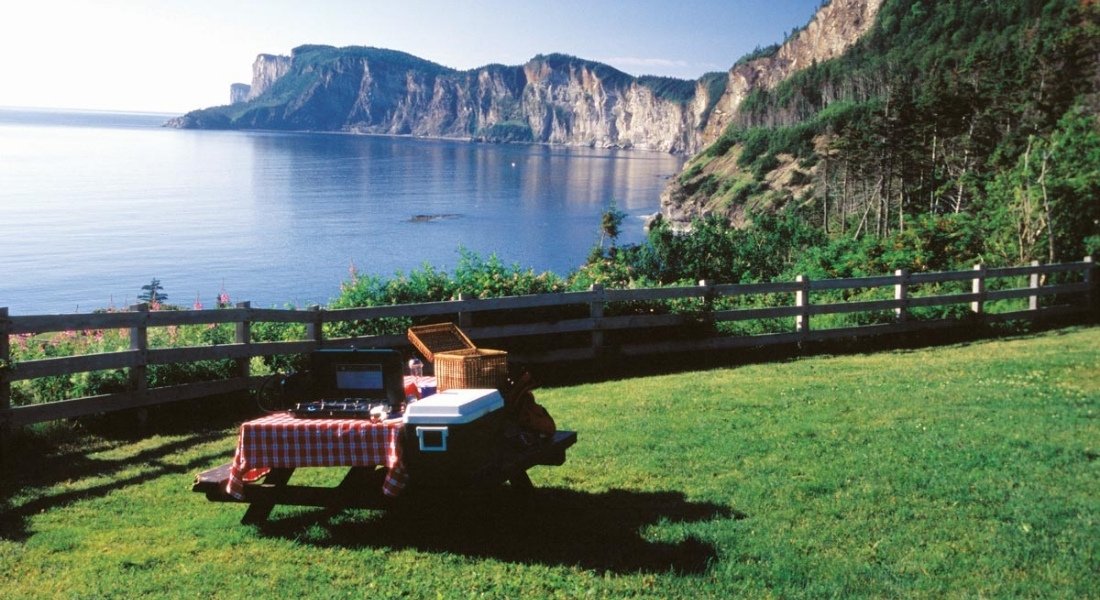 A visit to Cap Bon-Ami is also highly recommended. It offers breathtaking views and is the perfect spot for a picnic lunch.
Kayaking enthusiasts, don't miss the sunset sea kayak excursion. It's an experience you won't soon forget!
Days 9-10 : Gaspésie National Park

(200 km / 02h20)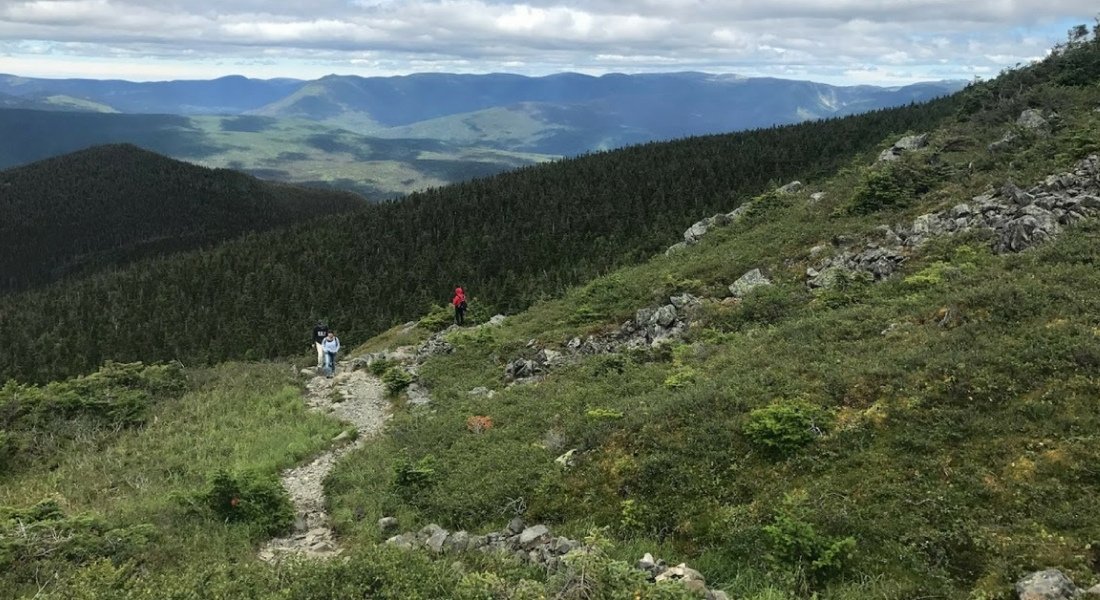 Today's destination is Gaspésie National Park. 
This paradise for hiking enthusiasts contains 25 peaks that rise above 1,000 metres.
A great activity to try while you're in the area is an ecotourism sea excursion . 
Aboard a covered Zodiac boat, you will discover the wonders of the ecosystems of the St. Lawrence estuary and gulf. You will witness the hauling of waved whelk and rock crab traps, learn to handle fascinating sea creatures and, if you're lucky, see marine mammals.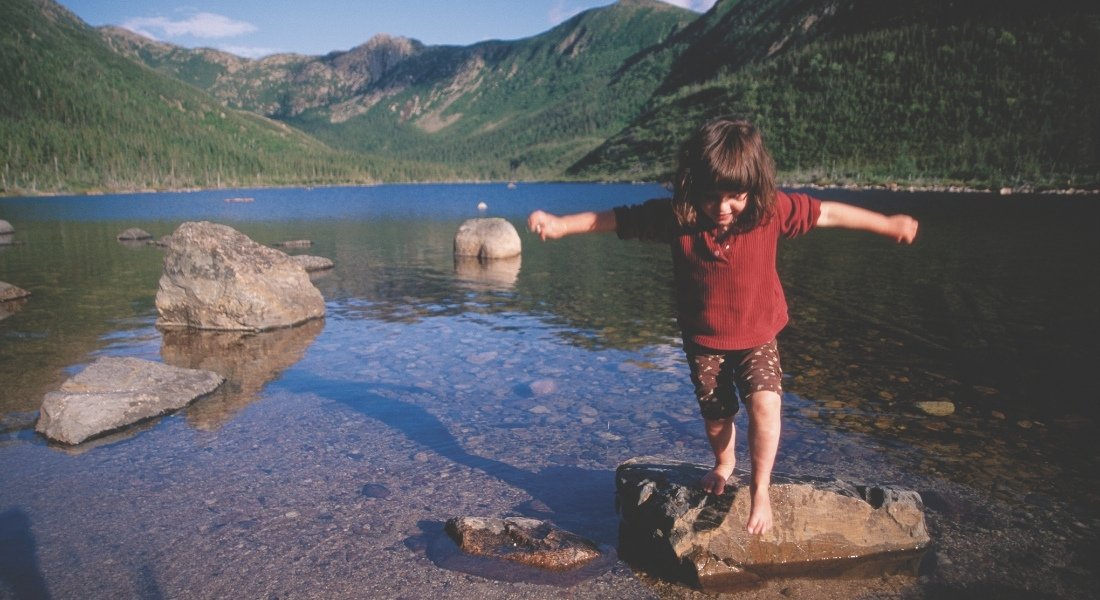 When in Rome... You really must go for a hike on your second day near the park.
If you're feeling adventurous, treat yourself to the Mont Jacques-Cartier Trail , the park's most iconic hike. 
The summit has a climate like that of the Far North, and you have a good chance of spotting the famous wild caribou.
You're in for a complete change of scenery, but not without a considerable effort: the 8.2 km round-trip will take 4 to 5 hours of hiking to complete.
For families and the less athletically inclined, I recommend the Lac-aux-Américains Trail . This 2.6 km round-trip hike is classified as easy, and will bring you to a magnificent "cirque" or glacial basin.
You will quickly see why this lake is one of our Top 10 lakes in Quebec. 
Day 11 : Tadoussac 

(329 km / 05h51)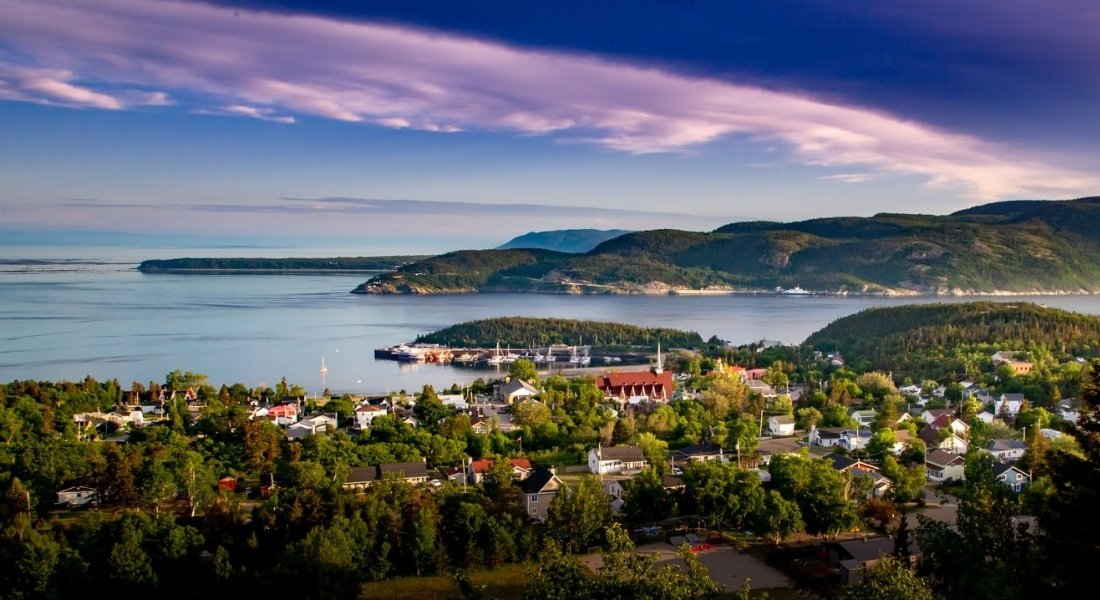 Get an early start this morning, because the road will be long, but spectacular!
First head to Rimouski, where a ferry will take you to the north shore of the St. Lawrence River, and from there make your way to Tadoussac.
If all that driving gave you an appetite, I highly recommend stopping at Café Bohème , in the heart of the iconic village. 
End your day on a high note with a stroll through the village of Tadoussac.
Then enjoy a good night's sleep to recover from the long day.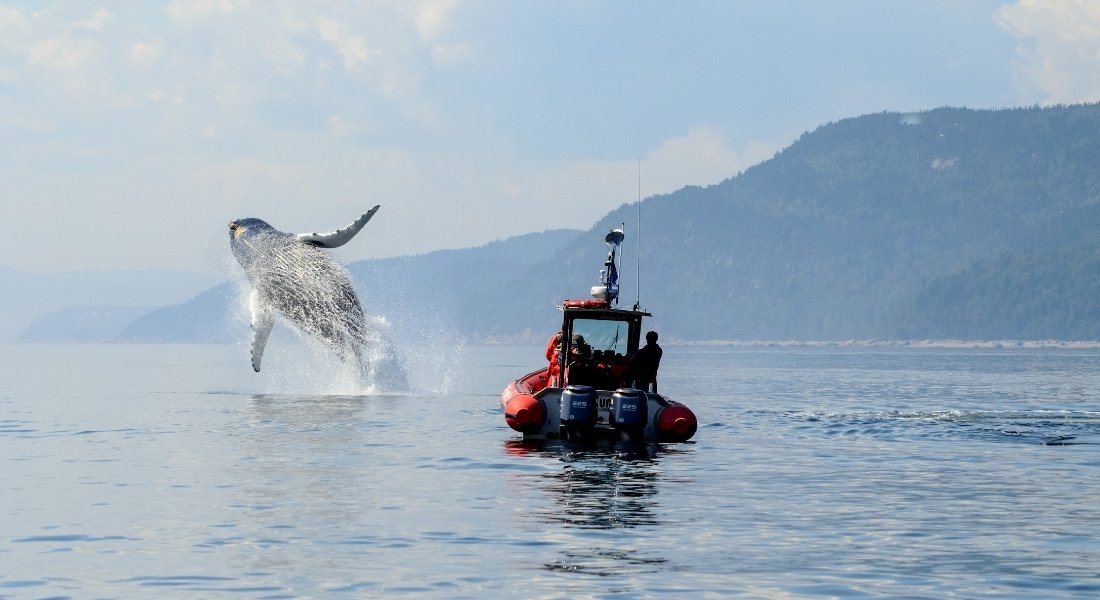 This morning, it's time for the quintessential Tadoussac experience: a whale watching tour . 
Accompanied by a naturalist guide, set out to discover several species of whales including the rorqual and the beluga.
Day 12 : Charlevoix 

(165 km / 02h27)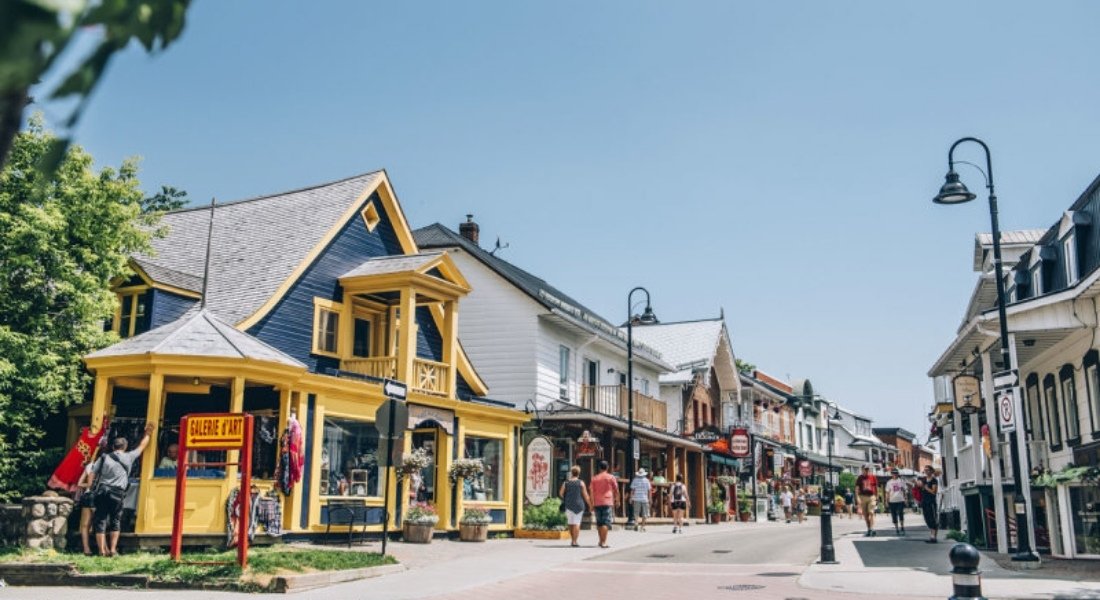 Still basking in the excitement of your adventure on the high seas, you head for your next destination: Charlevoix.
With its undeniable country charm, the Charlevoix region boasts picturesque villages and local specialties to delight your tastebuds.
Take the opportunity to stroll through Baie St-Paul , a colourful village whose narrow streets are lined with boutiques and art galleries, home to 85 century-old houses.
And why not end your day with a good country-style dinner?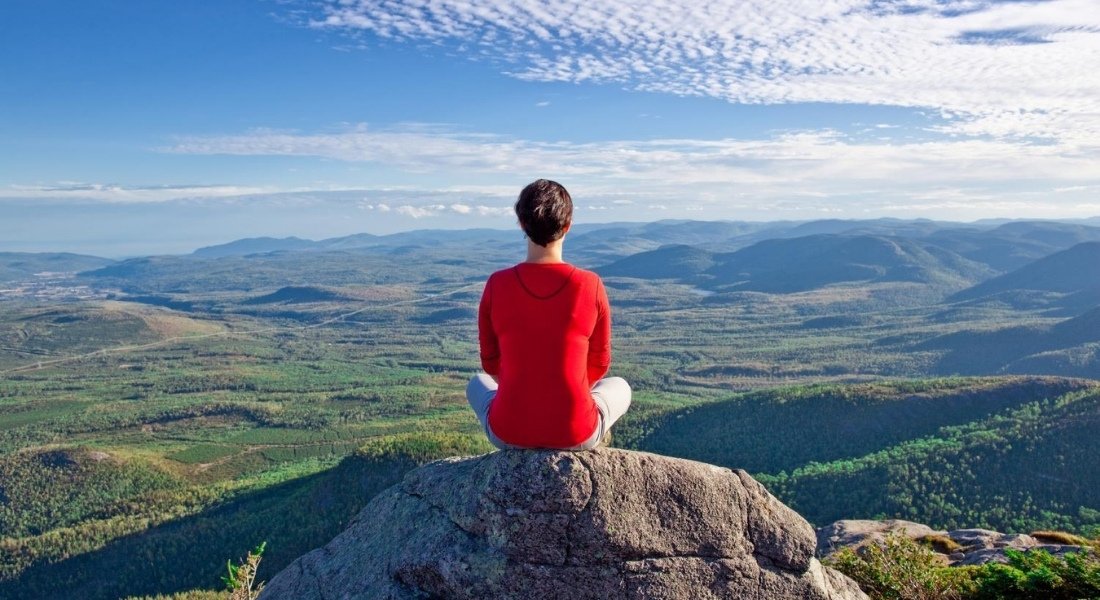 If you prefer to be at one with nature, head to Grands-Jardins National Park . 
You will be amazed by the sheer size of this vast mountain park. 
You can go fishing, canoeing, kayaking or try a Rabaska canoe. But above all, Grands-Jardins is a paradise for hikers.
The Mont-du-Lac-des-Cygnes hiking trail is a highlight of the park.
Days 13-14 : Quebec City

(92 km / 01h12)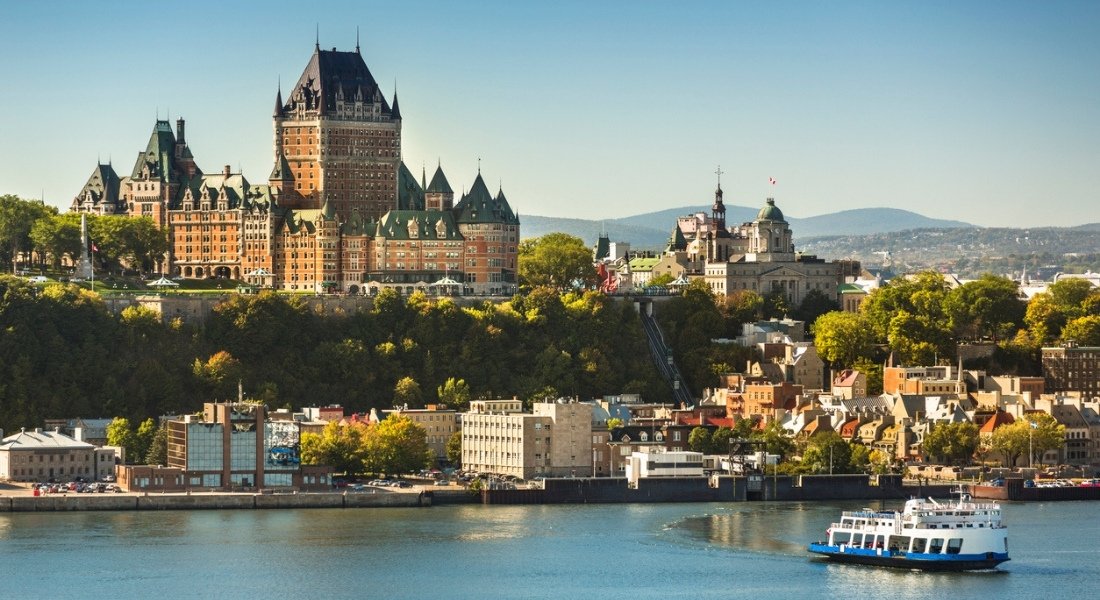 Today you set a course for your final destination, the magnificent city of Quebec.
As the birthplace of French culture in North America, Quebec City is steeped in history.
Spend your first day discovering the highlights of Old Quebec, on your own or with a guided tour.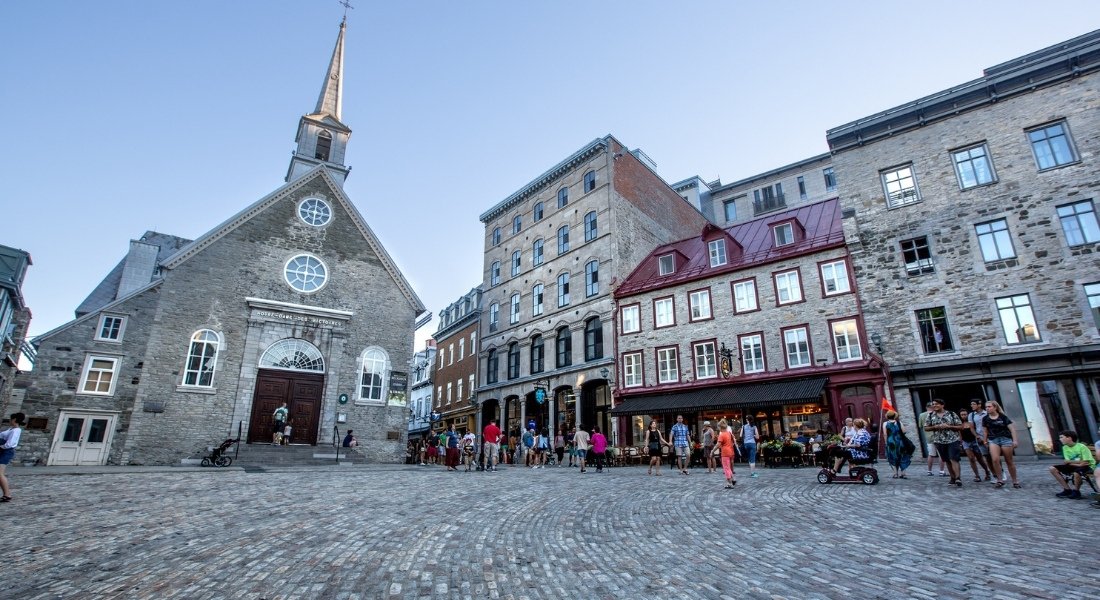 The Petit Champlain district is sure to charm with its cobblestone pedestrian streets and historic buildings. 
Be sure to stop at Place Royale , where Samuel de Champlain founded the first French settlement in 1608. The square also houses Notre-Dame-des-Victoires church , the oldest church in Canada.
Then head back up to Dufferin Terrace and the iconic Château Frontenac hotel . Don't forget to take a photo! After all, it is the most photographed hotel in the world. 
In the evening, take a walk along Rue Saint-Jean , where you will find lovely boutiques and many restaurants.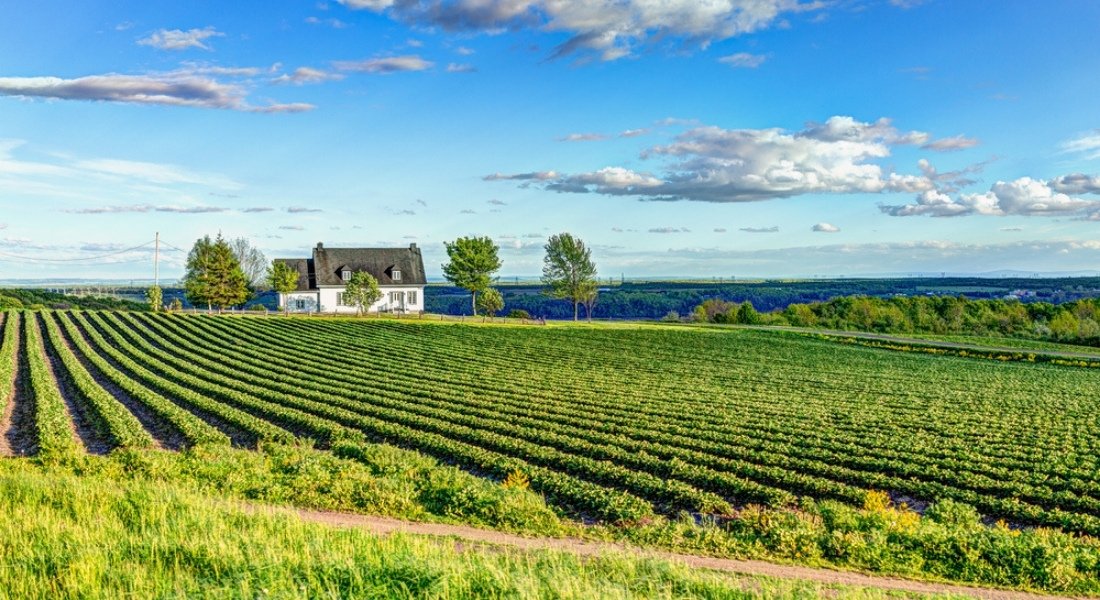 For your second day in the national capital, get out of the city with a tour of Île d'Orléans . There you will find vineyards, cheese makers, chocolate makers, and much more. 
It's a perfect opportunity to pick up some local delicacies to bring home with you. 
On leaving the island, make a stop at Montmorency Falls , which are illuminated in the evening: a sublime way to crown your trip to La Belle Province.
Day 15 : Montreal (250 km / 02h38)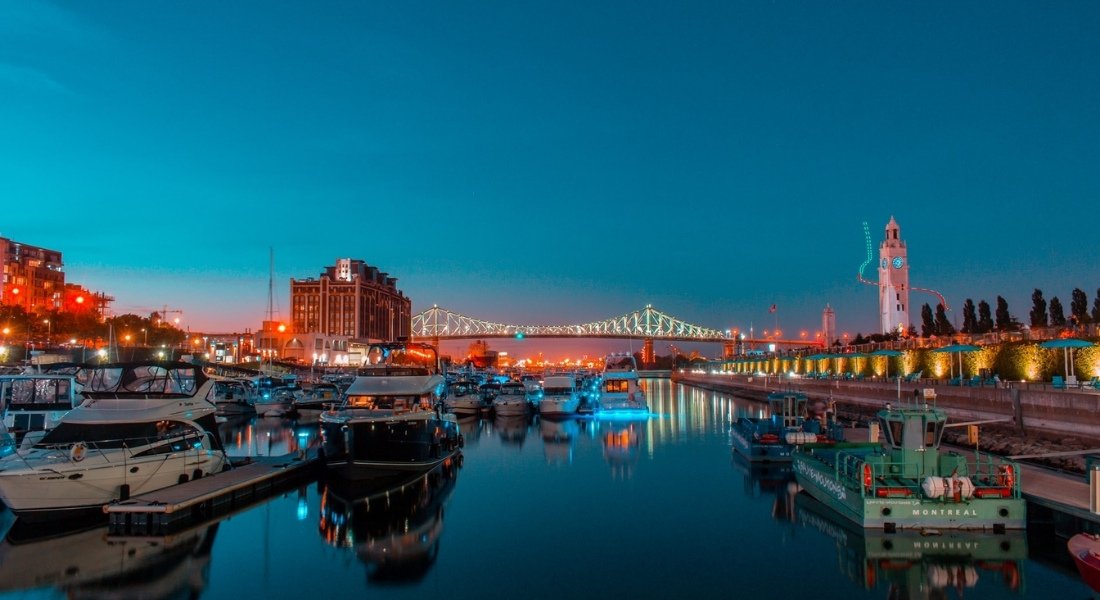 It's already time to head back to Montreal.
Make your way to the airport for your return flight home.
You leave the land of lakes and rivers, heads and hearts filled with precious memories. 
Starting at
€

1,387

/ adult

This concludes the best 15-day Quebec road trip! 
Don't hesitate to add your questions or comments below!