The Client Space for your road trip is only available after you request a quote or make a booking. After one of these 2 actions, your account will be created automatically.
Your Client Space is an extremely useful tool for planning and managing your trip. Once you are logged in, you can access your Space via the black header of our website, at the top right. When you are logged in, you will see "Hello" followed by your first name, as in the image below.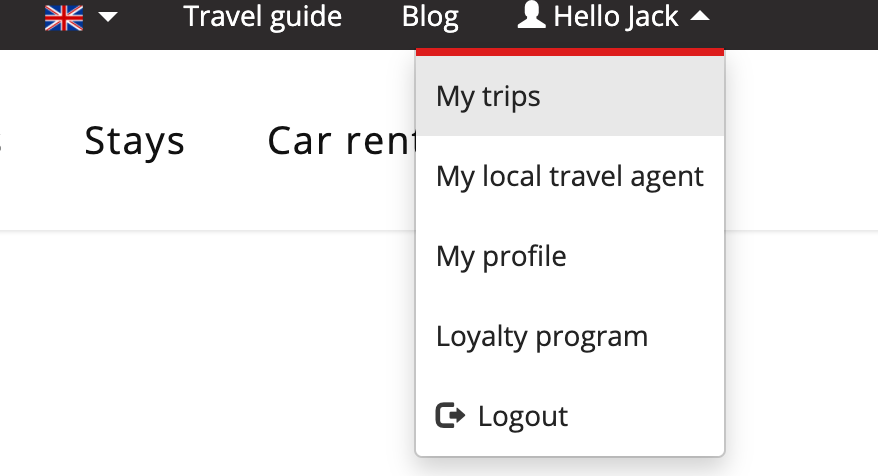 If it says "My account", then you are not logged in. You must first log in before continuing. Read the tutorial How do I access my Client Space? if you have trouble logging in.


1- "My bookings" section
This is the main section of your Client Space. This is where you will find your quote or booking.





If you have made several quotes, you will first see the "My pending quotes" section, which includes all quotes you have made on the Authentik website but have not booked. You can return to your quote at any time to continue making changes and book your trip by clicking on the "Book" button.
The "My bookings" section contains all the services you have booked (on which you have paid a deposit). When you book a trip, your quote will be transformed into a program and your Client Space will change slightly, including the addition of a "Travel kit" tab.
Here is a presentation of all the tabs and their new functions:




1- "Summary" tab
As before booking, this tab provides a summary of your itinerary.
The small clock at the end of each day indicates the status of your accommodation and/or activity booking in real time.
Green = Booked
Black = Booking in progress


2- "Itinerary" tab
To go to the "Itinerary" tab, you can click on the title of the day in the "Summary" tab or, of course, simply click on the "Itinerary" tab.
Unlike the "Quote" version, the itinerary tab now shows only the accommodations you have booked, as well as the occupancy and room type you have selected.
You will also see the activities you have booked but also, in a separate section, the activities you have not booked. It is always possible to add them with the help of your travel agent.
In fact, all changes to a booked trip must be made by a travel agent.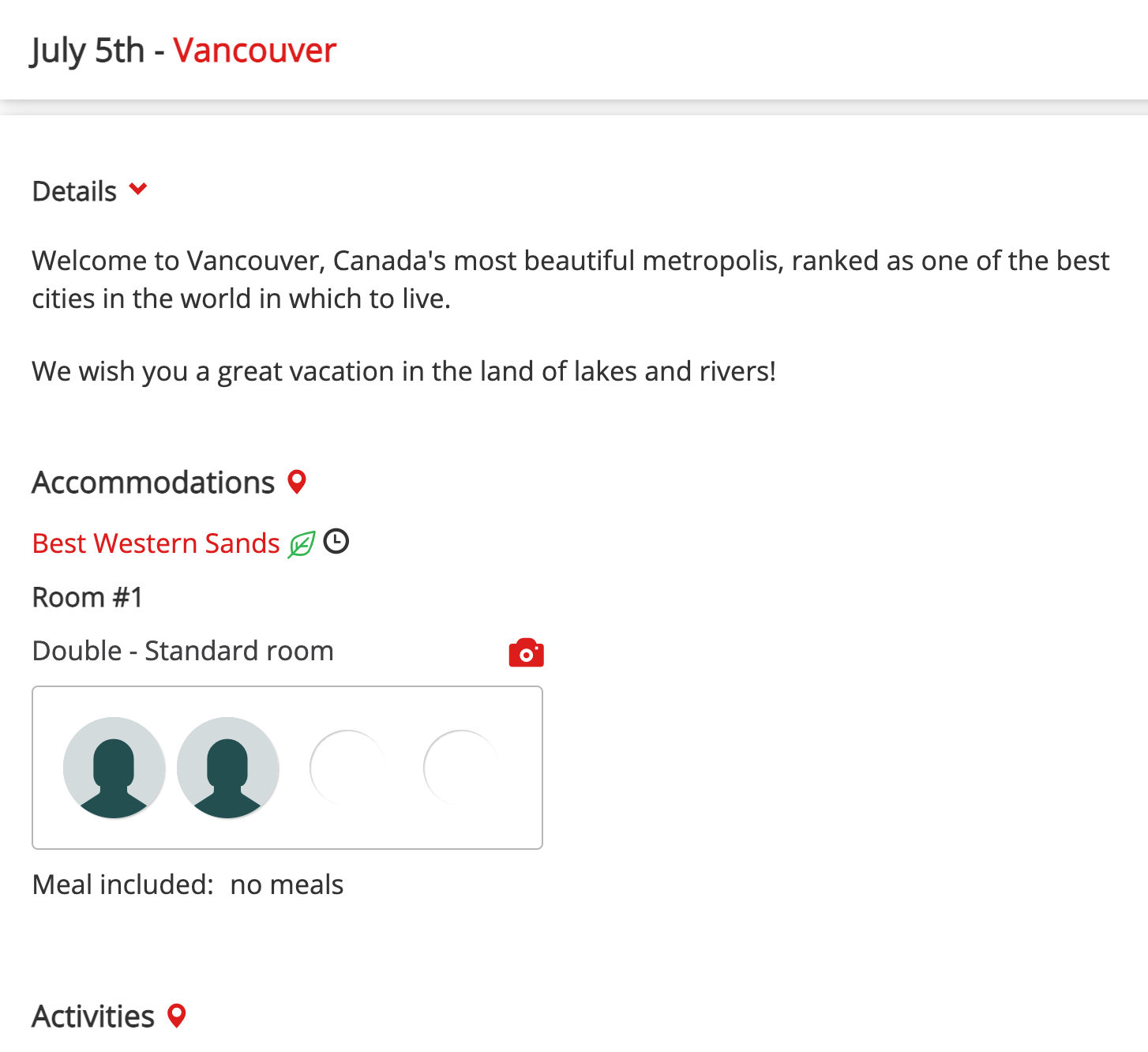 3- "Map" tab
The Map tab provides a detailed interactive map of your trip. When you place your mouse on one of the coloured markers, the name of the accommodation, activity or ferry will appear.
At the bottom of the map, you will also see the distance in kilometres, driving times, and an approximate gas budget.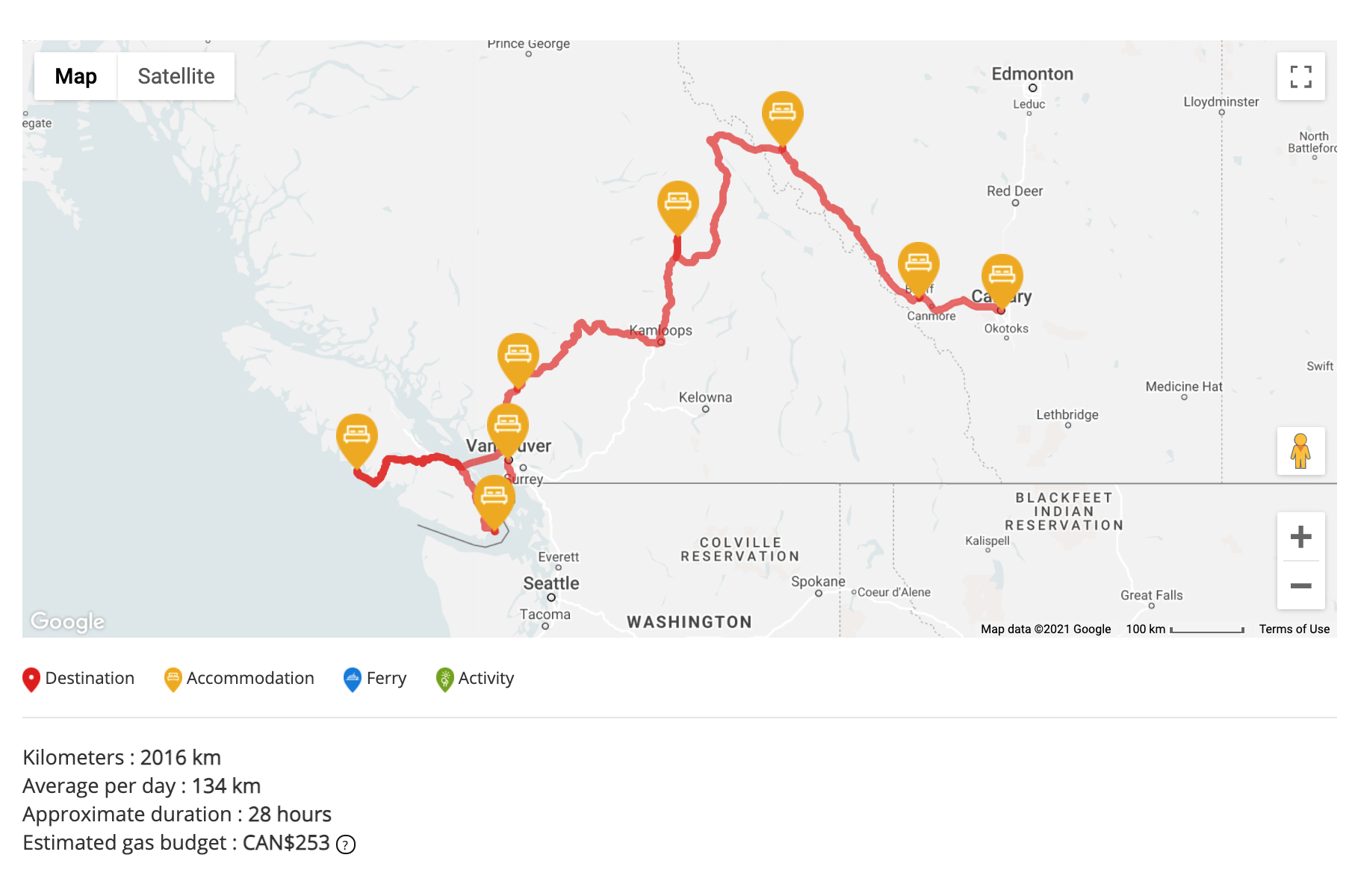 4- "Car" or "RV" tab
The Car or RV tab contains all the information about your vehicle rental: the type of vehicle, the pick up and drop off times, rental locations, as well as the price paid for the rental, all inclusions, and Important Notes. If you have not rented a vehicle with Authentik Canada, this tab does not appear in your Client Space.
To make any changes to your vehicle rental, you must ask your travel agent directly.
5- "Flights" tab
The Flights tab is shown only if you have booked a flight through Authentik.
In most cases, flights are booked on an external platform.
6- "Price" tab
The Price tab contains everything related to billing:
Accommodations
Activities
Vehicle
Authentik Exclusives
Exclusions
Roadbook delivery options
Insurance
Loyalty program

The small

provide more information about the service or price in question. Simply place your mouse over the question mark to see the details.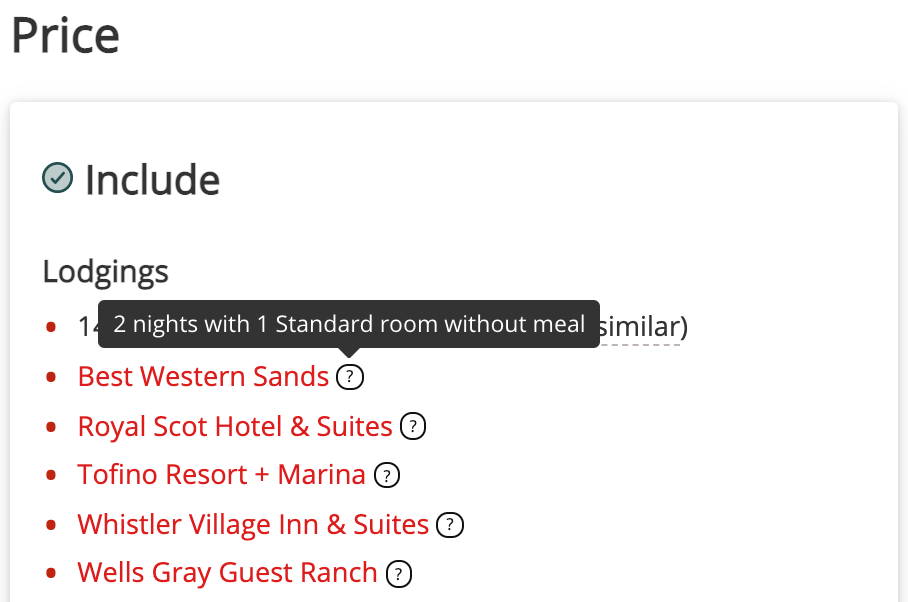 7- "Travel kit" tab
It is in the Roadbook tab that you will find many features to help manage your road trip.
This tab features the following sections:
Download your roadbook
Follow up your bookings
Consult your invoice
FAQ and practical information
Satisfaction questionnaire
Traveller profiles
Loyalty program
Stay informed

Here is the first page you will see when you click on "Travel kit":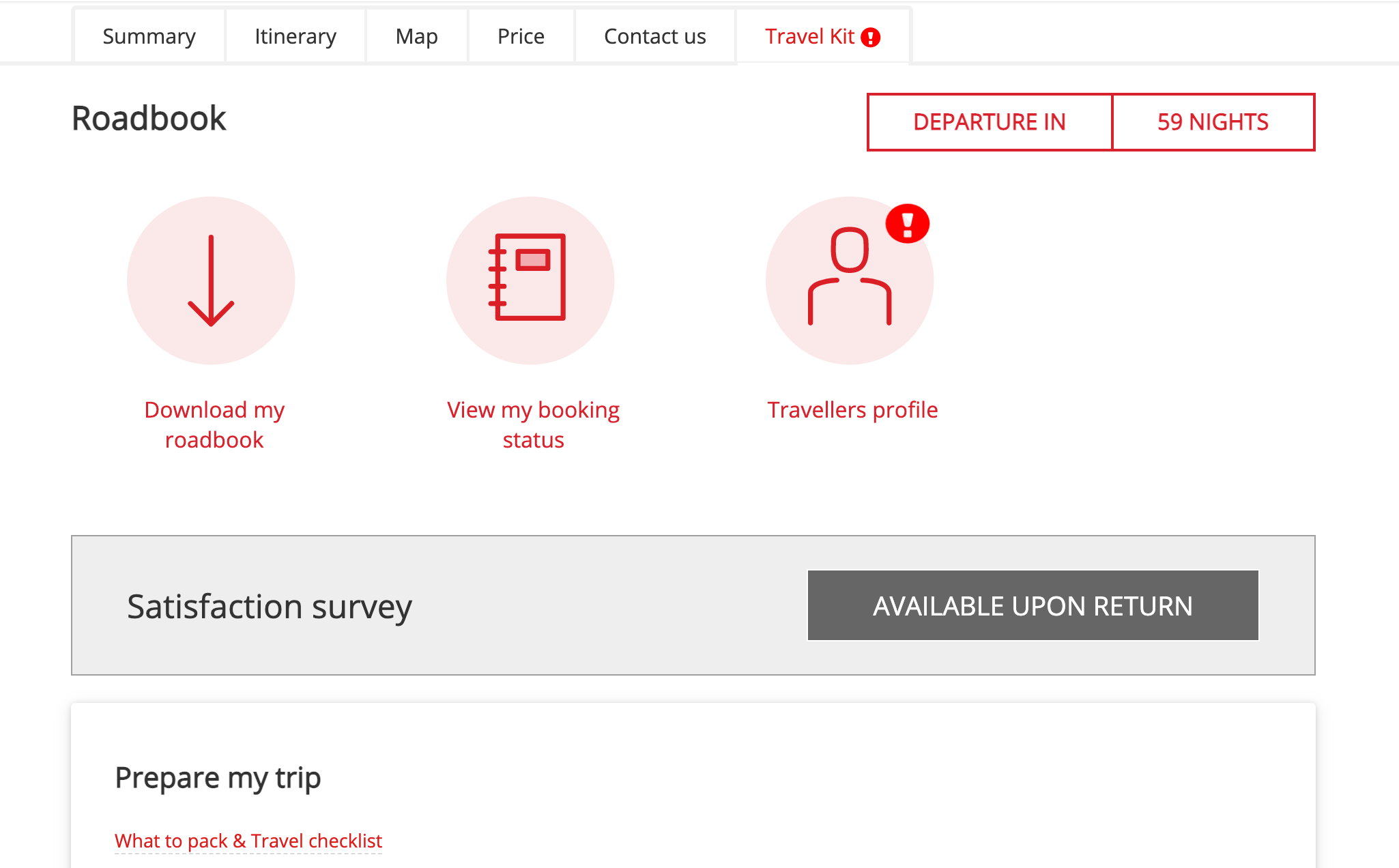 The

symbol indicates that you are missing information to complete your profile and/or traveller information.
Also note that clicking on one of the four icons (roadbook, follow up on bookings, invoice or profile) will take you to a page with a longer menu on the left: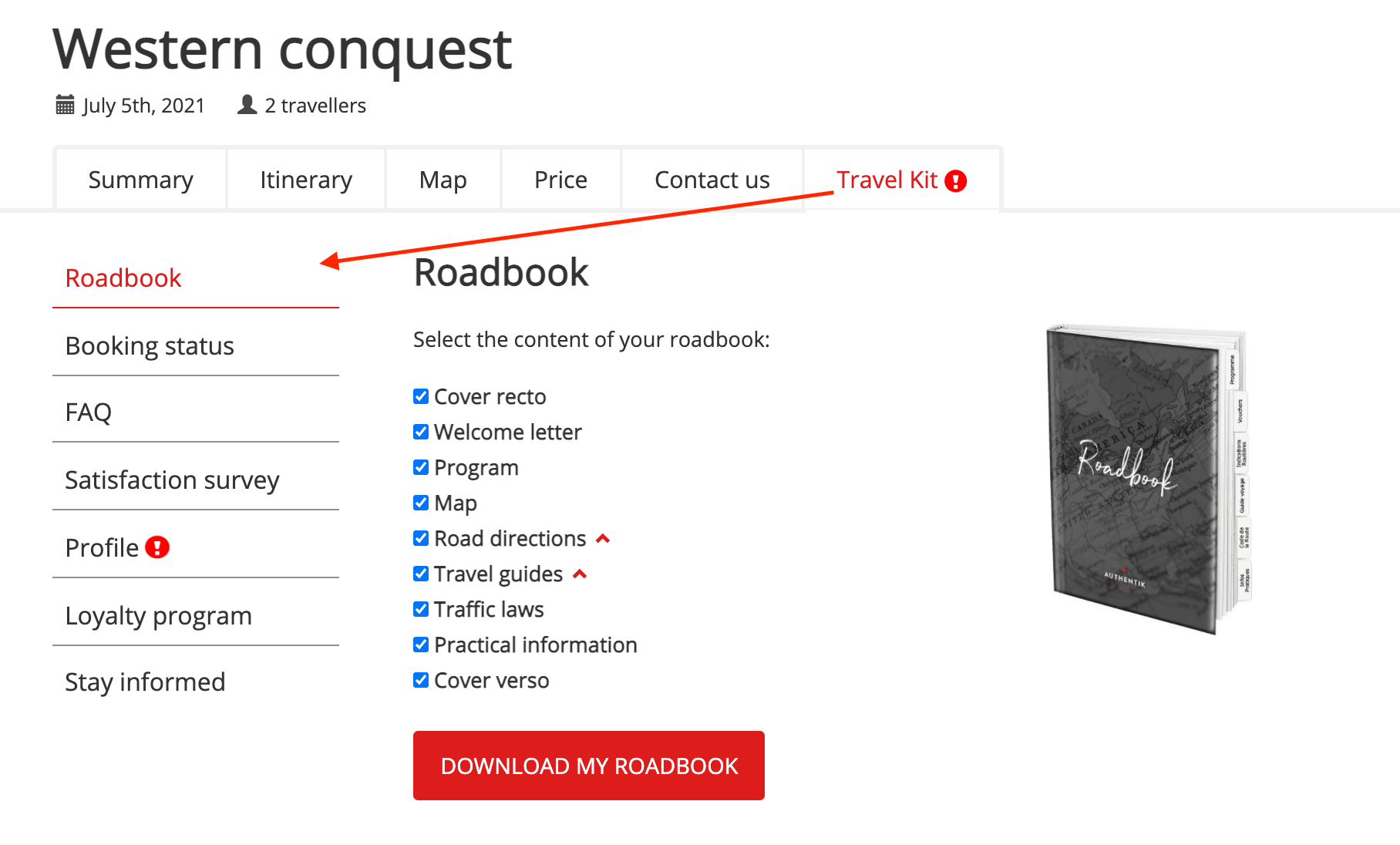 7.1- Roadbook Section
Your roadbook is your personalized travel guide that will accompany you throughout your road trip.
You will receive an original delivered to your home 1 month before your arrival or simple download this electronic version, depend of the option you choose.
But thanks to this feature, you can already print any sections you like. To do this, simply select the desired sections and click on the "Download" button.
7.2- Follow up my bookings
In this tab, you can follow in real time the progress of the bookings of all the services included in your road trip (accommodations, activities, ferries, vehicle rental, etc.).
7.3- Invoice
As the name suggests, this is where you will find your invoice and payment history.
You can download and print your invoice by clicking on the "Download the details" button.
7.4- FAQ
You will find a wealth of practical information in this section as well as a host of blog articles that will help you to better prepare for your road trip.
7.5- Satisfaction questionnaire
When you return from your trip, you will be invited to complete a satisfaction questionnaire and share your feedback on the quality of your experience.
If you wish, you can post your review, whether positive or negative, on our website.
7.6- Profile
It is important to complete this section properly to ensure that your road trip goes as smoothly as possible.
Among other things, you must provide the requested information on each traveller. Note that you can add a photo for each traveller by clicking on the round avatar, to the left of the traveller's name. This will make it easier to identify them.
We will then need your flight details in order to better manage your trip (if applicable).
We also ask for your mobile phone number in case we need to reach you when you are on the road. This could be very useful.
Don't forget to click on "Save the changes" once you are finished.
Note that if you see a

in the title of the "Profile" section, it means you have not finished filling in all the requested information.
7.7- Loyalty program
This section tells you how many Authentik dollars you have collected to help pay for your next trip with Authentik Canada or Authentik USA.
Note that you can earn a $50 bonus by referring a new traveller. The $50 will be credited to your account when the referred traveller returns from his or her trip.
7.8- Stay informed
In this section, we invite you to sign up for our newsletter. We humbly believe that our newsletter with its exclusive blog articles can really help you to plan your road trip.
We also encourage you to follow our Facebook page for the same reasons. We share well-kept secrets and a lot of inspiring photos to help you plan your trip.
---
Other tutorials on planning your road trip