Visit Montreal in 2 days
Planning a trip to Quebec? 
Impossible not to stop in Montreal, the second-largest French-speaking city in the world after Paris.
For a short visit, you'll be better off concentrating your exploration on the city's 5 main neighbourhoods: Old Montreal, Downtown, Latin Quarter, Mount Royal Park and finally the Plateau Mont-Royal.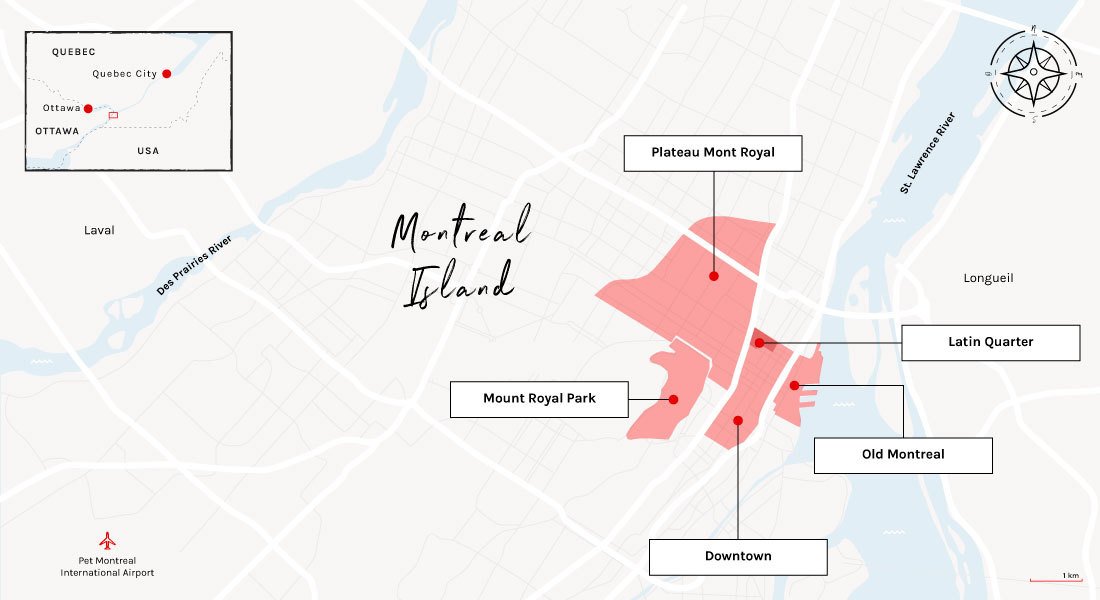 In Montreal, there's no need for a car! Everything can be done on foot or public transit, much to the delight of locals and visitors alike.
So lace up your walking shoes, and let me be your guide!
Day 1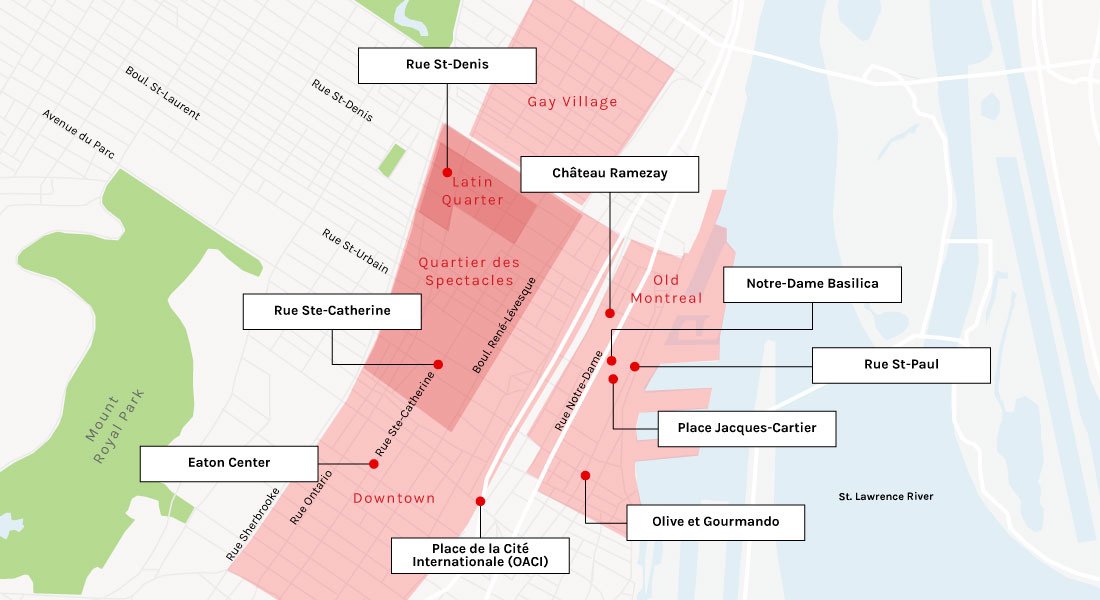 Morning
Good morning!
Take the time to eat a good breakfast, because you have a big day ahead of you! 
Once you've eaten your fill, start your day with a tour of Old Montreal. 
This historic district, located along the banks of the St. Lawrence River, was once surrounded by fortifications. Montreal was founded here in 1642.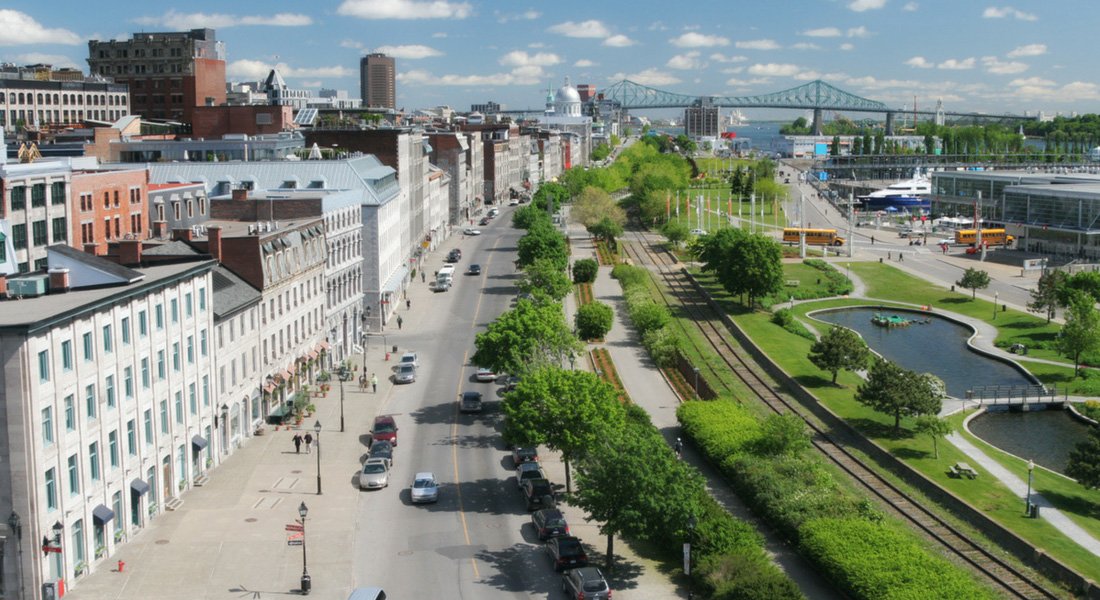 As you explore the area, you'll notice that many streets are still paved with old cobblestones, including Rue St-Paul, one of the city's oldest streets. 
Today St-Paul is home to many artists' workshops, restaurants, bars and souvenir shops.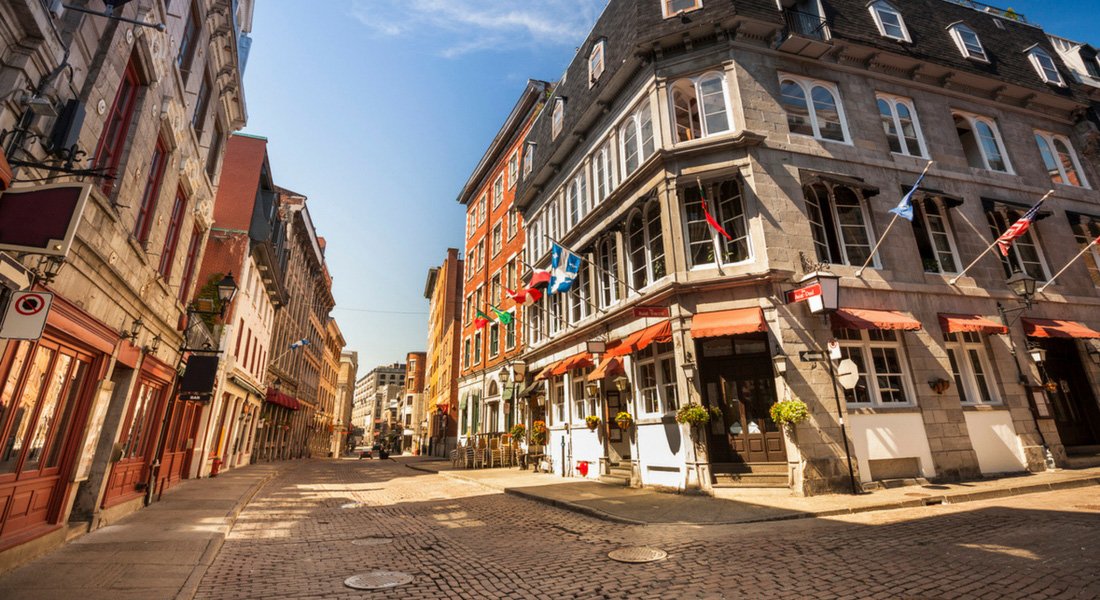 The nearby Notre-Dame Basilica, built in 1829, is an absolute must. 
This neo-gothic masterpiece is an important part of Quebec's religious heritage and is much beloved by Montrealers.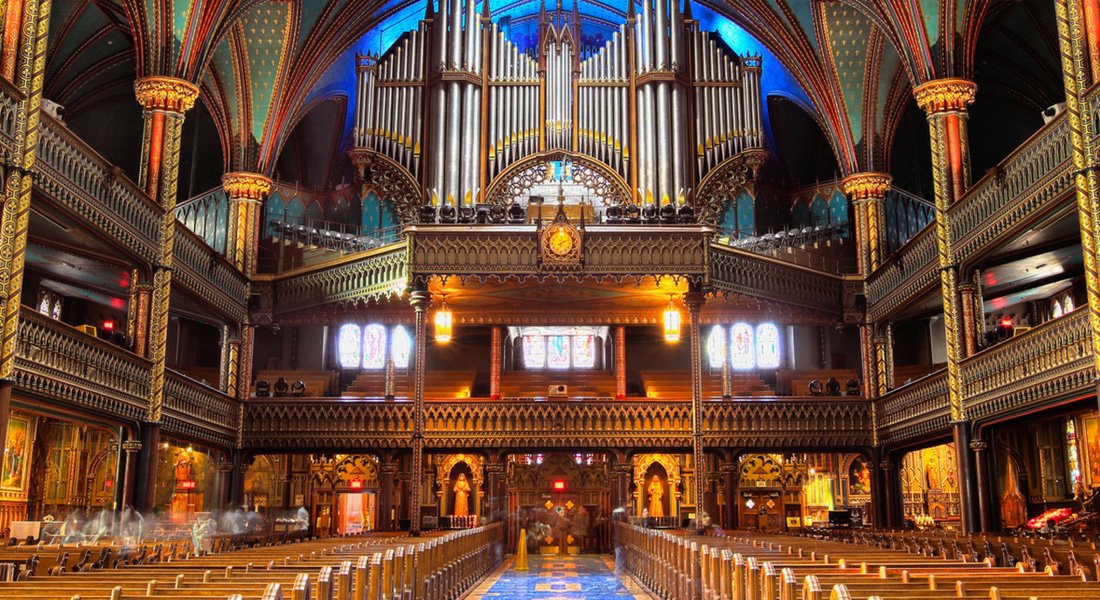 Several other historic buildings are also worth a detour, including Chateau Ramezay, built in 1705. But be careful: the latter is said to be haunted!
Finally, be sure to pay a visit to the heart of Old Montreal: Place Jacques-Cartier. This square is a pedestrian zone in the summer, when it abounds with flower sellers and street artists.  
For the ultimate tourist cliché, have your portrait drawn by a caricaturist. 
Afternoon
It's time for lunch! 
One of my favourite eateries in Montreal is Café Olive et Gourmando, on Rue St-Paul.
The fare is simple (hot and cold sandwiches, soups and salads), but to die for!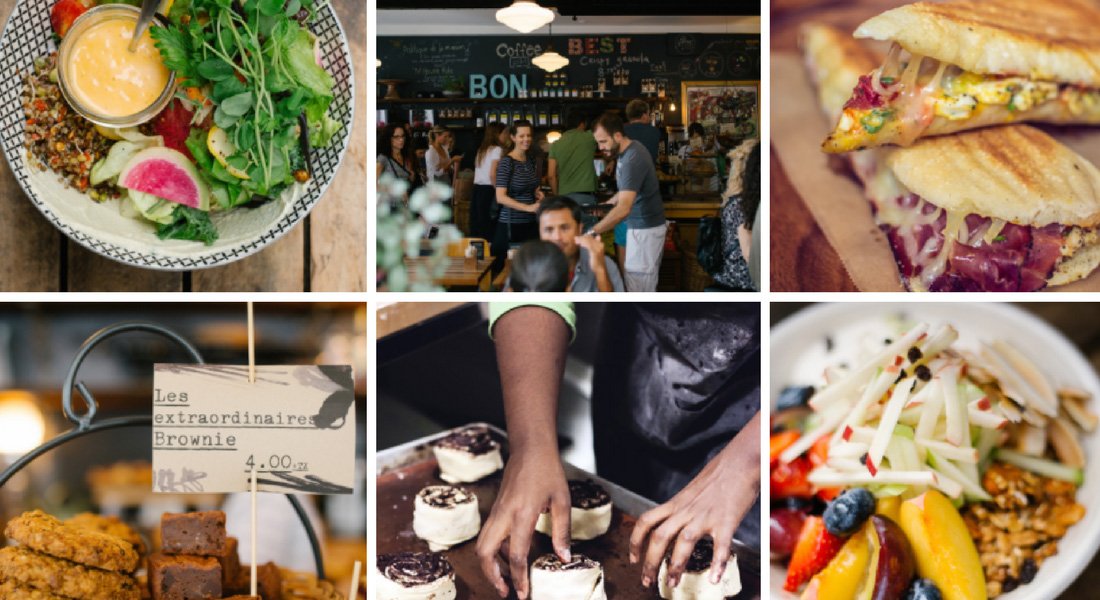 After lunch, head underground into Montreal's famous Underground City. Start at Place de la Cité Internationale (OACI), and make your way downtown to the Eaton Centre.
Known as "the largest underground network in the world", Montreal Underground is in fact a vast pedestrian complex, containing 33 km of corridors, built underneath the downtown area and linking several shopping centres, office buildings, universities and hotels.
Don't expect to find residential neighbourhoods or architectural gems!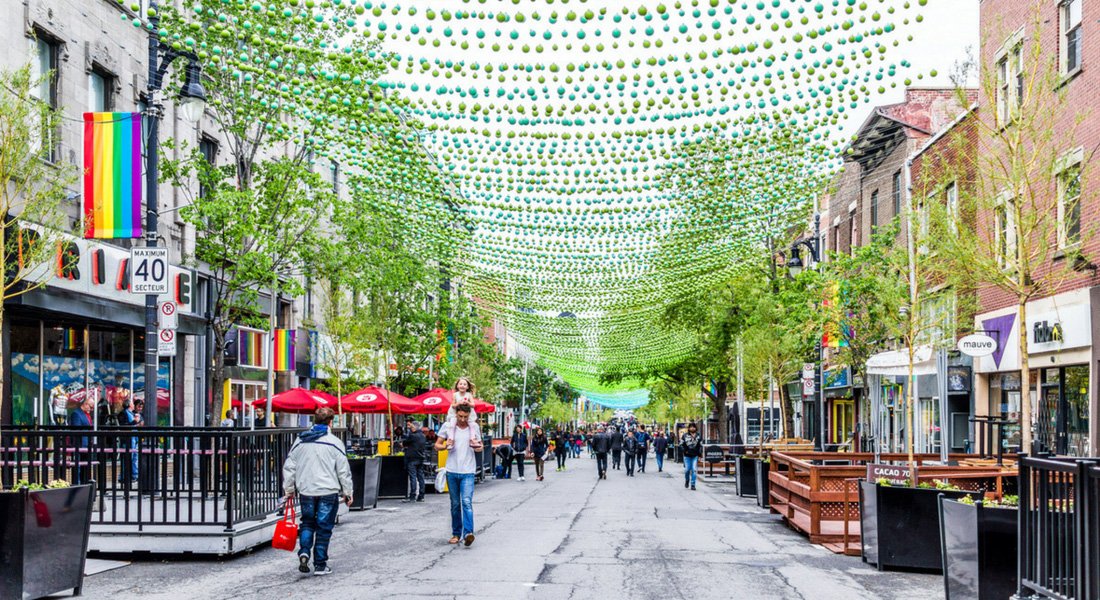 Exit on Rue Ste-Catherine, the most important commercial thoroughfare in Montreal. 
As you head east, you will pass through much of the downtown core. Shopping aficionados will find it hard to resist the many shops.
So why not give in to temptation...
Keep going until you reach the Quartier des Spectacles, the Latin Quarter, and finally the Gay Village. 
 
Evening
Montreal is known as the City of Festivals. 
With the Festival d'Art Public MURAL and Francofolies in June, the Jazz Festival and the Festival Just for Laughs in July, and Montreal Pride in August, there's plenty of action in our streets!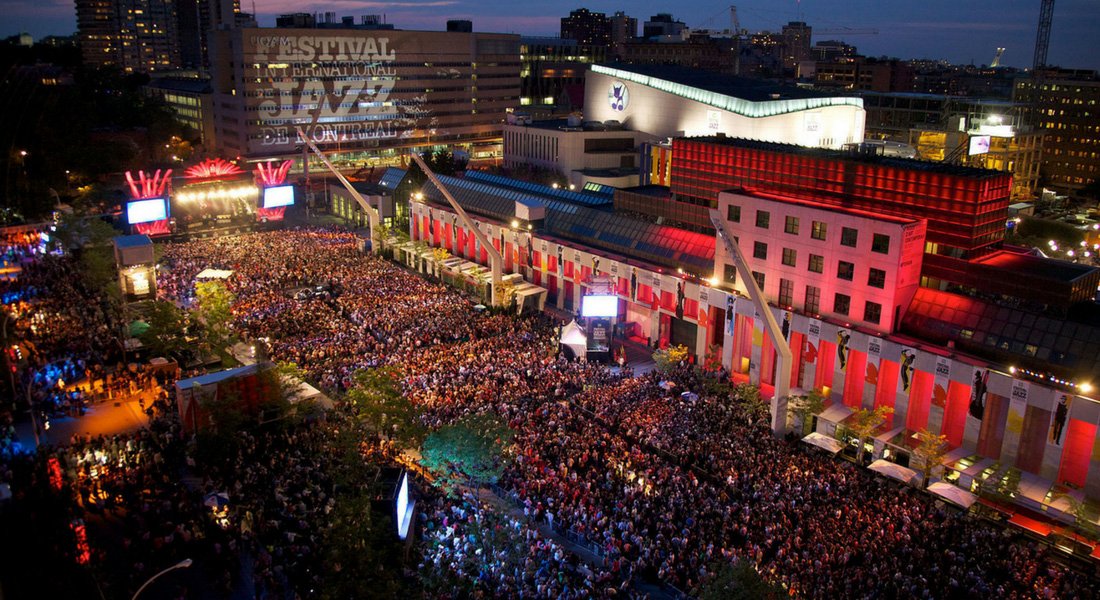 If you are passing through during one of these events, take the opportunity to grab a bite to eat at one of the many food trucks and enjoy the festive atmosphere. 
Rue St-Denis, in the Latin Quarter, also offers a wide choice of very nice patios for drinks or a meal.
In any case, Montreal certainly likes to party!
Day 2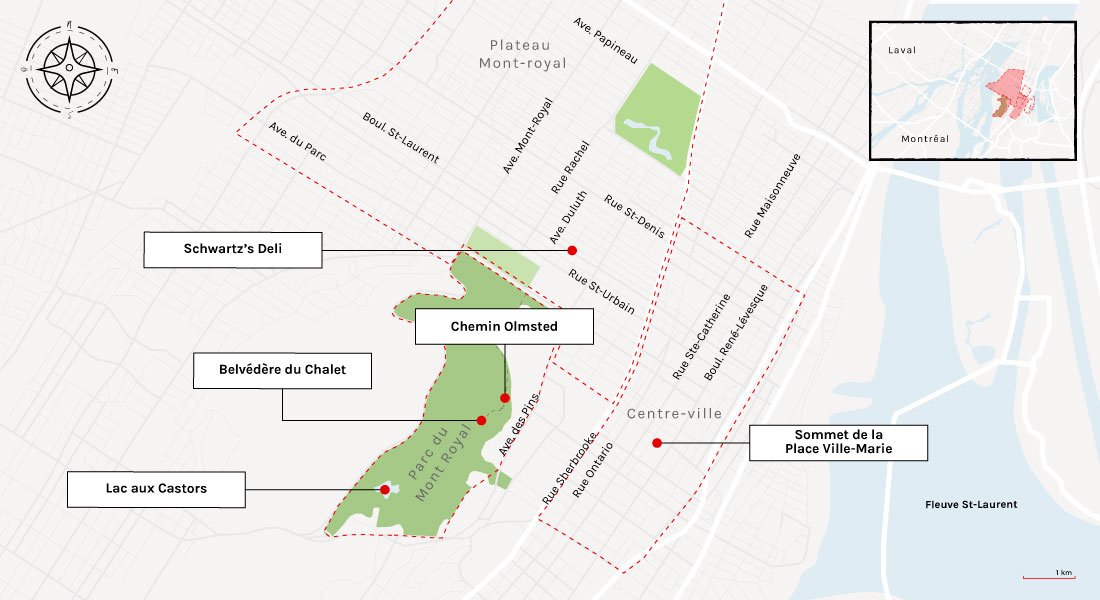 Morning
Good morning!
Today, you will enjoy a more relaxed morning with a visit to Mount Royal Park. 
Considered the lungs of the city, it is also a much-loved playground with its lake and numerous walking trails.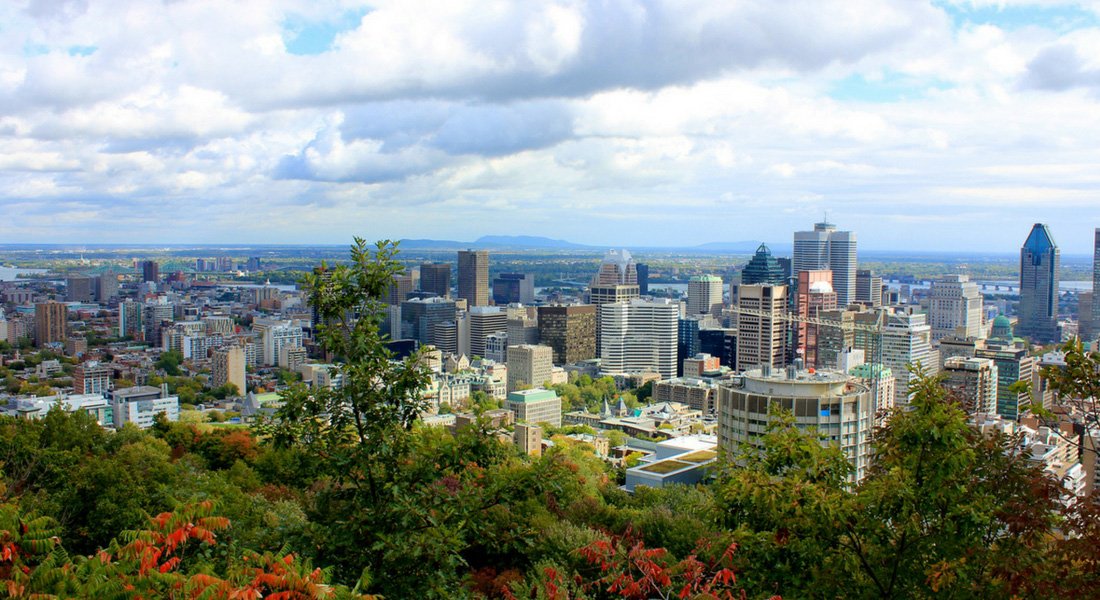 You can walk up the mountain or use public transit. A bus will take you to the top of the mountain in just a few minutes.
The Mount Royal Chalet lookout offers one of the best views in the city.
 

Afternoon
From the Mount Royal Chalet, make your way slowly downhill towards Boulevard St-Laurent, also known as The Main. 
For lunch, visit the iconic Schwartz's Deli, the oldest delicatessen in Canada. 
You simply must try one of their internationally famous smoked meat sandwiches!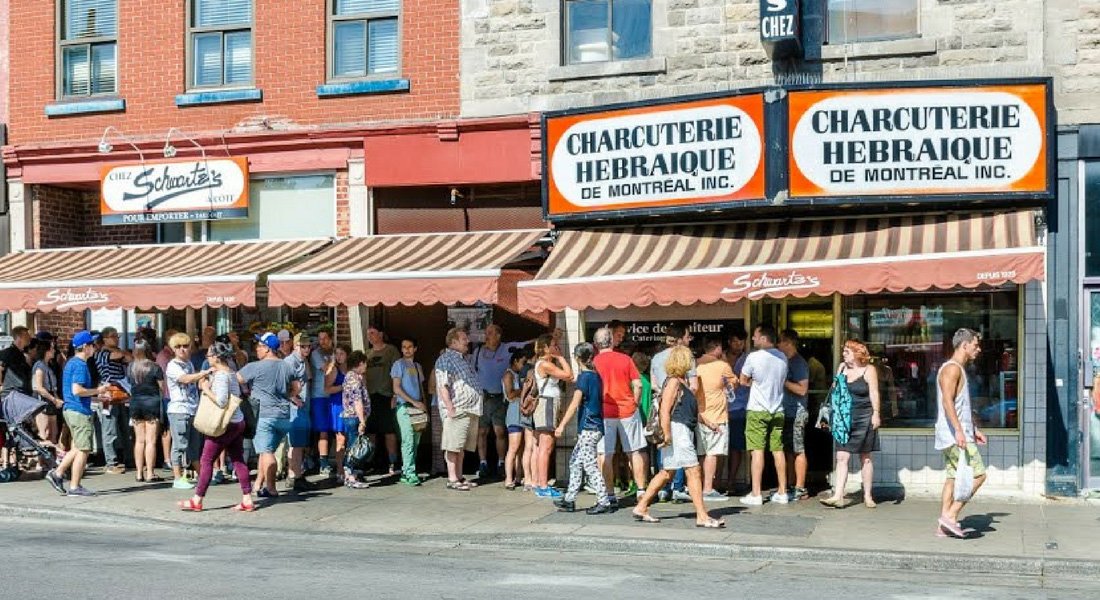 From there, head north on Boulevard St-Laurent to Avenue Mont-Royal. 
This afternoon, you will discover the Plateau Mont-Royal neighbourhood.
This trendy area has for some years been known as La Petite France due to its popularity with French immigrants moving to Montreal.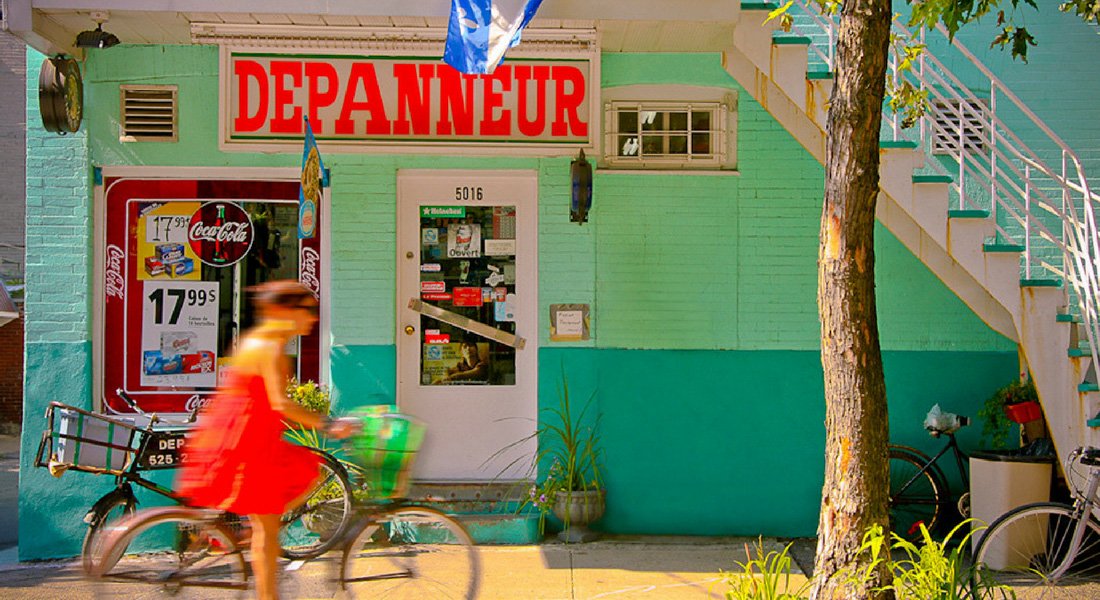 Pay special attention to the colourful houses and typical Montreal outdoor staircases. 
They're quite charming! 
 
Evening
This evening will be a little less casual. It's nice to treat oneself while on vacation!
For dinner, I recommend Les Enfants Terribles Restaurant in Place Ville-Marie.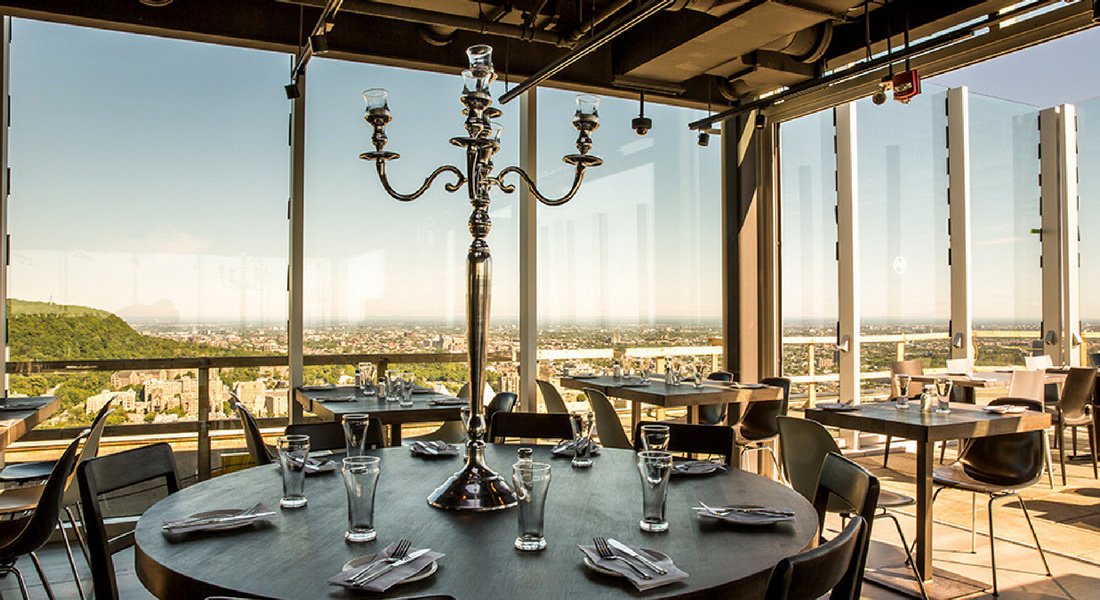 From its unique location at the top of Place Ville Marie, a 360-degree observatory, this restaurant offers a panoramic view of the city!
The menu is quite varied, offering fine market cuisine that changes with the seasons. There's also a kids menu.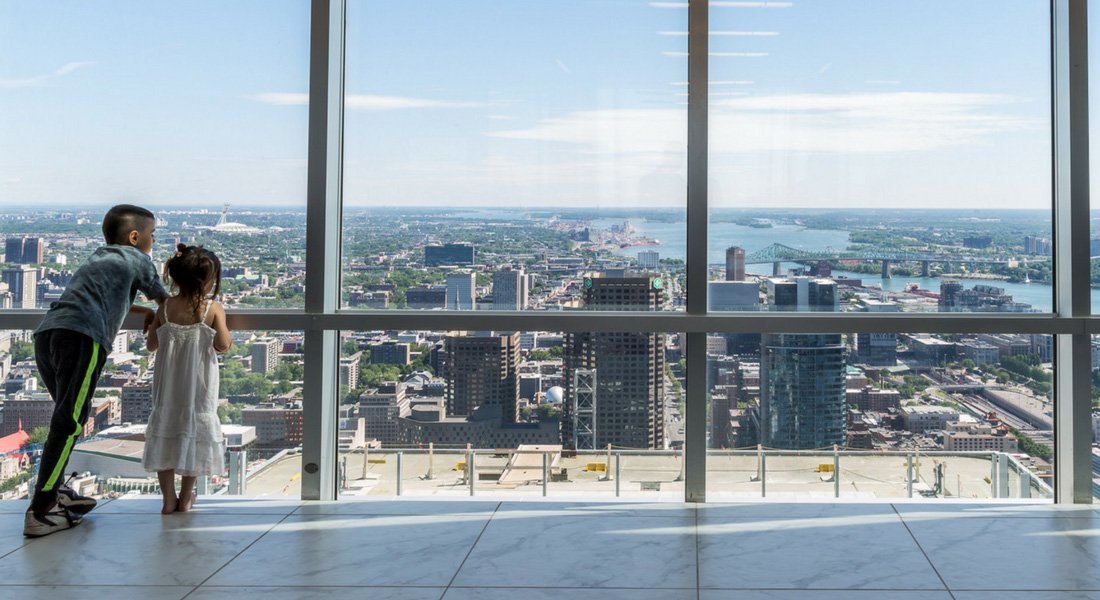 If you prefer to dine somewhere a little more affordable, note that you can visit the observatory without eating at the restaurant. 
It's well worth it, because it's a great place to admire the sunset and take some lovely photos to immortalize your last evening in the great metropolis. 
 
Voilà!
What would you add to this to-do list for a short stay in Montréal? 
Don't hesitate to share your ideas in the comments section below.