Visit Quebec City in 2 days
Quebec is one of the most beautiful cities in our broad country!
Here is the itinerary that we suggest to make the most of the must-see attractions of the Old Capital and its surroundings, during your Quebec travel.
To facilitate your visit and optimize your time, note that a car hire will be necessary for the second day.
 
Day 1 
Morning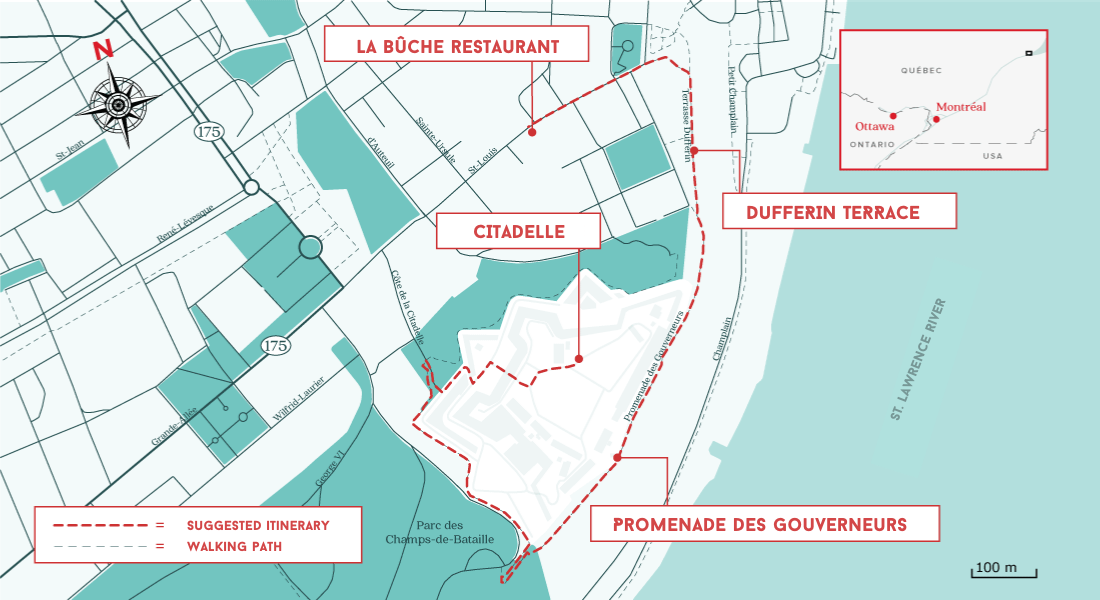 THE CITADELLE OF QUEBEC  AND CHANGING OF THE GUARD 
Get ready for 9:00 am to attend your first acitivity of the day.
The Citadelle, built between 1820 and 1850, is the oldest British fortress on the North American continent. Perched on Cap Diamant , it offers incredible views of the city and the river.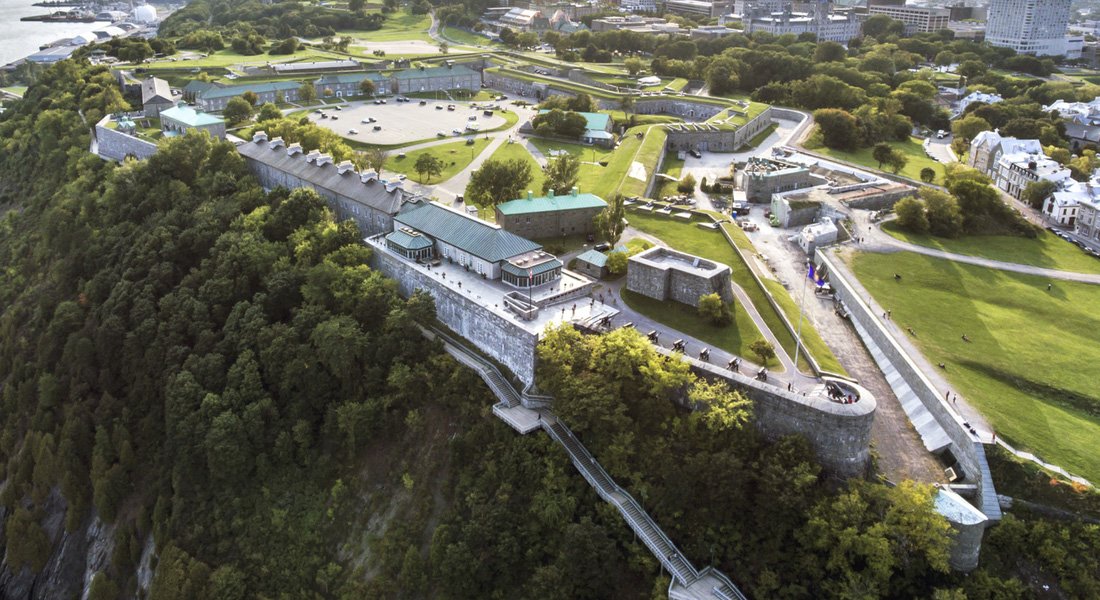 In the company of a seasoned professional guide, you will relive the most significant historical events of the city, from the time of the French Regime to now.
At 9.45 am, you will be invited to the center of the parade ground to attend the traditional ceremony of the changing of the guard of the Royal 22nd Regiment.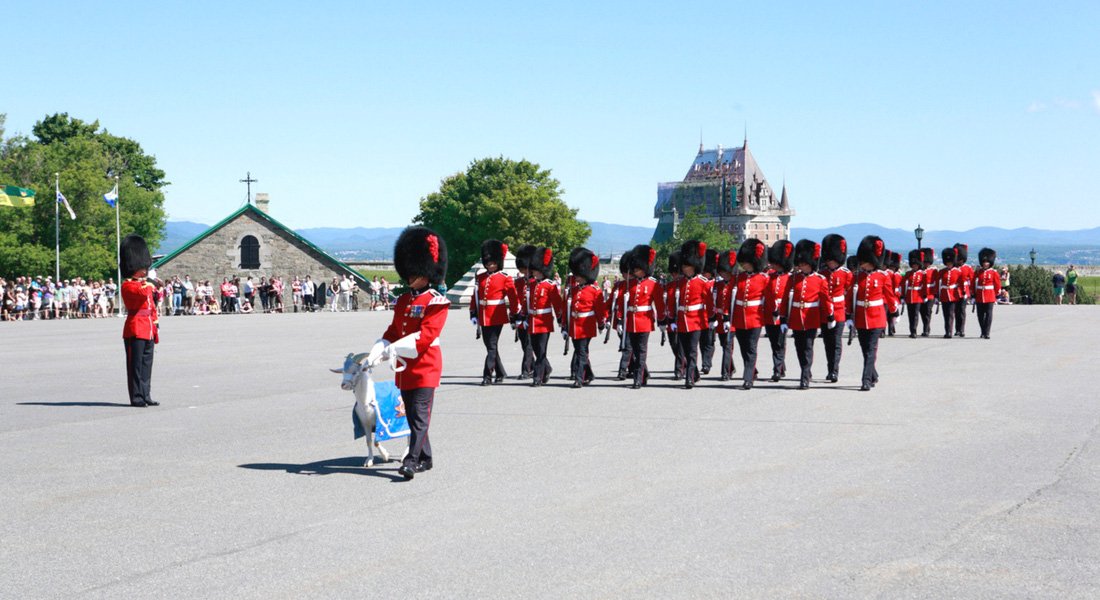 PROMENADE DES GOUVERNEURS 
Once the ceremony is over, make your way to the Battlefields Park , commonly known as the Plains of Abraham, to access la promenade des gouverneurs.
For a total distance of half a kilometer, the promenade runs along the Citadelle, up to the Dufferin Terrace  and offers remarkable views of the Saint Lawrence River.
However, you will have to brave the many stairs (a little over 300 steps) and landings to enjoy the panorama.
Good news : you will take them down afterwards.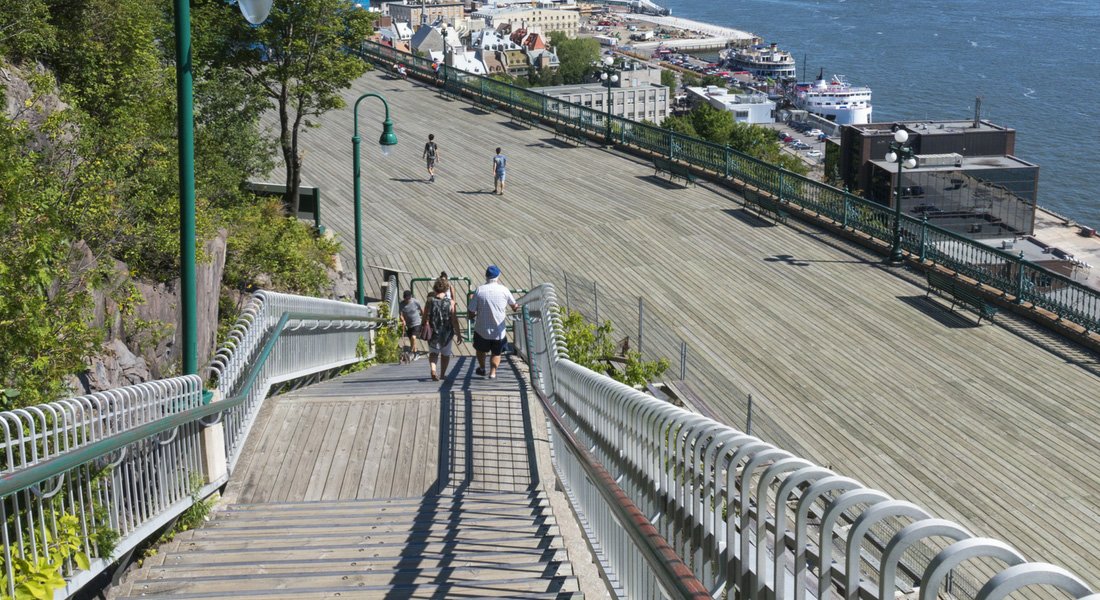 DUFFERIN TERRACE AND CHÂTEAU FRONTENAC 
At the end of Promenade des gouverneurs is the Dufferin terrace, a huge belvedere facing the prestigious Château Frontenac.
In addition to being the icon of the city, this national historic site of Canada is also the most photographed hotel in the world.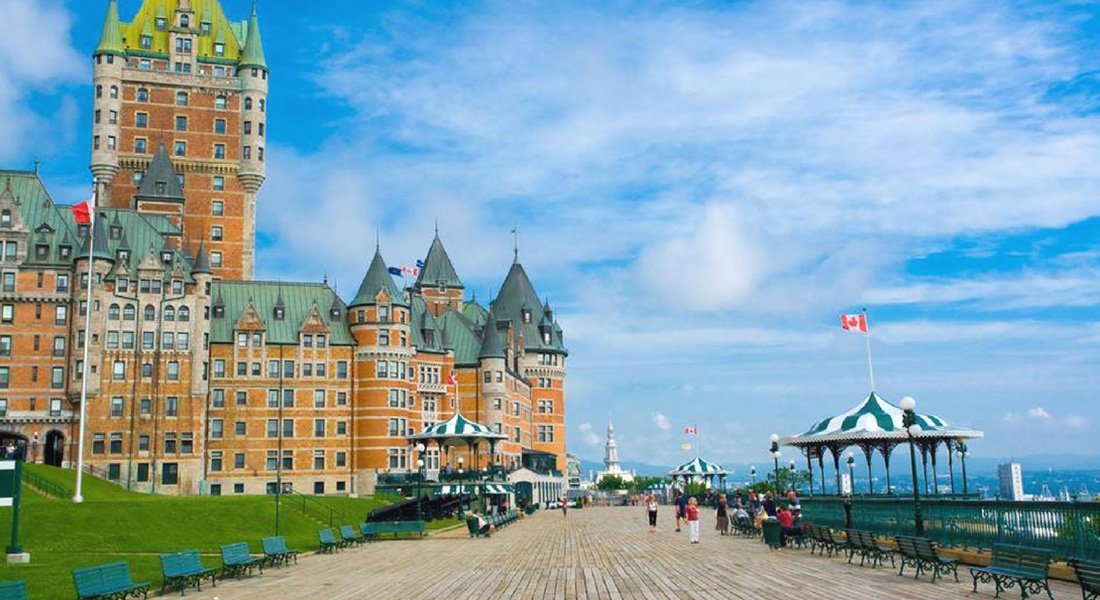 It is possible to visit its entrance hall free of charge, where you will find several objects dating back over 400 years on display behind glass cases.
From the Dufferin terrace, you will again have access to a breathtaking view of the St. Lawrence  river. Covering almost half a kilometer, it is equipped with public benches and small kiosks.

RUE SAINT-LOUIS 
Quietly, lunchtime is approaching.
Head to rue Saint-Louis, one of the oldest in the city. There you will find several cafes, bistros and restaurants.
Commemorative plaques have also been placed on several historic buildings, to add to your stroll.
For example, building number 47 was once the house where Lieutenant-General Montcalm died.
 Distance covered in the morning : 2,1 km
---
 WHERE TO HAVE LUNCH ?
La Bûche is a Quebec-cuisine restaurant and is a must for travelers.
They serve delicious gourmet "sugar shack"-type cuisine in a rustic setting and a folkloric atmosphere.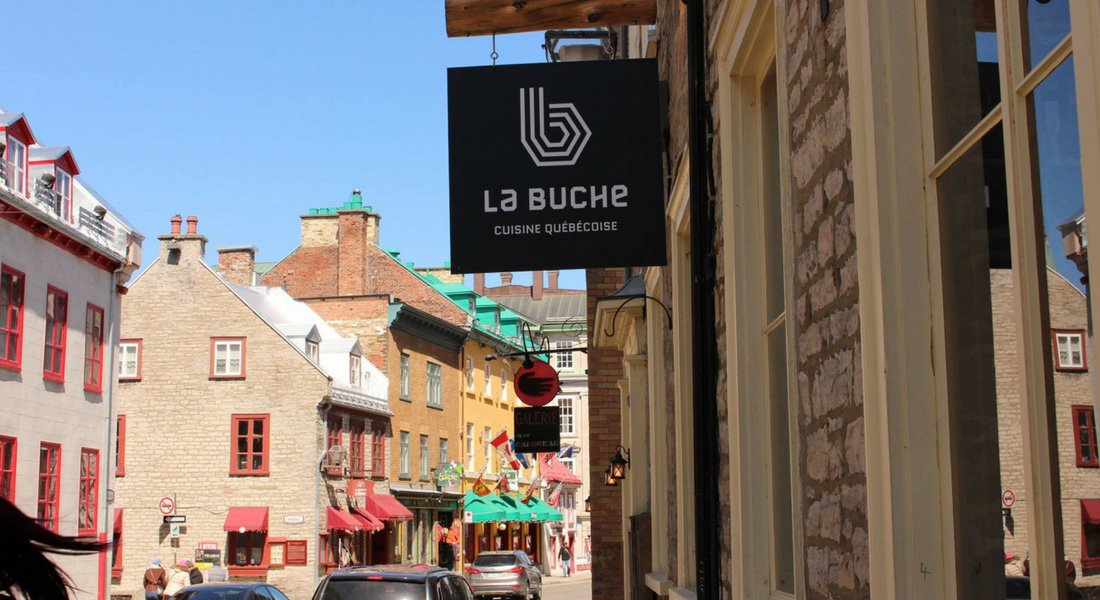 True to the reputation of Quebecers, the warm welcome and the variations of maple syrup in their dishes will certainly make your meal here memorable!
La Bûche 

Budget : $$
Opening hours : Saturday and Sunday 8:00 a.m. to 10:00 p.m., Monday to Friday 10:00 a.m. to 10:00 p.m.
Adress : 49 Rue Saint-Louis
Phone number : 418-694-7272
Website : Cliquez ici
Afternoon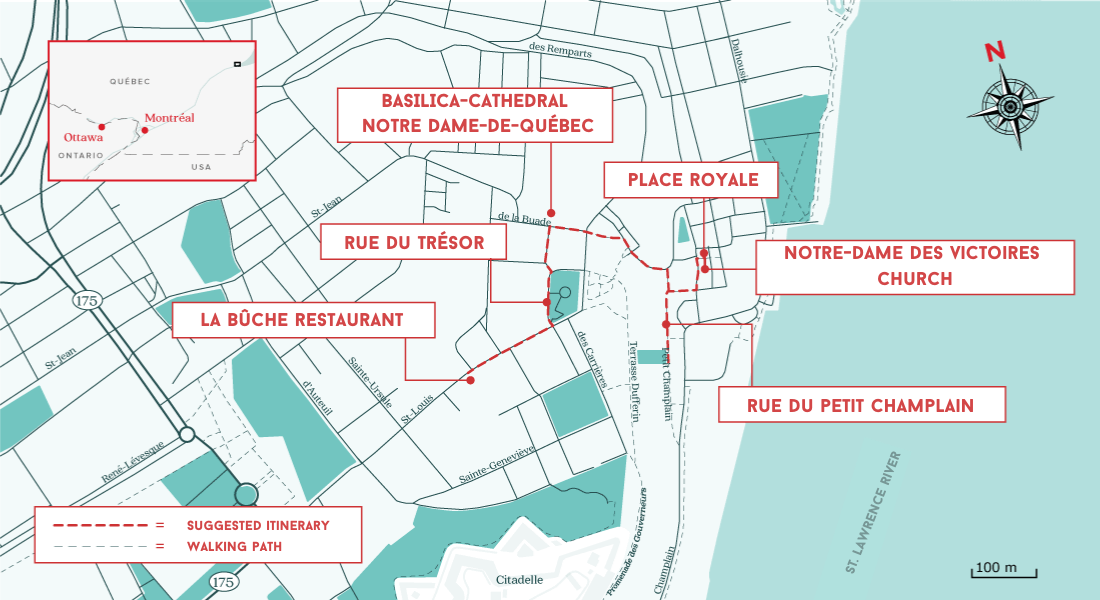 RUE DU TRÉSOR 
Walk towards rue du Trésor, a colourful pedestrian alley where several painters and other local artisans exhibit their works, depicting typical scenes of the Old Capital.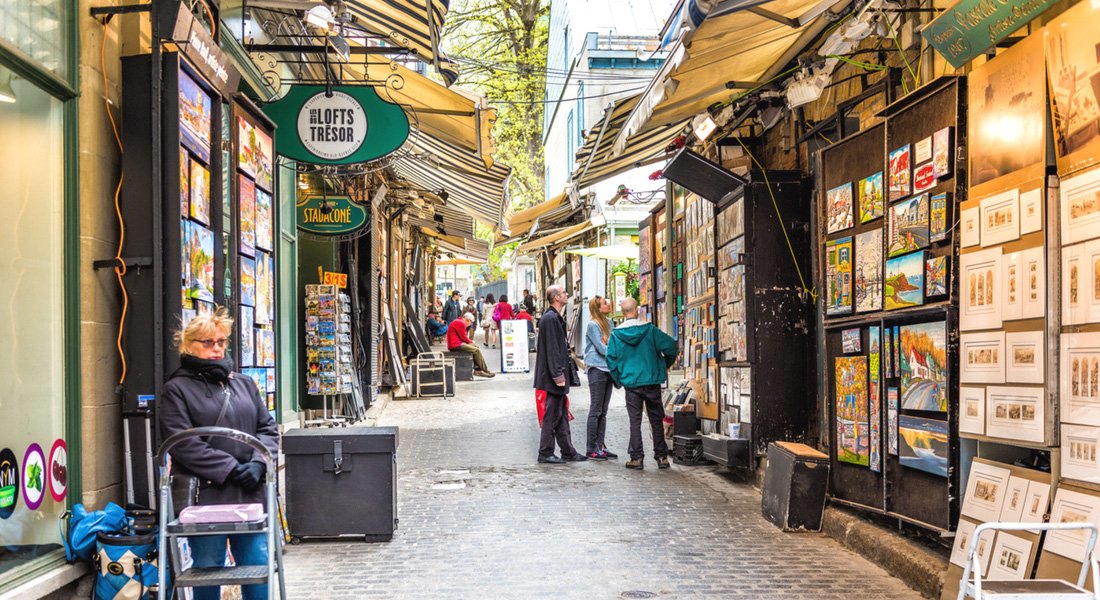 BASILICA-CATHEDRAL NOTRE DAME-DE-QUÉBEC 
At the end of rue du Trésor stands the mythical Notre-Dame-de-Québec Basilica, built in 1650 and declared a historic monument in 1966.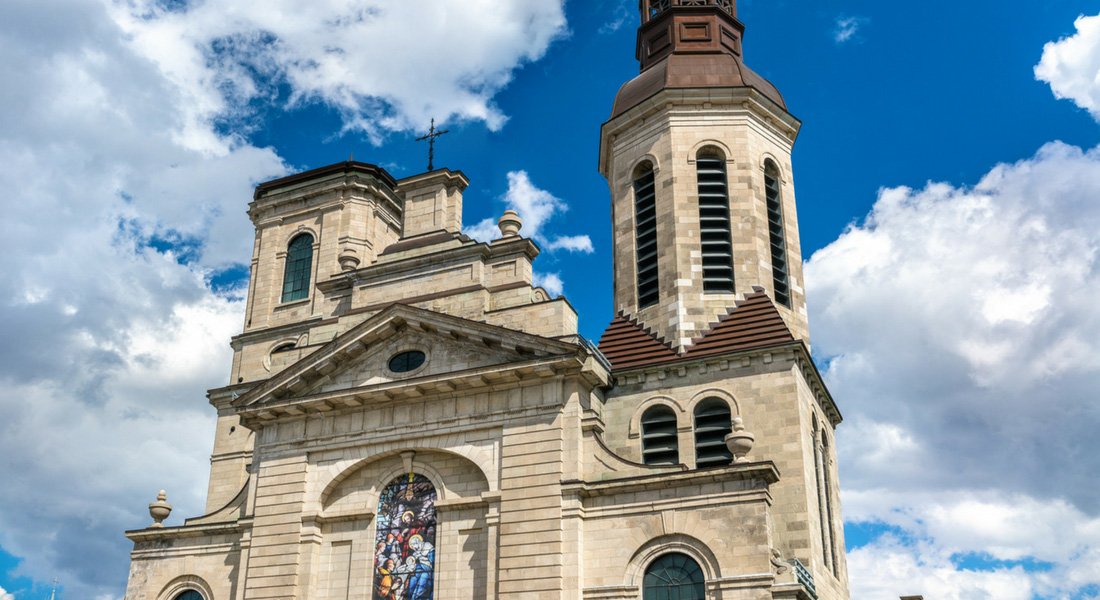 It had to be rebuilt twice: once in 1759 following the bombardments of the troops, and again after being devastated by fire in 1922.

ESCALIER CASSE-COU 
Walk along Côte de la Montagne  to the oldest staircase in the city, which will lead you to the beautiful rue du Petit-Champlain.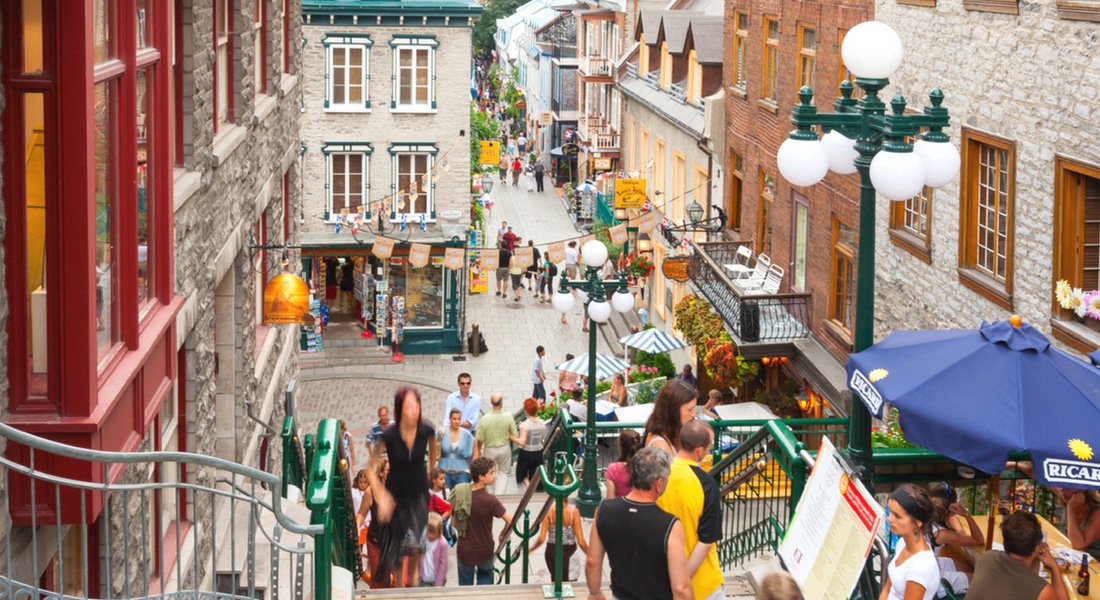 At the top, the view will probably remind you of a scenery you have already seen on a postcard.
It is indeed a great spot to take some photos.

RUE DU PETIT CHAMPLAIN 
Part of the afternoon will certainly be spent strolling along this charming pedestrian street.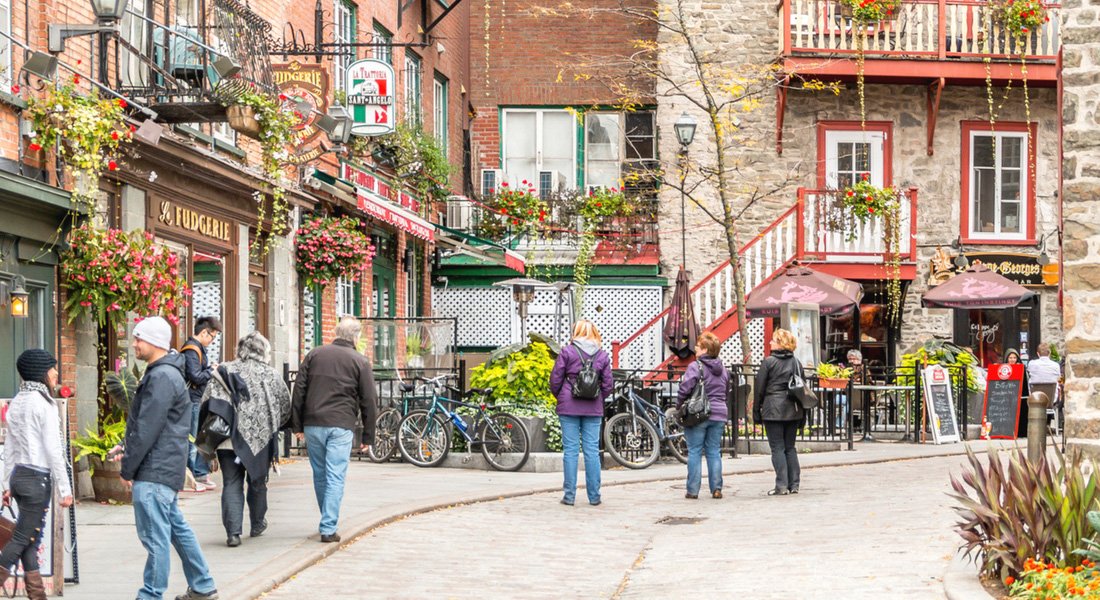 Located at the foot of Cap Diamant, this picturesque tourist artery is lively in both summer and winter.
Here, you will find many shops and art galleries, as well as a wide variety of cafes and restaurants.

PLACE ROYALE 
Take rue Sous le Fort  to reach Place Royale, which has earned the nickname of "the birth place of French America", because of its importance in the founding of Quebec City.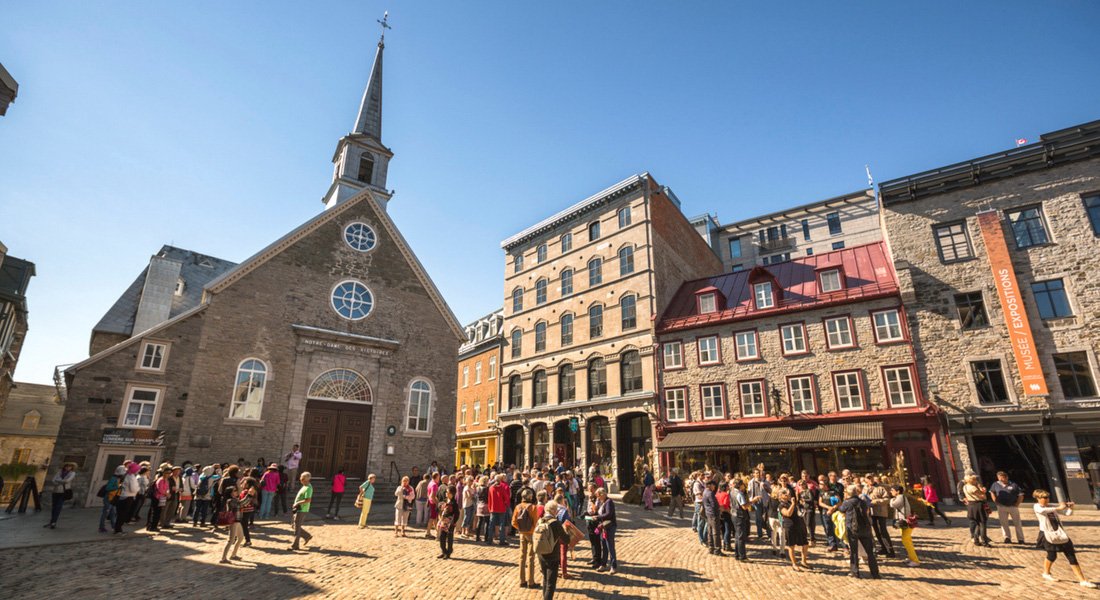 Indeed, it was here that, upon his arrival in 1608, Samuel De Champlain set up the first permanent establishment of La Nouvelle France, which quickly became the town center at the time.
Do not miss a visit to the Notre-Dame-des-Victoires church . Built in 1688, it is the oldest stone church in North America.
 Distance covered in the afternoon : 1 km
 
Evening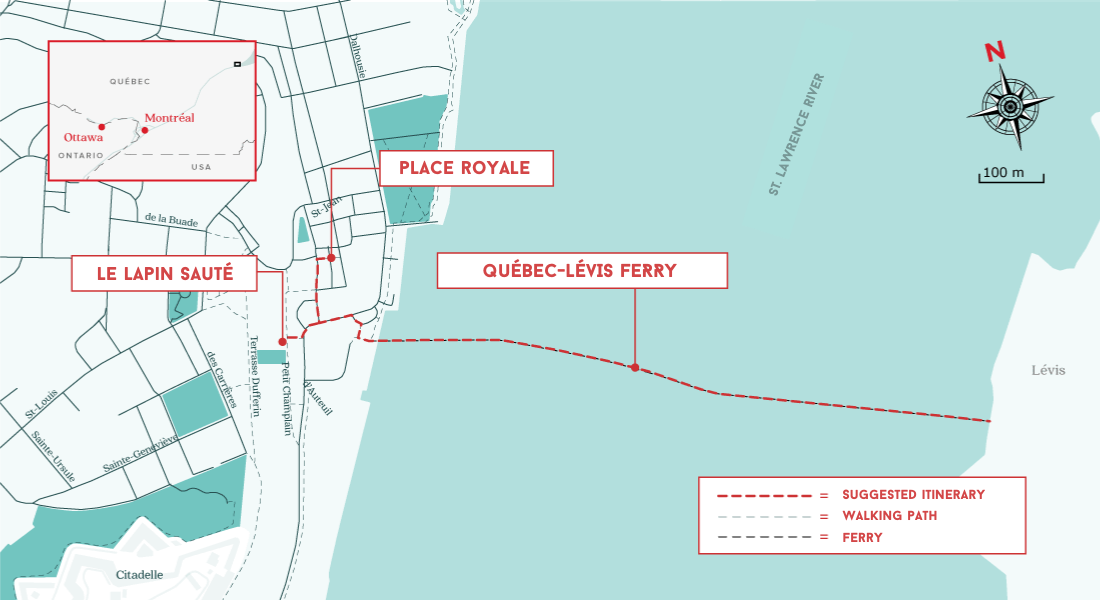 QUÉBEC-LÉVIS FERRY 
The Québec-Lévis ferry is a great way to take beautiful photos of Old Quebec from a different perspective.
Although beautiful at any time of day, the 12-minute ferry crossing has a little more charm when the sun goes down and the lights of the buildings reflect on the water.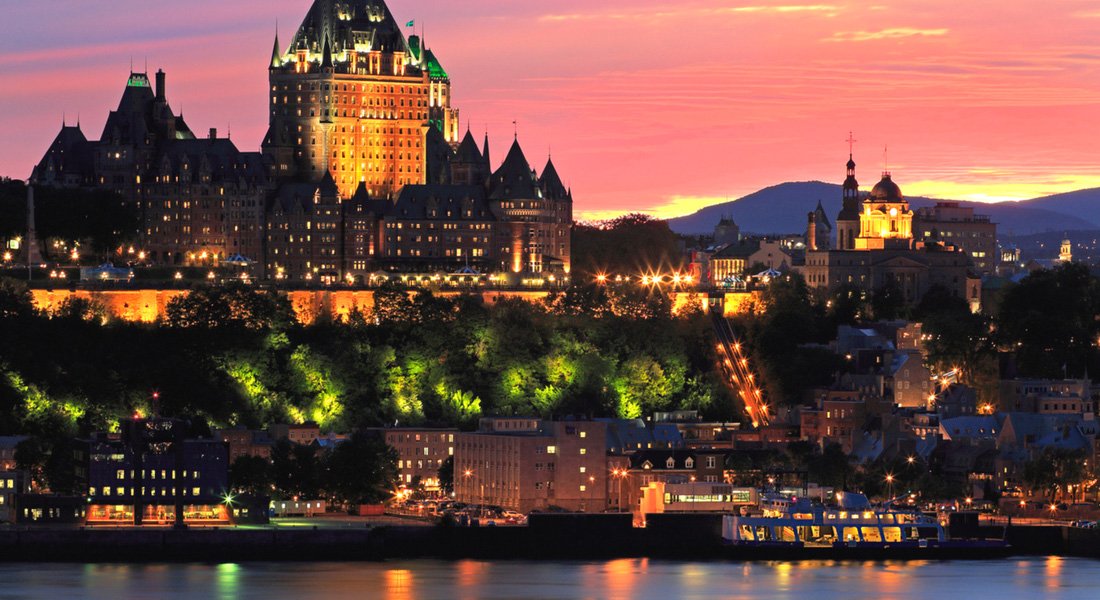 If your stomach isn't too hungry, opt for an evening departure.
 Distance covered in the evening : 500 m
 
---
WHERE TO HAVE DINNER ?
In a friendly atmosphere, Le Lapin Sautéed offers delicious French-inspired cuisine, concocted with the best local products.
The chef's specialty? The rabbit!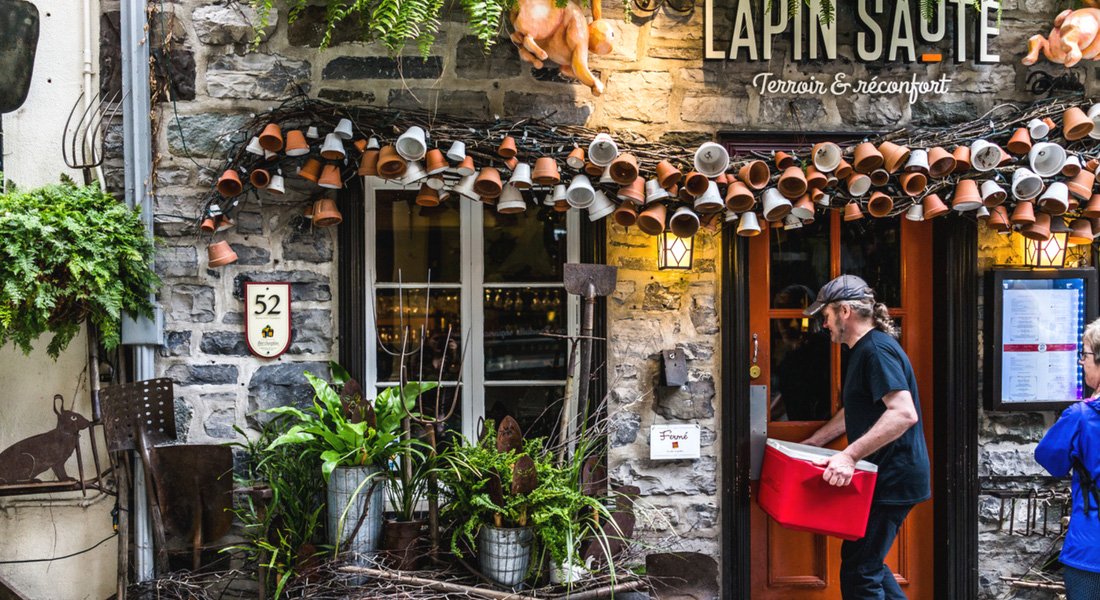 This is a nice little neighborhood restaurant that caters to both locals and tourists alike.
With its magnificent terrace and its location in the heart of the Petit-Champlain district, this restaurant is sure to charm you.
Le Lapin Sauté 

Budget : $$ 
Opening hours : Monday to Thursday 11 a.m. to 10 p.m., Friday 11 a.m. to 10:30 p.m., Saturday 9 a.m. to 10:30 p.m. and Sunday 9 a.m. to 10 p.m.
Adress : 52, rue du Petit-Champlain
Phoe number : 418-692-5325
Website : Cliquez ici
---

Day 2 
Morning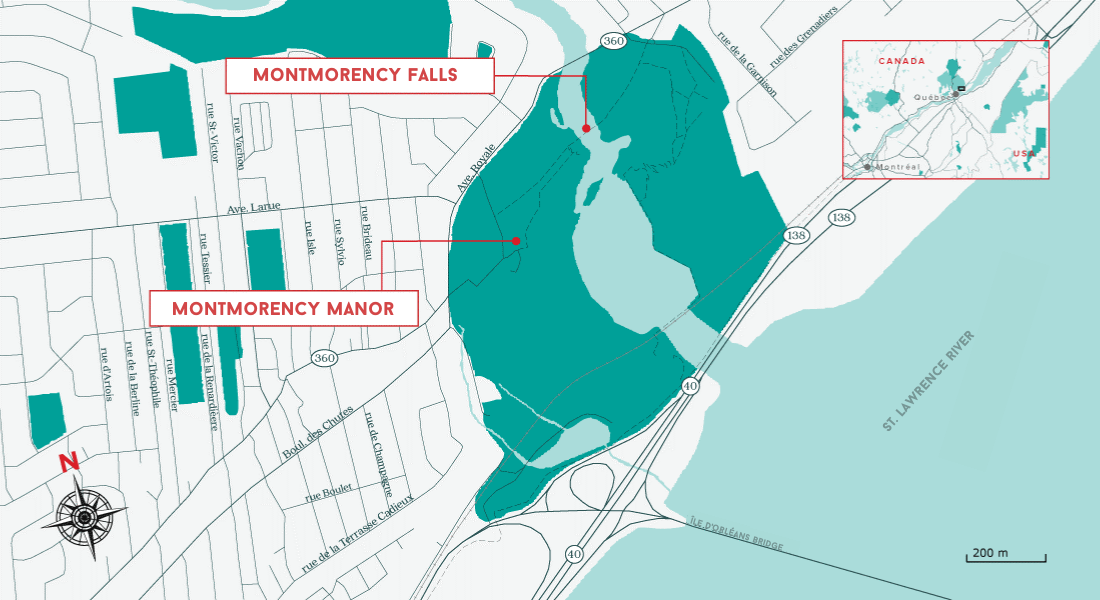 MONTMORENCY FALLS 
Today is when your Canada car rental comes handy. (Pssst! Here is how you can save bick bucks on your car hire!)
Quebec is full of riches, both historical and natural, and it is the later that you are set to discover today.
Start the day at the Montmorency Falls Park , located just a short drive from downtown.
Standing 83 meters talls, right infront of the St. Lawrence River, the Montmorency Falls are a real gem in the province. They are 30 meters taller than the popular Niagara Falls!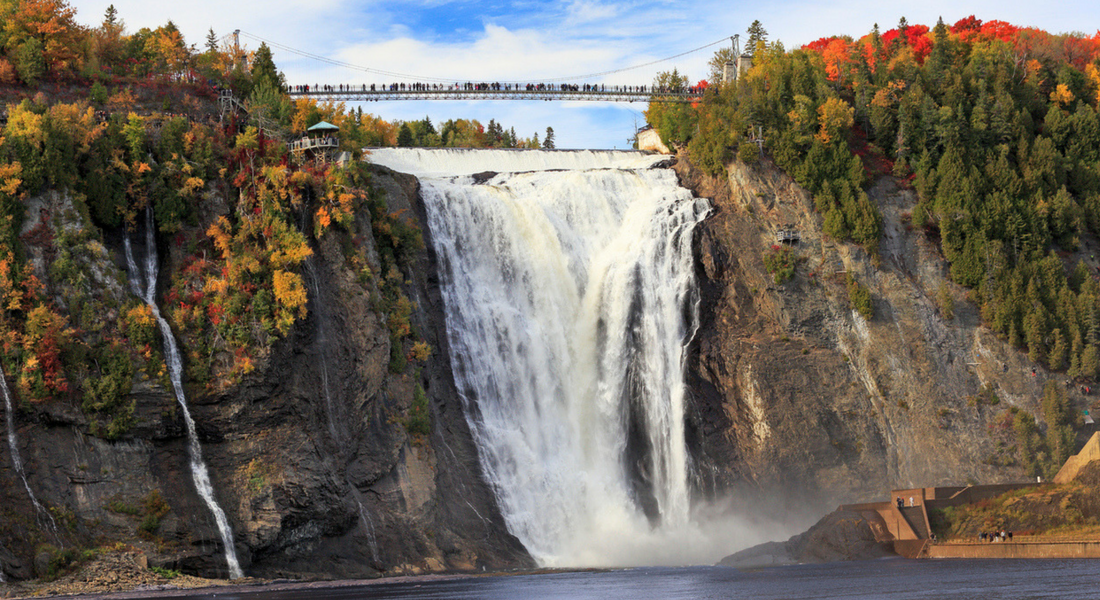 On site, you are free to get to the top on foot (a whooping 487 steps), or by taking the funicular. At the top, a visit to the gardens of the Montmorency Manor  is a must.
If you are traveling with the family, or if you are a thrill-seeker, know that 3 via ferrata courses have been set up near the waterfall, as well as a zip line that is 300 meters long.
Finally, short hiking trails will allow you to discover beautiful landscapes, like it is the case of the Résurgences trail , which runs along the Montmorency River .
---
WHERE TO HAVE LUNCH ?
Located at the top of the falls, this restaurant is renowned for its terrace with a breathtaking panoramic view.
You will find a wide menu and excellent dishes.
Restaurant-terrasse du Manoir 

Budget : $$
Opening hours : from mid-May to mid-October, daily, 11:30 a.m. to 3:00 p.m.
Adress : Parc de la Chute-Montmorency
Phone number : 418-663-3330
Website : Cliquez ici

Afternoon
ÎLE D'ORLÉANS 
A few minutes from Quebec and only accessible through a single bridge, Île d'Orléans awaits you with its magnificent panoramas overlooking the St. Lawrence River.
Take Chemin Royal to discover the cultural and historical heritage of the six municipalities that make up this gem of an island.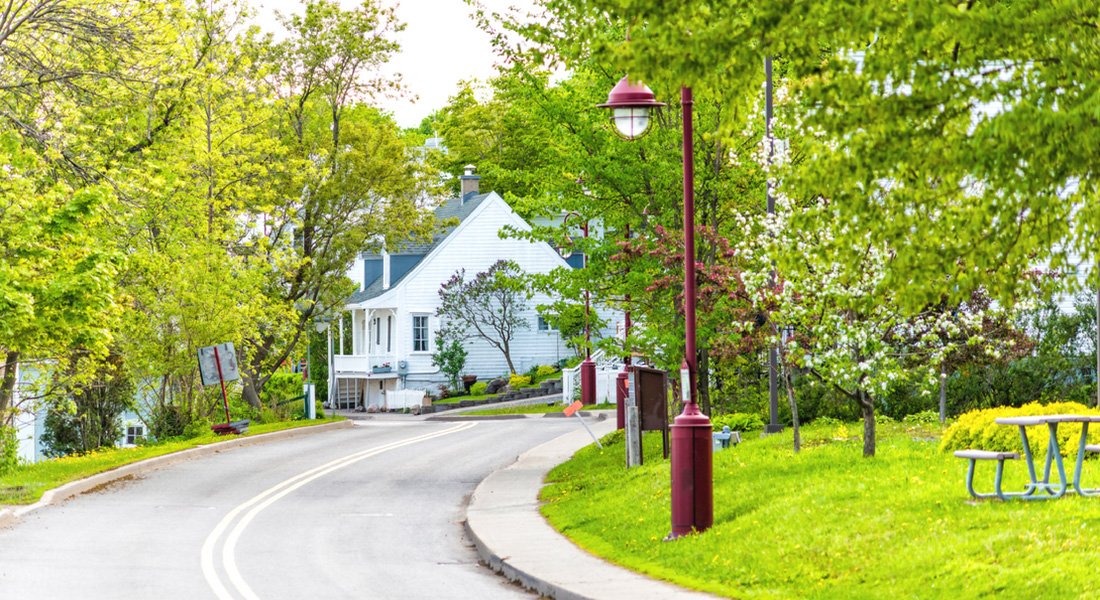 In the small village of Saint-Jean, do not miss a visit to Manoir Mauvide-Genest . In this former estate mansion built in 1734, guides in period costume will take you on a real journey through time.
On the island, several stone houses date back to the French Regime, including the Maison Drouin , which you can visit in the village of Sainte-Famille.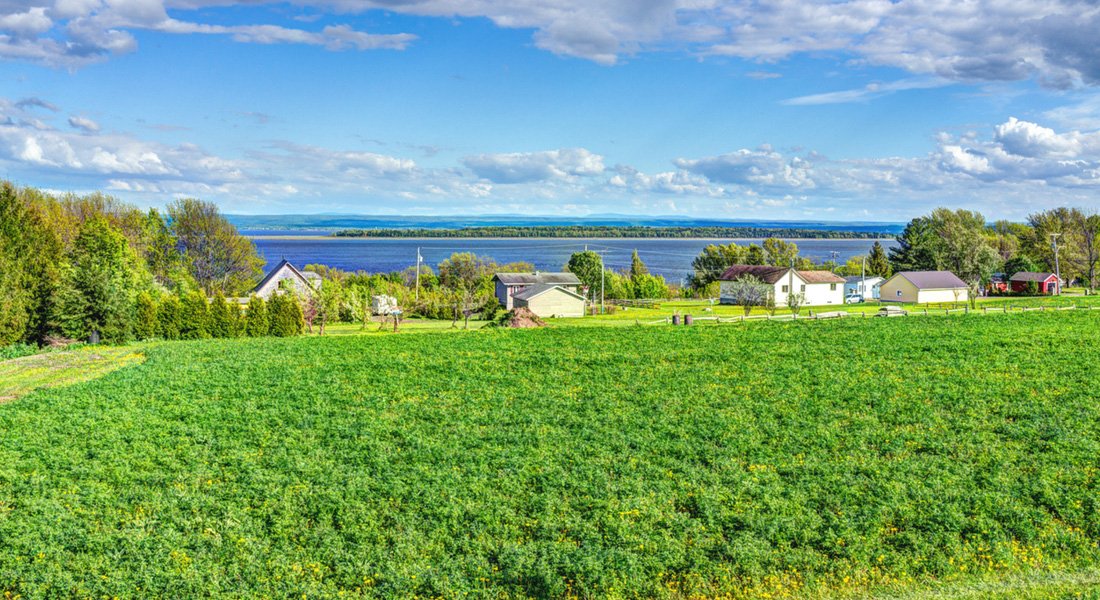 As it is the case in traditional countryside, here, agricultural products are at the center of the island's economy. Along the way, you can taste several local products, including the famous strawberries, for which the island is famous.
Finally, stop at the rural vineyard of Ste-Pétronille , in a small village nicknamed "End of the Island". You will find a tasting room, a covered terrace and a small bistro, in an enchanting setting.

Evening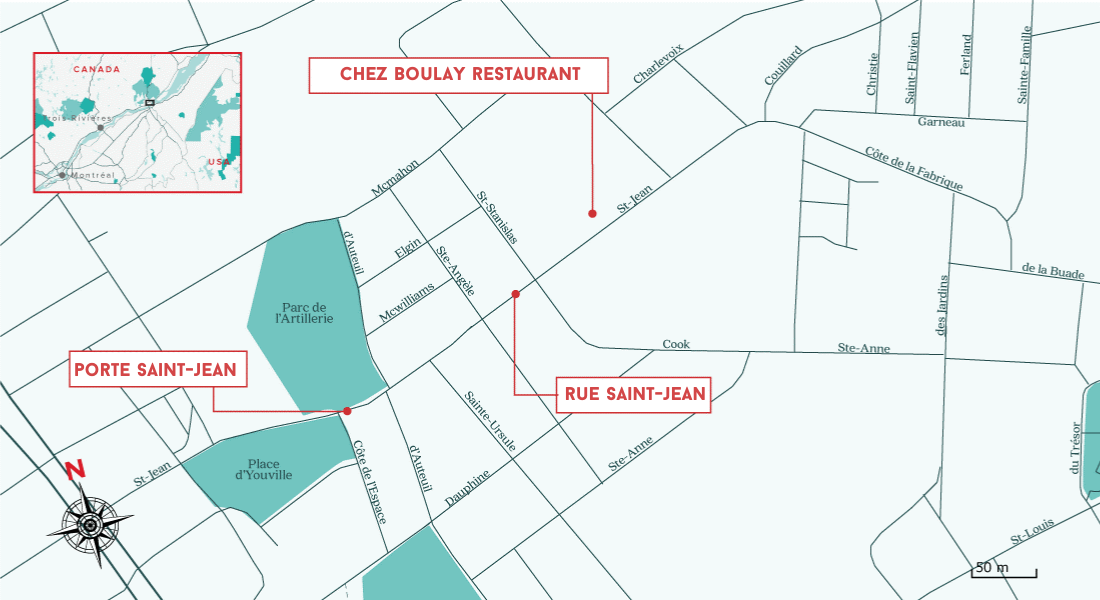 RUE SAINT-JEAN 
Park your vehicle near Porte Saint-Jean , an integral part of the city's fortifications.
Take a stroll on rue Saint-Jean, one of the oldest commercial streets in Quebec. During a good part of the summer season, a segment of this important artery becomes pedestrians-only and the atmosphere is very pleasant!
Here, you will find several shops and historic buildings.
---
WHERE TO HAVE DINNER ?
Nordic-inspired cuisine is on the menu of Chez Boulay.
Following the cycle of the seasons, local products are highlighted to create inventive dishes, all while recalling our oldest traditions.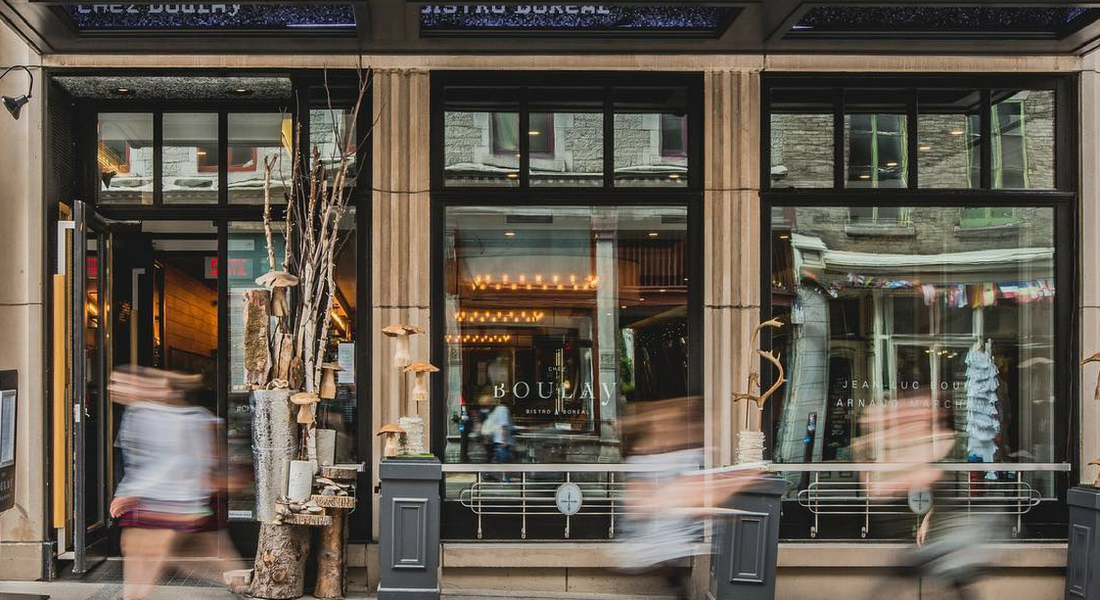 Do not forget to make a reservation, as the reputation of this boreal bistro is well established.
Chez Boulay 

Budget : $$ $
Opening hours : Saturday and Sunday from 10:00 a.m. to 10:00 p.m., Monday to Friday from 11:30 a.m. to 10:00 p.m.
Adress : 1110, rue Saint-Jean
Phone number : 418-380-8166
Website : Cliquez ici
And it's a wrap!
As you can now tell for certain, Quebec city is a mandatory stop during a self-drive tour in Canada.
If your next destination is Montreal, here is our 2-day guide!
If you have any questions and / or comments, please feel free to use the comments box below.