Renting a cottage in Quebec: TOP 10 Canadian cabins
Planning a trip to Quebec and dreaming of renting a cottage in the heart of nature?
Whether you're looking for rustic charm in the middle of the forest, a log cabin by a lake, or a luxury experience with a spa, the cottage of your dreams exists!
Discover my selection of the most beautiful "Canadian cabins"... in Quebec! 
 
#1. Au Chalet en Bois Rond
Location: Ste-Christine d'Auvergne, Portneuf region
Number of units: 63
Capacity: 1 to 40 people

Au Chalet en Bois Rond is a 4-season tourist village in the region of Portneuf, about 45 minutes from Quebec City.
Cottages 
The unique log cabins have a "chic and rustic" charm and are all fully equipped.
Some have direct lake access with a private beach and boat, an outdoor hot tub, a sauna or a stone fireplace.
On the banks of a river, by a lake or in the forest, you will be immersed in the heart of Quebec nature. Whether you're looking for a romantic getaway or a get-together with family or friends, you will find your ideal cottage.
 
Activities 
In spring, you can satisfy your sweet tooth at the sugar shack.
In summer and fall: beach, swimming, fishing and hiking.
In winter: dog sledding, snowshoeing and snowmobiling. 
 
All that without having to leave the village! 
#2. Repère Boréal
Location: Les Éboulements, Charlevoix
Number of units: 11
Capacity: 1 to 6 people

Nestled in the heart of the magnificent Charlevoix region, Repère Boréal rents cottages and micro-cabins.
Cottages
The 4 types of cottages combine natural materials and modern architecture to offer everything you need to get back to basics in the greatest of comfort.
Each cottage has its own charm, but my favourite is the "Maikan", which boasts a panoramic window that is perfect for stargazing. So romantic!
 
Activities 
If you manage to leave your cocoon, I suggest a visit to the Spa Zone with its hot baths and sauna. Or you can enjoy the spectacular view of the St. Lawrence River and the surrounding mountains from the rooftop terrace of the multipurpose room. 
A getaway at Repère Boréal is a true ecotourism experience in an enchanting, quintessentially Quebec setting.
#3. Sommets Charlevoix
Location: Petite-Rivière-Saint-François, Charlevoix
Number of units: 41
Capacity: 1 to 14 people

Just 10 minutes from the picturesque village of Baie-Saint-Paul, Sommets Charlevoix offers different categories of cottages and a multitude of activities to do on site.
Cottages
Whether rustic, classic or modern, each unit is fully equipped and most also offer an amazing view of the St. Lawrence River. Some cottages are independent while others are divided into several units.
By the fireplace in winter or on the patio in summer, your coffee never tasted better!
 
Activities 
On site: heated outdoor pool, sauna and spa, walking trail...
Families will appreciate the "Babies are Welcome" program, which provides all the basic baby material and equipment you will need during your stay.
 
The attentive staff at Sommets Charlevoix provide a warm welcome to help make your stay an unforgettable experience. 
#4. Domaine Valga
Location: St-Gabriel-De-Rimouski, Bas-Saint-Laurent
Number of units: 3
Capacity: 1 to 11 people

You know the image you get in your mind when you think of the classic "Canadian cabin"? Well, this is it!
Domaine Valga is first and foremost an outfitter with a magnificent inn and friendly owners. It has expanded its offer with the addition of 3 superb cottages, much to our delight.
Cottages
The log cabins have 2 to 4 bedrooms and a rustic charm with lake views and access.
Open year round, they offer all the amenities: full kitchen, bathroom, bedding, wood stove...
Your stay will be comfortable, warm and authentic, like Domaine Valga itself.
 
Activities 
Wildlife watching: moose, white-tailed deer, beaver, owls. I bet you won't leave without seeing at least one of these creatures. 
Treetop adventure course, kayak, paddleboard, hiking and fishing in summer.
Snowmobiling and snowshoeing in winter.
 
If you're looking to recharge your batteries in the heart of nature and the great outdoors, this is the place for you!
#5. Domaine Floravie
Location: St-Gabriel-De-Rimouski, Bas-Saint-Laurent
Number of units: 7
Capacity: 1 to 4 people

Located on a peninsula in the St. Lawrence estuary, Domaine Floravie is a true haven of peace where the environment is top priority.
Cottages
The eco-friendly mini-cottages on wheels were designed and built according to sustainable development principles.
They are equipped with all the amenities you need and are very comfortable despite their small size (19 m²): solar powered system for lighting and the refrigerator; shower and composting toilet; propane stove, heat and water heater.
There is no Wi-Fi in the cottages, but free Internet access is available at reception.
 
Activities 
Guests come here to reconnect with nature and with themselves. You can take advantage of the 3 hiking trails, and admire the most beautiful sunsets in Québec every evening.
For a nearby excursion, be sure to visit Bic National Park, just 10 minutes from Domaine Floravie.
 
Come enjoy a break from the stress of modern life, in a unique natural environment where the land meets the sea...
#6. Ferme 5 étoiles
Location: Sacré-Coeur, Côte-Nord
Number of units: 7
Capacity: 1 to 10 people

Ferme 5 étoiles is a vacation centre on the banks of the Saguenay Fjord, just 15 minutes from Tadoussac.
Cottages
Several types of accommodation are available, but I would go for the cottages with stunning views of the Saguenay Fjord. They offer all the comforts: fully equipped kitchen, living room with fireplace or wood stove, and 2 or 3 bedrooms according to your needs. 
 
Activities 
For several years, the resort has been providing refuge for injured or orphaned wildlife, such as moose, racoons, wolves and deer. Every morning, accompanied by a guide, you can help care for the animals and spend time with them.
Quad biking, kayaking and hiking in summer.
Dog sledding, snowshoeing and snowmobiling in winter.
Relaxation centre with a reading nook, spa, sauna and massage therapy.
 
For nature lovers, families, couples or friends, this is paradise.
#7. Chalets sur le Fjord
Location: L'Anse-Saint-Jean
Number of units: 8
Capacity: 4 to 8 people

Chalets sur le Fjord is on the south shore of the Saguenay Fjord, at the heart of the village of l'Anse-Saint-Jean and near Fjord-du-Saguenay National Park.
The environment, the seaside climate and the mountain landscapes make this a popular destination with travellers.
Cottages
Charming wooden cottages with all the comforts and a superb view of the fjord.
The cottages are in a quiet wooded setting where guests also have access to barbecues, outdoor firepits, and a laundromat.
 
Activities 
On site: Swimming pool, outdoor spa (open May to October), children's playground.
Nearby: Kayaking or cruises on the fjord just a few minutes' walk away. Horseback riding and hiking.
 
Summer or winter, you'll never be bored!
#8. Chalets du bout du monde
Location: Gaspé, Gaspésie
Number of units: 8
Capacity: max 6 people

Located in the town of Gaspé at the eastern tip of the Gaspé Peninsula, the Chalets du Bout du Monde offer an enchanting setting and truly live up to their name (which means "Cottages at the end of the world")!
Cottages
All the cottages are ideally situated along the water facing the Saint-Jean River estuary, where the river meets the sea. 
Equipped with two bedrooms, a kitchen and Internet connection, they offer the comfort of home in a peaceful environment with nature at your doorstep. 
 
Activities 
The site offers the loan of kayaks, bicycles and snowshoes, free of charge, so you can:
Paddle your kayak down the coast to Hadimand beach.
Cycle to downtown Gaspé on the bike path.
Explore the area by snowshoe from your cottage.
 
The central location makes it easy to visit the peninsula's tourist attractions such as Forillon National Park and the famous Rocher Percé. 
#9. Chalet du Lac Trois Caribous
Location: Lac Édouard, Mauricie
Number of units: 1
Capacity: max. 6 people

Located on the territory of Seigneurie du Triton outfitter in the heart of Mauricie, the log cottage on Lac Trois Caribous is one of a kind.
This corner of paradise is most easily reached by floatplane. Determined adventurers can also get there by canoe or motorboat, but 4 portages (2 of 5 minutes and 2 of 20 minutes) are required.
Whatever you choose, your stay will be off to an exciting start!
Cottage
Built in 1909, this charming and rustic "Canadian cabin" has one bedroom with a double bed and 4 bunk beds, a living room with a wood stove, and a kitchen with refrigerator and propane stove.
The chalet is also equipped with solar and gas-powered lighting, running water, potable water, and a barbecue outside.
 
Activities 
Canoeing, exploring the nearby islands, hiking trails, nature and wildlife watching, swimming in the lake, etc. 
But above all, it's the perfect place to do nothing and simply enjoy nature! That's kind of why you're here, isn't it?
#10. Chalet Écho
Location: Certain Sépaq parks
Number of units: 3 or more, depending on the park
Capacity: 1 to 4 people

You have probably heard of Québec's national parks, also known as Sépaq parks.
They offer many types of accommodation, and the latest addition is the Echo cabin. Several destinations have them, including Mont-Tremblant, Jacques-Cartier and Bic National Parks. 
Cottages
They have everything you need for a comfortable stay in the heart of nature: well-equipped kitchen, bathroom with toilet and shower, two bedrooms, wood stove, and comfy sofas. We especially love the large windows that blend with the landscape.
 
Activities 
When you visit a Sépaq park, you expect to spend time outside, whatever the season:
Hiking, kayaking, cycling, Via Ferrata in summer.
Skiing, sliding, skating, snowshoeing in winter.
 
The range of activities varies from park to park, but one thing is certain: you won't be bored!
Cottage locations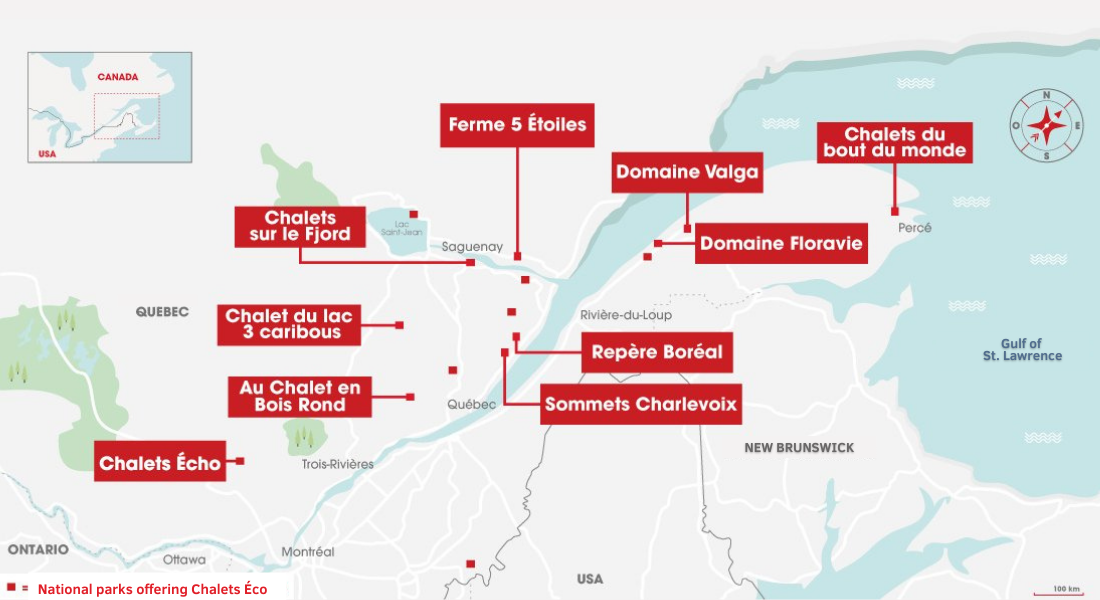 And there you go!
I hope I've whetted your appetite for a little nature getaway in a cottage for your next trip to Quebec.
Don't hesitate to share our suggestions on social media, or to add to our list in the comments below.