Top 10 most beautiful villages in Western Canada
A trip to the majestic western provinces is synonymous with a complete immersion in the heart of Canada's wilderness. And nestled deep within this unspoiled setting, there are charming picturesque villages that are well worth the detour.
Whether you decide to immserse fully with an hired RV or in the comfort of hotels, here are 10 villages you won't want to miss during your next road trip.
 
1. Telegraph Cove

The remote paradise of Telegraph Cove, on Vancouver Island, is known as one of the best spots in the world for orcas observation (killer whales). 
Skeptical ? It was Jacques Cousteau, the famous oceanographer, who said it first!
The tiny village (with only about 20 inhabitants !) boasts colourful historic buildings and houses on stilts along a wooden boardwalk. 
However, if you're thinking of staying in the village, beware of heavy tourist traffic during the summer, when thousands of visitors arrive in search of peace, tranquility and nature. 
2. Tofino

This quaint fishermen village is at the northwestern end of Long Beach, on Vancouver Island. 
Its exceptional location, right on the ocean, makes it a true surfers' paradise. 
With its superb beaches and impressive rainforests, Tofino abounds with majestic, magical landscapes.  
And to add to its charms, there are no big chains or fast food in the village: just small shops and independent restaurants serving local fare. 
It is also a popular destination for watching marine mammals, especially in March, when more than 20,000 grey whales migrate to the west coast of Vancouver Island.
On your way from Vancouver, be sure to stop at Cathedral Grove, where you can see the largest trees in Canada. It is my personal recommendation if you are on a family vacation in Canada.
3. Banff

Yes, Banff is one of Canada's most iconic national parks, but it is also the name of a charming Alpine town.
Located right in the heart of the Rockies, at an altitude of 1380 metres, Banff is a lively little town, especially along its main street, Banff Avenue.
Banff Avenue is lined with charming small shops as well as restaurants, pubs, nightclubs (mostly frequented by young people and students looking to party) and hotels.
It's impossible to miss Cascade Mountain standing guard over the town and all the spectacular mountain scenery, which will quickly make you forget Banff's touristy feel. 
However, we recommend keeping your exploration of Banff for the evening, allowing you to focus on the natural wonders of the park during the day.
4. Nelson

The architecture of this small Victorian town is sure to charm travellers in search of authenticity. 
Many of its 19th-century heritage buildings have been lovingly restored, while others are still intact and extremely well preserved. 
Nelson also boasts an impressive number of good restaurants, cafés and pubs, as well as several art galleries and boutiques. 
Located on the shores of Kootenay Lake in the heart of the rugged Selkirk Mountains, Nelson is also known for the wide array of outdoor activities it offers. 
 
5. Waterton

Waterton Lakes National Park is an exceptional mountain park and a paradise for nature lovers.
The village is at the edge of the park, but never feels too crowded. With its mountain setting and lakeside location, Waterton Townsite offers spectacular scenery and a warm welcome.
Take a pleasant stroll through its streets, which may remind some visitors of the Alps. 
For a breathtaking view of the village and surrounding area, pay a visit to the magnificent Prince of Wales Hotel. Built in 1927, this historic building has become an iconic Waterton landmark. 
6. Harrison Hot Springs

The small town of Harrison Hot Springs, at the southern tip of Harrison Lake just 90 minutes from Vancouver, is renowned for its natural hot springs. 
These hot springs have long been considered a place of healing by the First Nations peoples. Today, soaking in the hot springs is still a popular activity among locals and visitors alike.
Whether or not it has healing powers, the Harrison Hot Springs public pool is certainly a pleasant place for travellers to relax and recharge their batteries.
Be sure to pay a visit to the nearby community of Hope, where you will find 30 Native-inspired wood carvings of wildlife and pioneer scenes, hand carved by local artists.
7. Jasper

Nestled in the heart of the famous Jasper National Park, this small alpine village is simply sublime.
First of all, the view of the Rockies is magnificent. You will quickly realize that in Jasper, life revolves around the great outdoors. 
The village has a relaxed atmosphere, its residents are extremely respectful of nature and the environment, and even the village's architecture is in harmony with its mountain setting. 
By the way, don't be surprised to cross paths with an elk wandering through the streets. They're everywhere !
8. Snug Cove

Just a 20-minute ferry ride from Vancouver lies Bowen Island, a perfect destination for a day trip.
The ferry sails into the small village of Snug Cove, where you will find a panoply of small shops and restaurants. 
Next to the marina, you can rent a kayak and explore the shoreline, with breathtaking views of the distant mountains.
If you enjoy shopping, be sure to visit Artisan Square, a charming community of local galleries, eateries and wellness venues. 
Finally, don't leave the island without trying the delicious ice cream at Branch & Butter, a trendy seasonal snack bar.  
 
9. Duncan

Visitors to Vancouver Island generally go to Duncan, also known as the "City of Totems", to see its collection of 80 First Nations totem poles, which are scattered across the city. 
If you're interested in First Nations history, be sure to visit the Quw'utsun' Cultural Centre. 
The Forest Discovery Center is another popular cultural attraction. This 100-acre open-air museum traces the history of logging in British Columbia. It also has several hiking trails that offer excellent birdwatching.
If you are in Duncan on a Saturday, don't miss the downtown farmers' market. You will find a ton of local produce and products, perfect for putting together a picnic or picking up some typically Canadian souvenirs to take home with you. 
10. Stewart

Located on the Alaska–British Columbia border, this former mining town isn't particularly interesting, but it offers exceptional opportunities to see grizzly bears in their natural environment. 
Nearby Fish Creek is home to one of the largest pink salmon runs in Alaska. Grizzlies go to Fish Creek to feed, and a protected viewing platform allows visitors to photograph them in action: a truly impressive sight !
This small mountain village with its population of 500 is a haven for wildlife. Don't spend too much time in town, as the beauty lies less in the village itself than in its spectacular surroundings.
Note that Fish Creek Wildlife Observation Site is officially in the American town of Hyder, less than 3.2 kilometres from Stewart.  
Map of the villages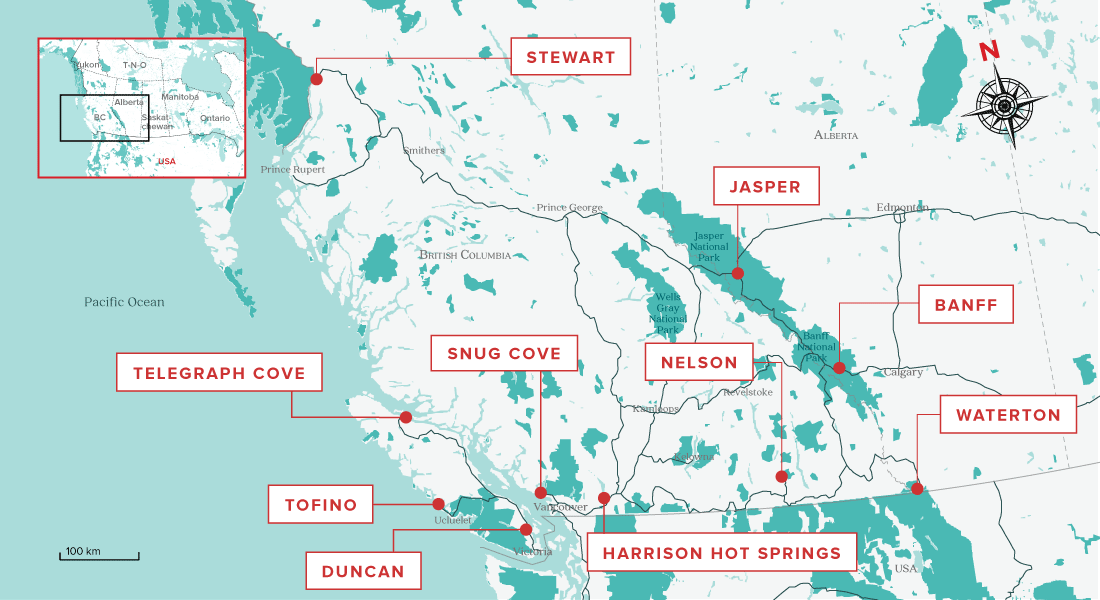 And there you go!
Now all you need to do is to get behind the wheel of your rental car and set out to discover these treasures !
If you have any questions and/or think a particular village should have been on this list, don't hesitate to share them in the comments section below.