TOP 10 winterscapes in Quebec
"My country is not a country, it's winter" wrote our great poet Gilles Vigneault.  
Quebec with its great diversity of landscapes is charming in every season, but once wrapped in its white blanket of snow, the Belle Province is simply magical.  
Here are the 10 winterscapes you won't want to miss during your winter road trip in Quebec. 
 
#10- The Chics-Chocs 
  Region : Gaspésie
Although the Chic-Chocs are often associated with Gaspésie Park , they deserve their own place on the list!  
These high snowy peaks are magnificent in winter.  
The Chic-Chocs Mountain Lodge, with its country cottage look, adds to the typical Canadian winter landscape.  
It's like a picture on a postcard! 

Don't miss
The Hog's Back and Lyall Mountains

: Here you will find snowshoe trails and several areas suitable for sliding sports. However, they are not recommended for beginners. 
The Chic-Chocs Mountain Lodge

: Perched at an altitude of 615 metres in a pristine wilderness setting, this is the perfect place to enjoy the Canadian winter while pampering yourself. In addition to the services of the lodge, 60 km2 of nature are at your doorstep where you can practice winter activities with a guide.  

#9- Montmorency Falls Park

 
  Region: National Capital
Did you know that the Montmorency Falls is much higher than Niagara Falls? It's the highest waterfall in Quebec!  
While we may not think of visiting a waterfall in winter, we should. It's on our Top 5 things to do in winter in Quebec.
The waterfall and its icy walls are sublime, and in very cold weather, the fine splashes projected by the waterfall eventually freeze and form a very impressive natural ice cone at the foot of the falls. 
It's called the Sugarloaf. And if the name makes you hungry, the Manoir Montmorency is open for a snack! 

Don't miss
Cable car: The cable car is in operation at certain times during the winter. If you're lucky enough to take it, you'll be treated to dazzling views of the falls, Île d'Orléans in full winter wonderland mode, and the ice traveling down the St. Lawrence River.  
Ice climbing: The frozen walls of the cliff can be used as a climbing wall for experienced ice climbers. It's a perfect opportunity for an adrenaline rush in a magnificent winter setting.  
#8- Mont-Mégantic 
  Region: Eastern Townships
Mont-Mégantic National Park is a unique attraction that offers activities "from the earth to the sky".  
You can climb snowy peaks by day to enjoy a feast for the eyes, while once the sun goes down, the night sky will take your breath away. 
I suggest planning to spend at least a whole day there, you won't regret it! 

Don't miss
Torchlight snowshoeing

: Treat yourself to this exceptional evening activity. The 1.2-km circuit lit by torches (and starlight) is a magical moment in nature. It can also be combined with an astronomy activity for a perfect evening of stargazing.  
Observatory sector

: Perfect for a day in the snowy outdoors. It is home to 30 km of snowshoe trails and 15 km of cross-country ski trails.  
#7- Mont-Tremblant 
  Region: Laurentians
Mont-Tremblant is simply magnificent in winter.  
Whether it's the national park with its countless snowy pines, its snow-covered lake and cross-country ski trails or the charming little pedestrian alpine village whose bright colours contrast sharply with the winter landscape, there is something for everyone. 
Quebecers love to visit Mont-Tremblant during the winter season, so you can expect a warm stay, despite the sub-zero temperatures!  

Don't miss 
Alpine hiking

: Climb one of the highest peaks in the Laurentians along wooded alpine hiking trails. From easy to challenging. 
Mont Tremblant Station

: 102 ski trails and a snow park for skiers and snowboarders.  
After-ski in the village

: After a day out in the open air, head to Tremblant village for a heartwarming cheese fondue or an after-ski cocktail in one of the bars! 
#6- Old Quebec 
  Region: National Capital
The lovely Quebec City needs no introduction. Its old neighbourhoods are charming all year long, but the snow adds a little je-ne-sais-quoi. 
Not to mention the beautiful streets decked out with holiday decorations.  
I highly recommend a stroll at dusk, with a warm comforting beverage from a local café or restaurant in hand.  
Old Quebec in winter is the very epitome of "magical"!

Don't miss
Place Royale

: Nestled amongst the most beautiful streets in Old Quebec, Place Royale is a beautiful square with a rich history. During the holiday season, you will also find a giant Christmas tree, a city tradition that is appreciated by locals and tourists alike!  
The German Christmas Market

: Located in the city hall square, the market and its many little wooden huts add a touch of enchantment to this already distinctly European-inspired neighborhood. A perfect mix of cultures! 
#5- Gaspésie National Park
  Region: Gaspésie
Thanks to its geographic location, Gaspésie National Park is blessed with abundant snowfall.  
No need to worry about your next ski outing, there's sure to be plenty of snow!  
If you're a skier, you'll be in heaven. But be warned, there are no ski lifts.  
However, your efforts will be amply rewarded by the quality of the snow and the spectacular scenery that awaits you.  
If the entire park is beautiful in the summer, imagine it covered with a perfect white blanket of snow!

Don't miss 
Skiing in the Mont-Albert or Ernest-Laforce sector

: These two sectors of the park offer plenty of powder. For those who prefer to ski on-piste, Mont-Albert awaits you. If you want to go off-piste, the Enerst-Laforce sector is the place to be.  
Snowshoeing

: Where there is good snow, there is also snowshoeing! The park boasts 13 trails ranging from 1.7 to 18 km.  
#4- The Bras-Du-Nord Valley
  Region: National Capital
Less well known than its neighbour, the Jacques-Cartier Valley, the Bras-du-Nord Valley is becoming more and more popular with Quebecers. 
It's hard to think of a winter activity that can't be done here.  
The area also has many refuges and cabins, allowing you to enjoy the ultimate experience with family or friends.  

Don't miss
Snowshoeing and hiking

: The Valley is home to one of the largest networks of groomed hiking trails in Quebec, stretching over 80 km. There is everything from small loops perfect for families to the 60-km Philosore trail. The latter generally takes 5 to 6 days, with overnight stays in refuges. 
Fatbike

: 6 fatbike trails covering some 140 km are waiting for winter sports lovers. Bikes can be rented on location for people at least 1.5 m tall.  
Stay in a log cabin

: This is the perfect region to enjoy a stay in a typical log cabin. It's a great opportunity to gather around a fireplace and prepare a comforting meal after a day of adventure!  
#3- Laurentides wildlife reserve
  Region: National Capital
Near Quebec City and Saguenay Lac-Saint-Jean, the Réserve faunique des Laurentides wildlife reserve and its 7,861 km2 are a delight for lovers of the great snowy outdoors.  
It boasts the best snow conditions in Quebec.  
It is also the base for some of our snowmobile trips. 
It's a real winter holiday paradise, very popular with cross-country skiers and snowmobilers. 

Don't miss 
Camp Mercier

: This cross-country ski centre has all the services you need to ensure a safe adventure on impeccable trails. It is home to 70 linear km of trails.  
Stay in a cottage

: If you want to create your own little winter paradise, renting a cottage is possible and provides easy access to cross-country ski trails, snowshoeing, snow slides as well as an ice rink.  
#2- Monts-Valin 
  Region: Saguenay-Lac-Saint-Jean
An icon of the Saguenay Lac-Saint-Jean region , Monts-Valin National Park is striking in winter.  
If you've never heard of it, start doing your research. It is one of our 5 national parks to discover in Quebec.
During winter, a spectacular natural phenomenon can be seen there, known as the ghosts of Monts-Valin.  
When clouds cover the mountain's summits for a period of time, they leave behind small droplets of water, which in turn settle on the branches of the fir trees and solidify, creating a shell of frost. 
The result is both magical and intriguing! 

Don't miss 
Vallée des Fantômes

: To reach the "Valley of Ghosts", you will need to take a 45-minute minibus ride along the picturesque Bras-des-Canots Road, followed by 3 km by snowshoe or skis to reach the summit of Pic Dubuc. At an altitude of 984 metres, with the Mont Vallin massif stretching to the north, the Piedmont Hills and the Saguenay Lowlands to the south, and the fjord and the town of Saguenay in the background, it's well worth the effort! 
The Pic-de-la-Tête-de-Chien trail

: 8-km trail with an elevation gain of 300 metres. The perfect challenge for a half-day of snowshoeing, if you're physically fit. 
#1- Hautes-Gorges-de-la-Rivière-Malbaie National Parc
  Region: Charlevoix
The Hautes-Gorges-de-la-Rivière-Malbaie National Park is the winner with its glacial valley landscapes of such beauty that they defy description. 
Here you will find the frozen Malbaie River and mountains more than 1,000 metres high with snowy summits and rocky walls covered in frozen waterfalls. 
This pristine wilderness feels like it is untouched by man, and that is not far from the truth: the park has only been accessible in winter since 2017.  

Don't miss 
Skating in the Vallée des Glaces

: From mid-January to March, it is possible to skate on the natural ice rink created by the Malbaie River. Skates can be rented on location. 
The Équerre sector

: Certainly the most beautiful sector of the park with its significant snow accumulation. You can use its trails with snowshoes, Nordic skis or fatbike. The most beautiful views of the valley can be found at Pointe-aux-Inukshuk or Équerre.  
Locate the 10 most beautiful winterscapes in Quebec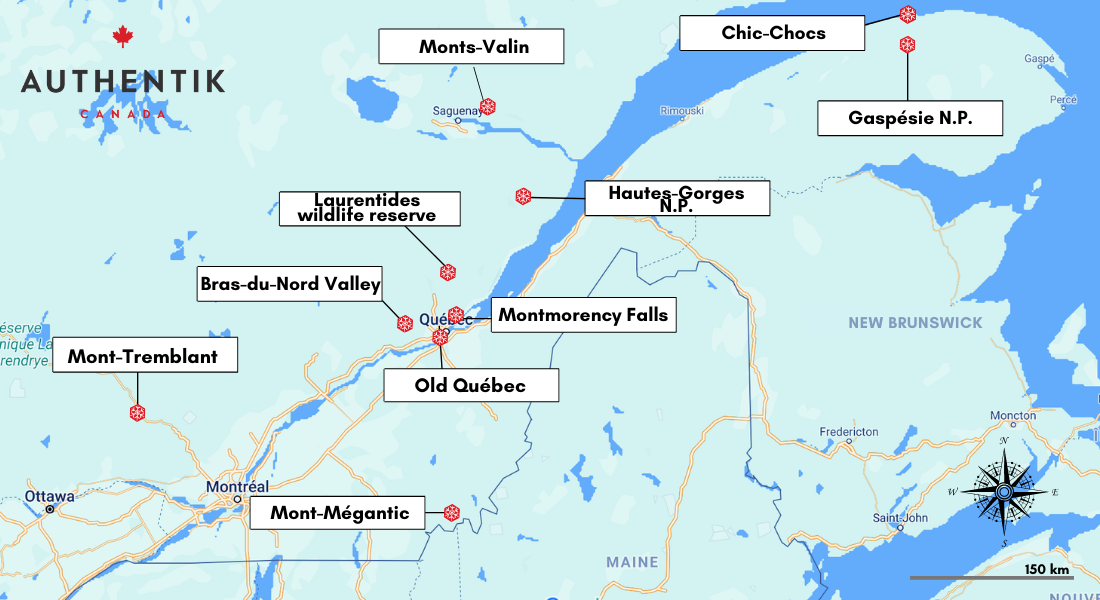 That's it for the most beautiful winter landscapes in Quebec.  
Which one makes you want to face our cold weather? If you have any question or comments, feel free to leave them in the comments section below.