Travel Guide to the Canadian Rockies
Planning a trip to the majestic Canadian Rockies?
In this guide you will find a wealth of information to help you plan your next Western Canada road trip. 
Banff 
 
Banff is the name of a charming alpine village, as well as the name of a legendary national park brimming with natural splendours.
Every year, some 3.8 million visitors pay a visit to the town with its 9,000 inhabitants. 
Although highly touristic, Banff remains an outdoor paradise in the Rockies.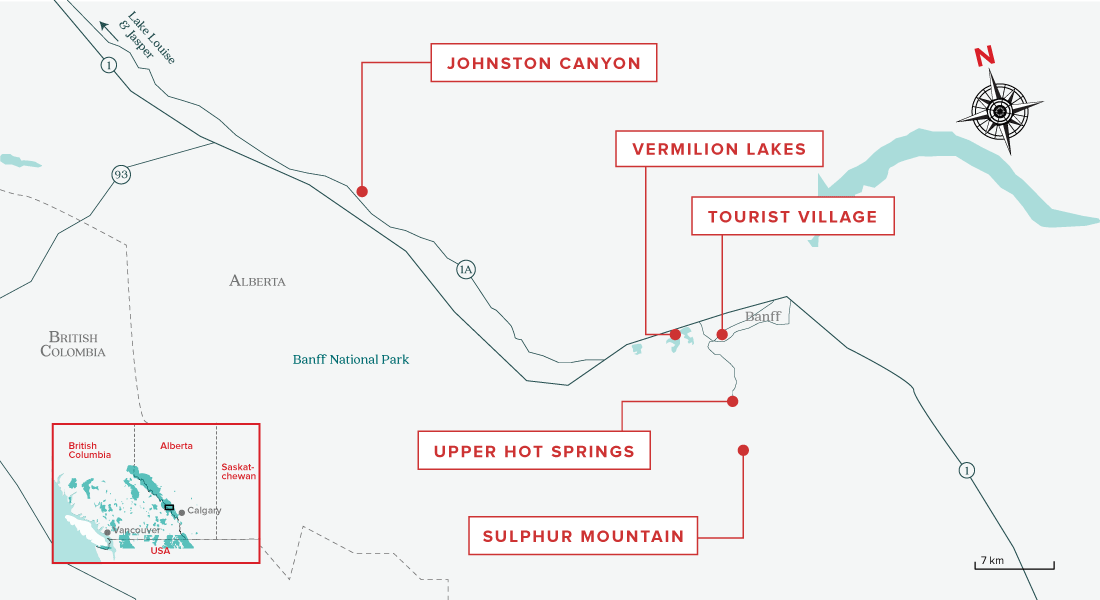 ---

What to do
Noteworthy
Worth the detour
Must see

1. TOURIST VILLAGE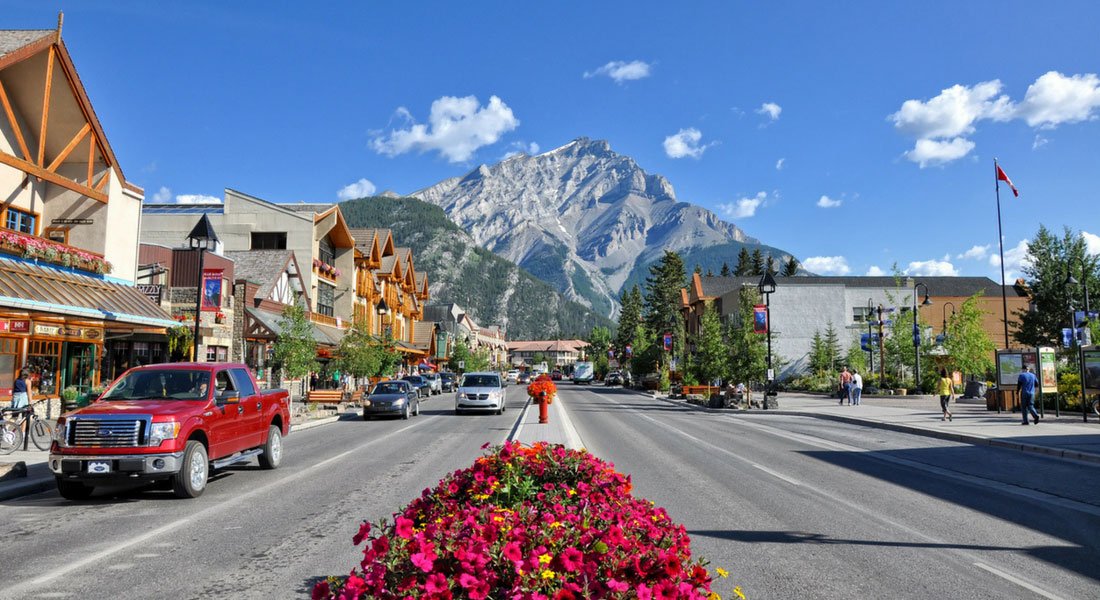 Banff townsite is nestled at an altitude of 1,380 metres. Most of the action is concentrated along its main thoroughfare, Banff Avenue. 
There you will find a variety of hotels, restaurants, bars and shops. 
Many animals, especially deer, wander into the downtown area. Wildlife lovers will notice that all of Banff's secondary streets are named after animals. 

2. UPPER HOT SPRINGS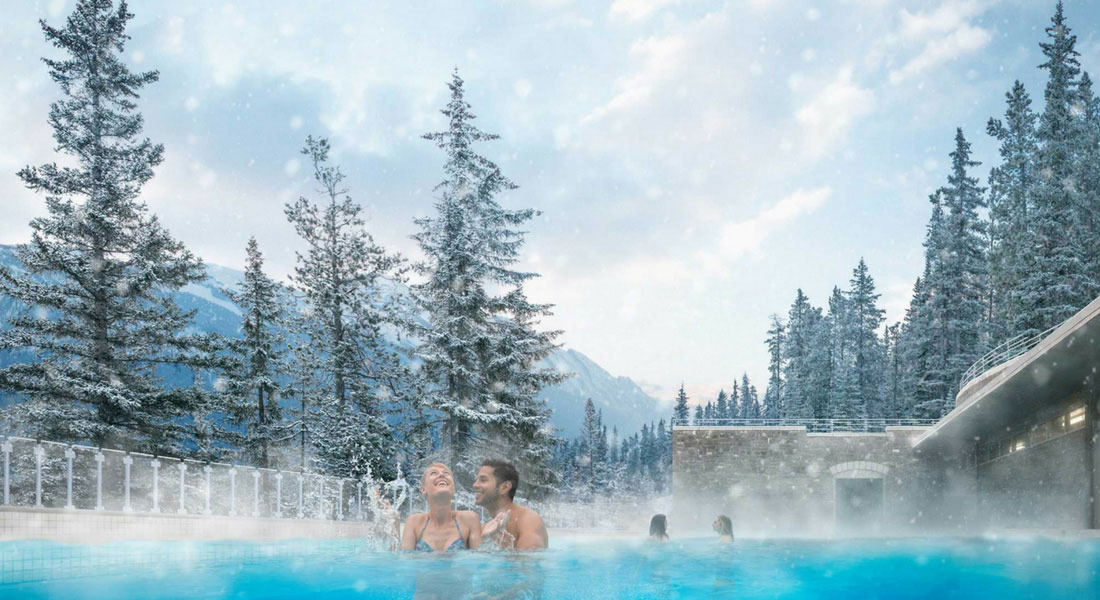 Banff Upper Hot Springs are located in the heart of Banff.
The natural hot springs water in the pool, maintained at a temperature of +/- 38 degrees Celsius, is sure to relax you. It's the perfect spot to unwind after a long day of outdoor exploration. 

3. SULPHUR MOUNTAIN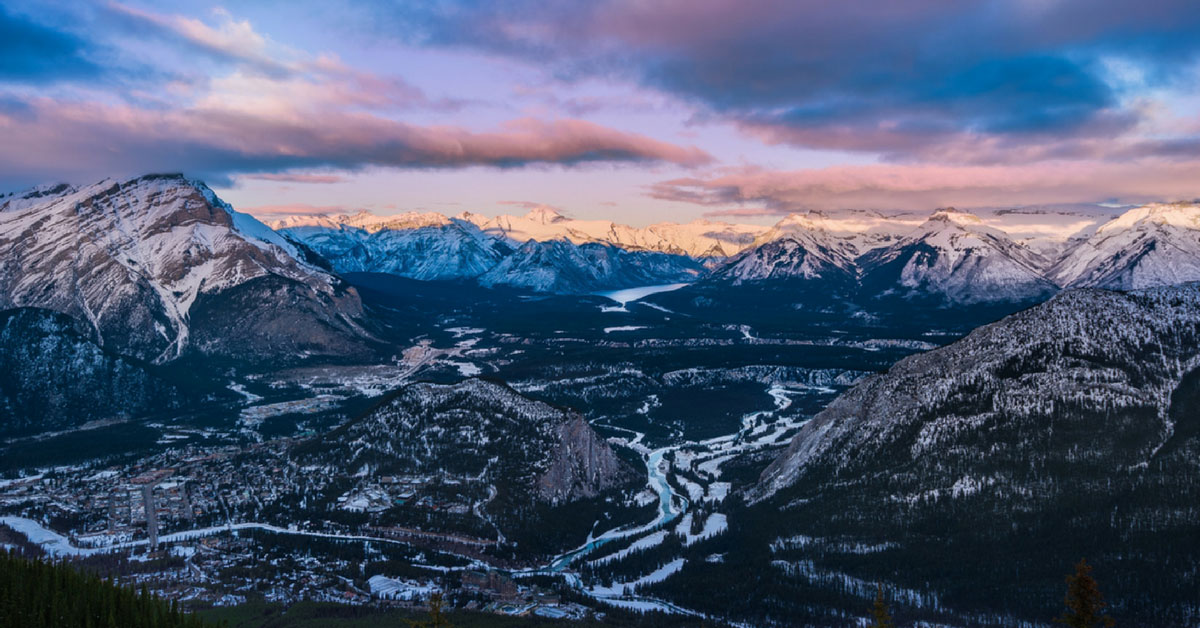 A comfortable gondola ride will whisk you up to an elevation of more than 2,300 metres in a matter of minutes, where you will enjoy a stunning view of Banff and the surrounding area. 
From the gondola terminal, walk 0.5 km to Sanson's Peak. In addition to more jaw-dropping views, you will find an old meteorological observatory built in 1903 and the ruins of the Sulphur Mountain Cosmic Ray Station. 
Hiking enthusiasts may prefer to make the climb on foot. The slope is constant, but relatively gentle.
Length:  11.2 km (round-trip) 
Duration: 4 hours 
Elevation gain: 655 metres  
Level: intermediate
4. VERMILION LAKES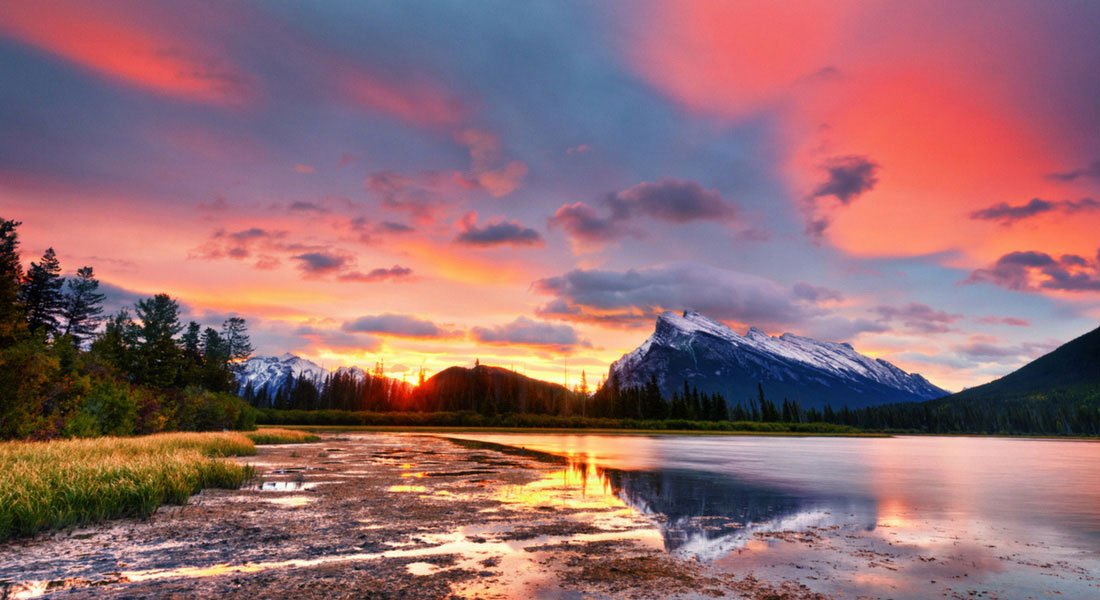 The Vermilion Lakes are a series of 3 shallow lakes located immediately west of Banff townsite.
This is a special place where, centuries ago, aboriginal people hunted bighorn sheep and bison. 
Vermilion Lakes Road, a scenic 4.3-kilometre route, passes along the northern banks of the lakes.
Be sure to stop and read the interpretive panels along the way.

5. JOHNSTON CANYON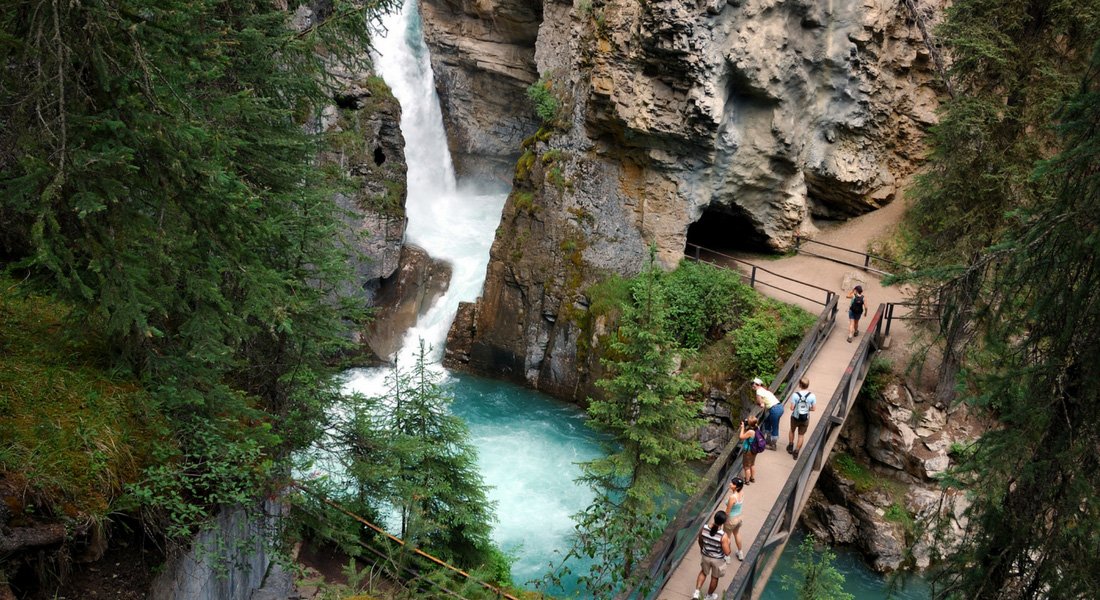 30 minutes from Banff, you will find the departure point for one of the most popular day hikes in the area: the Lower Falls Trail.
This easy trail leads deep into Johnston Canyon. 
A short walk through forest and over catwalks will take you to the dramatic Lower Falls. 
Length:  2.2 km (round-trip) 
Duration: 1 hour
Elevation gain: 30 metres  
Level: easy
---

Where to eat
 

1. WILD FLOUR BANFF'S ARTISAN BAKERY CAFÉ 
 
Budget: Inexpensive ($)
Address: 211 Bear Street #101
Telephone: 403-760-5074
Website: click here
 
This bakery is a local favourite and is always busy.
It is an excellent option for breakfast or lunch at an affordable price.
The fresh-baked pastries, delicious artisan bread and healthy, nourishing meals are all prepared using local organic ingredients.

2. THE BEAR STREET TAVERN
 
Budget: Moderate ($$)
Address: 211 Bear Street
Telephone: 403-762-2021
Website: click here
 
If you're looking for the best pizza in town, this is where you'll find it!
The smoked bison pizza with caramelized onions and blue cheese will not disappoint (nor will their famous Mac & Cheese)!
Also serving soups, salads and sandwiches. 
In the summer months, the courtyard patio is the perfect place for a cocktail.

3. THE JUNIPER BISTRO
 
Budget: Upscale ($$$)
Address: 1 Juniper Way
Telephone: 403-762-2281
Website: click here
 
Enjoy one of the best views in Banff, at one of the region's finest restaurants. 
Ask for a table near a window or, even better, on the patio.
The menu offers fine cuisine prepared with fresh local ingredients.
Several gluten-free options are available. 
---

Where to sleep
 

1. IRWIN'S MOUNTAIN INN 
 
Category: budget
Stars: 3
Number of rooms: 65
 
Small hotel offering a warm welcome, a family atmosphere and a friendly and attentive staff.
The 65 guest rooms on 3 floors have private bathrooms, and free underground parking is available.
The hotel also has a small restaurant, open for breakfast and lunch. 

2. BANFF CARIBOU LODGE & SPA
 
Category: standard
Stars: 3
Number of rooms: 184
 
This magnificent chalet-style hotel is just steps from the heart of the action. 
With its large stone fireplace, hand-hewn beams and rustic furniture, the Banff Caribou Lodge immediately charms guests in search of tranquility. 
In addition, the hotel provides guests with complimentary Banff bus passes. It's a great option if you want to dine out and enjoy a good bottle of wine with your meal.
The hotel offers free indoor parking and a steakhouse located off the lobby on the ground floor, open morning to night. 

3. HOTEL RIMROCK RESORT
 
Category: superior
Stars: 4
Number of rooms: 343
 
Located in the heart of the park, the Rimrock Resort offers spectacular views of the Rockies.The hotel has 2 restaurants, 2 lounges, a cafe and an indoor pool, as well as a full-service spa.
Golfers take note, the Fairmont course is just a 7-minute drive away. 
---

Lake Louise
 
Located within Banff National Park, about sixty kilometres north of Banff townsite, Lake Louise is one of Canada's most beautiful natural wonders and deserves special mention.
Many travelers decide to spend at least one night near the lake to fully enjoy the breathtaking surroundings.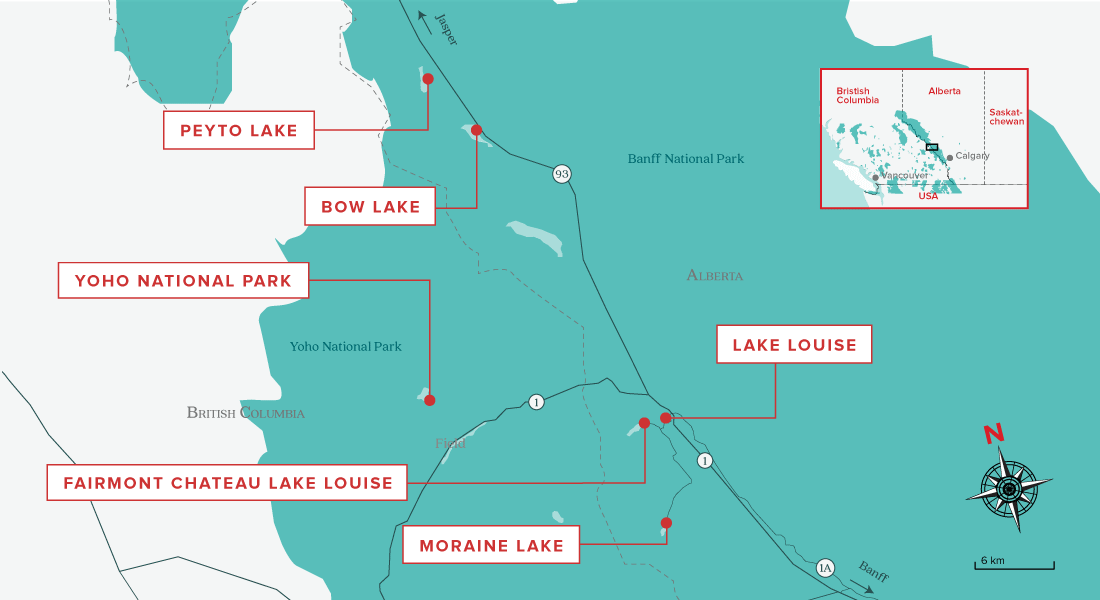 ---

What to do
Noteworthy
Worth the detour
Must see

1. LAKE LOUISE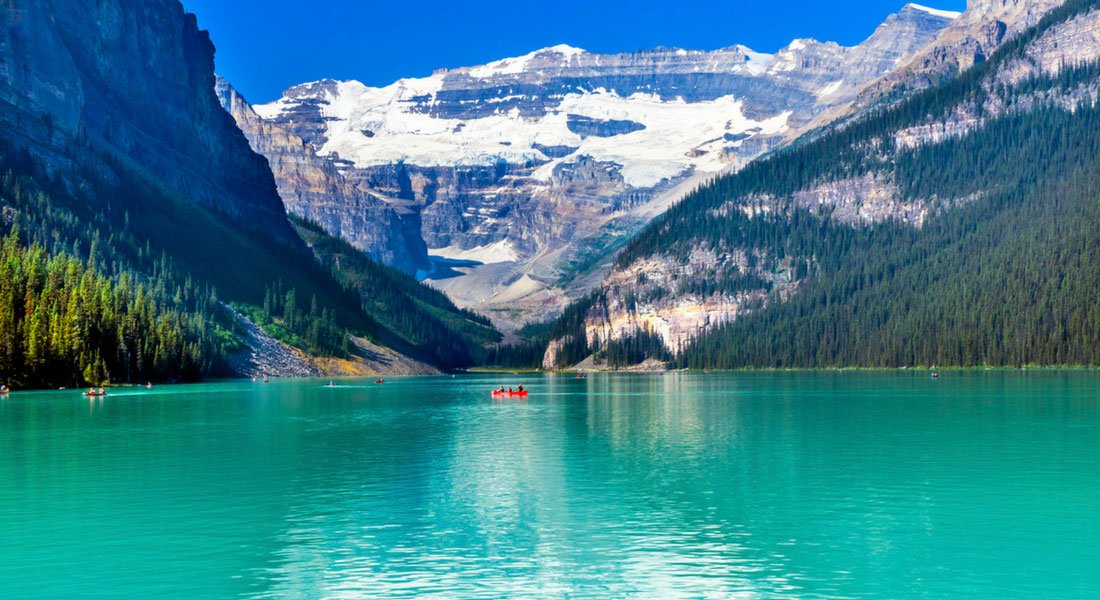 It would be unthinkable to travel to Western Canada without stopping in Lake Louise for a few photos. 
With its emerald waters and the majestic Victoria glacier in the background, it's a real picture postcard setting.
The iconic Fairmont Chateau Lake Louise, on the eastern shore of the lake, is one of the most prestigious buildings in the region and offers canoe rentals. 
To avoid the crowds, plan to arrive before 11 a.m.

2. YOHO NATIONAL PARK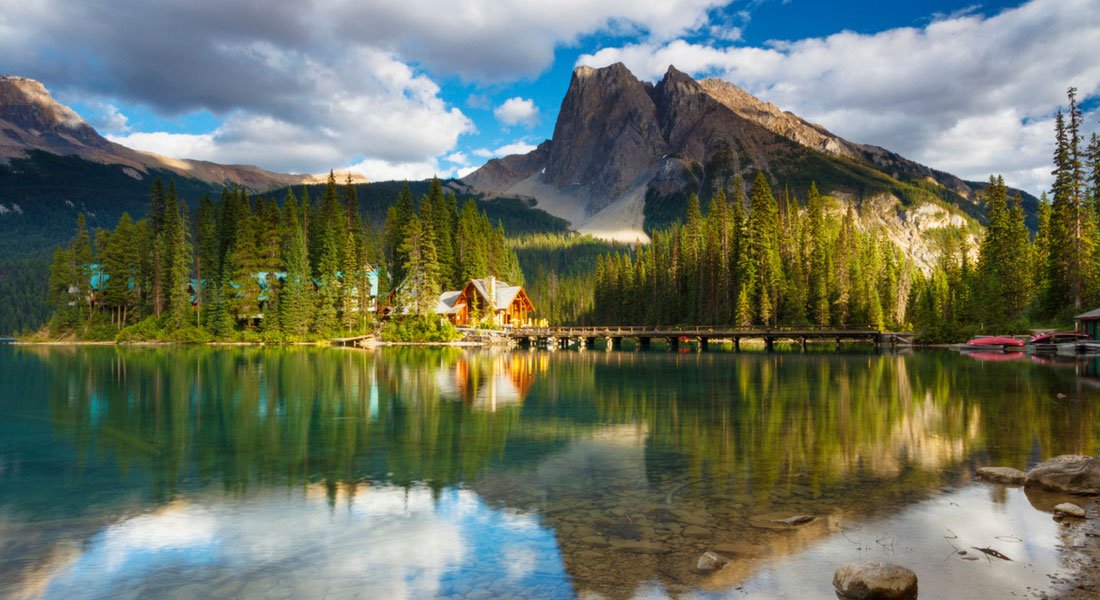 Discover the towering rock faces, dense forest, 36 peaks over 3,000 metres high and spectacular waterfalls of Yoho National Park, named after a Cree expression of awe and wonder.
One of the park's main attractions is undoubtedly the Takakkaw Falls, among the highest waterfalls in Canada. Accessible by car via the narrow, steep and winding Yoho Valley Road. 
Other must-do activities include a walk around Emerald Lake along an easy interpretive trail offering panoramic views of the surrounding mountains and glaciers.
Length:  5.2 km (round-trip) 
Duration: 2 hours 
Elevation gain: none 
Level: very easy
3. BOW LAKE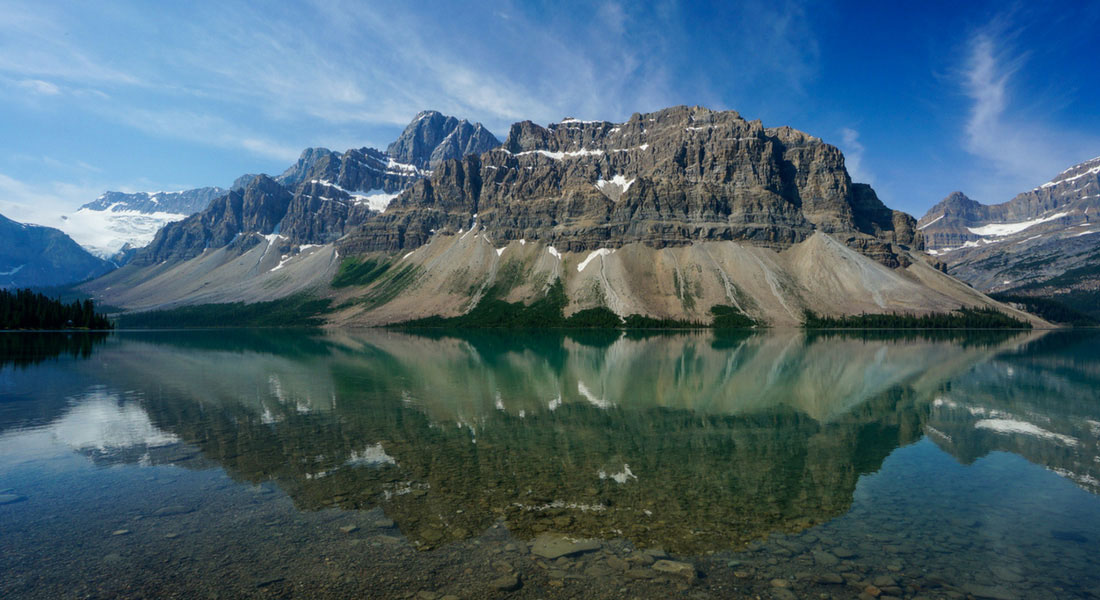 Bow Lake is very popular with tourists and local fishermen because of its accessibility and spectacular scenery.
On sunny days, the reflection of the mountains on the calm turquoise surface of the lake is simply magnificent. 

4. PEYTO LAKE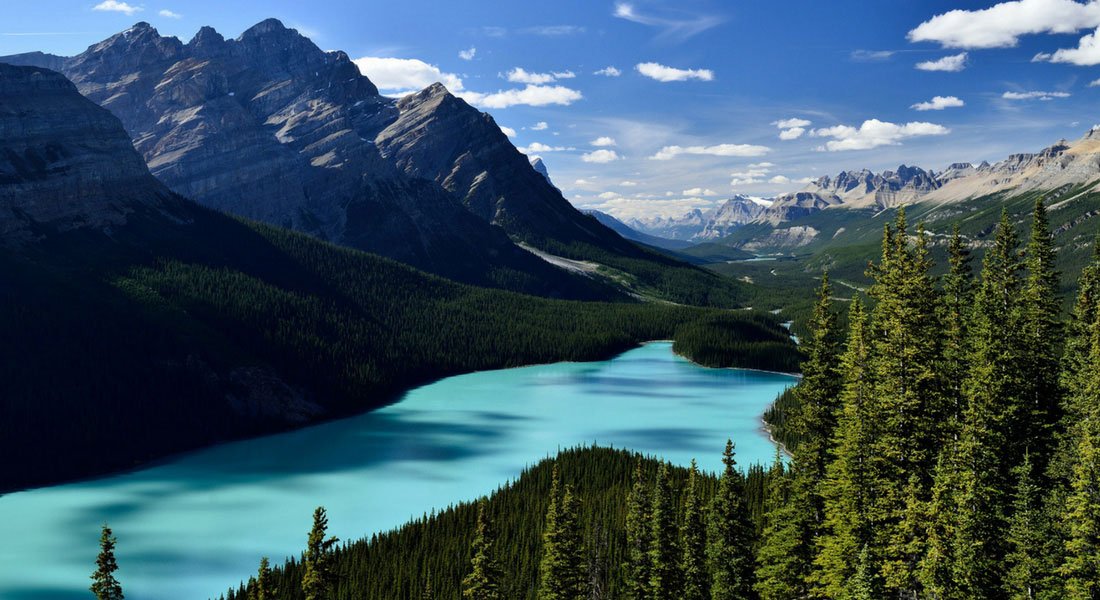 Peyto Lake is my favourite place in Western Canada.
The colour of the water, which comes from the glacier of the same name, is in such sharp contrast with the green of the pine forest and the surrounding snowy peaks that you'll have the impression that you're looking at a painting.
A short fifteen-minute hike along a paved trail will take you to a scenic viewpoint.

5. MORAINE LAKE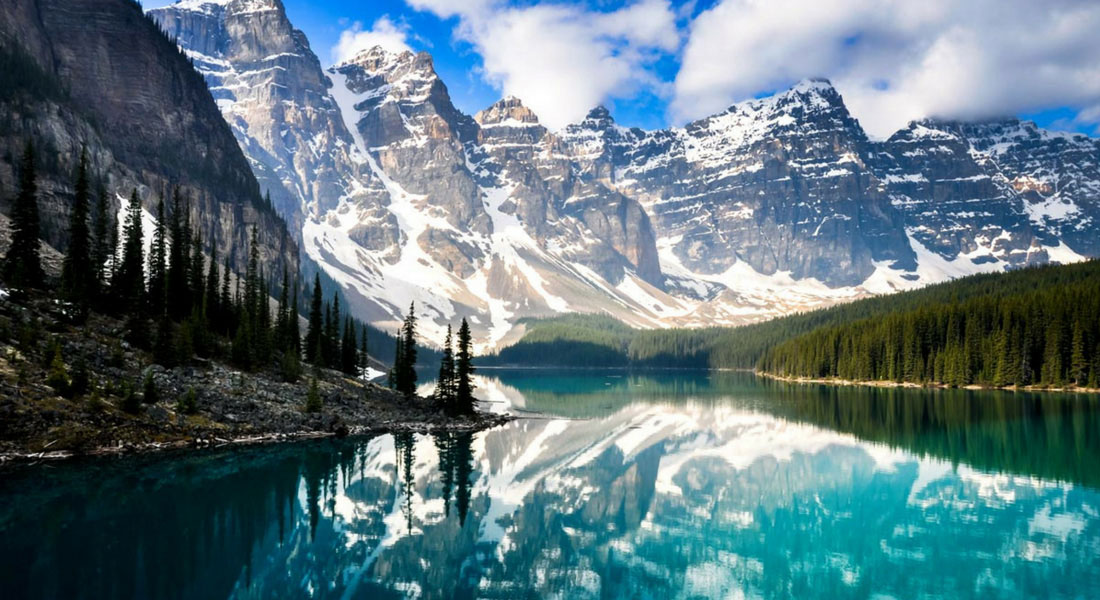 Widely considered the most beautiful spot in the Rockies, Moraine Lake is +/- 20 minutes from Lake Louise.
Surrounded by 10 majestic snowy peaks, the reflection in the stunning blue waters of the lake is simply sublime. 
---

Where to eat
 

1. LAKE LOUISE STATION
 
Budget: Moderate ($$)
Address: 200 Sentinel Rd
Telephone: 403-522-2600
Website: click here
 
This restaurant is housed in the historic railway station, one of the oldest buildings in the region.
Try a bison burger, fish & chips or gourmet pulled pork mac & cheese as you take in the lovely view of the Bow River. 
If you've been to Quebec and are feeling nostalgic, the menu also features Rocky Mountain Poutine. It's up to you to decide if it's as good as the one in La Belle Province!

2. STORM MOUNTAIN LODGE
 
Budget: Upscale ($$$)
Address: Route 93, Banff National Park
Telephone: 403-762-4155
Website: click here
 
Located halfway between Banff and Lake Louise, this is the perfect spot to enjoy a good meal in a rustic yet chic decor. 
The log lodge serves fine Canadian cuisine, prepared with fresh local ingredients. 
A real treat for lovers of wild meat and fish!

3. BILL PEYTO'S CAFE
 
Budget: Inexpensive - Moderate ($-$$)
Address: Hi Alpine Hostel, 203 Village Road
Telephone: 403-522-2200
Website: click here
 
This small, unassuming establishment is highly popular with tourists and locals alike! Housed in a youth hostel, it is one of the most affordable restaurants in the area.
Named after one of Banff National Park's most respected guides, Bill Peyto's Cafe is known for its hearty breakfasts. The Camp Breakfast is the epitome of Canadian breakfast fare!
The menu offers a wide variety of burgers and other sandwiches, served with fries or salad.  
---

Where to sleep
 

1. LAKE LOUISE INN
 
Category: Budget
Stars: 3
Number of rooms: 247
 
Amidst the pines surrounding the Pipestone River is the Lake Louise Inn, a resort spread over a 5-building complex.
At just 4 kilometres from Lake Louise, and boasting 3 restaurants and an indoor pool, it's the ideal spot to spend a peaceful evening after a busy, adventure-filled day. 

2. MOUNTAINEER LODGE
 
Category: Budget
Stars: 2
Number of rooms: 78
 
Located in the mountains near many tourist attractions, this small hotel offers excellent value for your money. 
It offers everything you need for a comfortable stay. 
The clean, spacious guest rooms are traditionally furnished, and each has a private bathroom. 

3. POST HOTEL
 
Category: Superior
Stars: 4
Number of rooms: 97
 
Nestled in the heart of the Bow River Valley, the Post Hotel & Spa is a proud member of the prestigious Relais & Châteaux network.
The recipient of many awards and accolades from tourism and gastronomy magazines throughout the years, the hotel offers its guests a unique experience.
Epicureans will appreciate the wine cellar of more than 25,500 bottles, as well as the fine cuisine prepared by Chef Hans Sauter. 
---

Jasper 
 
Created in 1907, Jasper National Park is one of the oldest parks in Canada, and the largest in the Canadian Rockies.
With its large populations of elk, bighorn sheep, deer and grizzly bears, Jasper National Park is one of the last great wildlife ecosystems in Western Canada.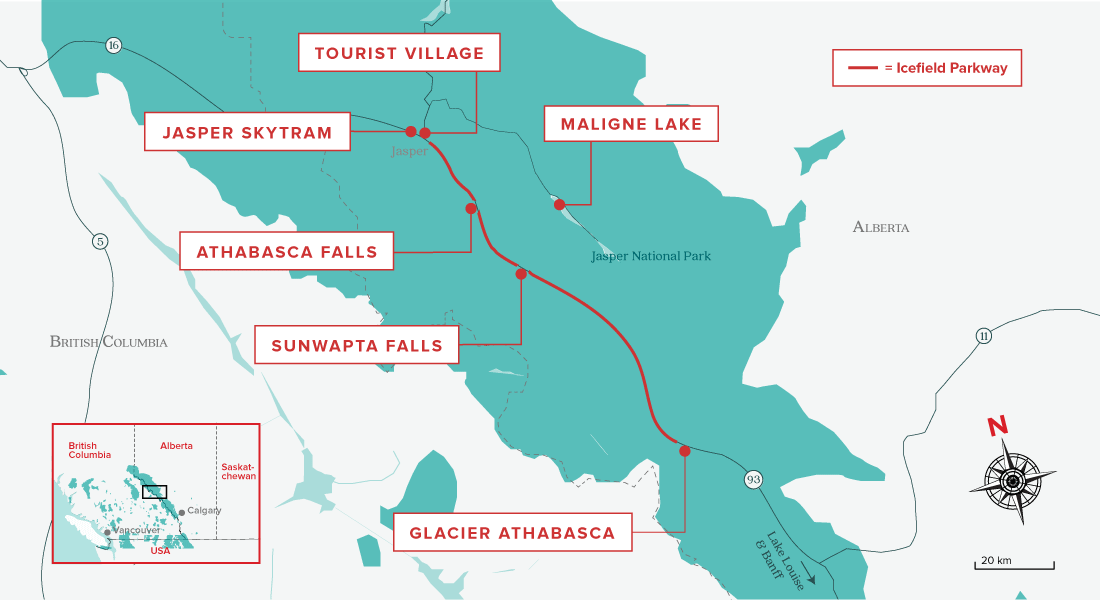 ---

What to do
Noteworthy
Worth the detour
Must see

1. ICEFIELDS PARKWAY
This panoramic route between Lake Louise and Jasper offers motorists some of the most spectacular mountain scenery in the world.
The Icefields Parkway was designed to showcase the magnificent landscapes, with many conveniently located scenic viewpoints along its more than 230 kilometres.
Drive carefully and keep an eye out, because a lot of wildlife can be seen along the road. 

2. TOURIST VILLAGE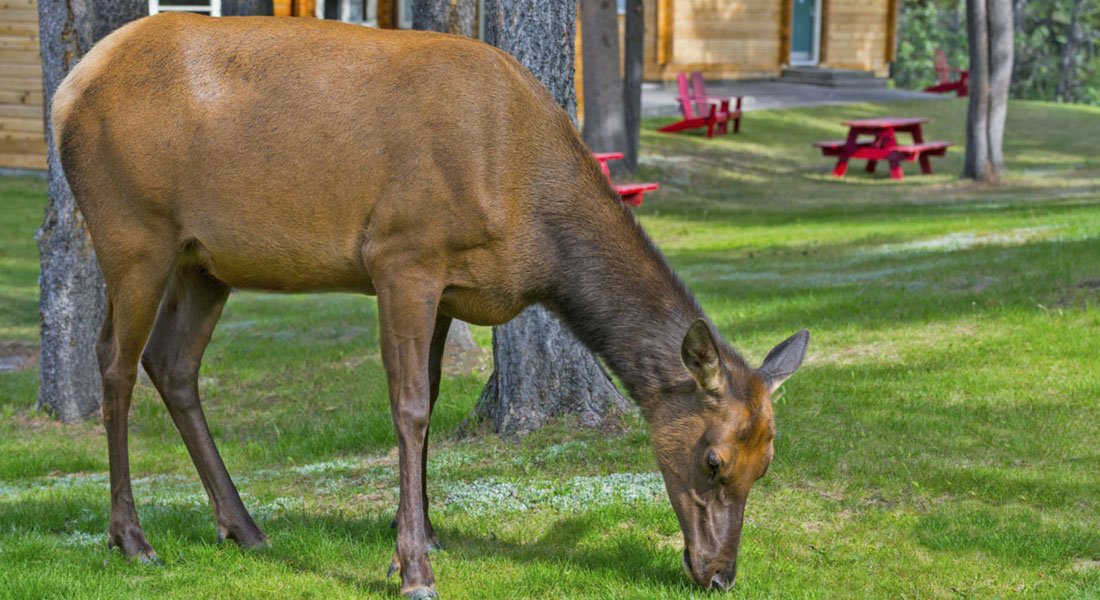 Nestled within the national park, Jasper is a small town with 5,000 inhabitants.
It offers many hotels, restaurants, shops and grocery stores. 
One interesting thing about Jasper is the impressive number of elk that can be found roaming the downtown streets. 

3. JASPER SKYTRAM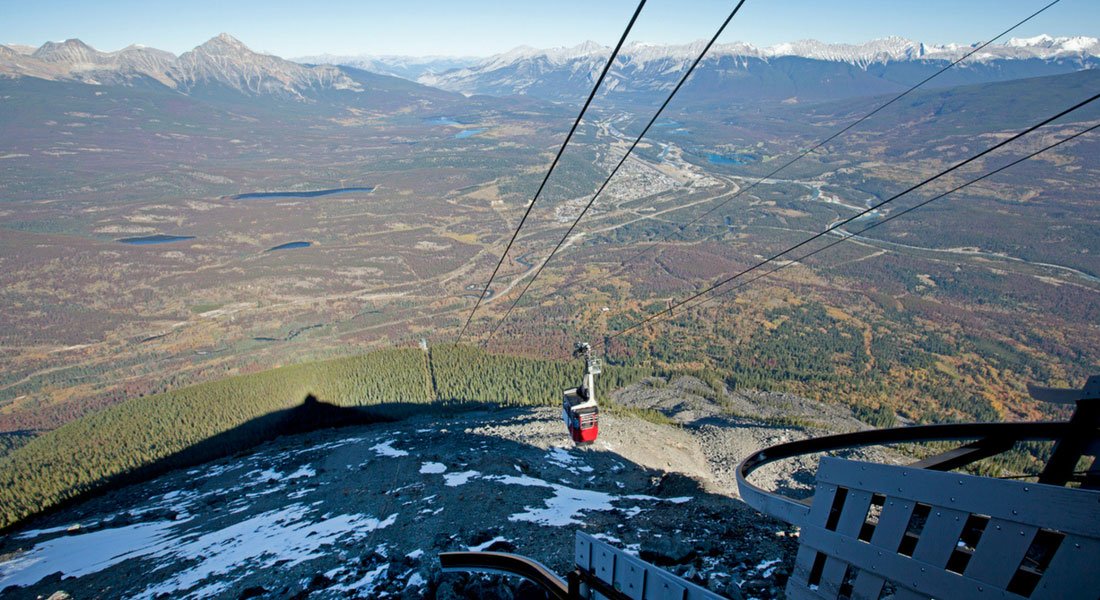 Accompanied by a 'flight attendant', ride one of the fully-enclosed trams to a dizzying elevation of 2,227 metres.
Once at the top, the spectacular view of the glacial valley with its many lakes, Mount Robson, the Athabasca River and the Town of Jasper will leave you breathless. 
For the best photos, try to visit in the morning or early evening.

4. ATHABASCA GLACIER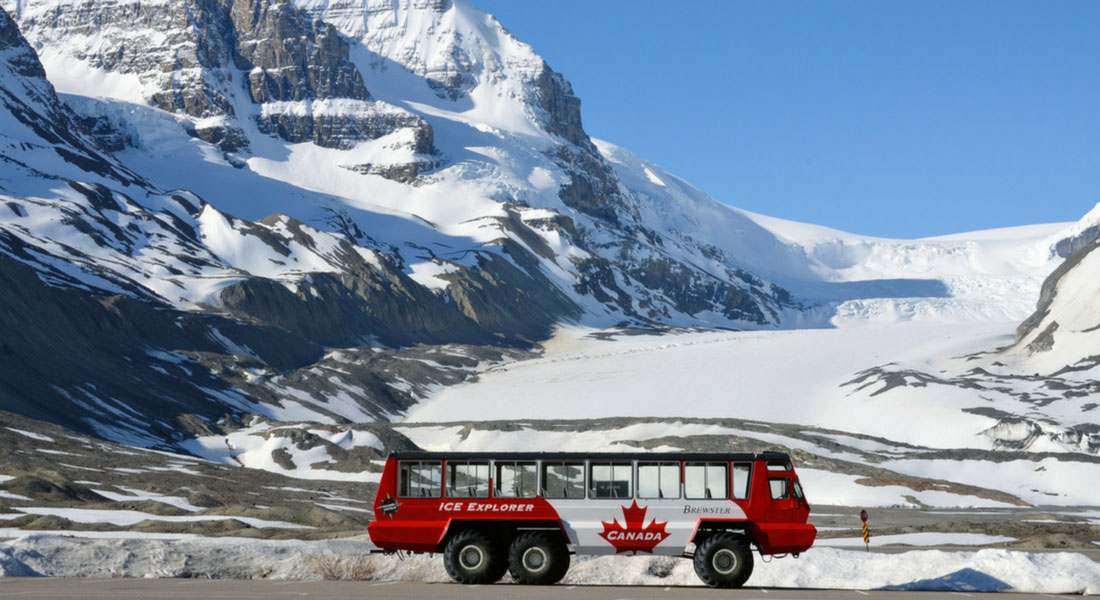 Athabasca Glacier is the most visited glacier in North America.
Climb aboard an Ice Explorer bus, which will take you to the top of the glacier, where the ice can be up to 360 metres thick. 
For a spectacular view, don't miss the glass-floored observation platform, suspended more than 280 metres above the valley below. 

5. SUNWAPTA FALLS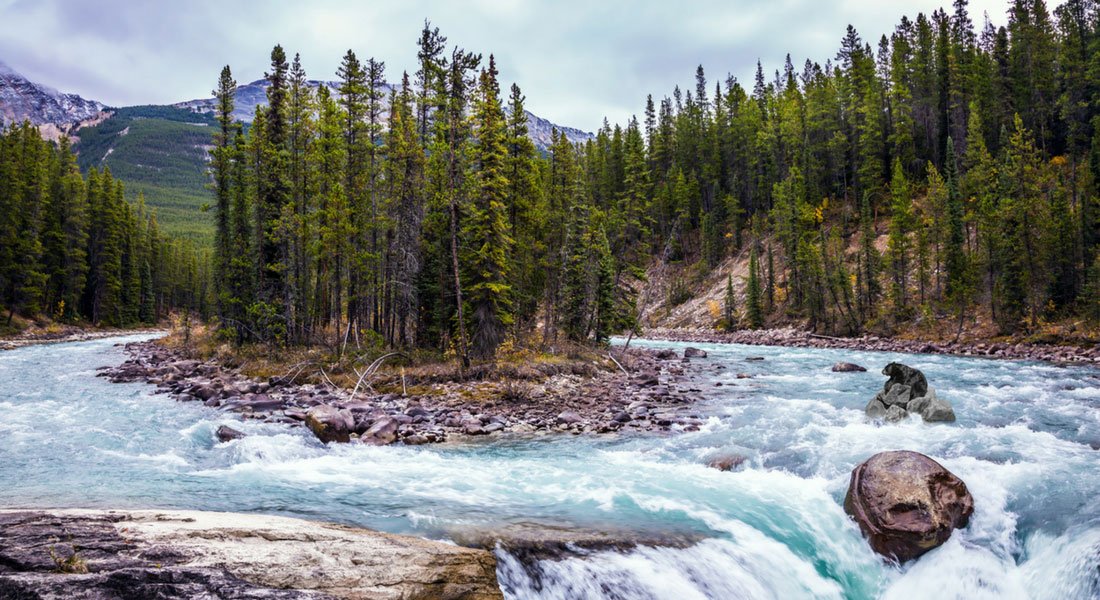 A quick stop, but not to be missed! 
From Sunwapta Falls Lodge, a short 5-minute walk will lead you to the upper falls.
After another ten minutes, you will reach the lower falls. 
The view is well worth a fifteen-minute walk!

6. ATHABASCA FALLS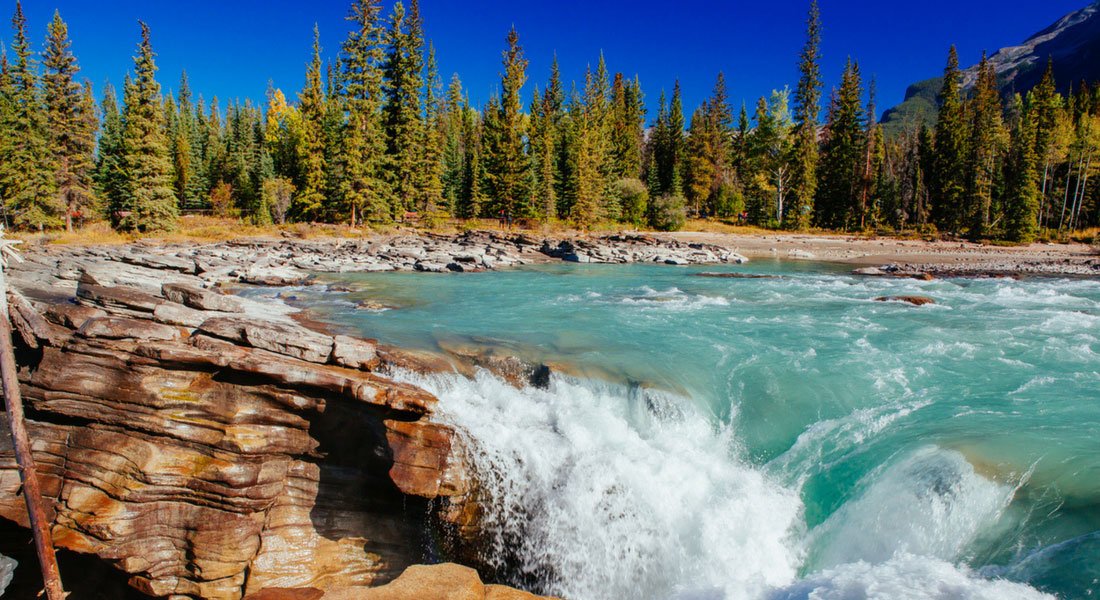 Renowned for their roaring power rather than their 23-metre height, the impressive Athabasca Falls promise a gorgeous spectacle.
Be careful as you approach the falls: the mist on the rocks makes them extremely slippery. Do not go past the safety railing. 

7. MALIGNE LAKE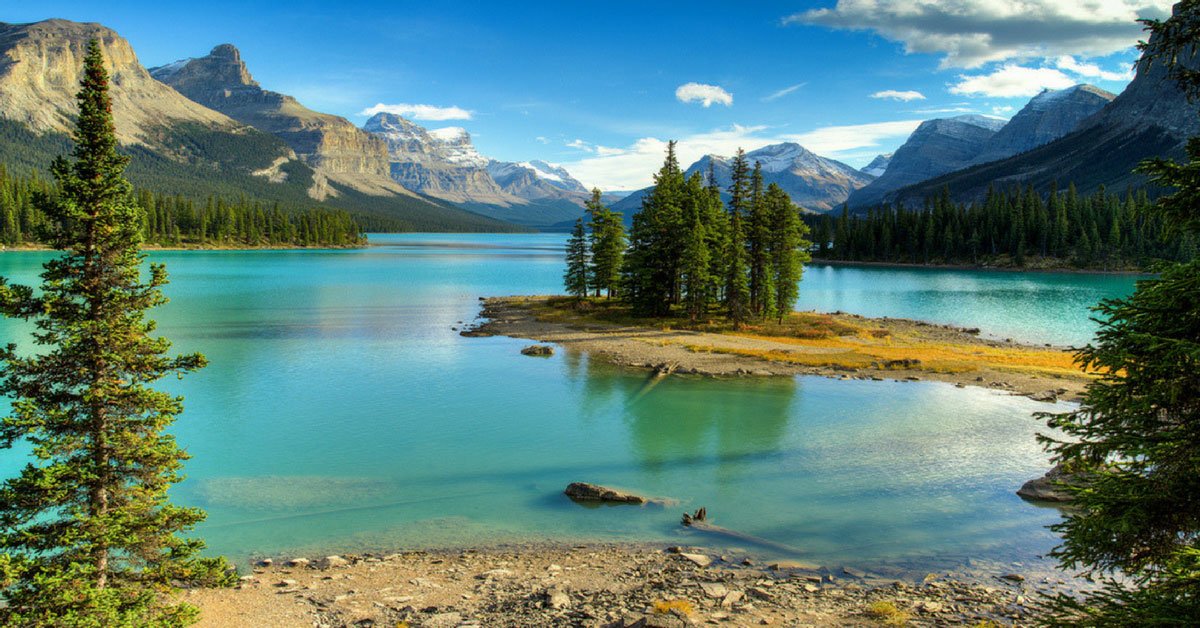 Maligne Lake, the largest lake in the Rockies, is the crown jewel of Jasper National Park.
In the middle of the lake sits Spirit Island, the most photographed island in the world, accessible only by boat. The Spirit Island cruise, narrated by a Canadian Heritage tour guide, is a must!
The boat will dock for a few minutes on the island, where you can enjoy a short walk to the spectacular and famous viewpoint.
---

Where to eat
 

1. PATRICIA STREET DELI
 
Budget: Inexpensive ($)
Address: 610 Patricia Street
Telephone: 780-852-4814
 
Since seating is very limited, this is the perfect place to pick up a sandwich-to-go for a picnic lunch while hiking.

2. DOWNSTREAM RESTAURANT & LOUNGE
 
Budget: Moderate - Upscale ($$-$$$)
Address: 620 Connaught Drive
Telephone: 780-852-9449
Website: click here
 
This casual, friendly restaurant offers innovative bistro cuisine.
Great service and an excellent wine list.
For meat lovers, the braised bison ribs are to die for!

3. EVIL DAVE'S GRILL
 
Budget: Moderate - Upscale ($$-$$$)
Address: 622 Patricia Street 
Telephone: 780-852-3323
Website: click here
This popular restaurant serves original, creative and delicious fare.
The eclectic "evil"-themed menu is sure to make you smile.
Their "Magic Elixirs" (cocktails) will make you want more!
---

Where to sleep
 

1. TONQUIN INN
 
Category: Budget
Stars: 3
Number of rooms: 137
 
Located on the outskirts of Jasper, the Tonquin Inn is known for its friendly staff and its swimming pool, just the thing after a busy day in the great outdoors. 
The guest rooms are small but comfortable.
The motel offers self-service laundry facilities, which can be very practical during a road trip. 

2. CRIMSON JASPER HOTEL
 
Category: Standard
Stars: 3
Number of rooms: 99
 
This small hotel is right in downtown Jasper, the perfect location if you want to go out for dinner without taking your car.
Outdoor hot tubs and an indoor pool will make your stay even more enjoyable.

3. BECKER'S CHALETS
 
Always dreamed of experiencing a real 'Canadian Cabin'? This is the place for you.
Becker's Chalets are in the heart of Jasper National park, on the banks of the Athabasca River and less than 10 minutes from Jasper townsite.
Some cabins have 3 bedrooms, just perfect for a family vacation!
Offering laundry facilities, a restaurant and a playground, parents and children alike are sure to enjoy their stay. 
---

National parks 2019 rates
 
There is an entry fee for admission to any Canadian national park.  
If you plan to visit more than one park, take the time to do the calculation, because purchasing an annual Discovery Pass may be your most economical option.  
Don't hesitate to ask a Parks Canada employee for advice.
Adult (18-64): $9.80    
Senior (65+): $8.30        
Youth (6-17): free
Family/group (up to 7 people in the same car): $19.60    

When to visit
 
Very Favourable
Favourable
Unfavourable
Month
Average temperature
min (°C)
Average temperature
max (°C)
Precipitations
(mm)
Overall score
January
-16
-5
19
February
-13
0
15
March
-9
5
22
April
-4
11
32
May
1
16
49
June
5
21
66
July
7
24
44
August
7
23
52
September
3
19
43
October
-1
12
27
November
-8
3
27
December
-14
-4
22
Rent a car
 
The best way to discover the Canadian Rockies is to rent a car in Vancouver or Calgary and explore the area at your own pace.
Discover our suggestions for Western Canada road trips.  
And there you go!
If you have questions and/or suggestions, don't hesitate to share them in the comments below!