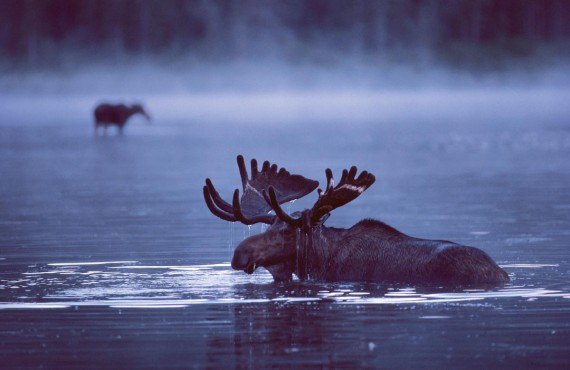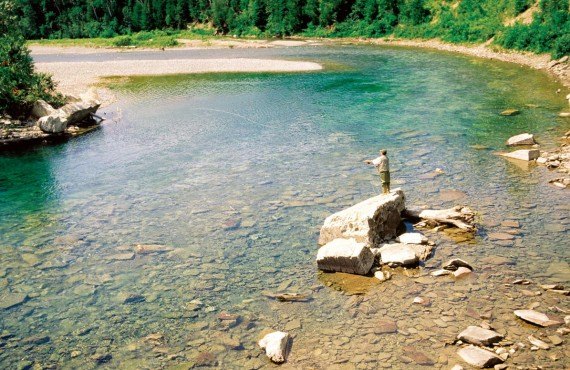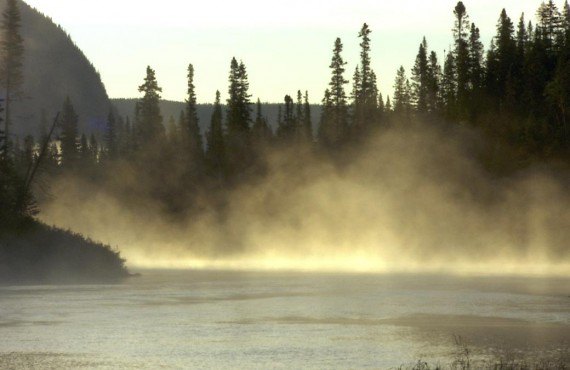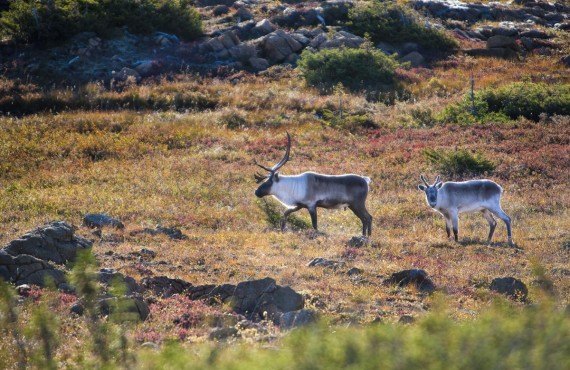 When to visit
Very Favourable
Favourable
Unfavourable
| Jan | Feb | Mar | Apr | May | Jun | Jul | Aug | Sep | Oct | Nov | Dec |
| --- | --- | --- | --- | --- | --- | --- | --- | --- | --- | --- | --- |
| | | | | | | | | | | | |
What to do
Noteworthy
Worth the detour
Must see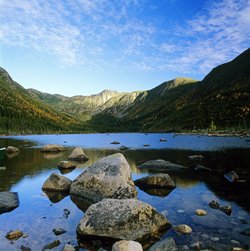 Gaspesie National Park, in the centre of the Gaspé Peninsula, is a vast sea of mountains and a paradise for hiking enthusiasts.
Because of the varied climates and morphology of the region, Gaspesie National Park hosts a tremendous diversity of wildlife that is unique to Québec, including the mountain caribou.

The park contains more than 25 peaks that rise above 1,000 metres, several of which are the highest peaks in Quebec. The spectacular scenery of the Chic-Chocs make this mountain chain a preferred destination for lovers of the great outdoors.
WHAT TO DO
* = Interesting ** = worth a detour *** = worth a trip
Tour du Mont Albert hike**
Mont Albert has a unique ecosystem, with its harsh climate, its alpine tundra and its reddish soil rich in serpentine, a rare orange mineral with a high calcium and magnesium content. The summit is a vast plateau where a herd of caribou can often be seen grazing.
At 17.4 km (6 to 8 hours) and with an elevation gain of 870 metres, the
Tour-du-Mont-Albert
is considered a difficult trail, but it is a hike that you won't soon forget! It offers a combination of steep climbs, lookout platforms with exceptional views and trails that follow a stream.
The trail climbs steadily right from the start. One third of the way up, the
Belvédère de la Saillie*
lookout platform offers the first spectacular view of the Sainte-Anne river valley below. The trail then continues to rise towards the summit of Mont-Albert, where hikers can take a break at the Rabougris rest stop before carrying on to
Belvédère du Versant
. An even more scenic but no less difficult trail then follows Ruisseau du Diable through the beautiful
Vallée du Diable***
, where you can take a break at the Serpentine rest stop just before reaching Lac du Diable. The trail then follows Rivière Sainte-Anne back down to the Visitors Centre. A challenging must-do hike for experienced hikers and the physically fit.
Departure
: Gaspesie National Park Visitors Centre (you will need to pay the park entry fee).
Mont Jacques-Cartier***
If you only plan to take one hike in the area, and you are physically fit, it should be
Mont Jacques-Cartier
. At 8.3 km round-trip, or
4 to 5 hours of hiking
, this excursion is perfect for those who want to see wild caribou and who like a challenge. A complete change of scenery guaranteed!
A rocky trail leads straight up to the summit of the second highest peak in Quebec, and an exceptional site for caribou sighting. The summit, which is often snow-covered even in summer, offers a
spectacular landscape***
of alpine tundra at an altitude of over 1,000 m.
At the top, you can take the free "
Vivez le Grand Nord
" educational hike with a park warden/naturalist, which lasts around 45 minutes.
A shuttle leaves the Visitors Centre at 9:00 a.m. (arrival at the trailhead at 10:00). The same shuttle leaves Mont Jacques-Cartier at 4:00 p.m. (arrival at the Visitors Centre at 5:00).
This is a challenging but well-maintained trail and has an elevation gain of 465 metres.
What should you bring for your hike?
Picnic lunch
Water bottle (2L)
Backpack
Hiking boots
Thin nylon socks (to prevent blisters)
Thicker socks
Raincoat, windcheater and/or polar fleece jacket
Cap or hat
Toilet paper or a packet of kleenex
Sunscreen
Insect repellant
Note: your backpack should not weight more than 25% of your body weight. Certain equipment such as hiking boots, walking stick, raincoat, backpack or baby carrier can be rented at the Visitors Centre.
Lac aux Américains**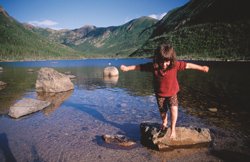 If you are travelling with children and are looking for a short hike, we strongly recommend Lac-aux-Américains. At 2.6 km (round trip), this easy hike takes about one hour. Lac aux Américains is located in the centre of a glacial cirque and is an exceptionally beautiful site. A must-see!
Ecotourism sea excursion*
If you would like to experience an ecotourism sea excursion, Ste-Anne-des-Monts is your destination. For a first contact with the St. Lawrence River and witness the hauling of waved whelk and rock crab traps, choose the "Discover the St. Lawrence" excursion (duration: 1.5 hr).
Exploramer - 1 Rue du Quai, Sainte-Anne-des-Monts 418-763-2500
---
Activités optionnelles
Where to eat
$ Économique
$$ Budget moyen
$$$ Bonne table
$$$$ Gastronomique
WHERE TO EAT
RESTAURANT ET POISSONNERIE DU QUAI
($)
This restaurant attached to the fishmonger's shop is owned by Jean-Guy Vallée, who catches everything he sells (turbot, halibut, crab, scallops, etc.). Simple, hearty fare made with fresh ingredients, served with a smile!
3 1st Avenue Ouest, Sainte-Anne-des-Monts 418-763-7407
AUBERGE ET PUB CHEZ BASS
($$)
Pub Chez Bass offers amazing sunsets and a number of menu options including grilled meats, spare ribs, pasta, fresh fish, seafood and smoked salmon, in an English pub-style decor. The place can be quite lively, and serves a wide selection of beer on tap.
170 1st Avenue Ouest, Sainte-Anne-des-Monts 418-763-2613
LA BROUE DANS L'TOUPET RESTAURANT, BAR AND GRILL
($$$)
Located in the heart of downtown Sainte-Anne-des-Monts, La Broue dans l'Toupet restaurant offers a varied menu menu that changes with the seasons and features local and regional ingredients. House specialties: grilled meats and seafood. The modern, friendly atmosphere and excellent service contribute to a memorable dining experience.
90 Boul. Sainte-Anne Ouest, Sainte-Anne-des-Monts 418-763-3321
RESTAURANT DE L'AUBERGE CHÂTEAU LAMONTAGNE
($$$)
This magnificent inn is the former home of Madame Blanche Lamontagne, Quebec's first female poet. Perched on a rocky headland overlooking the sea, the building itself is listed as a historical monument and is worth a detour. The restaurant prepares tasty fish, seafood, lamb, beef and foie gras dishes, combining local products and world flavours.
170 1st Avenue Est, Sainte-Anne 418-763-7666
GÎTE DU MONT ALBERT RESTAURANT
($$$)
Chef Guillaume Charbonneau will welcome you to the friendly dining room of Gîte du Mont Albert for his renowned table d'hôte with its fine gourmet dishes prepared using the best local and regional products. You can even order a picnic lunch to take with you when you visit the national park. Note that dinner is by reservation only.
2001 Route du Parc, Sainte-Anne-des-Monts 418-763-2288
Road trip
Location
Climograph
Very Favourable
Favourable
Unfavourable
Month
Average temperature
min (°C)
Average temperature
max (°C)
Precipitations
(mm)
Overall score
January
-15
-7
65
February
-14
-6
55
March
-9
-1
55
April
-2
5
48
May
4
12
68
June
9
17
71
July
12
20
74
August
12
19
70
September
8
15
81
October
3
9
96
November
-3
4
77
December
-10
-3
59