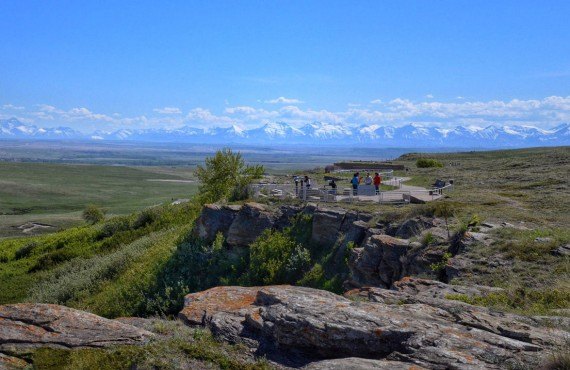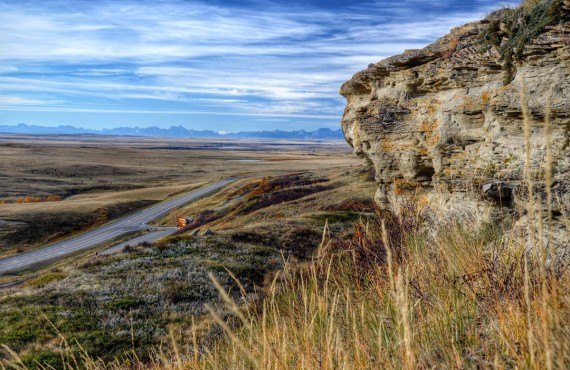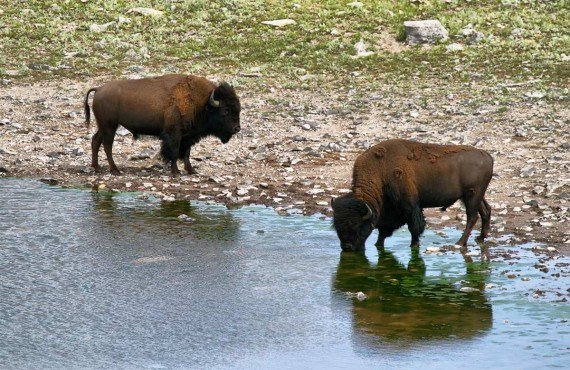 Description
Duration : About 2 to 3 hours
Schedule : 10:00 a.m. to 5:00 p.m.
Season : Open year-round
Departing from : Fort MacLeod

Where the foothills of the Rocky Mountains meet the Great Canadian Plains, you will discover a unique interpretation centre in a place where bison once fell from the sky...
This open-air museum will teach you about the culture of the Blackfoot Nation. Long used for stampeding buffalo, the site is now a UNESCO World Heritage Site that bears witness to the ecological, mythological, archaeological and technological heritage of the area.
At Head-Smashed-In Buffalo Jump you will learn all about an unusual and sophisticated method of hunting practiced by native people of the North American plains for nearly 6,000 years, and the remarkable history of the Plains People of Western Canada.
The large interpretation centre houses 5 levels of exhibits that explore: buffalo hunting culture, the art of driving the great herds from the cliff, the eventual demise of the buffalo hunting culture, and the work of archaeologists at Head-Smashed-In. The theatre plays a re-enactment of the hunt throughout the day.
You can also go for a short hike on the footpaths behind the Interpretation Centre. Allow about 45 minutes to explore the area.
Visitors of all ages will also enjoy the geocaching activity. Ask the reception staff for more details.
Rates
Season
Adult
7 to 17 yrs old
0 to 6 yrs old
2023/04/01 to 2023/04/02
2023/04/05 to 2023/04/09
2023/04/12 to 2023/04/16
2023/04/19 to 2023/04/23
2023/04/26 to 2023/04/30
2023/05/03 to 2023/05/07
2023/05/10 to 2023/05/14
2023/05/17 to 2023/09/10
2023/09/13 to 2023/09/17
2023/09/20 to 2023/09/24
2023/09/27 to 2023/10/01
2023/10/04 to 2023/10/08
2023/10/11 to 2023/10/15
2023/10/18 to 2023/10/22
2023/10/25 to 2023/10/29
2023/11/01 to 2023/11/05
2023/11/08 to 2023/11/12
2023/11/15 to 2023/11/19
2023/11/22 to 2023/11/26
2023/11/29 to 2023/12/03
2023/12/06 to 2023/12/10
2023/12/13 to 2023/12/17
2023/12/20 to 2023/12/22
2023/12/27 to 2023/12/31

$

14

$

10

$

0
Location
Head-Smashed-In Buffalo Jump Interpretive Centre, Fort Macleod, (AB)