The ultimate Maritimes road trip
The Maritimes is a region consisting of three magnificent Canadian provinces that are still relatively unknown to travellers: New Brunswick, Nova Scotia and Prince Edward Island.
Yet the region is home to highest tides in the world, breathtaking landscapes, a warm Acadian welcome, delicious seafood, scenic routes, sandy beaches, numerous historic sites, and a multitude of charming villages. 
If you're looking for a road trip that will show you a different side of Canada, buckle up for 14 days of fresh sea air!
 
Road trip map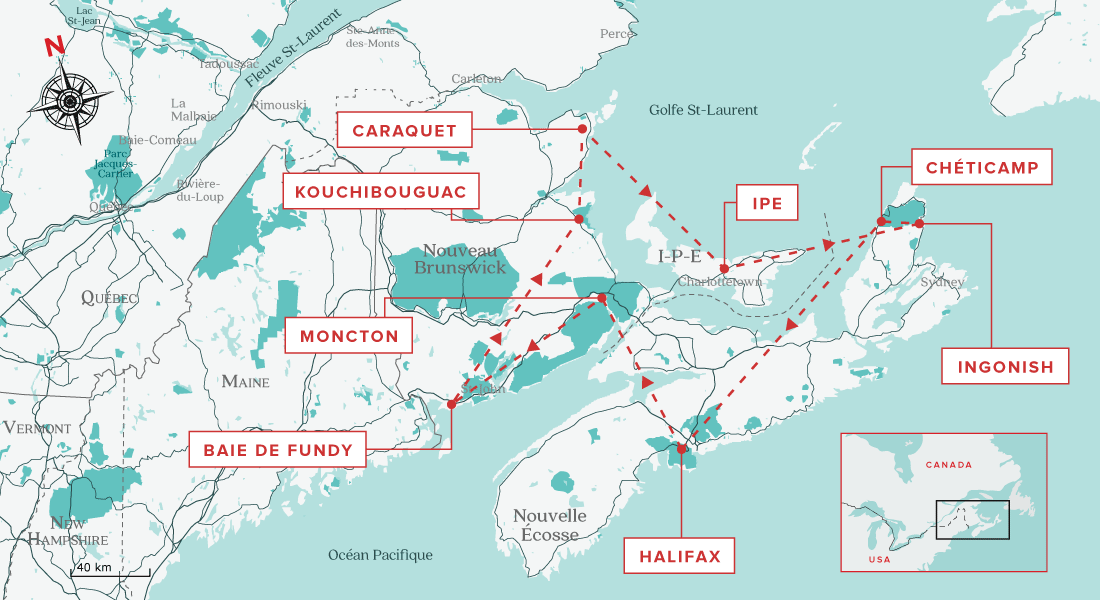 Road trip summary
Day 1: Halifax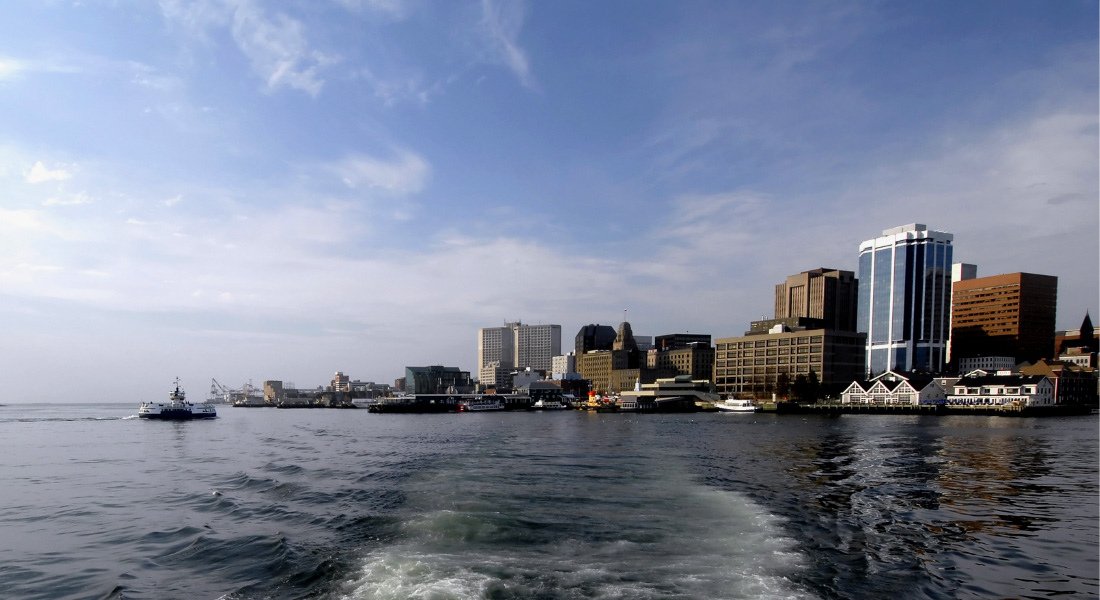 Your ultimate road trip begins with your arrival in Halifax, capital of Nova Scotia.
After dropping off your luggage at the hotel, go for a stroll around this lively city on the shores of one of the best natural harbours in the world. 
Try and catch up on some sleep, because tomorrow you will have quite a bit of driving to do!
Day 2 : Moncton (266 km / 165 mi)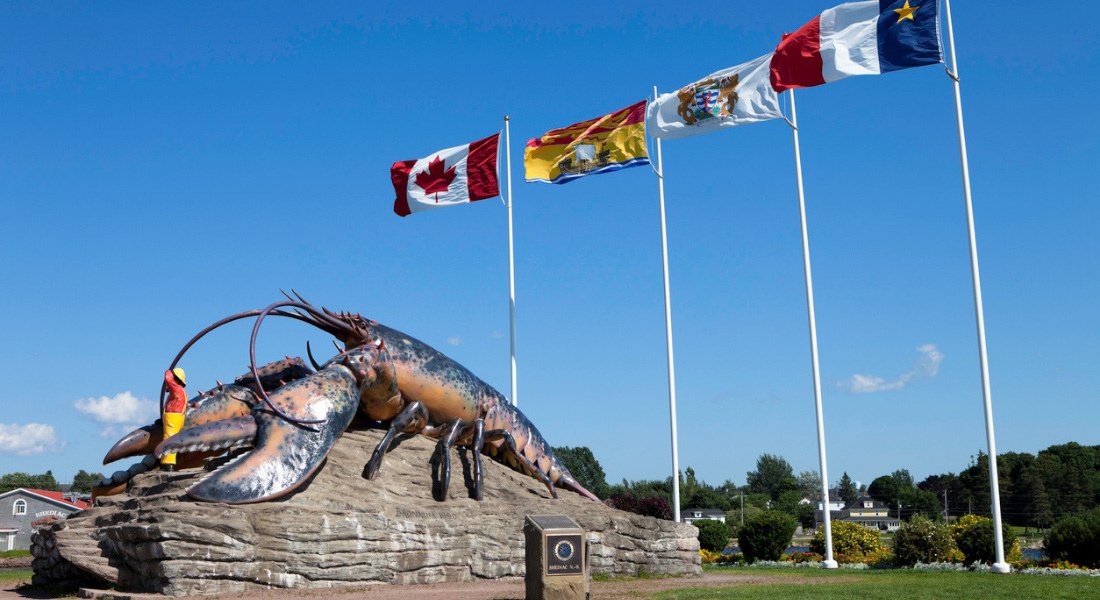 It's the first day of your Maritime adventure, and you are already changing provinces.
Today you discover Moncton, the largest city in New Brunswick (the capital is Fredericton). 
But first, make a stop in Shediac, a charming fishing village known as the lobster capital of the world. It goes without saying that we recommend lobster for lunch!
During your short stay in Moncton, be sure to visit Magnetic Hill, where you will experience an extraordinary phenomenon that defies the very laws of physics. 
Believe it or not, if you stop at the bottom of Magnetic Hill, your car will roll back up the hill, all by itself! Even the most skeptical will be baffled.
At the end of the day, pay a visit to Pumphouse Brewery, a popular brew pub with a wide selection of house-brewed craft beer. Don't be discouraged by the lineup: it's well worth the wait!
Day 3 : Bay of Fundy, Saint John (157 km / 97 mi)

Start your morning with a visit to Hopewell Rocks, a famous site boasting one of Canada's most impressive natural phenomena. 
The exceptionally high tides (10 to 14 metres) at Hopewell Rocks have sculpted gigantic sandstone "flower pot" formations that visitors can explore on foot at low tide, and kayak around just a few hours later.
You can walk on the ocean floor at low tide in search of precious treasures, like a modern Indiana Jones. 
Before leaving the area, be sure to take in some sun on one of the two sandy beaches. 

Day 4 : Bay of Fundy, St. Andrews (103 km / 64 mi)

You don't have much driving to do today as you head for St-Andrews-by-the-Sea, a popular site for marine mammal observation (whales, seals, etc.). 
This picturesque seaside resort town was voted Best Destination in Canada by the USA Today 10 Best Readers' Choice 2017, and is home to a National Historic Site. You will quickly succumb to the charms of its rich architectural heritage. 
The many Loyalists houses give St. Andrews a unique feel. The town features more than 280 well-preserved buildings constructed before 1880. 
One of the main attractions in St-Andrews is Ministers Island, which can only be reached at low tide. This vast summer estate belonged to none other than Sir William Van Horne, the president and driving force behind the Canadian Pacific Railway.  
Finally, be sure to go for a walk through the magnificent Kingsbrea Garden, just steps from your hotel. Once the property of a wealthy family, it is now an award-winning horticultural masterpiece with themed gardens that delight visitors from around the world.
Check the tide times before planning your excursion to Ministers Island. If you arrive at high tide, visit the island the following morning before setting out for the next leg of your ultimate Maritime road trip
Day 5-6 : Kouchibouguac (310 km / 192mi)

Your road trip continues to Kouchibouguac National Park. 
Along the way, take the panoramic coastal route from Alma to Moncton (Route 114). It's a bit of a detour, but the scenery is better. After all, you are on holiday! Be sure to stop at Cape Enrage to admire the spectacular view!
Kouchibouguac National Park is a popular family destination, boasting calm sandy beaches with some of the warmest salt water north of Virginia.
The park also features an impressive mosaic of landscapes: peat bogs, salt marshes, forests, sheltered lagoons, sand dunes and more. 
Spend an enjoyable day playing in the water, building sand castles, watching the birds and walking along the huge sand dunes. 
Stargazing is also a popular activity in the park. In fact, Kouchibouguac was declared a "Dark Sky Preserve" in 2009 by the Royal Astronomical Society of Canada.
Day 7 : Acadie (201 km / 125 mi)

Next you head for Caraquet, capital of the Acadian Peninsula and one of the most welcoming and authentic regions of our beautiful country! 
Acadie abounds with natural treasures, such as Miscou Island. This haven of calm and tranquility offers visitors enchanting scenery and wild, unspoiled natural beauty.
Spend some time exploring the island's trails, and be sure to take a closer look at the historic lighthouse. 
Built in 1856, this heritage structure is an iconic symbol of the island, and of the Acadie region. It is possible to tour the lighthouse and even to climb to the top of the tower, if you are not daunted by the 96 steps!
At the end of the afternoon, pay a visit to Village Historique Acadien, a realistic reconstruction of 1850s Acadian life. 
Village "inhabitants" in period costumes will bring history to life (and probably make you smile at their charming accents). 
One thing is certain: you won't be bored during your stay in Acadie, with its colourful culture and joyful spirit.
Day 8-9 : Prince Edward Island (385 km / 239 mi)

With heavy hearts you bid farewell to Acadie, but rest assured, the next province has lovely surprises in store. 
You get there via the impressive Confederation Bridge. This 12.9-km span has linked PEI to the mainland since 1997. 
Your adventure continues in Charlottetown, capital of Prince Edward Island. This tiny capital city can boast of being the birthplace of Canada. Learn more about this chapter in Canadian history at Province House National Historic Site. 
At the end of the afternoon, go for a stroll along Victoria Row, a charming pedestrian street lined with shops and restaurants. 
Take a seat on an outdoor patio and enjoy the live (often Celtic) music that invades the street's restaurants and bars after nightfall. 
Spend the following day relaxing on the magnificent beaches of the island's national park. The splendid Cavendish Beach is considered the most beautiful in the area. 
After all, you could use a break from the steady pace of your road trip! 
Day 10-11 : Cape Breton, Ingonish (567 km / 352 mi)

Get an early start and set a course for Cape Breton Highlands National Park, Nova Scotia.
Arm yourself with a large cup of coffee, because you have a long drive ahead of you. Take the ferry from PEI to Nova Scotia. 
Once you reach the stunning region of Ingonish Beach (on the east coast of Cape Breton Island), you will immediately forget the many hours spent behind the wheel.
By the way, if you're travelling with the family, you might like our road trip ideas for children. 
The next day, go for an invigorating hike on Franey Mountain. A fairly challenging 7.4-km trail leads to the top, where you will have a sweeping view of the Clyburn River winding through the valley 425 m below, as well as a section of the Atlantic coast. 
Sit on the large, flat rocks to get your breath back and gaze at the vast open wilderness before you. Keep your eyes open, because rumour has it that moose also like the view!
Day 12 : Cape Breton, Cheticamp (115 km / 71 mi)

Today's destination is Cheticamp, a fishing village nestled in the heart of the Cape Breton highlands.
To get there, you will take a scenic drive that is almost too beautiful to be true: the Cabot Trail, which skirts the edges of the park, at times clinging to steep oceanside cliffs. 
24 look-offs along the trail provide opportunities to admire a rugged wilderness of turbulent ocean, rocky cliffs and lush forest, considered to be some of the most beautiful landscapes in Canada.
We bet that these images will remain etched in your memory for a long tome to come!
The Skyline Trail is the perfect place to stop and stretch your legs. This easy 7.5-km trail leads to a dramatic headland cliff that is a popular site for sunset viewing.
Day 13-14 : Halifax, excursion to Peggy's Cove + Lunenburg  (399 km / 245 mi)

For the final stage of your road trip, you return to Halifax, capital of Nova Scotia, to complete your discovery of the Maritime provinces.
This time, we strongly recommend paying a visit to the Citadel National Historic Site. Perched high on the large hill dominating downtown Halifax, the Halifax Citadel offers commanding views of the city and its harbour. The star-shaped fort was built to defend the city against attackers.
The Historic Properties district is the perfect place to enjoy a drink on an ootdoor patio at the end of the day. 
But first, take a stroll through the narrow streets lined with shops and admire the 18th century wood and stone buildings along the waterfront boardwalk that once served as warehouses and now house specialty shops, restaurants and bars.
The following day, treat yourself to one last memorable outing, this time to the tiny village of Peggy's Cove. There you will find the most photographed lighthouse in Canada. Built in 1915, the iconic Peggy's Cove lighthouse keeps watch over the waves and guides the lobster fishermen back to shore. 
But that's not all! The village itself is charming with its small harbour and magnificent wooden sheds built on stilts. 
Along the way, make a stop in the charming colonial town of Lunenburg. Once considered a pirate's lair, this colourful fishing port can boast of being one of only 2 towns in North America to be designated a UNESCO World Heritage Site.
Return to Halifax at the end of the day.
Day 15 : Halifax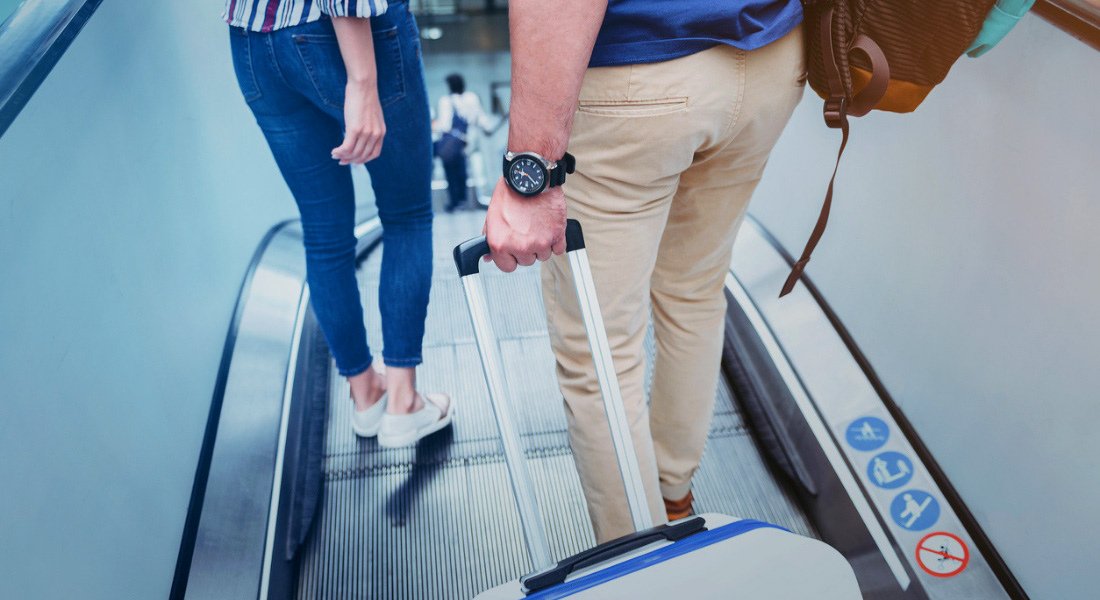 Enjoy the last moments of your Maritime vacation before heading for the Halifax Airport and boarding your return flight home.
Starting at
$

1,802

/ adult
And there you have it!
So, are you ready for a Maritime road trip? 
If you have any questions and/or suggestions, don't hesitate to write them in the comments below.