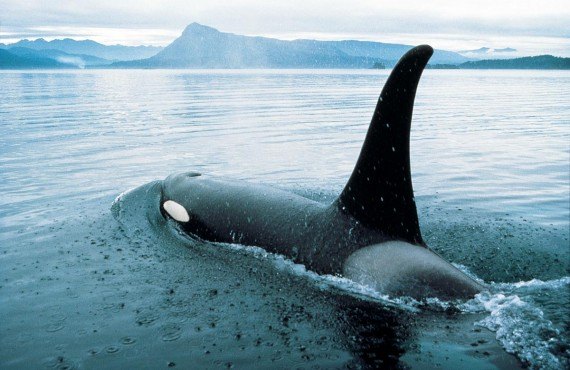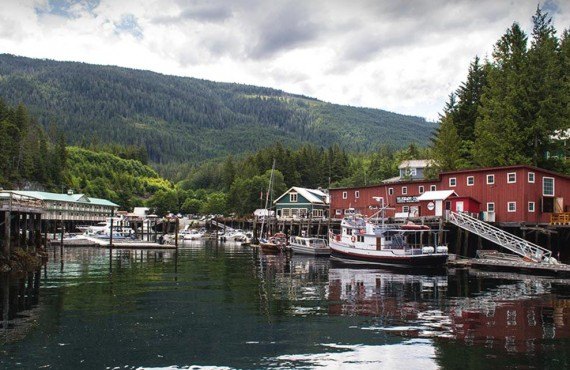 When to visit
Very Favourable
Favourable
Unfavourable
| Jan | Feb | Mar | Apr | May | Jun | Jul | Aug | Sep | Oct | Nov | Dec |
| --- | --- | --- | --- | --- | --- | --- | --- | --- | --- | --- | --- |
| | | | | | | | | | | | |
What to do
Noteworthy
Worth the detour
Must see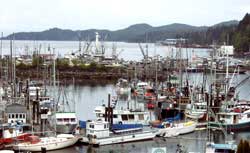 Port Hardy is a quaint fishing and logging town in a setting teeming with marine and terrestrial wildlife. There are many opportunities for fishing and whale watching.
While in the area, you must visit Cape Scott Provincial Park. This truly magnificent area of rugged coastal wilderness at the north-western tip of Vancouver Island, 64 kilometres west of Port Hardy, offers hiking trails of every level. The park is home to a wide range of wildlife including bears and wolves: keep an eye out!
Quatse Salmon Stewardship Centre

Salmon play a central role in the ecosystem of the waters around Port Hardy. The Quatse Salmon Stewardship Centre serves as an interpretive center, salmon hatchery, and educational facility for the public and provides a fascinating glimpse into the world of west coast salmon. Visitors of all ages will gain insight into the issues linked to salmon conservation. Open daily June-September, from 10 a.m. to 5 p.m.
8400 Byng Road, Port Hardy / 250-902-0336
www.thesalmoncentre.org
---

Quatse River
The Quatse River Estuary is home to bald eagles. The best bird watching spot in Port Hardy is the viewing platform overlooking the marshy wetlands of the estuary, where bald eagles, other birds of prey and seabirds can be seen soaring overhead.
NEARBY

Telegraph Cove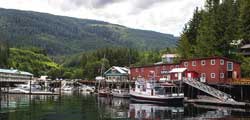 Jacques Cousteau called Telegraph Cove one of the best places in the world to view and enjoy Orcas (killer whales) in their natural environment! At just an hour from Port Hardy, a Telegraph Cove whale-watching tour is well worth the detour. Given the large number of magnificent orcas that spend the summer months in the waters around Telegraph Cove, the chance of a sighting is extremely high.
---
Optional activity
Where to eat
$ Inexpensive
$$ Moderate
$$$ Upscale
$$$$ Fine dining
Sporty Bar & Grill ($$)
Sporty Bar & Grill is probably your best choice of restaurant in the area, but don't be fooled by appearances. Serves local food with a European flare (the owner/chef is from Austria), prepared from fresh ingredients, in a pub atmosphere. The menu features soups, salads, sandwiches and pizzas, as well as a wide variety of meat, fish and pasta dishes. Don't miss the seafood chowder and fish tacos. Open Sunday-Thursday from 11:30 a.m. to 11 p.m., and Friday-Saturday from 11:30 a.m. to midnight.
8700 Hastings street, Port Hardy / 250-949-7811
www.sportybar.ca
---

Cafe Guido ($$-$$$)
Very popular with locals and visitors alike, this friendly café is the ideal spot for a good breakfast or lunch in a casual atmosphere. Gift shop featuring local crafts and bookstore under the same roof. Open Monday-Friday from 7 a.m. to 6 p.m., Saturday from 8 a.m. to 6 p.m. and Sunday from 8 a.m. to 5 p.m.
7135 Market street, Port Hardy / 250-949-9808
www.cafeguido.com
Where to sleep ?
Climograph
Very Favourable
Favourable
Unfavourable
Month
Average temperature
min (°C)
Average temperature
max (°C)
Precipitations
(mm)
Overall score
January
1
7
243
February
1
8
159
March
2
9
152
April
3
12
125
May
5
14
77
June
8
17
81
July
10
18
80
August
10
19
83
September
8
16
124
October
5
13
241
November
3
9
291
December
1
7
251
Download our travel guide