The 5 most beautiful parks in Western Canada
The western provinces are known for their breathtaking scenery.
It's not surprising that so many parks have been created to protect them while sharing their beauty.
Here are the top 5 parks you won't want to miss during your trip to Western Canada. 
 
#1. Yoho National Park
Named after the Cree word for "awe and wonder", Yoho National Park is a jewel to behold.
Although it's a small park compared to the big names like Jasper and Banff, it has plenty of breathtaking sights that are absolutely second to none.  
Its eastern border marks the boundary between Alberta and British Columbia.
Along with Glacier National Park, Yoho is the second-oldest national park in Canada, after Banff. It was established in 1886.  
What I particularly like about Yoho is its unspoiled natural beauty and relative lack of tourists, as well as its sweeping valleys with their bare, rocky peaks, lush, green pine forests and fast-flowing waterfalls.
Don't miss
The magnificent Emerald Lake  is a must-see. In my opinion, a stay at Emerald Lake Lodge is a thing to do in Canada at least once in your lifetime.
Takkakaw Falls , one of the most beautiful waterfalls in Canada, is sure to impress.
Lake O'Hara , one of Western Canada's most exquisite lakes, is an important refuge for wildlife. It is surrounded by the majestic Rocky Mountains.
Finally, the superb Iceline Trail is a must for hiking fans. The 20-kilometre loop leads through a series of breathtaking picture-perfect panoramas.

#2. Kootenay National Park
Kootenay National Park is the Rocky Mountain park that is most often overlooked. 
Yet its great diversity makes it captivating. 
Here you'll find snowy peaks, glaciers, waterfalls, canyons and lush valleys. 
It could also be said that it is proof of nature's ability to regenerate. 
Wildfires swept through the park in 2003, and again in 2017, but today its animal and plant life is thriving. 
Kootenay is home to elk, moose, deer, bighorn sheep, mountain goats and beaver.
 
Don't miss 
Radium Hot Springs  is very popular with visitors. It's also well suited to families. 
In my opinion, Marble Canyon is a dream location. A short trail leads to the heart of a landscape of blue glacial waters and steep canyon walls. Several bridges span the narrow gorge, offering breathtaking views of the river below! 
For experienced hikers, the Rockwall Trail  is a is a 55 km-long multi-day hike. The horseshoe-shaped trail follows alongside a spectacular formation known as the Rockwall, where sheer cliffs rise up to 900m above the landscape.
The Paint Pots are a group of mineral-rich springs whose vibrant hues form a natural palette of colours. These springs aren't of the same calibre as those in Yellowstone, but they're well worth the detour.  
#3. Banff National Park
Banff was Canada's very first national park. 
From its humble beginnings as a 26-square-kilometre hot springs reserve, it has grown to encompass over 6641 square kilometres. 
True to the Rocky Mountain landscape, it boasts turquoise lakes, towering peaks and abundant wildlife. 
You can also take a stroll through the alpine village of Banff, with its many restaurants, hotels and local shops.
Don't miss 
Lake Louise , the jewel of the Rockies, which really needs no introduction. I highly recommend the Lake Agnes Tea House hike. 
Peyto Lake is also a must, and is easily accessible via a short hike. It is said to be one of the most beautiful views in all of Canada. Parking is available if you rent a car while in Canada. Arrive early if visiting in the summer, as the parking lot fills up quickly. 
Johnston Canyon  is another fairly short and easy hike, yet breathtakingly beautiful. It is suitable for families. 
If you're not claustrophobic, I recommend a visit to Cave and Basin National Historic Site. It has fascinating geology, and has been a sacred site for Indigenous peoples for thousands of years.
#4. Pacific Rim National Park Reserve
This is probably the most diverse park in our top 5. 
Situated on Vancouver Island, the unique climate of Pacific Rim National Park Reserve's location results in a landscape that includes lush temperate rainforest and small mountains, as well as a long pristine coastline.
There is also Tofino, a laid-back village with its own distinct culture and gourmet food scene, much loved by surfers. 
The Broken Islands just off the coast are part of the reserve. They are a popular kayaking destination, and camping is permitted.
 
Don't miss 
Long Beach , the longest beach on Vancouver Island, is a must. Surfers and kayakers mingle with frisbee players and sunbathers.
The West Coast Trail is an iconic backcountry trail for experts who like a challenge. The 75-kilometre trail crosses mud holes and rivers whose waters can be fast and deep, and features more than 100 ladders to climb with heavy camping gear. 
The Schooner Cove  Trail is just 2 kilometres long but leads through lush rainforests and over gentle meandering streams before arriving at a spectacular beachfront area.
#5. Jasper National Park
As the largest park in the Canadian Rockies, and one of the 7 parks that make up the Canadian Rockies UNESCO World Heritage Site, it would be impossible to make a top 5 without including Jasper. 
Of course, large size means a multitude of activities and natural wonders. 
It's also the best place in the Rockies to watch the stars and the northern lights. 
Jasper with its majestic peaks, abundant wildlife and exceptional natural beauty attracts nature enthusiasts from around the world, and is one of Canada's most visited national parks. 
 
Don't miss 
The Maligne Lake cruise  will take you to Spirit Island, one of the most famous photo spots in Canada. Your guide will share a host of information on the geology, glaciology, flora and fauna of this stunning lake. 
Jasper is also stunning from above. The Jasper Skytram will whisk you up to an elevation of 2,263 metres, high above the town and the national park: a thrilling ride and panoramic views.
The Cavell  area is sure to charm with its flower-scented subalpine forest, colourful alpine meadows, and spectacular views of Mount Edith Cavell and Angel Glacier. Don't miss the Cavell Meadows and Path of the Glacier trails. 
Location of the 5 most beautiful parks in Western Canada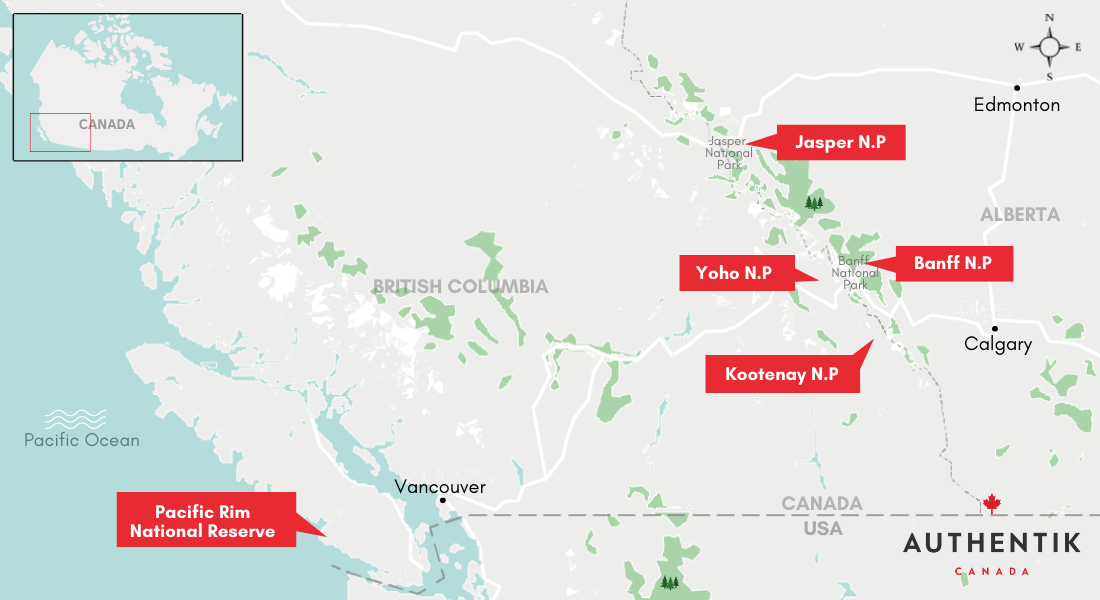 That concludes our top 5 western parks. 
Do you have a different top 5 list? Don't hesitate to share your thoughts in the comments below!