Thousand Islands : The must-sees for a 24h visit
Halfway between Montreal and Toronto, the Thousand Islands region is a great place to stop during a road trip through Quebec and Ontario. 
 
Where are the Thousand Islands?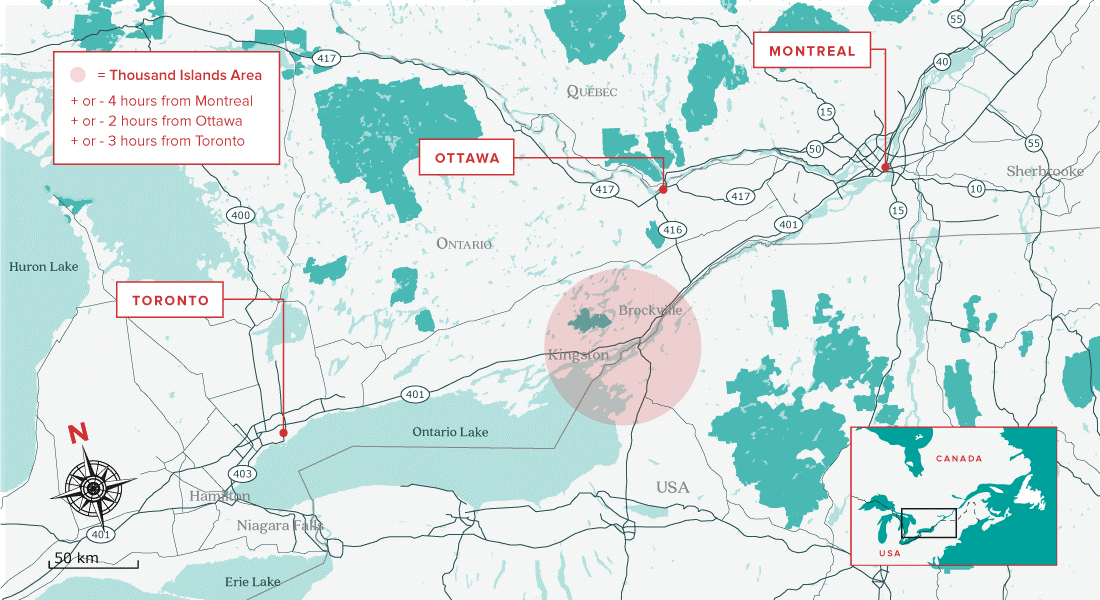 Here is our suggested 24 hours planning, to be sure you don't miss any of the highlights of this beautiful area during your next trip to Canada!
 
Morning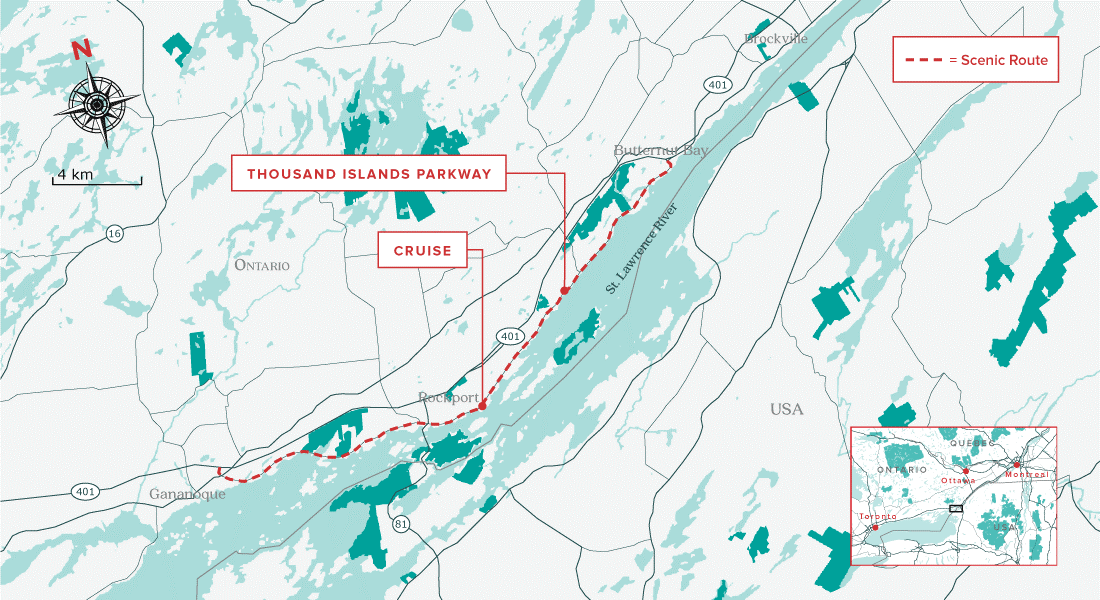 Thousand Islands Parkway 

Along the way to Kingston, get off Highway 401 and venture on this picturesque scenic route instead.
Running along the St. Lawrence River for more than 37 kilometres, it offers magnificent vistas. Don't hesitate to stop and enjoy the view!
To get onto the Thousand Islands Parkway coming from Montreal (Highway 401), take Exit 685 a few kilometres after Brockville.

1000 islands CrUISE

Plan your cruise around 11:00, leaving yourselves enough time for the drive without being in too much of a hurry.  
You've heard all about it, and now it's time to sail through this archipelago of islands, scattered across the calm waters of the St. Lawrence.
During your one-hour cruise, you will have the chance to discover some of the region's most fascinating attractions, including the iconic Boldt Castle on Heart Island.
You will also see the shortest international bridge in the world on Zavikon Island, linking Canada and the United States.
Finally, you're sure to get a chuckle out of "Mother-in-Law" Island. We bet you'll quickly understand how it got its name!
Boldt Castle was built by millionaire George C. Boldt as a symbol of his great love for his wife. It's worth a mention because, you never know…  Your significant other may feel inspired by this romantic gesture. 
Afternoon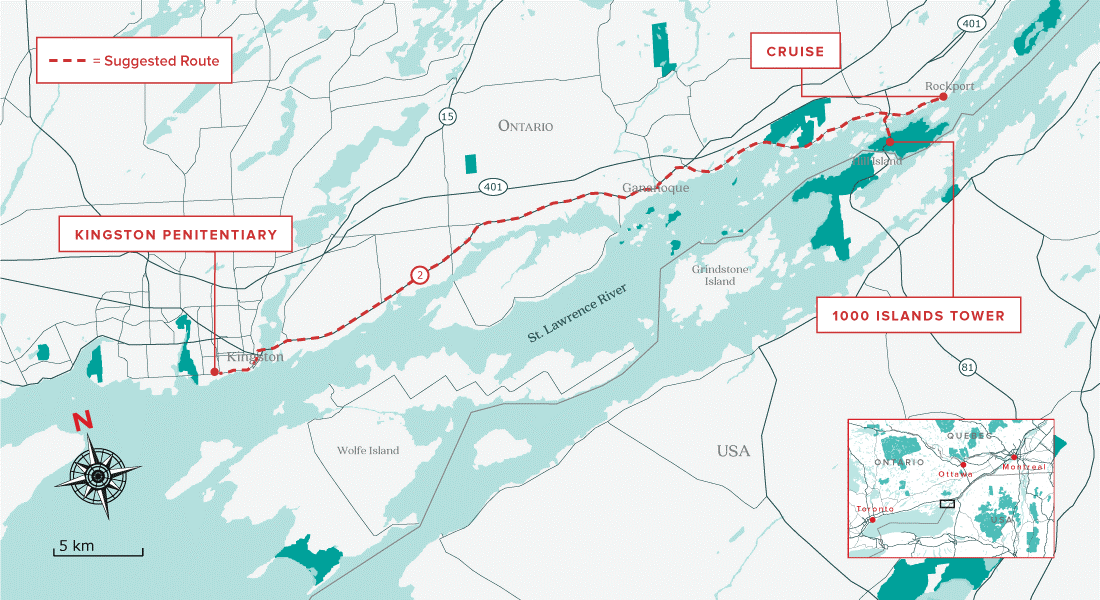 1000 Islands Tower 
After sailing through the heart of the Thousand Islands, why not admire them from above? 
Just off the base of the bridge on Hill Island is the 1000 Islands Tower.
An elevator takes just 40 seconds to reach the observation deck overlooking the river at a height of 130 metres. 
This popular attraction (only open from May to October) offers a stunning panoramic view of the region.
On your way back down, be sure to stop at SkyDeck Cafe for an ice cream cone. 

Kingston PENITENTIARY

This afternoon, set off along the shores of Lake Ontario to visit the oldest maximum-security prison in Canada, which was inaccessible to the public during its 180 years in operation.
Closed since 2013, Kingston Penitentiary is a National Historic Site which predates Canadian Confederation. 
When it first began operations in 1835, it was called the "Provincial Penitentiary of the Province of Upper Canada". One of the interesting facts about this correctional facility is that it was built by prisoners! 
The guided tour, which is 1.5 hours in length, includes many key areas of the prison, and provides a clear picture of the living conditions of former inmates, confined in their small cells.
The penitentiary's inmates have included some of the country's most notorious convicts, both male and female, including Marie-Anne Houde, the stepmother of little Aurore Gagnon, the unfortunate "child martyr" of Québec. 
For a more in-depth, immersive experience, take the 2.5-hour Extended Tour. This option will allow you to talk to retired corrections services officers and learn more about the history and architecture of the prison. 
Evening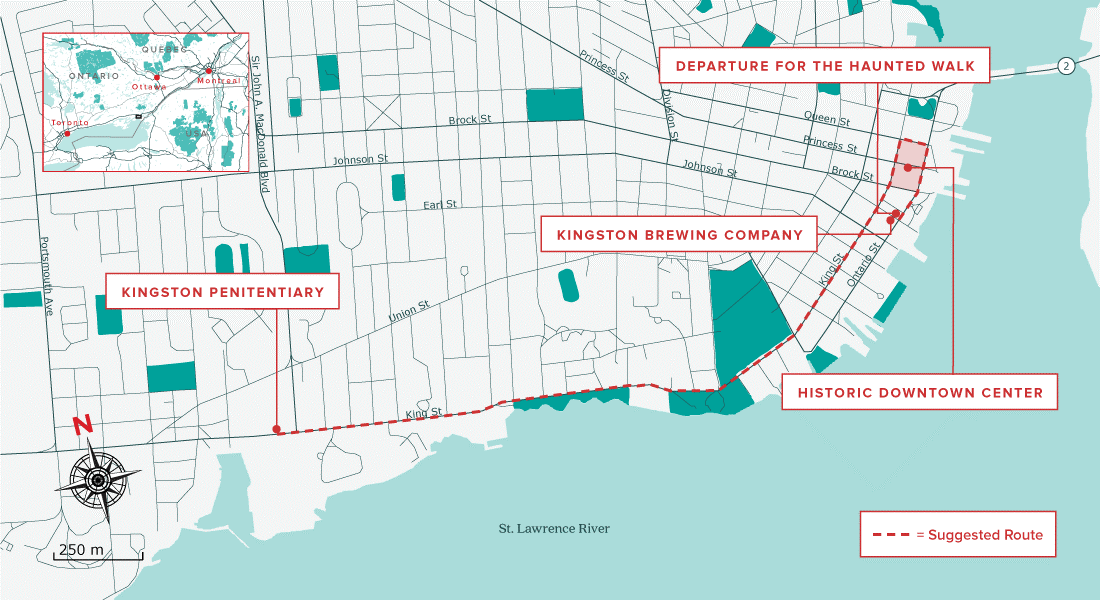 historiC DOWNTOWN CENTRE

At the end of the afternoon, head for historic downtown Kingston. The district's main streets include Princess, Brock, Queen, Ontario and King.
The area is teeming with shops, markets, specialty boutiques and cafés, the perfect combination for some urban diversion after long day of exploration. 
As you stroll the streets, take a look at the menus of the different restaurants along your path, because the historic district is known for its fine cuisine.
 
---
Where to eat
 
If you're looking for a good place for before-dinner drinks, head to Kingston Brewing Company. Housed in a former telegraph office since 1986, it's the oldest brew pub in Ontario.
The old-time feel of the building and the memorabilia hanging on the walls are sure to charm. And the pub-style fare is delicious!
You will probably enjoy the atmosphere so much that you'll want to stay for dinner. Especially since, in summer, the pub boasts two patios, one of them overlooking Lake Ontario.
Kingston Brewing Company
Budget : $$ 
Hours: Monday-Saturday from 11:30 a.m. to 2 a.m. and Sunday from 11 a.m. to 2 a.m.
Address: 34 Clarence St. 
Phone: 613-542-4978  
Website: click here
---

HAUNTED WALK

It's starting to get late… But if you still have some energy, the Haunted Walk is a must-do activity for visitors to the city!
We didn't mention it before, but the City of Kingston (and especially the old Sydenham Ward district) has a spooky past with many dark secrets.
In the company of a guide, you will walk the streets in search of places (including hotels: we hope it's not yours!) where ghosts have been sighted or paranormal phenomena are said to have occurred.
Lasting 1.5 hours, this urban excursion is sure to provide thrills and chills.
Tours leave from the ticket office on Ontario Street at 8:15 p.m. It's just steps away from Kingston Brewing Company.
This activity is available only in July and August and reservations are strongly recommended. 
And there you go!
Now all that you have to do is rent a car in Toronto (or Montreal) and you'll be all set to discover this lovely region that is still off the beaten track for most travellers during a Canada tour.
Do you know of any other must-see Thousand Islands attractions or points of interest? Don't hesitate to share your ideas in the comments section below.