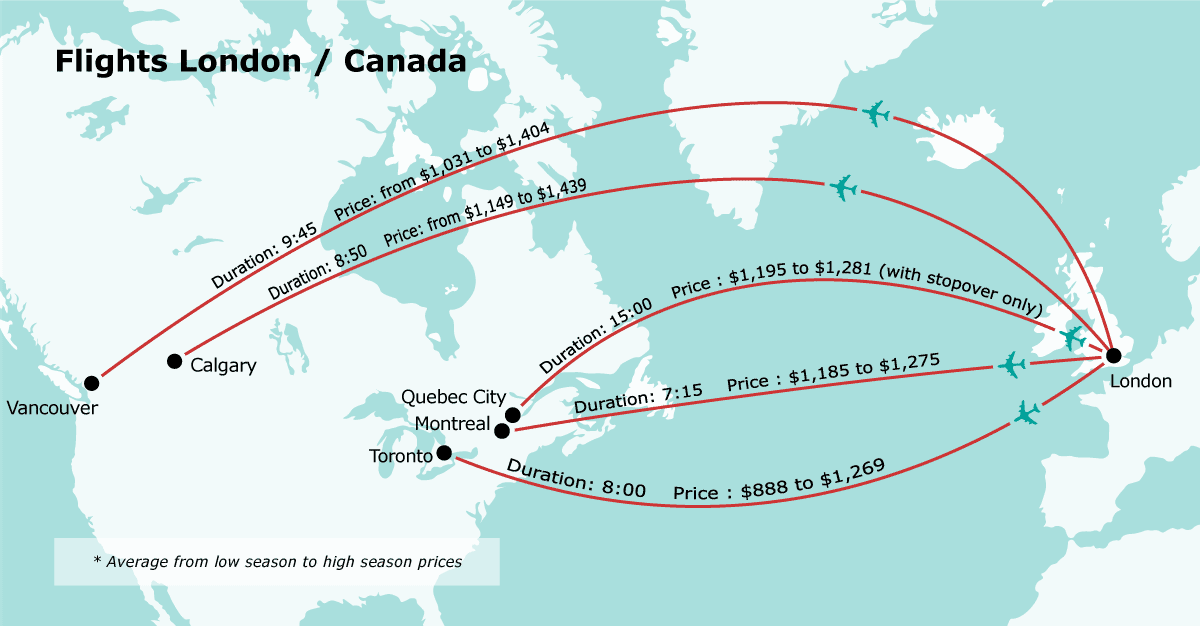 COMPARE PRICES FOR FLIGHTS TO CANADA
Find the best price available for your flight to Canada using this online flight comparison tool.
---
5 TIPS TO SAVE ON AIRFARE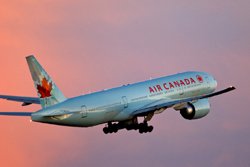 1- A study has shown that you will pay 16% less than the average by booking your flight 21 weeks (150 days) before the departure date.
2- Choosing a flight that departs and returns on a Monday, Tuesday or Wednesday can lead to substantial savings.
3- Peak tourist season in Canada is from mid-July to the end of August . You can save a lot by avoiding this period.
4- Some experts say that airline prices are lower in the morning … But there's no proof to back up this claim.
5- Use a flight comparison tool to find the cheapest airline for your dates.
---
AIRLINE TICKETS WITH AUTHENTIK CANADA

Authentik Canada can include airline tickets in your travel package. Just ask your travel consultant to add this option to your custom quote.

When planning your trip to Canada, start by booking your flight. You can then easily adjust your schedule accordingly.
---
CANADA'S MAJOR AIRPORTS

Direct flights are offered year-round between France and the cities of Montreal and Toronto. In some seasons, there also direct flights to Halifax (summer), Moncton (summer), Ottawa (summer), Quebec City (winter and summer), Calgary and Vancouver (summer).

MONTREAL AIRPORT
Name: Pierre Elliott Trudeau International Airport - Code: YUL
Address: 975 Roméo-Vachon Nord Dorval (Québec) H4Y 1H1
Telephone: 514-394-7377
Getting downtown
Taxi: $40 + tip (15%) / (514) 394-7377
Limousine: $50 + tip (15%) / (514) 394-7377
Shuttle service : Express bus 747 / $10 per person one-way

Important : Coins only, no paper bills.


TORONTO AIRPORT
Name: Pearson International Airport - Code: YYZ
Address: 3111 Convair Drive, Toronto (Ontario) L5B 1B2
Telephone : 416-776-3843
Getting downtown
Taxi: +/- $50 + tip (15%)
Limousine: +/- $60 + tip (15%)
Shuttle service


CALGARY AIRPORT
Name: Calgary International Airport - Code: YYC
Address: 2000 Airport Rd. N.E. Calgary, Alberta T2E 6W5
Telephone : 403-735-1200
Getting downtown
Taxi: +/- $45 + tip (15%) / 403-777-1110
Limousine: +/- $65 + tip (15%) / 403-295-1085
Shuttle service

VANCOUVER AIRPORT
Name: Vancouver International - Airport Code: YVR
Address: 3211 Grant McConachie Way, Richmond, BC V7B 1Y7
Telephone : 604-207-7077

Getting downtown
Taxi: +/- $30 + tip (15%)
Limousine: +/- $100 + tip (15%)
Shuttle service : $15 / person
---
OTHER PRATICAL INFORMATION