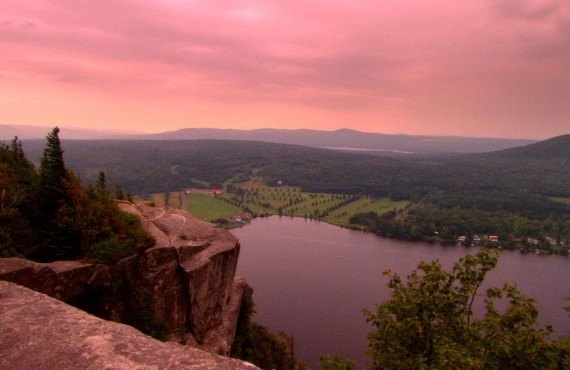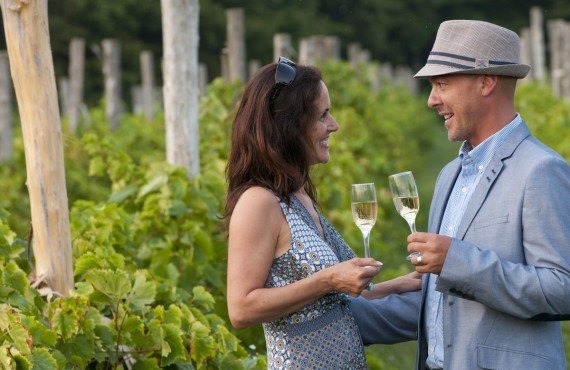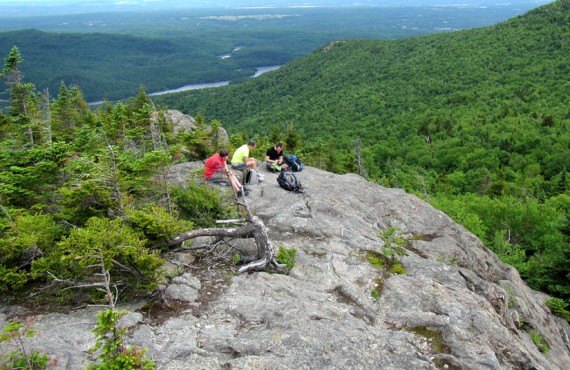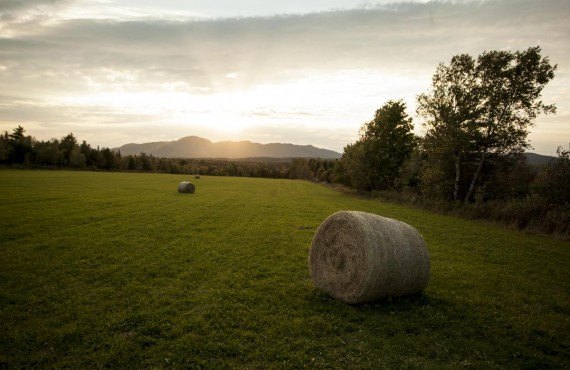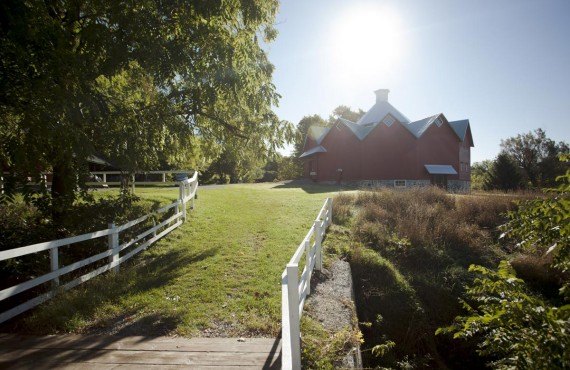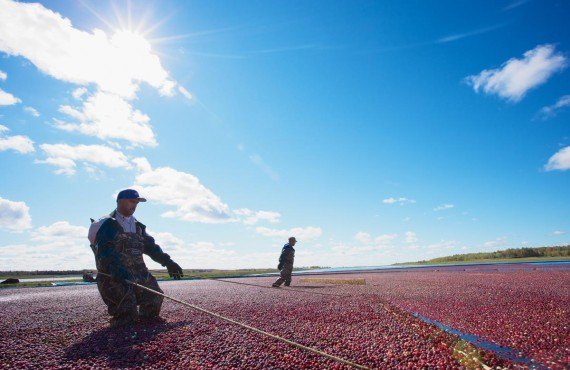 What to do
Noteworthy
Worth the detour
Must see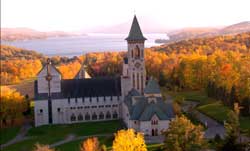 A true staple of any Quebec travel guide, the Eastern Townships region is known for its country pleasures, its picturesque villages with their theatres, art galleries, antique shops and cafes, its fine dining and its Route des Vins (wine route).

The undulating hills and colourful landscapes of the Eastern Townships make this a unique destination and one of the most beautiful regions during the indian summer in Canada.

MONT-ORFORD NATIONAL PARK
Come enjoy the mountains, lakes and mature sugar maple forests of Mont-Orford National Park.

PARC NATIONAL DU MONT-ORFORD
Season: The park is open year-round, but the period during which services are available varies according to sector.
Visitor Centre:
The Le Cerisier Discovery and Visitors Centre (Lac Stukely Sector) (200 Chemin du Camping, Orford) is open from the end of June to early September, Sunday-Thursday from 9 a.m. to 7 p.m., Fridays from 9 a.m. to 10 p.m. and Saturdays from 9 a.m. to 8 p.m., with reduced hours in low season.
Entry fee: $9.25/adult/day and free for youth aged 17 and under. A parking fee for the beach / car or RV is payable in the summer season (please visit their website to know the price of the parking fee).
www.sepaq.com/pq/mor


HIKE UP MOUNT ORFORD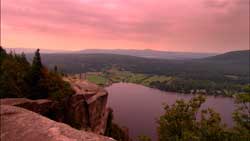 One of the best ways to discover the park is to explore its many hiking trails or take the ski lift up to the summit of Mount Orford, where you will enjoy many spectacular views of the region (available only during the "Flambée des couleurs" from mid-September to mid-October).

You can also climb up to the television tower, which is not part of the national park, for a panoramic view .

LAC STUKELY BEACH
Stukely Lake is located within Mont-Orford National Park. Its beach is supervised and offers a playground for children. Swimming is possible from early July to early September.

WINE ROUTE
The renowned Wine Route winds its way along scenic country roads and through 9 of Quebec's most charming villages along a 140 km signposted route, offering visitors and wine-lovers the chance to visit more than 20 wineries and their many products.

Plan to visit no more than 3 to 4 wineries in one day (a visit can last 30 to 45 minutes and guided tours take about 1 hr.). Most wineries offer wine tasting, a boutique and picnic facilities.
YOU WON'T WANT TO MISS:
Le Domaine Les Brome (Léon Courville Vigneron)
Le Vignoble de l'Orpailleur
Domaine des Côtes d'Ardoise
Le Vignoble du Ruisseau
Le Domaine du Ridge


ABBAYE DE ST-BENOÎT-DU-LAC
The Abbey is located near Lake Memphrémagog. Discover the serene beauty of a place of peace, silence and prayer. The boutique offers a wide variety of products made by the community such as cheeses, cider, jams and preserves. You can also take a guided tour. And be sure to take a stroll through the orchards to pick apples or simply admire the scenery.
The orchards are open Saturday-Sunday from early September to mid-October, from 9 a.m. to 5 p.m. The boutique is open every day from early May to the end of October from 9 a.m. to 6 p.m., and from early November to the end of April from 9 a.m. to 5 p.m.
1 RUE PRINCIPALE, SAINT-BENOÎT-DU-LAC / 819-843-4080

THE MOST BEAUTIFUL VILLAGES IN THE TOWNSHIPS!
The Townships Trail is a tourist route that winds its way through the region, introducing visitors to its most beautiful landscapes and its rich heritage. The history of the Eastern Townships was marked by the arrival of American, Loyalist, Scots and Irish settlers at the end of the 18th and through the 19th centuries.
Along the way, you will discover picturesque villages, covered bridges, a 12-sided barn, interpretation centres, museums, churches and much more. Keep your eyes wide open!
Don't miss our favourite villages: North Hatley , Knowlton (Lac Brome), Bromont , Sutton , Dunham and Frelighsburg.


LAKE MEMPHRÉMAGOG CRUISE
Discover majestic Lake Memphrémagog aboard the Grand Cru, a cruise boat that can accommodate up to 176 passengers. As well as taking in the magnificent scenery, you can enjoy a gourmet meal. Several different outings are offered, from May to October. Reservations recommended (819-843-7000).
Les Excursions L'Air du lac offers more intimate cruises aboard the Entregens II, a pontoon that accommodates up to 12 passengers. Captain Jean-François offers 3 narrated outings. The Sunset Privé lasts 2.5 hours and is a personalized cruise. Bring your swimsuit, your lunch and your drinks. The Happy Hours lasts 2 hours and is perfect for having a drink on the lake. The 1 hour Route du Montre takes you along in search of the Memphré monster. Several departures during summer. Reservations required (819-345-7450).

BROMONT WATER PARK
This mountain water park offers a range of attractions that will refresh and amuse the whole family. These include 4 heated pools, including a wave pool, and several water slides of varying thrill levels. The entry fee includes mountain activities such as the Biking Experience, Alpine Luge and a chairlift ride to admire a panoramic view of the region. Restaurants, shops and entertainment on site. Open in summer from 10 a.m. to 4 p.m. / 5 p.m. / 6:30 p.m., depending on the period.
150 RUE CHAMPLAIN, BROMONT / 1-866-276-6668

GRANBY ZOO
A visit to the zoo is a busy day of fun for the whole family. The zoological garden houses an extensive collection of animals from Asia, Oceania, South America and Africa. The site also features a large water park to cool off and an amusement park with rides to provide a few thrills. There are also several restaurants.
The zoo is open year round, but the operating hours vary according to the season and activity. During the summer season, from mid-May to early September, the zoological garden is open every day from 10 a.m. to 5 p.m. / 7 p.m. / 8 p.m. The water park follows the same schedule from early June until the end of August, while the amusement park opens at noon.
1050 BOULEVARD DAVID BOUCHARD, GRANBY / 1-877-472-6299
---
Optional activities
Where to eat
$ Inexpensive
$$ Moderate
$$$ Upscale
$$$$ Fine dining

BISTRO 4 SAISONS ($$-$$$)
The restaurant at Auberge Espace 4 Saisons offers an enjoyable dining experience that will not disappoint. The menu features simple yet refined French cuisine with a distinctively Quebecois flavour.
Open for breakfast Tuesday-Sunday from 7 a.m. to 10:30 a.m., for lunch Tuesday-Satuday from 11:30 a.m. to 2 p.m. and for dinner from 5 p.m. to 9 p.m..
---

MICROBRASSERIE MEMPHRÉ ($$-$$$)
If you are in the mood for a good artisanal beer, this is the place for you! Sample the dozen beers brewed on-site, accompanied by pub-style food such as grilled meats, burgers, cheese fondue, poutine, salads, shared dishes, and much more. Don't expect fine cuisine: the star attraction is the beer.
Open daily from 11:30 a.m. to 9 p.m.
---

PINOCCHIO ($$$)
You won't want to miss their salmon tartare, handcrafted charcuteries, beef tartare, blood pudding or the magret of duck. Chic but warm and inviting atmosphere and a beautiful terrace when the weather is good.
Open Tuesday-Thursday from 5 p.m. to 9 p.m. and Friday-Saturday from 5 p.m. to 10 p.m.

LE HATLEY - MANOIR HOVEY ($$$$)
Le Hatley Restaurant at Manoir Hovey, with its panoramic view of Lake Massawippi, is renowned for its friendly, personalized service and for its innovative terroir-driven Quebec cuisine, which uses the finest local and regional products. Manoir Hovey is a proud member of the prestigious French hotel association, Relais & Châteaux.
Open daily from 8 a.m. to 10:30 a.m. and 5:30 p.m. to 9:00 p.m. (9:30 p.m. Friday-Saturday)
---
*** Hours may vary ***
Festivals calendar
Festival des traditions du monde
Dates: mid-August
Description: Through the interpretation of professional and amateur performances, culinary offerings, artistic creations and sports competitions, the region's various cultural communities work together to present and showcase, during the five days of the event, the beauty of their heritage and traditional values.
Map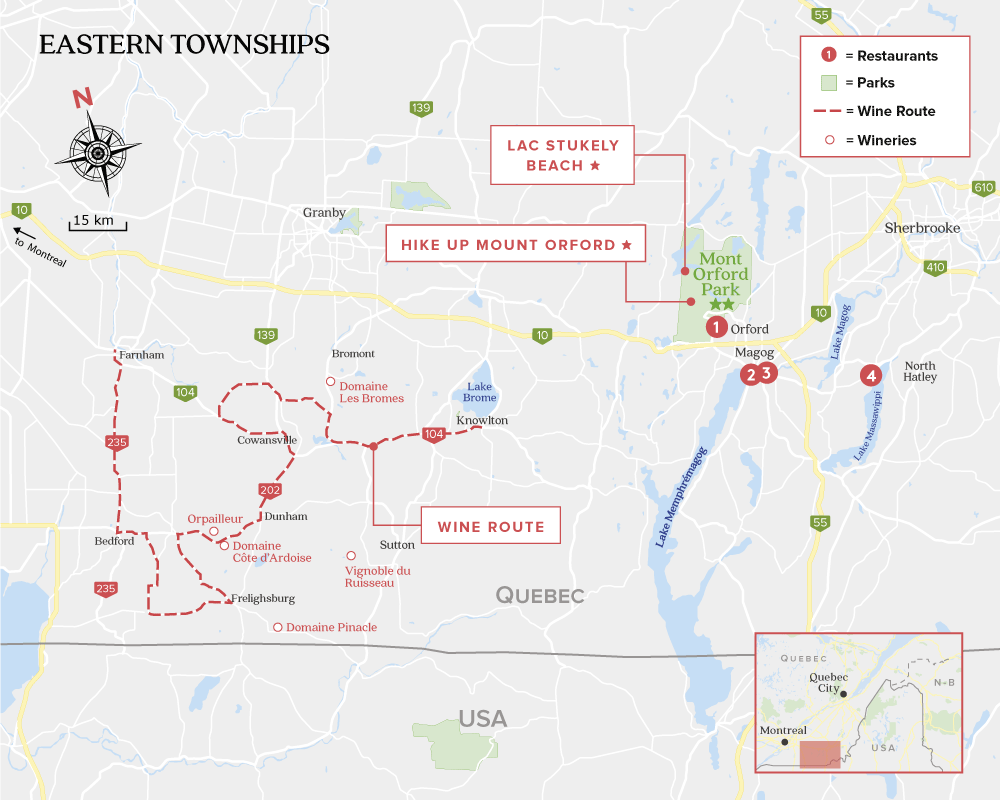 When to visit
Very Favourable
Favourable
Unfavourable
| Jan | Feb | Mar | Apr | May | Jun | Jul | Aug | Sep | Oct | Nov | Dec |
| --- | --- | --- | --- | --- | --- | --- | --- | --- | --- | --- | --- |
| | | | | | | | | | | | |
Climograph
Very Favourable
Favourable
Unfavourable
Month
Average temperature
min (°C)
Average temperature
max (°C)
Precipitations
(mm)
Overall score
January
-15
-4
54
February
-13
-1
50
March
-8
4
59
April
-1
12
67
May
6
19
74
June
10
23
113
July
13
25
99
August
12
25
98
September
9
22
75
October
3
14
91
November
-3
7
73
December
-10
-1
78
Travel reviews
Very beautiful region that deserves to be better known
(Translated by Google) Mont-Mégantic Park is very very beautiful!
Very beautiful and attractive region
(Translated by Google) Very beautiful region with very beautiful forests and the wine route is a very pleasant plus. We had the opportunity to visit the city of Magog (which is not mentioned in the Authentik Canada roadbook) which was charming and positively lively (shops, cafés, restaurants).
Download our travel guide