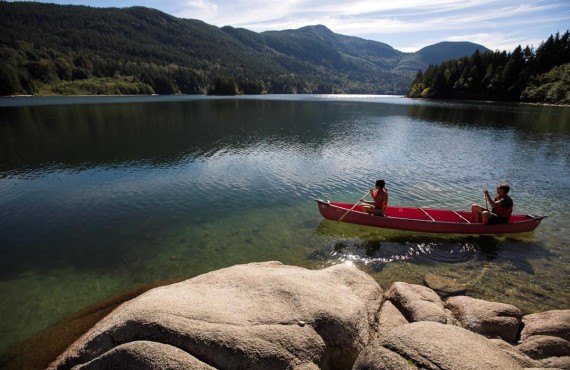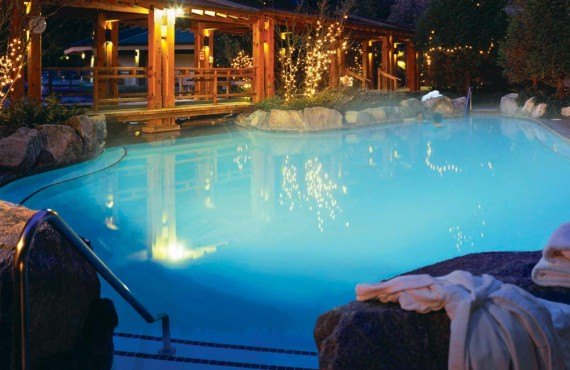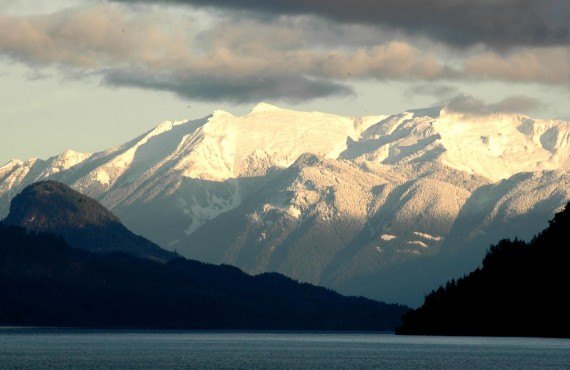 What to do
Noteworthy
Worth the detour
Must see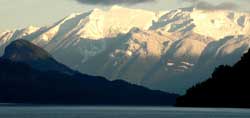 The small town of Harrison Hot Springs is at the southern tip of Harrison Lake, just 90 minutes from Vancouver! Known for its healing hot mineral waters, Harrison Hot Springs is a popular destination for visitors looking for some rest and relaxation in a stunning natural setting.
Hot Springs Pool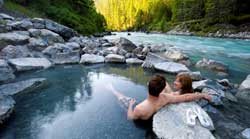 The use of mineral-rich hot springs for healing purposes goes back to prehistoric times and has its origins in Europe. Harrison's Hot Springs were discovered by a group of miners in 1858, who fell into the lake and were pleasantly surprised to find that the water was warm. Today, bathing in the hot springs is a popular activity among locals and visitors alike. Why not indulge your body and mind with a soak in the Hot Springs Pool? Leave all your troubles behind as you relax in the hot mineral waters... you may never want to get out!
The Harrison Hot Springs Public Pool is usually open Sunday-Thursday from 9 a.m. to 8 p.m. and Friday-Saturday from 9 a.m. to 9 p.m.
HARRISON HOT SPRINGS RESORT
Harrison Hot Springs Resort offers a superior hot springs and spa experience with several hot spring pools, but you must be a guest at the resort or a Healing Springs Spa Day Guest to use the facilities. Prices and packages can be found on their website.
Sasquatch Provincial Park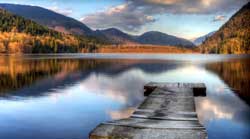 Fun fact about this park: Sasquatch is the Aboriginal name of Bigfoot, or the "abominable snowman", that was alleged to inhabit the forests of this area. Rest assured, it is highly unlikely that you will come face to face with a Sasquatch! However, this magnificent provincial park is home to a variety of wildlife including beaver, mountain goats, salmon and freshwater sturgeon. Visitors can enjoy a number of activities such as hiking, swimming and canoeing on Hicks Lake.
The park is in operation year-round, with full services from early April to mid-October every year.
NEARBY

Hope and its art galleries
As the self-proclaimed Chainsaw Carving Capital of Canada, Hope's oversized wood carvings are a sight to behold, with more than 30 Native-inspired carvings of wildlife and pioneer scenes scattered around town. A vibrant community known for its many art galleries, Hope is well worth a detour!
OTHELLO TUNNELS
The Othello Tunnels are located just north of Hope in Coquihalla Canyon Provincial Park. This series of former railway tunnels and bridges through the canyon were built in the early 1900s by the Canadian Pacific Railway to link the Kootenay Region with the BC coast by rail. Today the route has become a popular bike path called Kettle Valley Railway. The trail is flat, is an easy walk for families, offers spectacular viewing opportunities, and access is free. The walk through the tunnels takes about 1 hour.
Open from early April to the end of October. The Othello Tunnels are closed in winter due to unstable conditions, falling rocks and ice.
Where to eat
$ Inexpensive
$$ Moderate
$$$ Upscale
$$$$ Fine dining
Muddy Water Cafe and Espresso Bar ($$)
With its sun-drenched patio, welcoming atmosphere and delicious, uncomplicated food, this is the perfect place for a light meal. Also serves breakfast.
Open Monday-Friday from 9 a.m. to 3:30 p.m. and Saturday-Sunday from 9 a.m. to 5 p.m.
---

Morgan's Bistro ($$$)
Morgan's chef combines west coast ingredients and French technique, with delicious results! You are sure to appreciate the creative meat dishes, warm atmosphere and lovely patio overlooking the lake.
Open every evening from 5 p.m. to 10 p.m. and Saturday-Sunday from 9 a.m. to 4 p.m.
---
*** Hours may vary ***
Where to sleep ?
When to visit
Very Favourable
Favourable
Unfavourable
| Jan | Feb | Mar | Apr | May | Jun | Jul | Aug | Sep | Oct | Nov | Dec |
| --- | --- | --- | --- | --- | --- | --- | --- | --- | --- | --- | --- |
| | | | | | | | | | | | |
Climograph
Very Favourable
Favourable
Unfavourable
Month
Average temperature
min (°C)
Average temperature
max (°C)
Precipitations
(mm)
Overall score
January
-2
4
253
February
1
8
110
March
3
11
174
April
6
15
102
May
9
19
106
June
11
22
74
July
13
25
44
August
12
25
69
September
10
21
109
October
7
15
197
November
3
9
229
December
-2
3
215
Travel reviews
Easily one of the nicest spots on our trip
had such a great time in this small town.
friendly village
(Translated by Google) Unfortunately the public swimming pool is closed and that of the resort is not accessible to non-residents.
Download our travel guide
Relevant posts