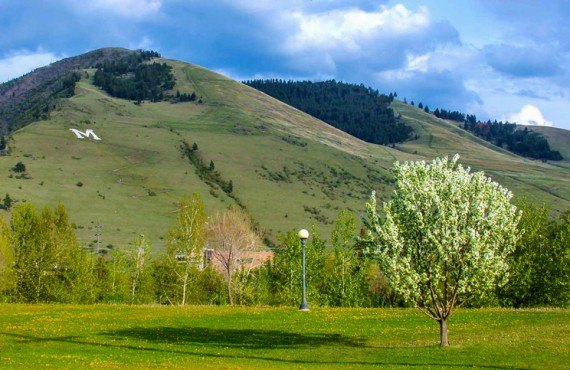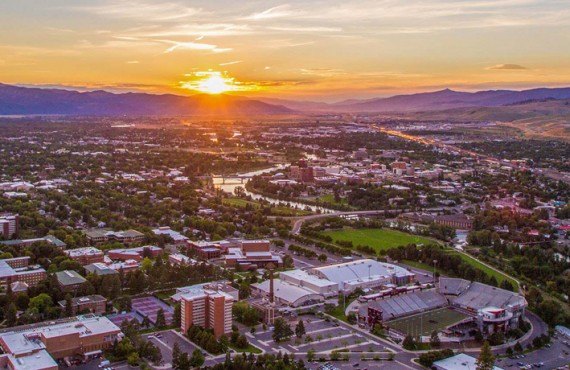 What to do
Noteworthy
Worth the detour
Must see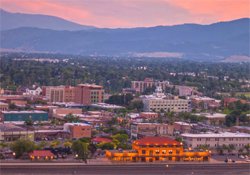 A cultural hub and paradise for aspiring writers attending University of Montana's prestigious creative writing program, Missoula has many attractions. The downtown area has several properties listed in the National Historic Registry. A historic walking tour takes visitors past 19th- and early 20th-century buildings: a map is available at the local tourism office.
Nature lovers may prefer a walk along the Missoula Riverfront Walking Trail. And if you want to do what the locals do, hike to the top of Mount Sentinel, an extremely popular family activity.

MOUNT SENTINEL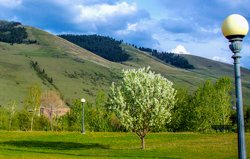 This small mountain rising over Missoula and the University of Montana officially belongs to the University. The mountain's most popular hiking trail is the one leading to the white 'M', a Missoula landmark since 1908 and part of the university's history.
A short 1.2-km hike leads to the famous 'M', while another 2.8 km will take you to the top of the mountain. It will take about 2 hours to reach the top.

A CAROUSEL FOR MISSOULA
With its majestic hand-carved wooden horses and antique frame, Missoula's carousel turns a great many heads. Built by volunteers in the 1990s, the carousel is much-loved by the local community, who work together to look after it and keep it in tip top condition. Young visitors from around the world come to take a ride on the wooden ponies.
Generally open daily from 11 am to 5:30 pm and until 7 pm from June-August.
NEARBY

GARNET GHOST TOWN
Once a thriving town that was home to hundreds of gold miners and their families in the late 19th century, Garnet is now a ghost town. A short tour of this abandoned town provides real insight into the reality of prospectors and fortune-seekers hoping to find gold, quartz and other precious stones. Today, income from tourism helps protect, preserve and interpret Garnet Ghost Town. The entry fee is just about $3 per visitor (over 16 years of age).
Open daily from 9:30 am to 4:30 pm.
Where to eat
$ Inexpensive
$$ Moderate
$$$ Upscale
$$$$ Fine dining
FIVE ON BLACK ($)
Five on Black is a fast, casual Brazilian restaurant where you build your own your bowl by choosing a base, a protein, a sauce and toppings. A sure favourite - and it's healthy, too!
Open Monday-Saturday from 11 am to 9 pm.

BIG SKY BREWING ($)
The tasting room of this microbrewery features a wide variety of in-house beers on tap, as well as other major brands served by the glass, can or bottle. Tours are possible upon request. Boutique on site as well as outdoor concerts during the summer season.
Generally open Monday-Saturday from 11 am to 9 pm and Sundays from noon to 6 pm.
---

THE NOTORIOUS P.I.G. ($$)
Missoula's most popular BBQ restaurant serves barbecue specialties inspired by the American Midwest and the world famous pitmasters of Saint Louis. The focus is on a casual, friendly atmosphere and quality meats and sauces. Get ready to get your hands dirty with a plate of succulent ribs!
Open Tuesday to Saturday from 11 am to 8 pm and Sunday from 11 am to 4 pm.
---
*** Hours may vary ***
Where to sleep ?
Festivals calendar
River City Roots Fest
Dates: late August
Music festival offering many family activities.
Travel reviews
Not visited: we only passed through
(Translated by Google) After a long day of transit, we rested...

On the other hand, on the way, the two "Ghost Towns" of Nevada City and Virginia City are well worth a detour: the "Far West" style stalls preserved in their original state, the little steam train that connects them ( 5 km), the animated reconstructions, all of this takes you back in a very credible way to the middle of the 19th century. Have

Do not forget to stop to visit the old mining town of Butte: in addition to the derricks and extraction chimneys still in place, the old town is worth the detour with its beautiful 19th century buildings, witnesses of past wealth and of the lifestyle of the "bourgeoisie" of the time. Exciting and instructive.

Friendly little town, great bike rides
Download our travel guide