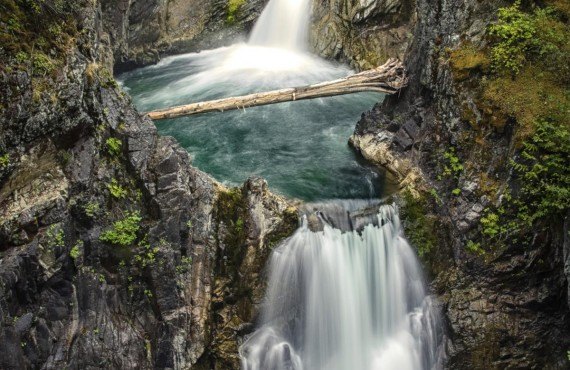 What to do
Noteworthy
Worth the detour
Must see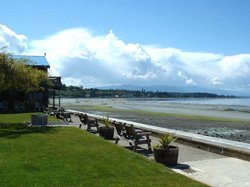 Qualicum Beach is a small town situated at the base of Mount Arrowsmith, along the Strait of Georgia, on the north-east coast of Vancouver Island. Its proximity to Vancouver and Victoria make it a popular tourist destination.
The Qualicum area is known for its scenic beauty, mild climate, long sandy beach and quaint village atmosphere.
Qualicum Beach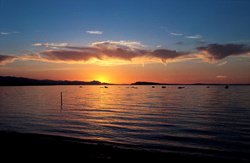 With more than 19 kilometres of beach, it should come as no surprise that Qualicum Beach is the region's most popular attraction.
Families enjoy building sandcastles and playing in the water, while the more romantic at heart come to admire the sunset.

Qualicum Beach Historical and Museum Society
The history of this small, tightly-knit community is well documented in this history museum. Learn all about pioneer living and the town's early days, as well as the First Nations peoples who occupied the local area.
Open June-September, Tuesday-Saturday from 10 a.m. to 4 p.m. and October-May, Tuesdays and Thursdays from 1 p.m. to 4 p.m.
NEARBY

Cathedral Grove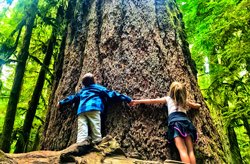 Cathedral Grove is a majestic stand of giant Douglas fir trees in MacMillan Provincial Park. On your way to you next destination, be sure to stop and take a stroll under the shadow of these towering pillars untouched by the modern world.
Open daily from 7 a.m. to 11 p.m. The park is 25 km west of Qualicum Beach and 16km east of Port Alberni, on Highway 4.

ENGLISHMAN RIVER FALLS PROVINCIAL PARK
This provincial park is set amidst a lush forest along the Englishman River, which features two stunning waterfalls cascading into a deep canyon. You can walk along the 3 km of trails that meander through the forest and along the river. The lower falls end in a deep crystal-clear pool – an ideal swimming hole in the summer when river levels are low.
Open daily from 7 a.m. to 10 p.m. The park is just a few kilometres from Qualicum Beach on Vancouver Island.

OLD COUNTRY MARKET
The Old Country Market started out as a roadside fruit stand. Over the years, it has evolved into a local landmark. It's a great place to pick up some unique gifts and souvenirs, gourmet food items, local fruits and vegetables, and look at the goats on the roof of the building! You can also eat at one of the three restaurants on site.
Open daily March-December from 9 am. to 7 p.m.

NYMPH FALLS NATURE PARK
The park protects a large forest of Douglas fir, western hemlock and red cedar trees through which flows a river with a lovely waterfall. In the summer, the waters are calm, clear and cool, making it a very popular place for swimming. In mid-October, a trail allows you to observe the salmon jumping up the waterfall.
Open year-round from 5 a.m. to 11 p.m.
Where to eat
$ Inexpensive
$$ Moderate
$$$ Upscale
$$$$ Fine dining
The Shady Rest ($$)
A local favourite since 1924, the Shady Rest offers unpretentious cuisine, a casual relaxed atmosphere and breathtaking ocean views. The menu features soups, salads, sandwiches, pizzas, pasta and seafood, with vegetarian options and kid's menu.
Open Wednesday-Sunday from noon.
---

Bistro 694 ($$-$$$)
Bistro 694 is an intimate, casual fine dining restaurant with a sophisticated, urban flair. The menu is based on the chef's favourite recipes from around the world, re-created with a Vancouver Island touch using locally-sourced ingredients.
Open for dinner, Friday-Sunday from 4 p.m. to 9 p.m.
---

QUALICUM BAY
Tidal Taco Shack ($)
This tiny shack by the water serves up the best tacos and burritos, which are more than worth the trip. Don't miss it!
Usually open Wednesday-Sunday from noon to 6 p.m.

FANNY BAY
FANNY BAY OYSTERS SEAFOOD SHOP ($$)
This seafood shop is said to offer the best selection of seafood products in all of British Columbia. It's the perfect place to find fresh clams, mussels, oysters and crab. Stop here for a delicious snack of seafood, candied salmon or house-made sushi.
Open all year round from 9 a.m. to 5 p.m.
---
*** Hours may vary ***
Where to sleep ?
Map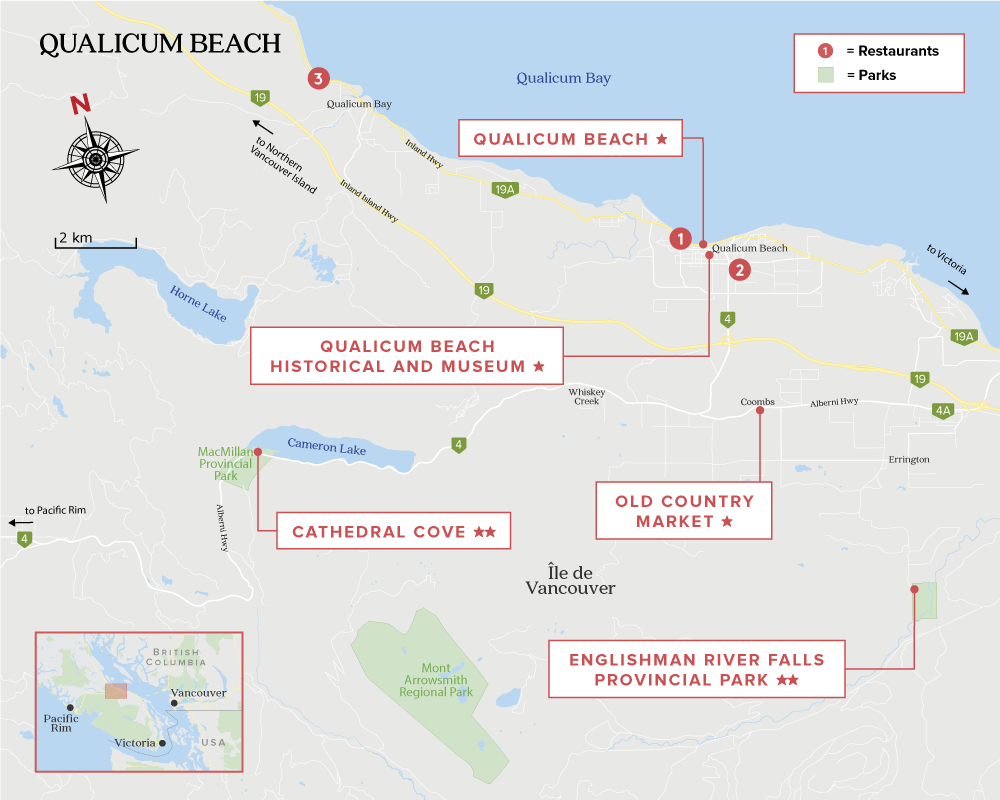 When to visit
Very Favourable
Favourable
Unfavourable
| Jan | Feb | Mar | Apr | May | Jun | Jul | Aug | Sep | Oct | Nov | Dec |
| --- | --- | --- | --- | --- | --- | --- | --- | --- | --- | --- | --- |
| | | | | | | | | | | | |
Climograph
Very Favourable
Favourable
Unfavourable
Month
Average temperature
min (°C)
Average temperature
max (°C)
Precipitations
(mm)
Overall score
January
3
6
55
February
4
8
20
March
5
9
107
April
7
12
28
May
10
15
16
June
13
18
27
July
15
21
16
August
16
21
16
September
13
18
39
October
10
13
83
November
6
10
46
December
3
6
59
Travel reviews
Beaches as far as the eye can see
(Translated by Google) We really enjoy taking long walks on these beaches.
Not to do
(Translated by Google) We do not understand why we have been reserved a campsite there. Nothing to do.
Download our travel guide