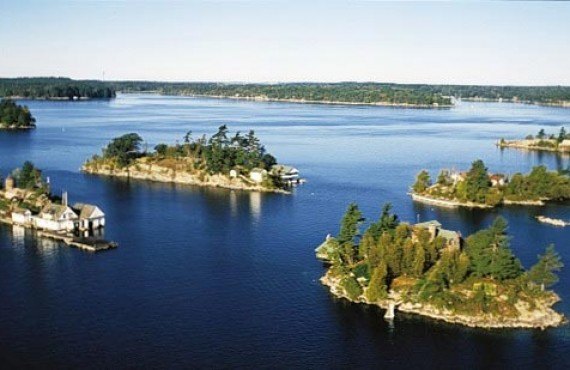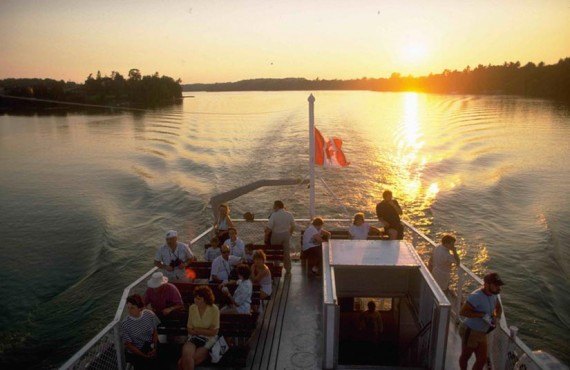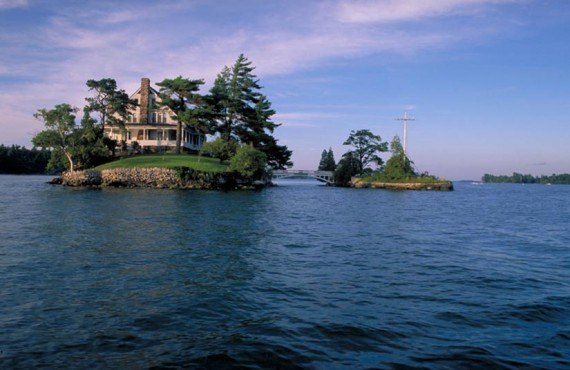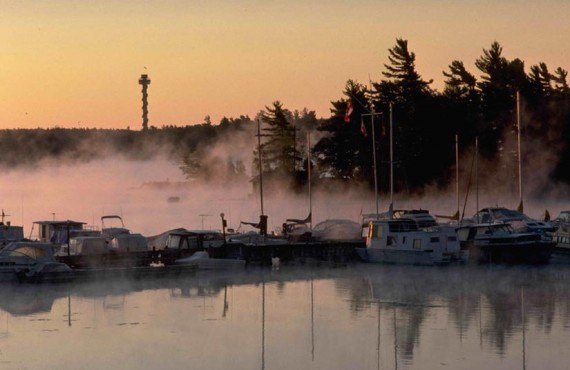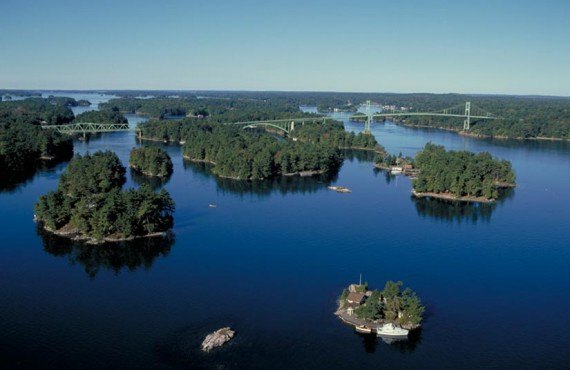 When to visit
Very Favourable
Favourable
Unfavourable
| Jan | Feb | Mar | Apr | May | Jun | Jul | Aug | Sep | Oct | Nov | Dec |
| --- | --- | --- | --- | --- | --- | --- | --- | --- | --- | --- | --- |
| | | | | | | | | | | | |
What to do
Noteworthy
Worth the detour
Must see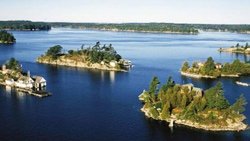 More than 1000 islands blossom like flowers in the middle of the St. Lawrence River as it emerges from the northeast corner of Lake Ontario.
The 1000 Islands is a sightseer's paradise and a popular destination for those looking for an authentic outdoor vacation. You will quickly understand why.

THOUSAND ISLAND CRUISE
Season: daily from May 1 to October 31.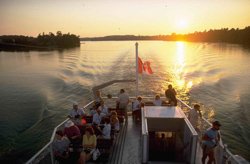 The 1000 Islands are scattered like jewels on the sparkling waters of the St. Lawrence, in a region so beautiful that the First Nations people called it "Garden of the Great Spirit".

Take a guided boat tour through this scenic waterway and discover some of the most fascinating Thousand Islands attractions, including romantic castles and the shortest international bridge in the world on Zavikon Island. You are sure to get a chuckle out of "Mother-in-Law" Island ;-)
Rockport Boatline :
20 Front Street, Rockport / 613-659-3402
www.rockportcruises.com
---

THOUSAND ISLANDS PARKWAY
This picturesque stretch of road follows the St. Lawrence shoreline for 37 kilometres, offering many views of the river. It begins 3 kilometres east of Gananoque at Hwy 401 Interchange 648 and ends at Hwy 401 Interchange 685 south of Brockville.
---
Optional activity
Where to eat
$ Inexpensive
$$ Moderate
$$$ Upscale
$$$$ Fine dining
GENEVA CRÊPE CAFÉ BISTRO ($$)
This unique French style Bistro specializes in French crepes, Belgian waffles, homemade soups, salads and sandwiches, always created using fresh local ingredients and seasonal produce. Be sure to try one of their hot chocolates made with real Belgian dark chocolate… a pure delight! Open Sunday-Thursday from 8 a.m. to 10 p.m. and Friday-Saturday from 8 a.m. to midnight.
297 Princess Street, Kingston / 613-507-0297
www.genevacrepecafe.com
---

TANGO NUEVO WINE & TAPAS ($$-$$$)
Tango Nuevo offers Old-World charm and a delectable selection of tapas. Prepared with locally grown, seasonal produce and locally produced meats & artisan cheeses, the menu is a blend of local flavours & international recipes. The restaurant is committed to supporting small local farmers and the community: the wine list even includes a carefully curated selection of the finest local and Canadian wines. Open Monday-Thursday from 3 p.m. to 11 p.m., Friday-Saturday from 11:30 a.m. to midnight and Sundays from 11:30 a.m. to 11 p.m.
331 King Street East, Kingston / 613-548-3778
www.tangonuevo.ca
---

HARPER'S BURGER BAR ($)
Harper's boasts the best hamburgers in town, made with local grade AAA beef raised using sustainable methods, on pasture. Build your own custom burger, or choose from the menu, which has something to suit every taste: cool & crunchy salads, salmon burgers, veggie burgers, turkey burgers, Yukon gold fries, poutine and more. Open daily from 11:30 a.m. to 9 p.m.
93 Princess Street, Kingston / 613-507-3663
www.harpersburgerbar.com
---

WOODENHEADS GOURMET PIZZA ($$-$$$)
Wooden Heads Gourmet Pizza has an extensive menu of tapas, entrées, salads, focaccias and, of course, a vast selection of gourmet pizzas with tomato sauce, white sauce or pesto. There is also "Jack's Choice" for clients who want to create their own Wooden Heads style pizza. Great food and a lively atmosphere. Open daily from 11:30 to midnight.
192 Ontario Street, Kingston / 613-549-1812
www.woodenheads.com
---

SIMA SUSHI ($$$)
Sima Sushi prides itself on its quality ingredients, attentive service, comfortable atmosphere, fair value, and exciting dishes. The best sushi in town. Open Monday to Sunday from 11:30 a.m. to 9:15 p.m.
66 Princess Street, Kingston / 613-542-8040
www.simasushi.ca
Where to sleep ?
Climograph
Very Favourable
Favourable
Unfavourable
Month
Average temperature
min (°C)
Average temperature
max (°C)
Precipitations
(mm)
Overall score
January
-12
-3
70
February
-11
0
46
March
-6
6
25
April
1
13
51
May
8
20
54
June
13
25
68
July
15
27
73
August
15
27
47
September
11
23
81
October
5
16
74
November
0
9
83
December
-8
1
44
Download our travel guide
Relevant posts