When to visit
Very Favourable
Favourable
Unfavourable
| Jan | Feb | Mar | Apr | May | Jun | Jul | Aug | Sep | Oct | Nov | Dec |
| --- | --- | --- | --- | --- | --- | --- | --- | --- | --- | --- | --- |
| | | | | | | | | | | | |
What to do
Noteworthy
Worth the detour
Must see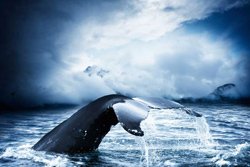 Tadoussac is quite rightly listed as one of the 50 most beautiful bays in the world.
Tadoussac is also the oldest village in Canada. In fact, the village celebrated its 400th anniversary in 2000.
But above all, Tadoussac is an internationally-renowned whale-watching site.
WHAT TO DO
* = Interesting ** = worth a detour *** = worth a trip
1- WHALE WATCHING***
All aboard for Tadoussac's signature activity! Accompanied by a naturalist guide, come and discover the giant of the seas.
Whale watching can be done from mid-May to mid-October. The whales are most numerous and most active in September.
Centre d'interprétation des mammifères marins (CIMM): Before setting out on your whale watching adventure, you may be interested in visiting the marine mammal interpretation centre. You will find whale skeletons, a discovery film with magnificent images and more. The Centre is located not far from the pier.
Zodiac cruise: Whale watching by zodiac is without a doubt the best way to get close to the whales, while keeping a safe distance. It is also the least comfortable, so you may want to think twice if you are prone to seasickness. Children under 6 are not generally allowed. Not recommended for pregnant women.
Catamaran cruise: Given the size of the boat, you won't get as close to the whales as you would in a zodiac, but the ride is smoother and more comfortable. Some catamarans even have underwater cameras, offering an interesting view. Most tickets include a short trip up the Saguenay Fjord***. Accessible for all.
Sea kayak: The most exciting and environmentally friendly option for whale watching. Sea kayaking requires a certain level of physical fitness and is more dependent on the weather. Not for children under the age of 6.
Whale watching from land: Visitors who prefer to remain on terra firma can follow the Pointe de l'Islet trail (0.8 km / 20 minutes) from Tadoussac pier. It's the beat place in Tadoussac to observe marine mammals from the shore.
What should you bring on a whale watching cruise?
Dress warmly! Even on a hot day, the temperature drops quickly once you are out on open water.
Sweater
Pants
Windbreaker or raincoat
Hat, gloves, scarf
Warm socks
Sunscreen
Sunglasses (polarized for better vision)
Binoculars
Camera (protected from water/humidity)
2- CHAUVIN TRADING POST

The Chauvin Trading Post is a replica of Canada's first fur trading post, which was built in 1600 by Pierre Chauvin de Tonnetuit. The museum hosts exhibits explaining the fur trade between the Montagnais Indians and the French.
3- SAND DUNES

The dunes sector of the park offers exceptional views of the St. Lawrence. The dunes are in fact 2 immense marine terraces measuring 30 metres in height that stretch along the edge of the river. The impressive number of migratory birds in the sector led to the creation of the Tadoussac Ornithological Observatory (OOT). From August to October, large numbers of birds of prey and sparrows can be seen.
NEARBY
ATV excursion
Hop aboard your ATV (quad) and explore a mountain trail with breathtaking views of the majestic Saguenay Fjord (Duration: 1:30). It is best to book ahead of time: ask your travel specialist.
Via Ferrata
Scale a steep mountain cliff high above the fjord while safely strapped in by a harness. Experience the freedom of the mountain at a height of 200 metres!
Village of Ste-Rose-du-Nord**
Sainte-Rose-du-Nord (462 residents) is a member of the Association of the Most Beautiful Villages of Quebec, and for good reason. A 75-minute drive from Tadoussac via Route 172 on the north bank of the fjord, this charming village is tucked into the hollow of a cove, between 2 rocky escarpments, on the banks of the majestic fjord.
Where to eat
$ Économique
$$ Budget moyen
$$$ Bonne table
$$$$ Gastronomique
WHERE TO EAT
Chez Mathilde
($$$)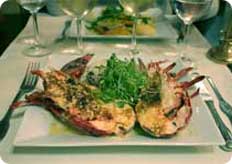 Warm atmosphere and DELICIOUS meals. Be sure to try the Cote Nord snow crab, oysters, brandade de morue, chai chocolate and creme brulee cup. Live music in the evening on piano and double bass. We strongly recommend making a reservation. Sumptuous breakfasts, a bistro lunch menu and gourmet dinners.
227 Rue des Pionniers 418-235-4443
Boulangerie À l'Emportée
Coop
($)
The village bakery serves excellent sandwiches, healthy salads and pastries made with local wild berries. Just the thing for a picnic at Pointe de l'Islet or in the sand dunes.
164B Rue Morin 418-235-4752
Le Casse-croûte du Connaisseur
($)
Small snack bar built inside an old bread delivery truck. The best French fries in town... and possibly the best in Quebec, according to Moutarde Chou, a book on the best snack bars of Quebec.
452 Rue du Bateau-Passeur (sur la route 138) 418-235-4402
Le pick-up grillé
($$)
A small restaurant with a charming patio overlooking Tadoussac Bay and the marina, offering grilled cheese sandwiches and hamburgers made with Quebec cheeses. Don't miss the warm potato chips!
139 Rue du Bord de l'Eau 418-235-1420
Café Bohème
($)
The place to go for a good cup of coffee and a decadent dessert - located in the old general store dating back to 1892.
239 Rue des Pionniers, 418-235-1180
Road trip
Location
Climograph
Very Favourable
Favourable
Unfavourable
Month
Average temperature
min (°C)
Average temperature
max (°C)
Precipitations
(mm)
Overall score
January
-17
-7
55
February
-15
-6
59
March
-9
-1
60
April
-2
7
62
May
4
15
77
June
9
20
91
July
12
23
86
August
12
22
84
September
7
17
78
October
2
10
74
November
-4
3
49
December
-12
-4
83