Top 10 hikes in the Canadian Rockies
The Canadian Rockies are a true hikers' paradise!
If you're planning a Western Canada road trip, you'll probably find yourself with hundreds of trails to choose from, not knowing which ones suit your skill level or itinerary.
Have no fear, here are our top 10 Rocky Mountain hikes to help you decide!
 
#1- Alpine Loop (Lake O'Hara)
Yoho National Park
Distance: 10.6 km (round-trip) 
Elevation gain: 886 metres 
Time: 4 to 6 hours
Level: moderate

The Alpine Loop at Lake O'Hara is no walk in the park, but it's one of those trails that are beautiful from start to finish.  
Since it is a loop, it can be done in either direction, but I recommend going clockwise.  
This will allow you to put most of the climbing behind you at the beginning of the hike.  
Indeed, you will climb 490 metres in less than a kilometre, via a series of steep bends. 
But this effort will soon be rewarded by the sight of numerous glacial lakes and soaring peaks. 
Lake O'Hara is one of the most beautiful lakes in Western Canada. You will quickly understand why!
A network of side trails allow you to modify your route as you make your way around the loop. 
The different trails are clearly marked, and there is something for everyone. Don't miss Lake Oesa  and Hungabee Lake . 
#2- Tent Ridge Horseshoe 
 Kananaskis Country
Distance: 10.9 km 
Elevation gain: 852 metres 
Time: 4 to 6 hours
Level: difficult

The Tent Ridge Trail is challenging, but it culminates in a postcard-worthy vista. 
It begins in the forest for about 45 minutes, and then the beautiful scenery begins... but there's a price to pay! 
Coming out of the forest, a steep trail leads up some scree. The next section can be a little nerve-wracking, as the path is narrow and close to the cliff edge.  
Needless to say, this trail is not for anyone with a fear of heights! 
The path that heads up to the highest peak on Tent Ridge  is steep and largely follows the ridge. At this height, the views are breathtaking, no matter what direction you look.
Take care to stay on the marked trail, but stop often and look behind you.  
The views are simply incredible! 
GOOD TO KNOW! 

If you're not a confident hiker, it is possible to cheat and hike up from the parking lot in reverse to get the incredible views, without doing the entire Horseshoe along the ridge.
#3- Piper Pass 
 Kananaskis Country
Distance: 22.3 km 
Time: 7 to 9 hours
Elevation gain: 978 metres
Level: difficult

Piper Pass is a hike that can be shortened or lengthened according to your fitness level and available time, as there are plenty of nice stops along the way that make for an enjoyable, but shorter, adventure. 
As it is not very busy, you can expect a peaceful hike and may even encounter wildlife along the way!
Your first stop will be Elbow Lake , a clear lake whose still surface provides a beautiful reflection of the surrounding mountains. 
The trail continues along the Elbow River to Edworthy Falls . It then goes down into the forest until reaching Piper Creek  and the Elbow River, which you will have to ford with the help of good water shoes or logs.  
After more of a climb through the trees, you will reach a large alpine meadow .  
You'll need to decide if you're up for the last 250 metres, which have an elevation gain of more than 100 metres.  
But once at the top, you'll be rewarded with the feeling that you're on top of the world!
#4- Pocaterra Ridge 
 Kananaskis Country
Distance: 12 km 
Elevation gain: 985 metres 
Time: 5 to 7 hours
Level: difficult

Pocaterra Ridge is a one-day hike that can be tackled in either direction. 
However, I recommend starting at Highwood Pass parking lot and finishing at Little Highwood Pass. 
You will need to organize a car shuttle to get back to the parking lot and your Canadian rental car, but you will save a 280 metres of elevation gain, which is well worth it. 
While the trail is well defined for 90% of the hike, it has some wooded sections that can be muddy. Keep this in mind when planning your wardrobe for the day.
As the name indicates, the Pocaterra Ridge trail follows a mountain ridge. There are four summits to climb along the ridge; luckily the first one is by far the hardest!
Parts of the trail are steep and rough. Some people may feel more comfortable using hiking poles.
One last piece of advice: hike this trail in the fall, when the colours are simply spectacular.
#5- Plain of Six Glaciers Teahouse 
Lake Louise 
Distance: 13.8 km round-trip
Time: 5 to 7 hours
Elevation gain: 588 metres
Level: moderate

Did you know that there is more than one tea house in Lake Louise ? While most visitors are familiar with Lake Agnes Teahouse , the Plain of Six Glaciers trail has its own tea house!
The trail leading to the Plain of Six Glaciers Teahouse will take you past Mount Lefroy , Mount Victoria  and Victoria glacier . It offers exceptional views, a good chance of seeing wildlife (groundhogs, chipmunks, squirrels, pikas, mountain goats and grizzly bears) and, of course, the promise of a good cup of tea as a reward.
The first half of the trail largely follows the shore of Lake Louise and is quite straightforward. The second part features almost 400 metres of elevation gain and several types of terrain. 
Nevertheless, the trail is suitable for anyone with an average level of physical fitness. You will cross a narrow valley towards Mt. Victoria and Mt. Lefroy, and then climb to the top of the ridge. 
Looking back, you will have lovely views of Lake Louise and the Fairmont Chateau Hotel . 
Only the last series of switchbacks as you approach the teahouse are significantly more difficult. But the reward is well worth the effort!
The Plain of Six Glaciers Teahouse is open from 9 a.m. to 6 p.m. in July and August and 9 a.m. to 5 p.m. in June, September and October, weather permitting. If you are travelling during these months, be sure to check whether the teahouse is open. 
#6- Johnston Canyon 
 Banff
Distance: 5 km round-trip, 11 km round-trip for the Ink Pots
Time: 2 hours, 4.5 hours for the Ink Pots
Elevation gain: 120 m, 330 m for the Ink Pots
Level: easy

The Johnston Canyon Trail is a must when visiting the Canadian Rockies. It is one of the first stops along the Icefields Parkway between Banff and Jasper.
It is also an easy hike that is suitable for all levels, even children.
Plus, there are several options. The trail to the Lower Falls  is about 1.2 km long.
This trail is well marked, safe, and offers several interpretive signs.
The second, less crowded, part of the hike is Upper Falls , which you can reach by backtracking a bit and taking the stairs near Lower Falls.
A 1.3 km trail leads up through the forest. At this point, most visitors will have turned back.
If you have a little more time to spare, you can keep going to the Ink Pots , 3 km further on.
While this last part of the hike is more challenging, it will lead you to several pools of coloured mineral springs bubbling up in a meadow.
#7- Smutwood Peak 
 Kananaskis Country
Distance: 17.9 km (round-trip)
Elevation gain: 782 metres 
Time: 7 to 9 hours
Level: moderate

Climbing to the top of Mount Smutwood is an adventure in itself!  
This is a full day hike that you won't quickly forget. If you are spending a few days in Jasper , I highly recommend it.
After making your way through the brush, the steep hike up to Smuts Pass begins. After less than an hour, the spectacular scenery begins as Lower Birdwood Lake , Commonwealth Creek Valley and Mount Smuts  slowly but surely come into view! 
The hike continues at an easier pace until the final 100 metres. However, it is important to note that the trail is not clearly marked, so please pay attention. After a final effort, the views from the summit are simply spectacular!
To the south, Mount Birdwood , rugged alpine terrain, glaciated Mount Sir Douglas , and the emerald-blue Birdwood Lakes . To the west, the Spray River Valley and other towering peaks. To the northwest, the impressive Mount Assiniboine . 
And, of course, Mount Smuts, surrounded by the peaks of the Spray  and Kananaskis  ranges. 
#8- Sulphur Skyline 
Jasper 
Distance: 7.7 km 
Time: 3 to 5 hours
Elevation gain: 649 metres
Level: moderate

Unlike other similar hikes, the Sulphur Skyline trail is clearly marked.  
It is a fairly constant climb all the way up, with just one junction approximately halfway up the trail where you should turn right. 
Finally you will emerge above the tree line and see the dome in the distance. This last section up to the summit is the steepest.
At the top, you will enjoy views of countless mountains and valleys and a picturesque river .  
The most spectacular are Utopia Mountain  to the south, Mount O'Hagan  to the southwest and Slide Mountain  to the southeast.  
Note that there are strong winds at the top, so bring a windbreaker and warm clothes if you tend to get chilled easily!  
After the hike, stop to enjoy a dip at nearby Miette Hot Springs . They are one of our must-see attractions in Jasper National Park!
#9- Peyto Lake 
Banff National Park
Distance: 2.7 km 
Elevation gain: 115 metres 
Time: 2.5 hours
Level: easy

Good news: not all the most beautiful trails are difficult! The one leading to Peyto Lake  is proof of that.
You have probably seen the iconic photo of Peyto Lake. It's one of the highlights of Banff  National Park.
This trail is easily accessible and suitable for families.
It's a short tour that offers stunning scenery. 
While this may seem too good to be true, it does come with a downside. 
The trail is extremely popular and can be very crowded.
I recommend you go first thing in the morning to avoid the crowds, especially organized bus tours which tend to stop there in the early afternoon.
The trail to Peyto Lake is closed for improvements until August 2021. Keep this in mind if you want to see it at all costs!
#10- Indian Ridge 
Jasper
Distance: 8.8 km round-trip
Time: 3 to 5 hours
Elevation gain: 750 m
Level: moderate
 
Starting at the top of the Jasper SkyTram , this hike climbs Whistlers Mountain and continues along Indian Ridge . 
The first section is typically crowded, but it will be quieter as you continue over the peak, then down along Indian Ridge.
The trail to Whistlers Peak is just 1.2 km, and many visitors go back down after reaching it.  
For the more physically inclined, Indian Ridge will give you your money's worth.
You will see the path to your right. Upon arriving at the base of Indian Ridge, the path becomes extremely steep. It progresses up a scree slope – so watch your step!
You will pass over five humps, each progressively getting steeper and more challenging. The last of these is Indian Summit .
Don't take any uncalculated risks: the trail becomes increasingly difficult, and most hikers don't make it as far as Indian Summit. But don't worry, the most stunning views are found along the first part of the hike.
Don't forget your Skytram ticket for the way down!  
Map of the10 most spectacular Canadian Rockies hikes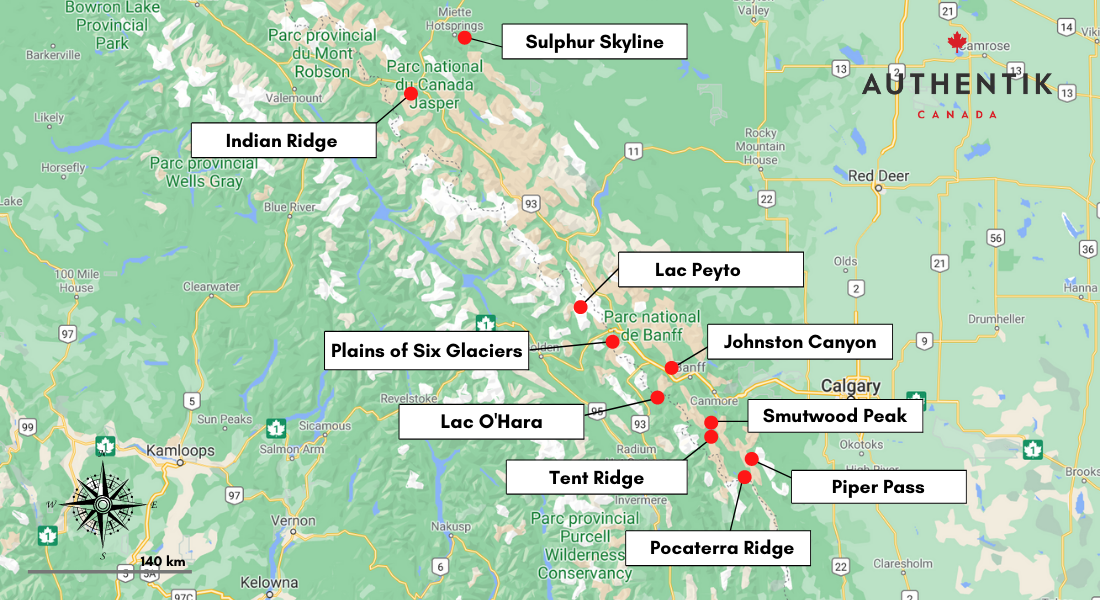 And that concludes our top 10 Rocky Mountain hikes. 
Have something to add? Don't hesitate to share your thoughts in the comments below!