Top 5 sugar shacks in Quebec
For us Canadians, the most traditional manifestation of the return of the beautiful weather is the tasting, in all of its forms, of maple products at the sugar shack.
The typical shack is usually built in the heart of the forest, in order to collect maple water in the spring and turn it into syrup.
From mid-March to mid-April, there are several maple groves that welcome visitors and locals to their tables for a traditional Quebec meal, obviously covered with maple syrup.
That said, as the majority of tourists arrive here once the snow has melted, some are open during the summer season, on reservation only, in order to introduce one of our oldest traditions to foreign visitors.
Here is the list of the 5 best sugar shacks in Quebec, ready to welcome you on your next Quebec road trip, even if you are visiting during the summer!
 
Locating the 5 best sugar shacks in Quebec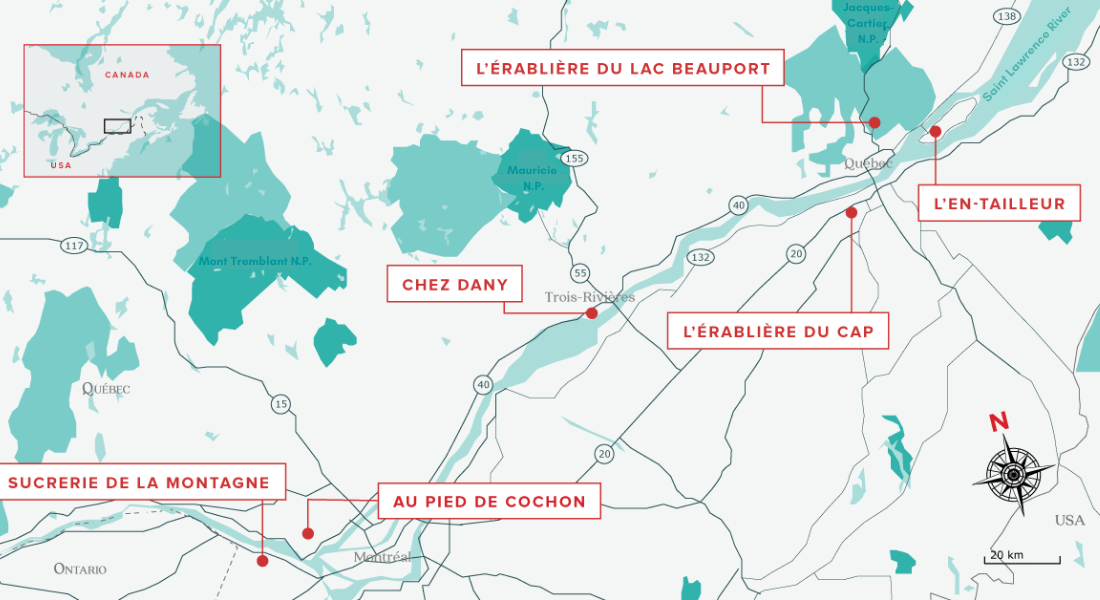 #1. Sucrerie de la Montagne 
Location : Rigaud
Recognized as a Quebec Heritage site, this sugar shack is located roughly an hour from Montreal , at the heart of a forest of century-old maple trees.
The sugar shack, open since 1978, is absolutely magnificent and the decoration is very tasteful.
The founder, Pierre Faucher, and his son Stefan welcome guests for a real cultural experience. The harvesting of maple sap, as well as the transformation of maple sap into syrup, are carried out according to the traditional methods.
Pierre, affectionately known as "Santa Claus" - you can guess why - is part of the decor. He is a unique, colorful and very charismatic character.
In fact, don't hesitate to ask your hosts for a guided tour of the maple syrup facilities and the fieldstone bakery.
On the menu, and in an all-you-can-eat formula : pea soup, crusty french bread, maple-smoked ham, baked beans, omelet, country-style sausages, meatball stew, "oreilles de crisse", mashed potatoes, pie, ketchup with homemade fruits and marinades.
Save room for dessert, as it consists of sugar pie and maple syrup pancakes. You won't want to miss it!
#2. Érablière du Cap 
Location : Saint-Nicolas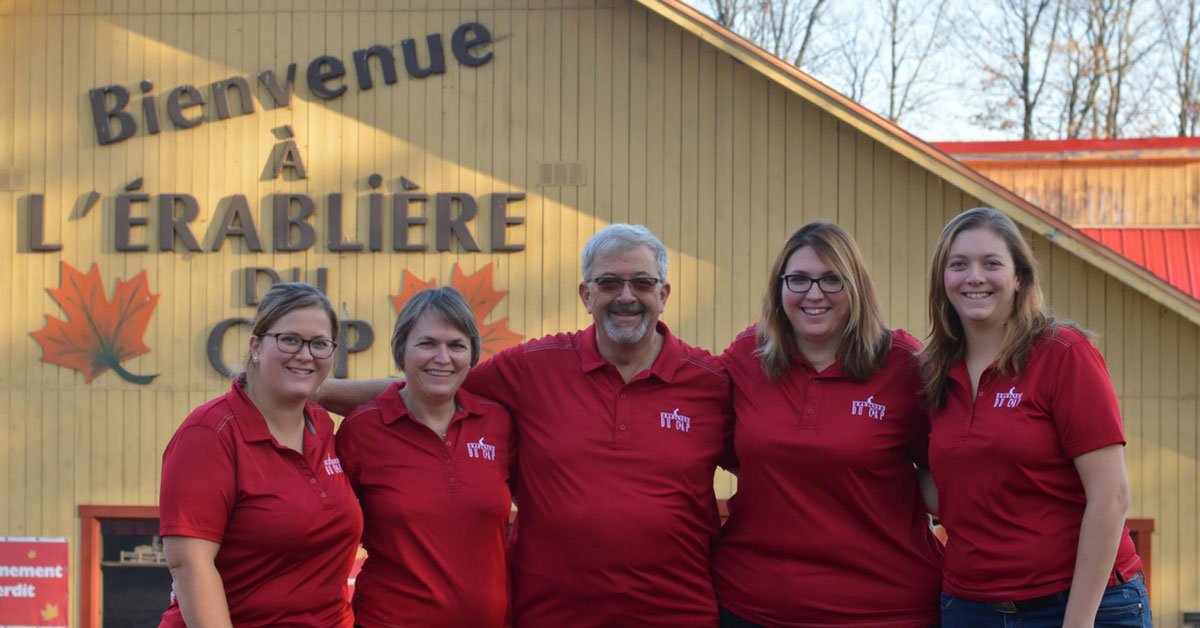 In business since 1984 and located about thirty minutes from Old Quebec , the Érablière du Cap is run by the Tardif family for whom maple is no longer a secret.
For 11 generations, the family has passed on and has refined the basics of syrup making.
Year round, the owners are happy to share this Quebecois tradition with people from all over the world.
On the menu, once again in an all-you-can-eat formula : marinades, pea soup, hash browns, beans in maple syrup, "oreilles de crisse", sausages in maple syrup, meat pie, omelet and pancakes.
After the meal, your hosts will take you on a tour of the facilities, and will also use it as an opportunity to have you taste the famous maple taffy on snow.
#3. L'En-Tailleur 
Location : Île d'Orélans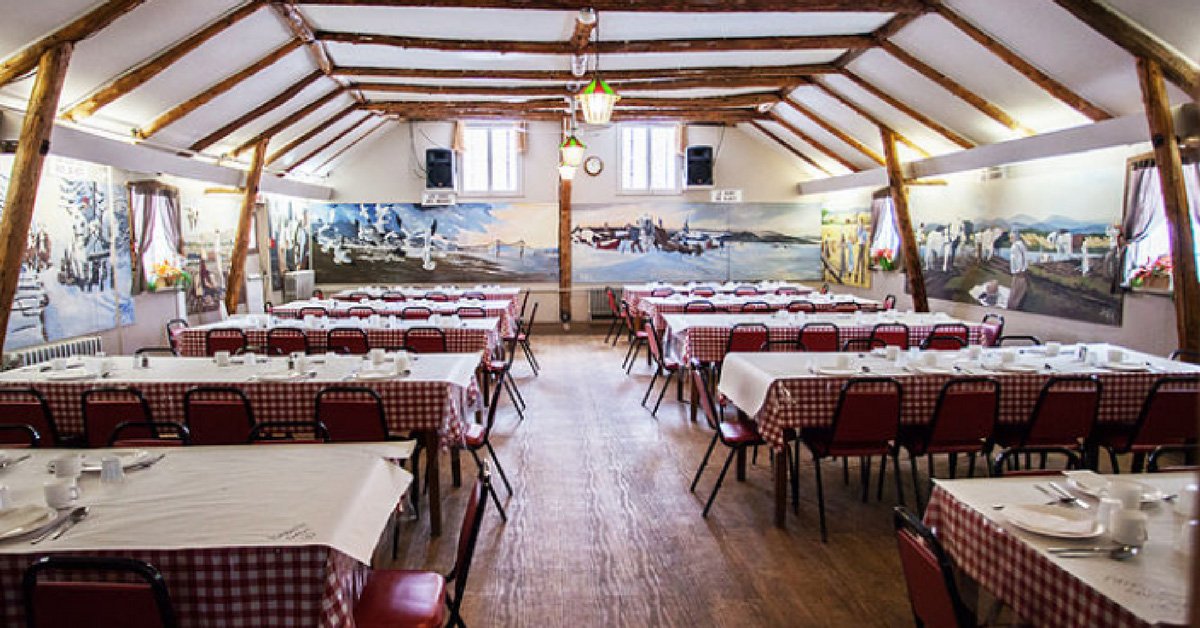 Established for more than eight generations on Île d'Orléans  (a real gem you need to discover during your Quebec travel), l'Érablière l'En-Tailleur is run by the Tailleur family. 
Located in the heart of the parish of Saint-Pierre  in a truly enchanting natural setting, the sugar shack offers a typical traditional menu: marinades and homemade fruit ketchup, house bread, pea soup, maple ham, meat pie, baked beans, seasoned potatoes, "oreilles de crisse", scrambled eggs in syrup and pancakes.
After the meal, in summer as in winter, the true sugar fanatics will certainly want to taste the taffy on snow.
You will quickly be charmed by the warm welcome from the owners, who are extremely friendly. They will be more than happy to discuss with you and teach you as much as possible about our ancestral roots.
#4. Érablière du Lac-Beauport 
Location : Lac-Beauport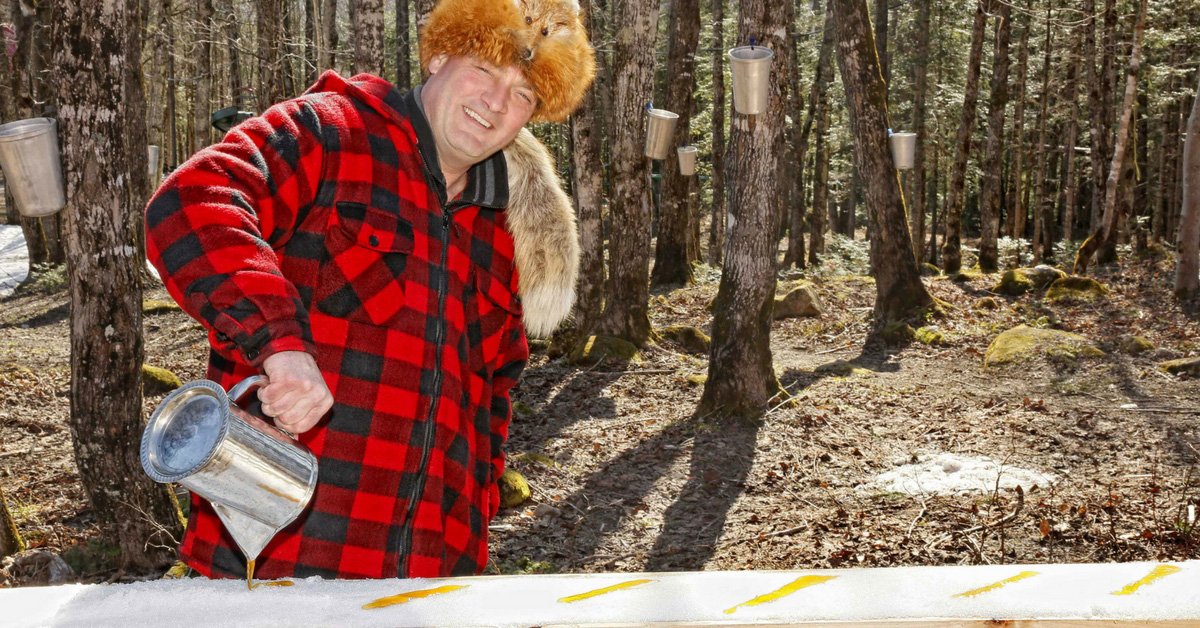 For over 150 years, the Lessard family has kept one of Quebec's greatest traditions alive. We can say that the sap flows through the veins of the family!
If you are spending a couple days in Quebec city, a short 20-minutes drive will get you to Érablière du Lac-Beauport offers tourists visiting us in the summer the chance to learn more about some of the oldest traditions of La Belle Province.
The site has two museums : one on the evolution of maple syrup, from its Native American origins to the present day, as well as an interpretation center on Quebec's fauna.
The guided tour of the animal museum will allow you to demystify the different techniques used by Quebec trappers. Be prepared, as there are taxidermied animals. It is certainly not for everyone!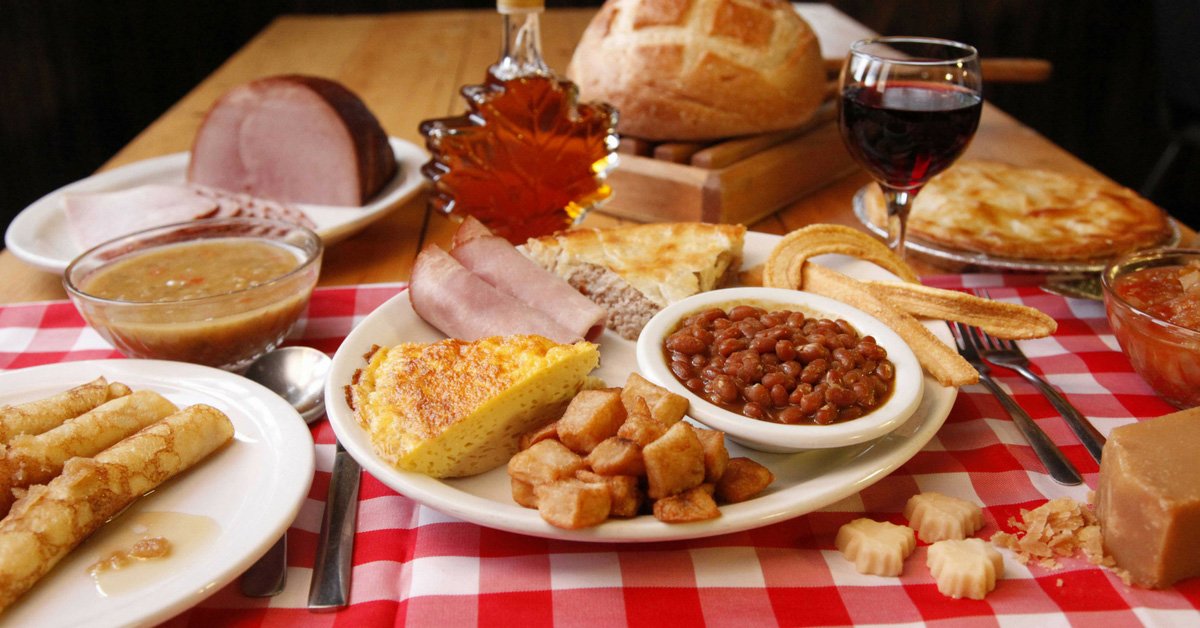 But above all, we still visit the sugar shack to eat, don't we?
So on the menu here, you will find : pea soup, hash browns, homemade ketchup, baked beans, "oreilles de crisse", sausages, meat pie, baked omelet, pancakes, sugar pie and of course, taffy on snow !
You will enjoy feasting to the sound of local folk music. Be prepared, as they might even want to teach you a few traditional dance moves.
#5. Chez Dany 
Location :  Trois-Rivières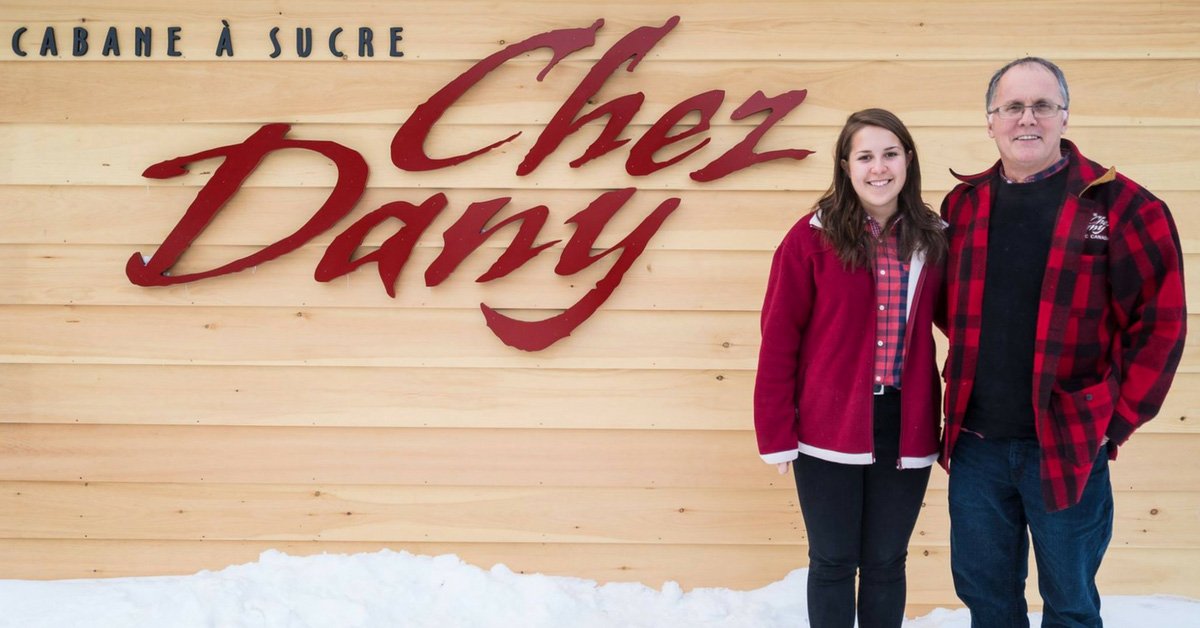 If you are visiting Montreal and Quebec City, Chez Dany sugar shack is halfway between the two cities! It is definitely one of the most frequented in the province.
That being said, despite its great popularity, it bears no resemblance to large commercial sugar bushes and is internationally recognized for its excellent service.
Guests are received by Dany and his team in a charming country setting, and in a warm, typically Quebecois atmosphere.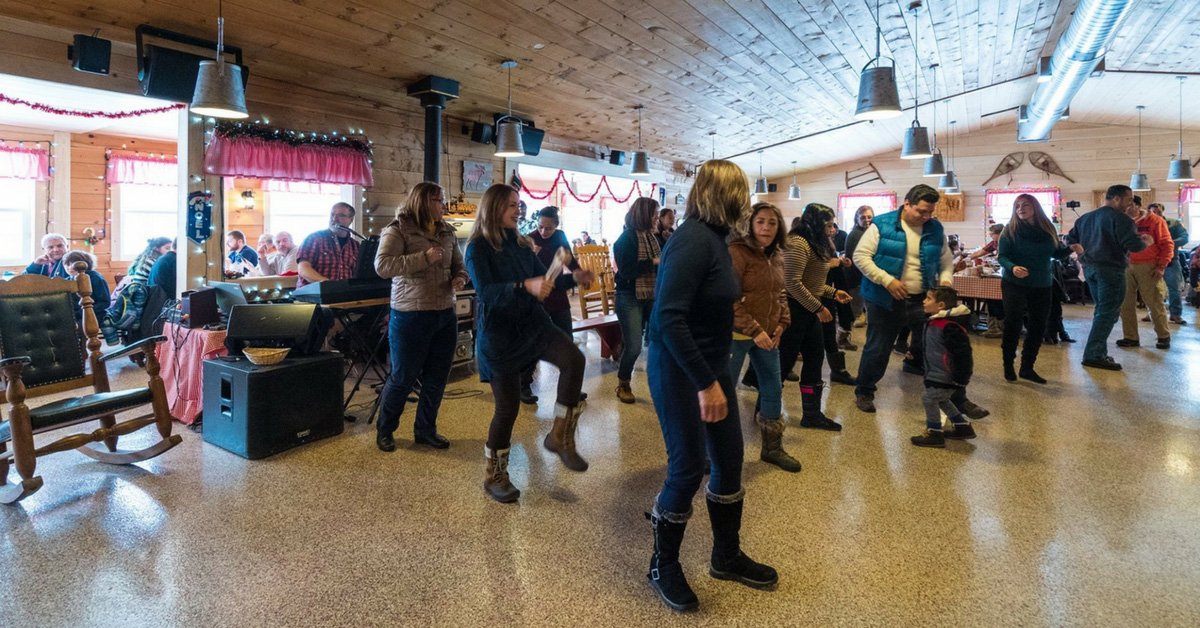 At the table, prepare to feast on: pea soup, baked beans, "oreilles de crisse", maple-smoked ham, marinated beets, meat pie, baked omelet, and pancakes with maple syrup. And yes, you can have more than one serving of each! 
Your meal will be accompanied by folk music, performed by traditional musicians.
On site, you will also find a guided tour on the interpretation of the maple syrup transformation process and taffy on snow tasting.
Bonus : Au Pied de Cochon 
Location : Mirabel
Now, this one has nothing to do with traditional sugar shacks, and is open from mid-February to the beginning of May only.
If you are passing through Montreal (or the surrounding area) during this period, this is an unmissable high-end dining experience.
The Pied de Cochon sugar shack belongs to Martin Picard, Chef and owner of the renowned restaurant at Le Pied de Cochon .
Each year, Martin and his team reinvent the classics of the traditional sugar shack to impress epicurians, who will of course have reserved their place several months in advance.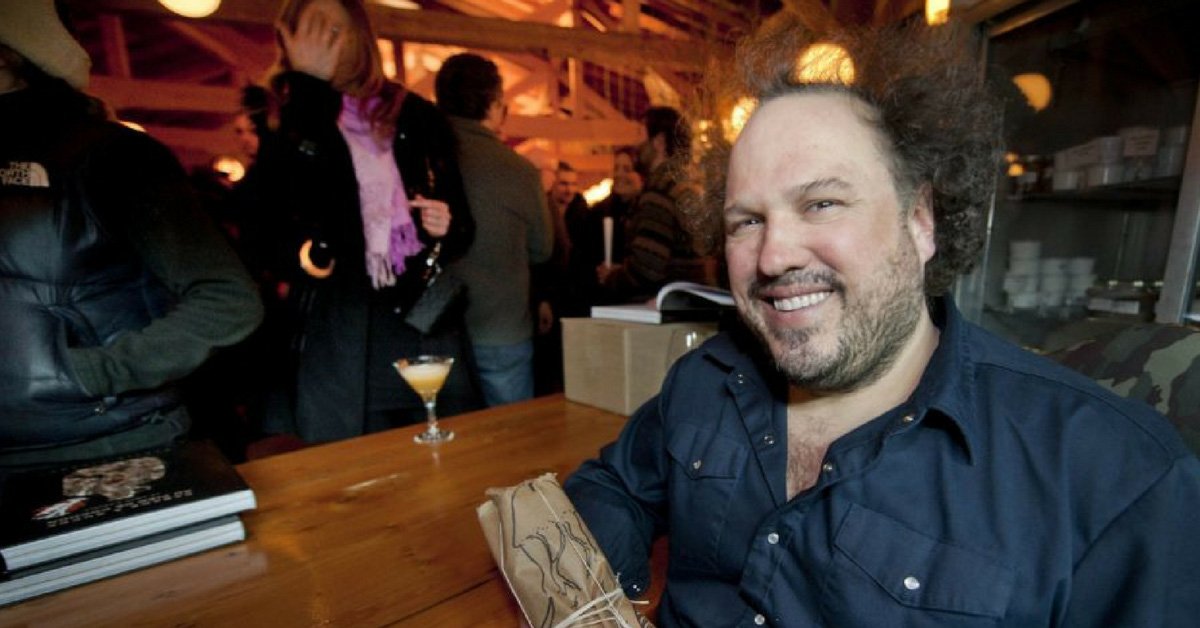 Arrive there on an almost empty stomach. Above all, do not stuff yourself with the first dishes, because you will be satisfied too quickly and will not be able to taste everything.
The portions are so excessive that "doggy bags" to-go are available to guests in order to avoid waste.
One thing is certain, your taste buds will remember it for a long time!
Word of advice: this is not the best place for children.
That concludes our top 5 sugar shacks in Quebec. 
Have you ever visited a sugar shack? If so, what did you think of it?
Please feel free to leave us a comment below.