The complete guide to whale watching in Tadoussac
Many of you dream of being able to see whales on your Canada self drive holidays.
Where to see whales? What is the best season? What to choose between boat, zodiac or kayak to observe these giant mammals?
Find all your answers in this guide to whale watching in Tadoussac.


Where to observe whales in Tadoussac ?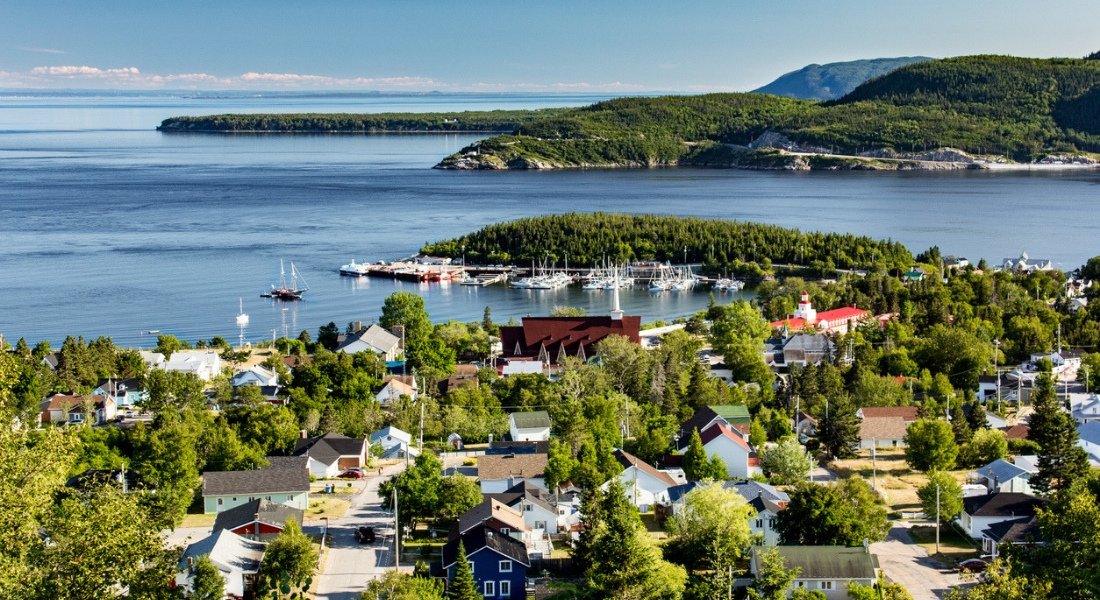 Tadoussac, in addition to being a charming village, is the primary destination for whale watching in Quebec.
Located at the limit of the Saguenay Fjord and the St. Lawrence River, whales find all the food they need here to stock up on their fat reserves for the winter.
Departing from Tadoussac, you will have several choices of cruises, whether aboard a large boat, a zodiac or even a kayak.
If you don't have the sea legs or if don't have the time to go on a whale watching safari, you still have every chance to see them from the shore.
In all cases, don't forget your binoculars!

How to observe whales in Tadoussac ?
 
#1. Whale watching by boat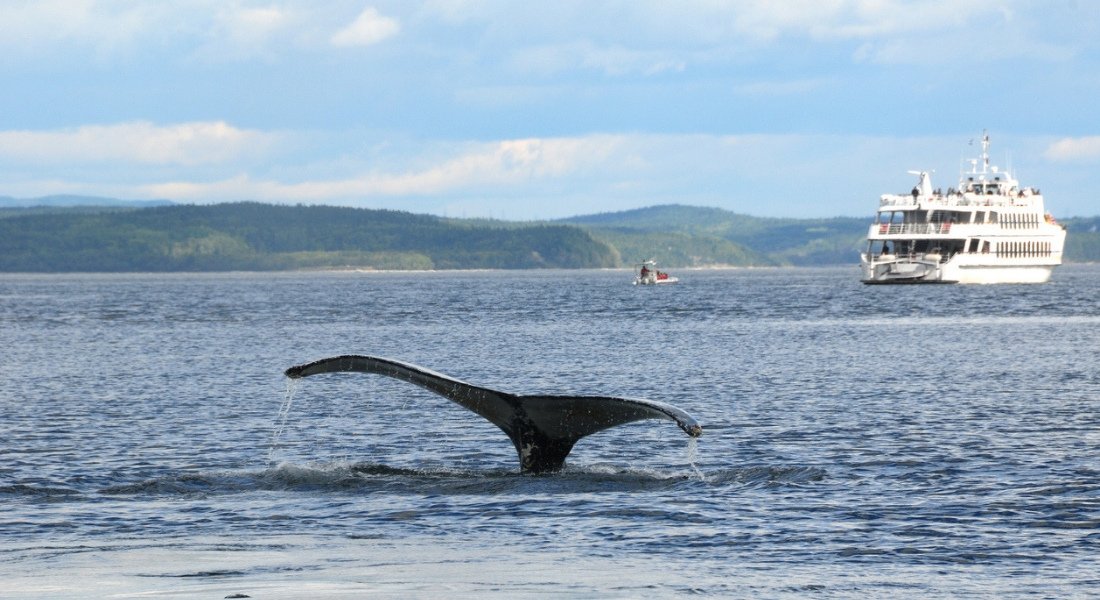 This whale watching boat tour is ideal for people who tend to be seasick as the size of the boat allows for a less choppy cruise.
We also recommend this option for families with young children because you can move around easily, go to the bathroom, have a bite to eat, choose to be outside or inside... etc.
The whale watching cruise departs from Tadoussac marina, but tickets can be purchased in the village. Ask the Tadoussac tourist office on your arrival if you have not already purchased your tickets online, they will tell you where to find the ticket office.
Some boats have an underwater camera, which gives you another perspective and allows you to see the whales directly in the water.
 Approximate duration of the cruise: 3 hours
#2. Whale watching by zodiac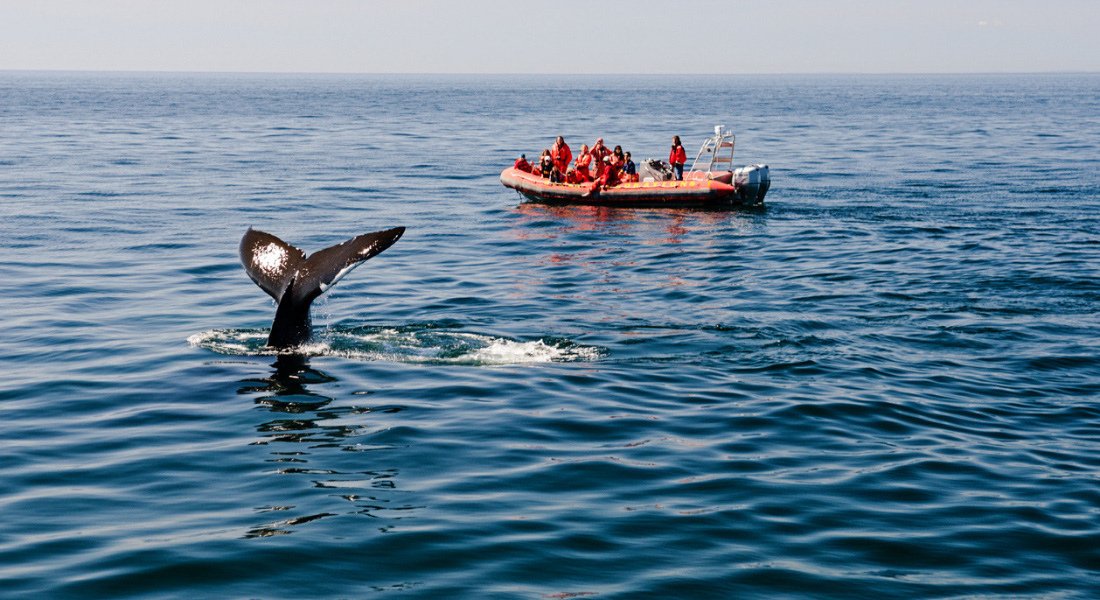 Departing from Les Escoumins, a nearby village, another type of excursion is available: this Quebec whale watching zodiac cruise offers a completely different experience.
A zodiac can approach within 200 meters of a whale that is not endangered or threatened.
This activity is not recommended for pregnant women and people with back, joint or autonomy problems, as the boat can hit the water pretty hard.
Children 2 and under are not accepted, and if you're seasick, the zodiac is probably not your best choice
.
 Approximate duration of the cruise: 3 hours
#3. Whale watching in a Kayak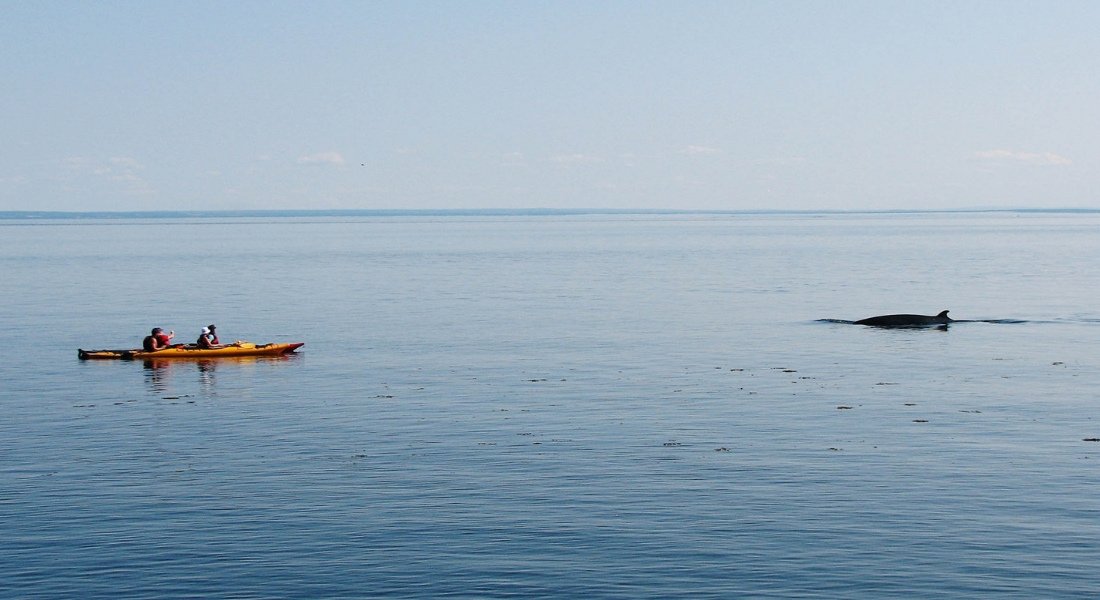 Whale watching aboard a kayak is certainly the most exciting, but also the most ecological way to observe marine mammals in Tadoussac.
With no surprise here, a minimum of physical fitness is required to partake in the activity. It will however be one of the highlights of your eastern Canada holiday.
Also note that departures are weather dependent. Indeed, the activity may be cancelled in the event of bad weather (rain or strong winds).
Several companies offer departures during the summer season. Don't hesitate to shop around for prices and different types of cruises to suit your needs.
 Approximate duration of the cruise: 3,5 hours
#4. Whale watching from the shore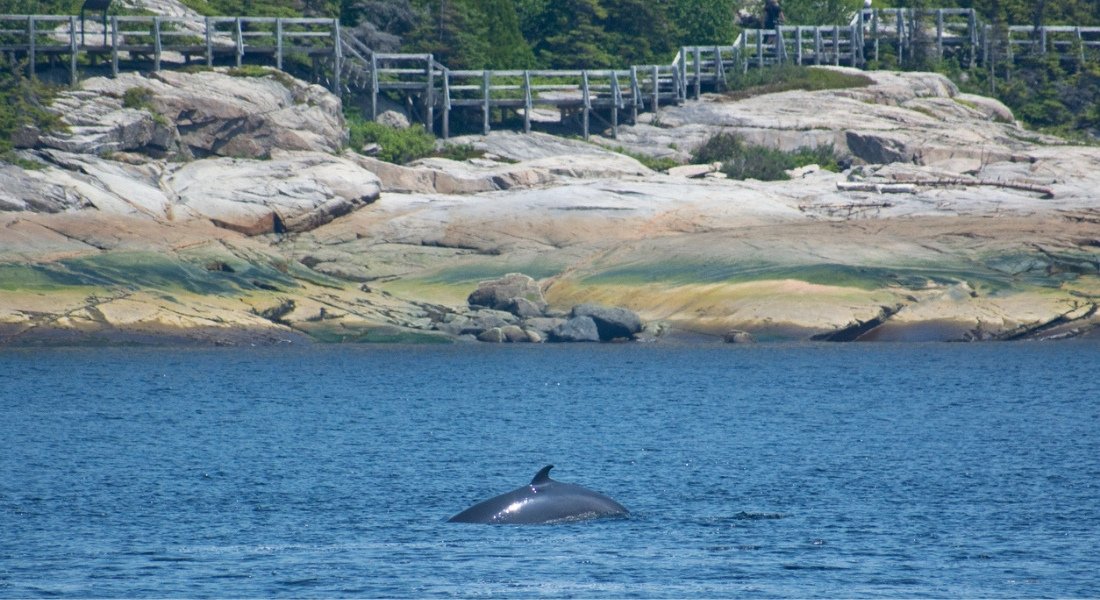 Can't take a cruise? It does not matter because you have all your chances of seeing whales in Tadoussac while staying on dry land.
In the village, the best place to see whales is undoubtedly the Pointe-de-l'Islet trail. The start is near the marina and the trail is very easy to access. Allow 20 minutes to complete it.
The shores of Cap-de-Bon-Désir near Les Bergeronnes and Baie Ste-Catherine are other great option for whale watching.
When can I see whales in Tadoussac ?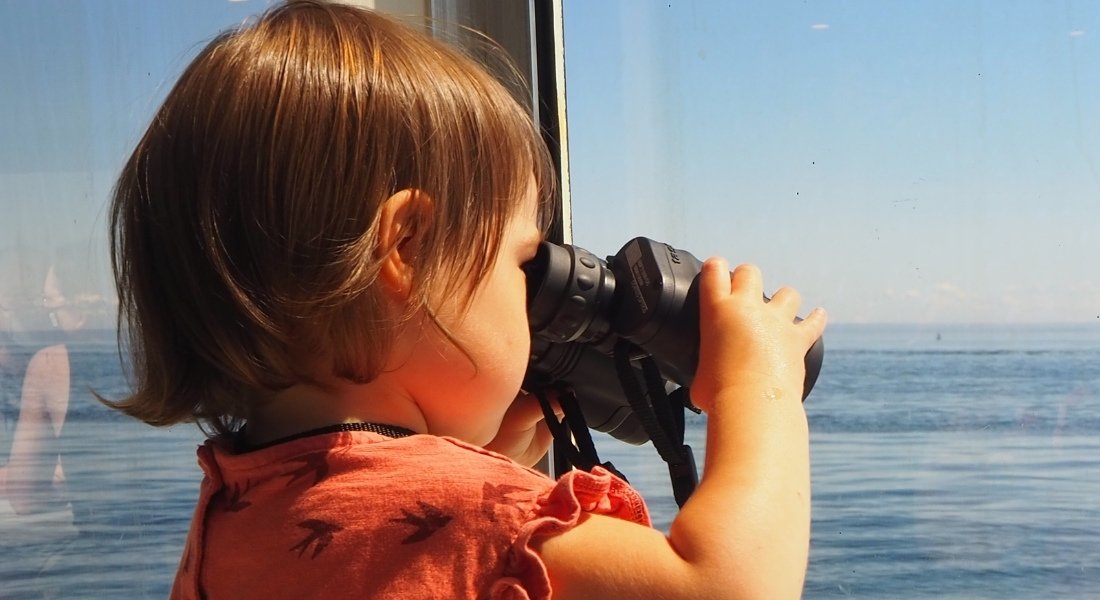 The whale watching season in Tadoussac begins in May and stretches until the end of October.
Whale sightings can vary during the summer as they track their food, but in recent years the trend has seen that they are more numerous and active in September and October. The months of July and August remain good choices.
There is no better time during the day to see these magnificent sea creatures. However, the busiest cruises are the mid-day departures. So if you can, opt for the morning depatures for a quieter experience.
Tips to locate whales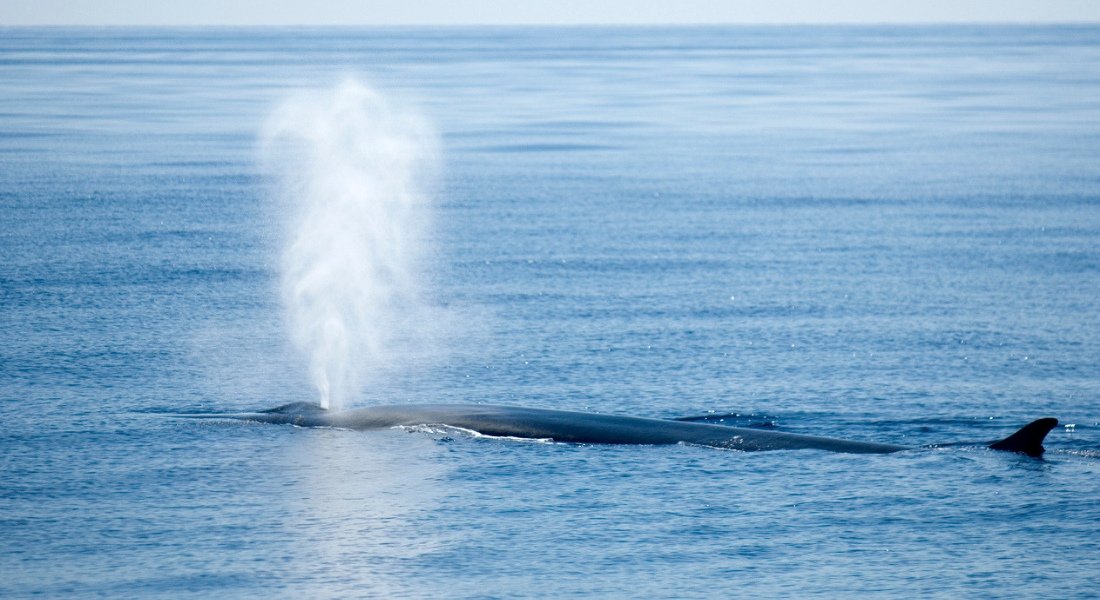 Form a team and sweep your eyes across the water. One person patrols with a pair of binoculars and the other with the naked eye.
Look for the whale breath that forms a white column above the water. It looks a bit like an explosion of water on the horizon.
Sometimes you will hear the sound of a whale's breath before you even see it.
From the first breath, you will have the chance to observe them a few times before they plunge back in for a few minutes.
Do I need to book my Tadoussac cruise in advance ?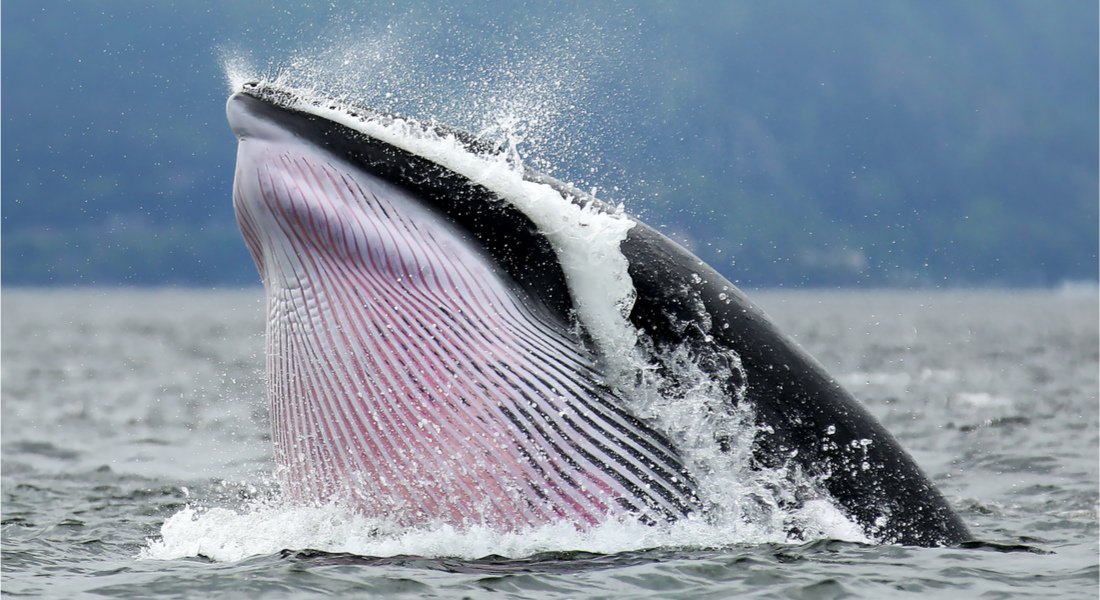 Going on a cruise to observe whales in Quebec will certainly allow for unforgettable moments. Obviously, the cruises are very popular and will fill in quickly during high season.
If you are visiting in July or August, it is preferable to book in advance to ensure availability. For the rest of the summer, you don't necessarily have to, but be prepared to have less departure options to choose from the day of. 
And there you have it!
If you have any questions or comments, please feel free to leave them in the comment box below.