What to do in Sandbanks
Ontario Parks are increasingly popular for Eastern Canada holidays.
Sandbanks is a real must-see with its fine sand beaches, which stand out from the usual park offerings.
If the beaches get the spotlight, other activities are also worth a detour. Here's what to do in or near Sandbanks!
 
Sandbanks Provincial Park map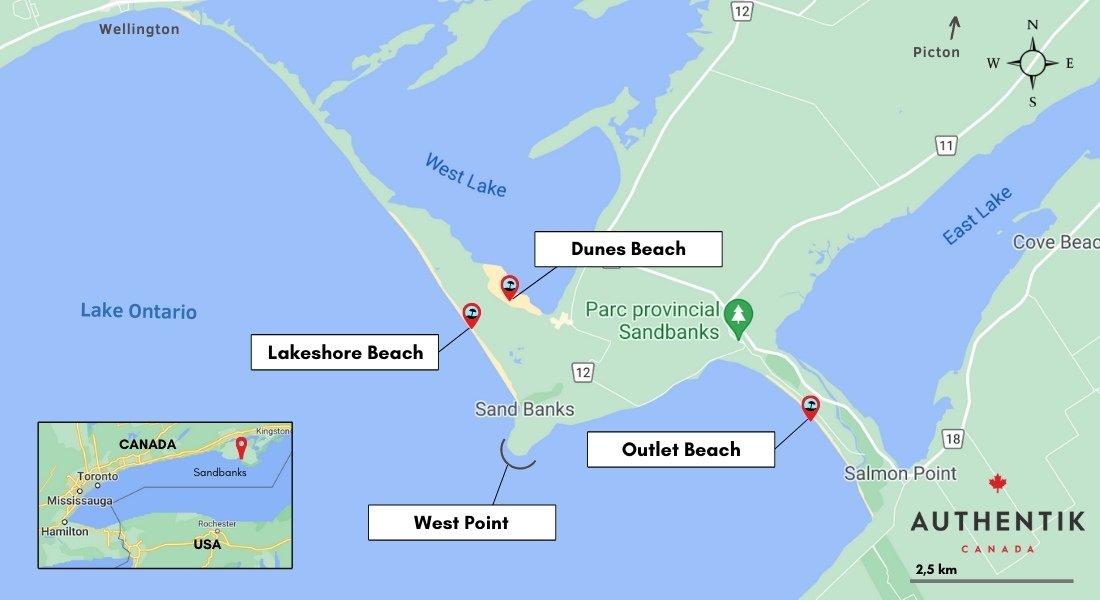 #1. What to do in the Provincial Park ?

Without any surprise, the main attraction of Sandanks Provincial Park is the beach.
You will have three options. Hiking is also a possibility on the park's easy trails.
A visit to the park is therefore very well suited to families!
 
Beaches 
Access to the beaches is permitted between 8:00 a.m. and 8:00 p.m. and access points can be found in all parking areas as well as on campsites.
You will have to pay the park entrance fee of $ 21 CAD per vehicle.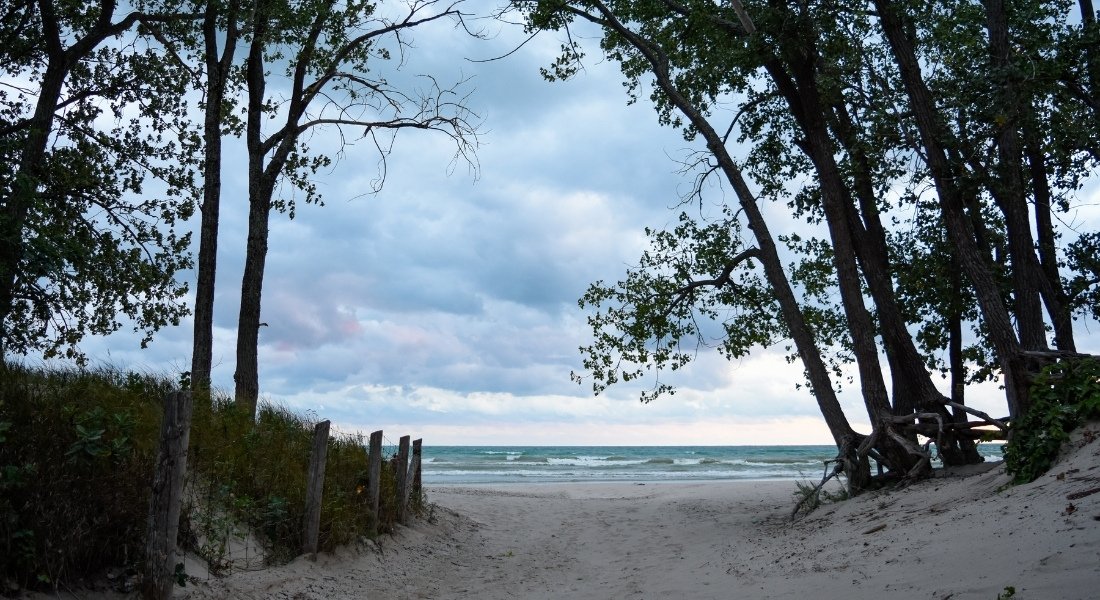 At all times, it is forbidden to camp on the beaches of the national park.
It is also important to note that no lifeguard is present on any of the beaches.
Fall and spring, access is rather easy. For summer days, the beaches are very popular and capacity is limited.
I recommend that you arrive before 9:00 am because the wait during high season can be anywhere from 45 minutes to 2 hours! You may also be asked to turn back around if the wait is deemed too long.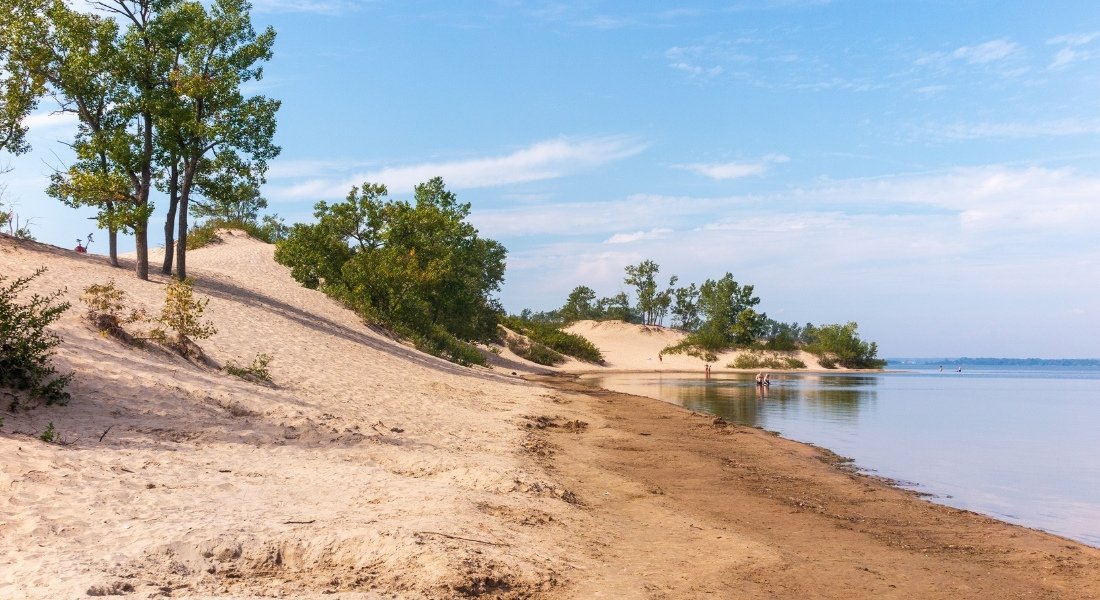 Dunes Beach 
Located on the shore of West Lake , Dunes Beach is in my opinion the most beautiful beach in the park.
Since the waters are shallow and protected from strong winds by the dunes, the water temperature is very pleasant for swimming, as early as May.
The swimming area is clearly delimited by floating ropes hung on buoys. It is important to respect these limits, because the lake becomes much deeper steeply a few meters further.
At Dunes Beach you will find complete toilets, a children's play area, a snack bar as well as several picnic tables and barbecues.
Everything to spend an entire day at the beach!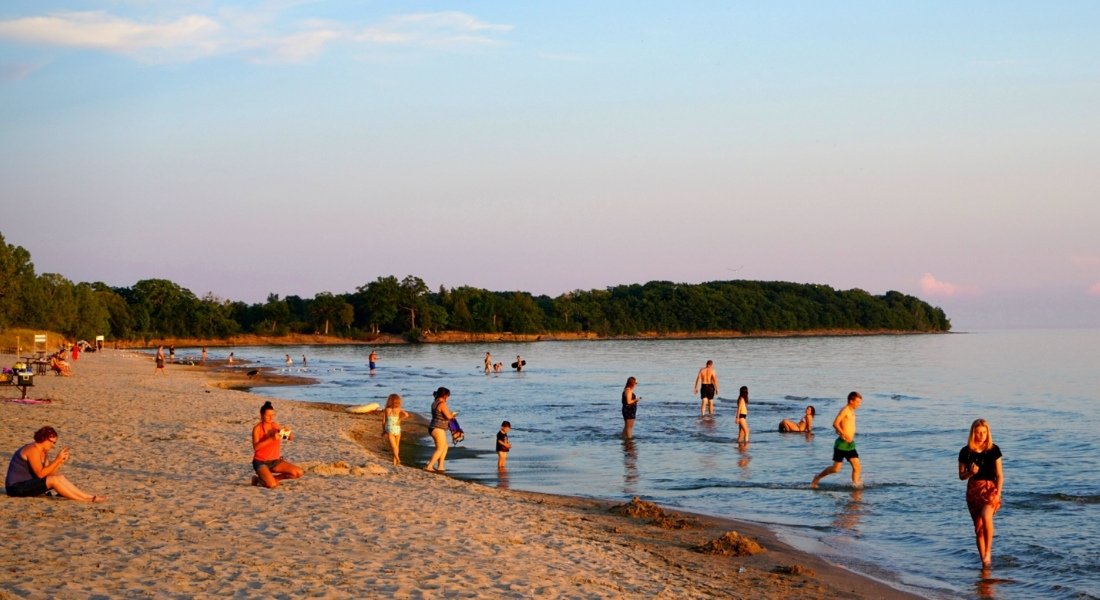 Outlet Beach 
Outlet Beach is located on the shore of Lake Ontario and is the most popular beach in the park.
This is not surprising because its two kilometers of fine sand slopes gently towards the water, which makes it very attractive to families with young children.
A section also allows pets. You will find it at the south end, near Outlet river.
Outlet Beach is a prime spot for sailing sports, so do not be surprised if you spot a few sportsmen!
On site, you will have access to complete toilets as well as several picnic tables and barbecues.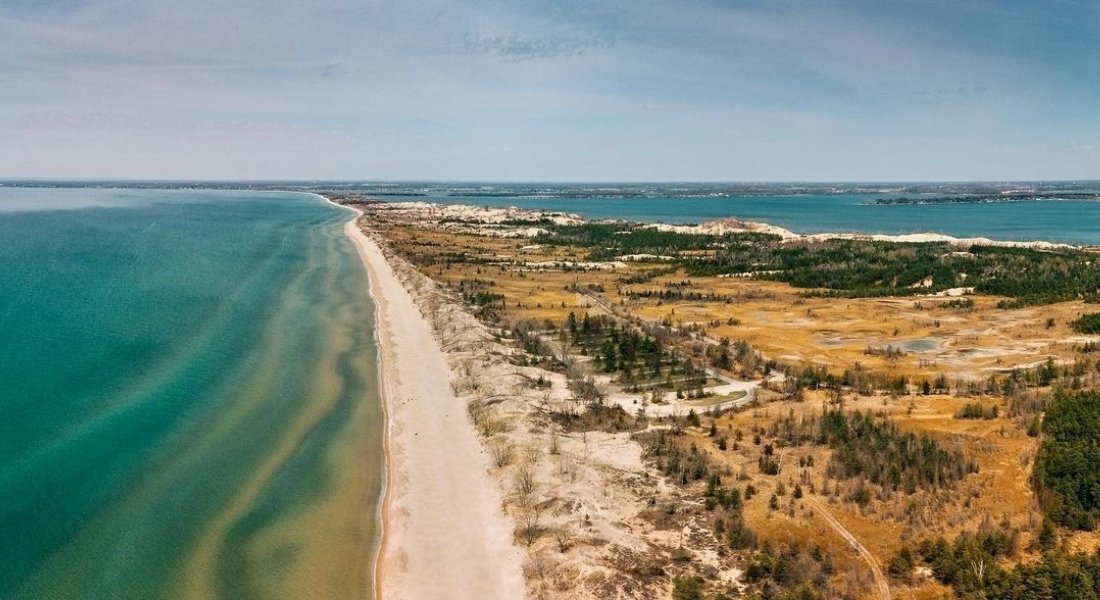 Lakeshore Beach 
Also on Lake Ontario, Lakeshore Beach is the longest beach in the park.
It stretches from Wellington to West Point.
Much less serviced than the other beaches, it is less frequented by tourists.
There are mostly windsurfing enthusiasts and locals enjoying Lake Ontario in their watercraft.
Lakeshore Beach only has chemical toilets on site, so plan ahead!
 
Hiking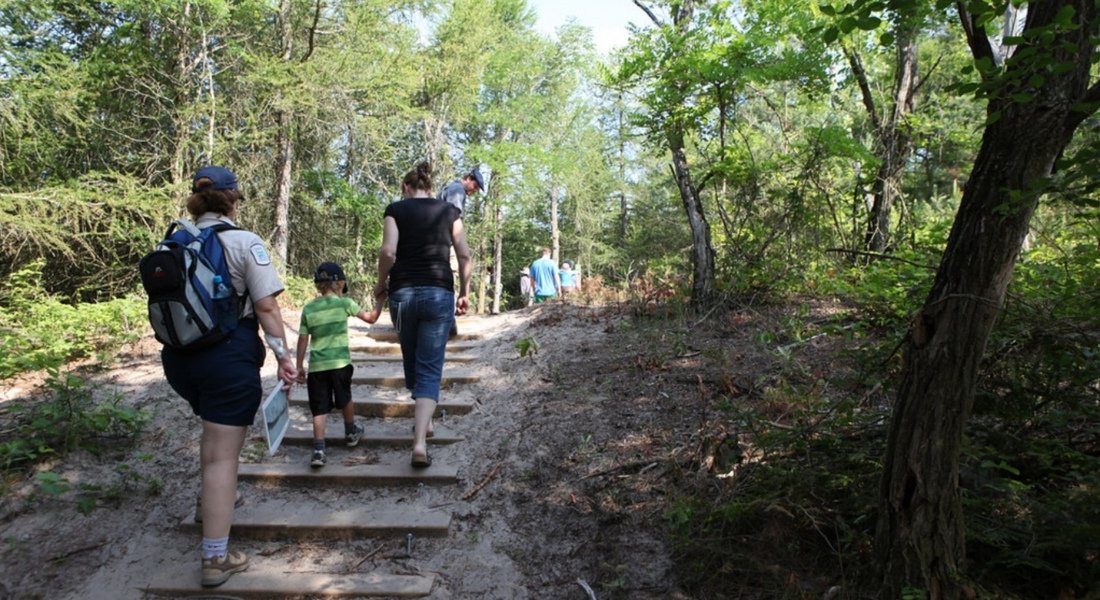 You will find a couple of hiking trails in the park.
While these aren't particularly long, they're a nice alternative when you want to stretch your legs a little.
 
Cedar Sands Nature Trail 
Distance: 2 km 
Elevation: 13 m
Difficulty: Easy 

The Cedar Sands Nature Trail is an interpretive loop trail along the Oultlet River totaling 12 stops, including two lookouts with beautiful views of the marsh.
Guides are available to accompany you, either at the trailhead or at the Friends of Sandbanks gift shop.
 
Sandbanks Dunes Trail 
Distance: 2,5km round-trip 
Elevation: 17 m
Difficulty: Intermediate

This hike is arguably Sandbanks's best-loved as it winds its way through sand dunes past several pannes, low areas between dunes also known as dune swamps.
These are wetlands that are home to the most unusual flora and fauna, which only adds to the charm of the hike.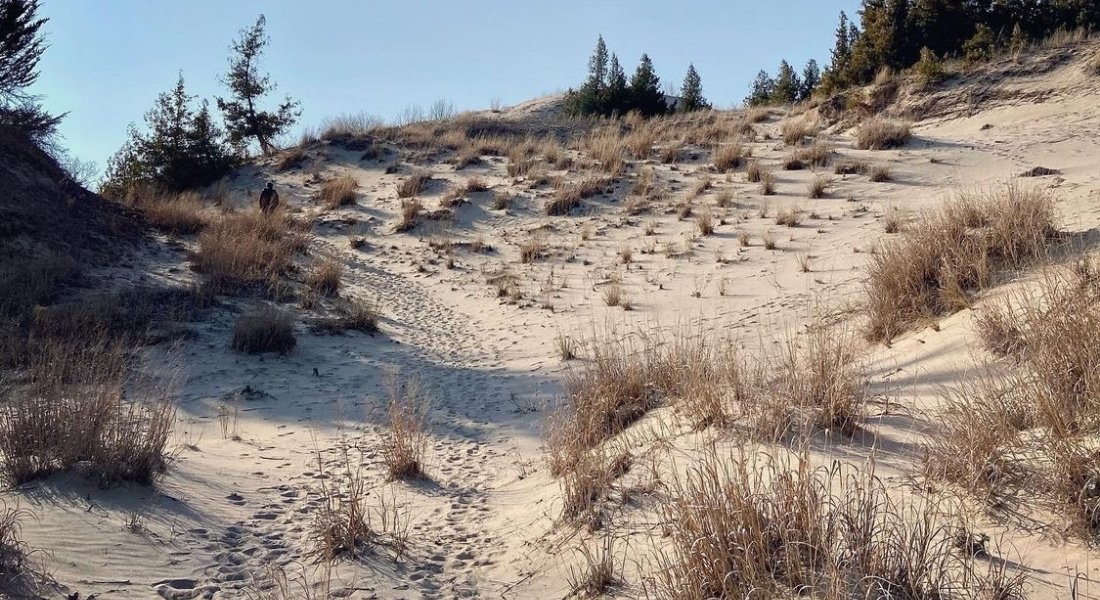 Woodlands Trail 
Distance: 7km round-trip
Elevation: 12 m
Difficulty: Easy

Different from the previous two, this trail ventures in agricultural fields bordered by giant hedges and a forest of oaks and maples, that are just as gigantic.
It connects the main entrance to Dunes Beach and the chance of wildlife viewing along the way is very good.
 
West point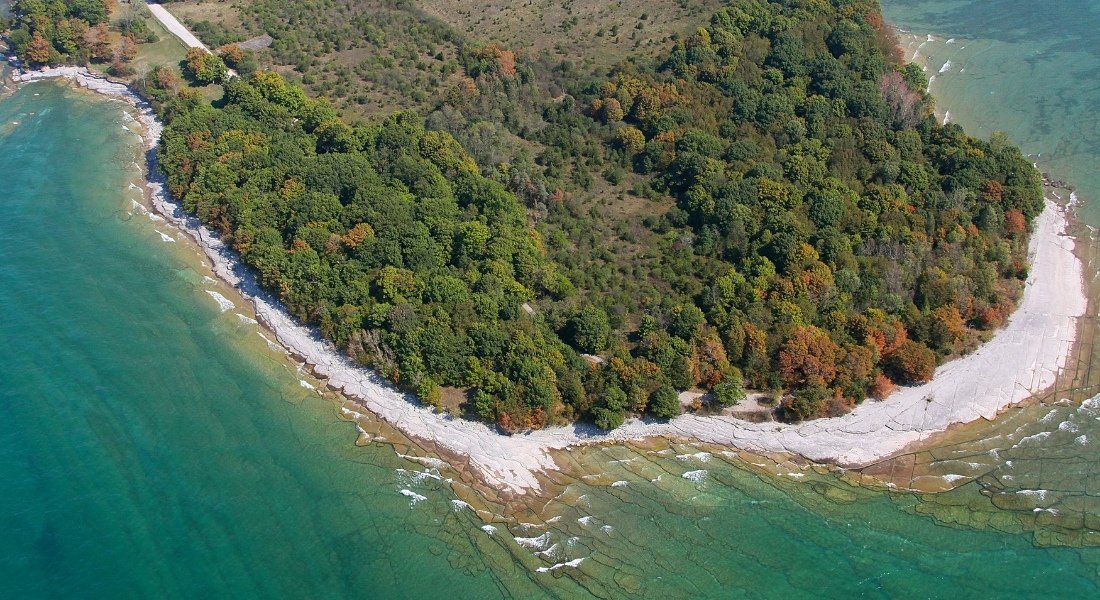 West Point was previously the site of Lakeshore Lodge, a luxury hotel that mysteriously burned down in 1983.
Today, the place is a large park where it is good to rest, away from the crowds, while still having a breathtaking view of Lake Ontario.
If you don't want to have lunch on the beach, this is a great place for a picnic.
Animals are also allowed and can go for a dip in the water.
#2. What to do near Sandbanks ?

If you have more than a day to spend around the provincial park, or if you weren't able to access the beaches, don't worry.
Prince Edward County , where Sandbanks is located, has many great activities in store and they are all within a 30 minutes drive of the Provincial Park.
It is important to note that to visit the county, it is better to have a car!
You can easily get a rental car in Toronto , the nearest big city.
 
Visit the vineyards of Wine County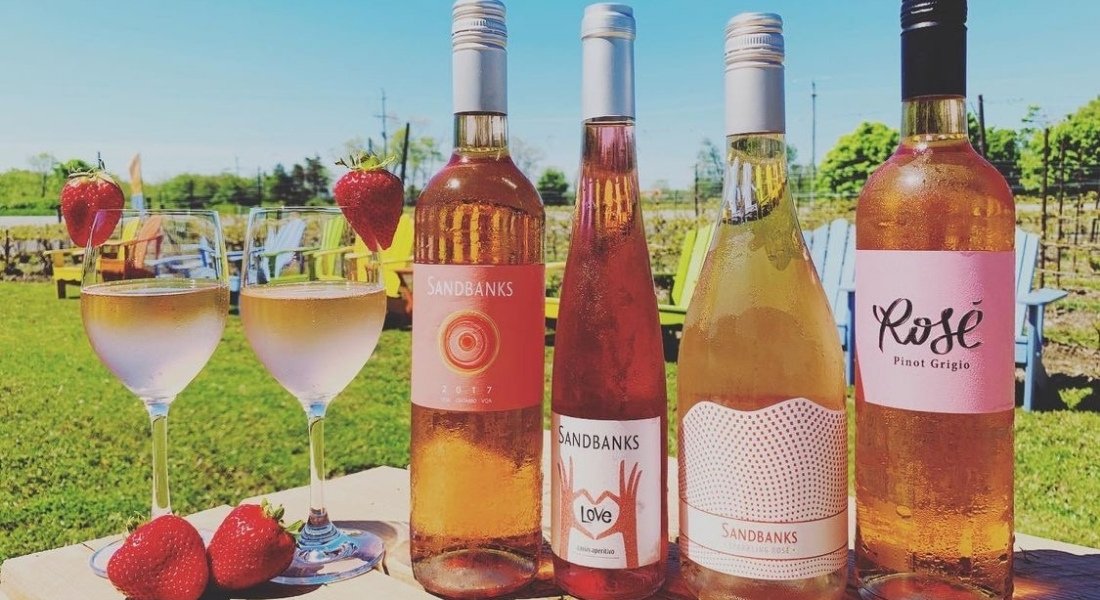 The humid climate allows for the cultivation of vines. It is one of the only regions of this kind in Ontario, along with the region of Niagara Falls .
Over the past decades, the Wine County region has established itself as the top gourmet destination in the province.
Arguably, wine tasting now increasingly rivals Sandbanks National Park as the most popular activity of the area.
There are three options available to you if you want to discover the wineries: by car, on a bike or on a guided tour of the vineyards of Prince Edward County.
If you don't have a full day to dedicate to this activity, the most popular wineries are the Sandbanks Estate Winery , where you must taste the baco noir, as well as Huff Estates , where chardonnay and pinot gris are essential in my opinion.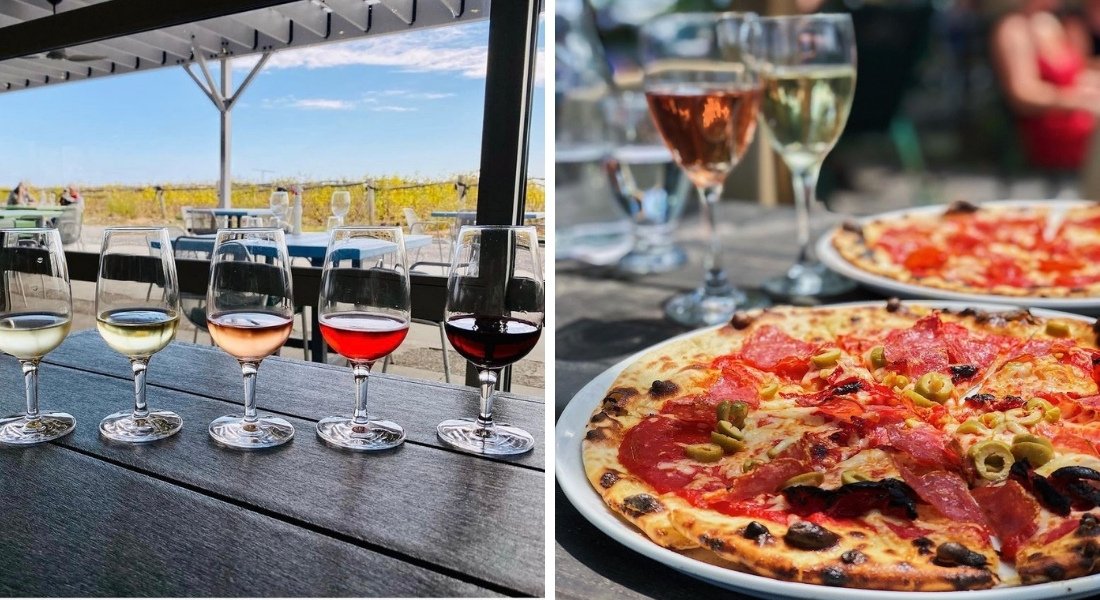 However, my favorite vineyards are TerraCello Winery , a vineyard with Tuscany inspirations from their warm outdoor terrace with many fireplaces to their wood-fired pizza, as well as the Trail Estate Winery , a smaller, set back vineyard that produces natural wines in small batches.
Allow between $ 7 and $ 10 CAD for the tasting in each vineyard visited.
If you are going to take a guided tour, plan on around $ 130 CAD per person for half a day.
 
 Biking the Millenium trail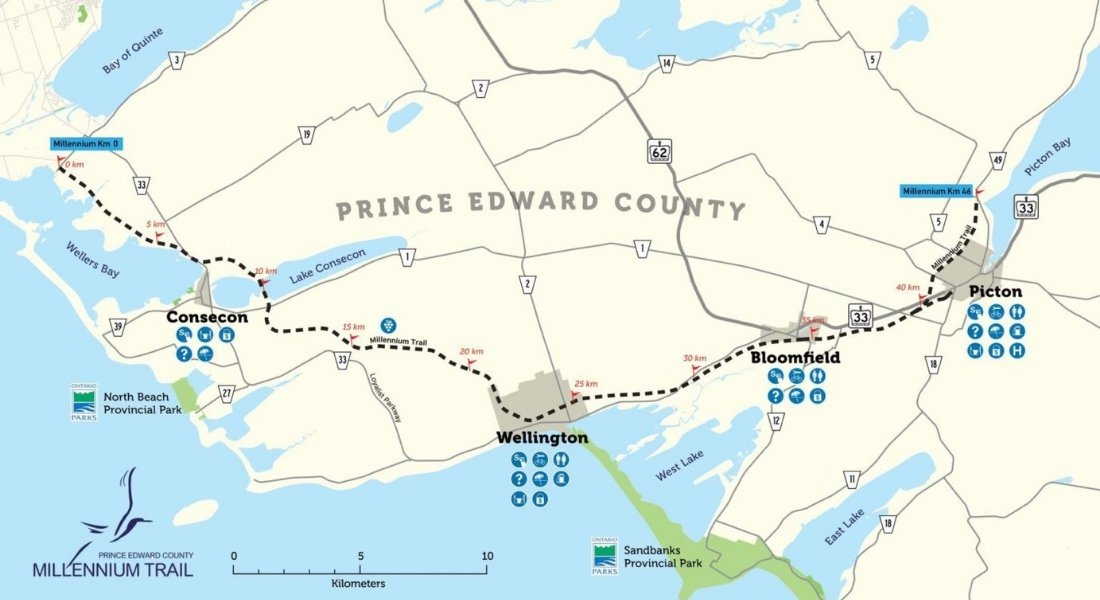 Biking enthusiasts will be delighted to learn that the multi-purpose Millenium trail stretches for just over 40 km between Carrying Place and Picton .
You will see several different scenes along the way: the trail passes through urban and rural areas, several wineries, local farms, craft breweries, swamps, bodies of water, a golf club and more.
Traveling the Millennium Trail therefore allows you to stop at vineyards or breweries to enjoy a refreshing beverage, but you should avoid venturing onto private land such as farms.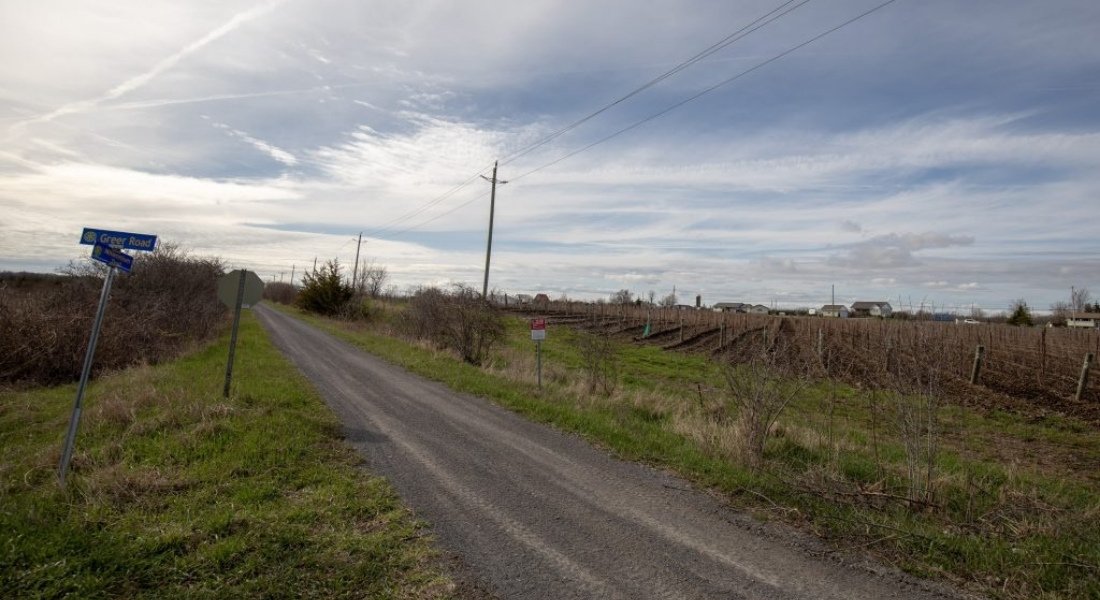 Keep an eye out for several people who have biked the trail have left little messages hidden in bottles, a tradition that has endured for a long time. If you spot one, don't hesitate to open it! They are usually attached to tree branches on the sides of the trail.
If you are not traveling with your own bike, you can rent it on site at several locations, including from Ideal Bike Wellington or Bloomfield Bicycle. Allow $ 50 CAD for a regular bike for the day (8 hours rental).
 
 Explore Picton and Wellington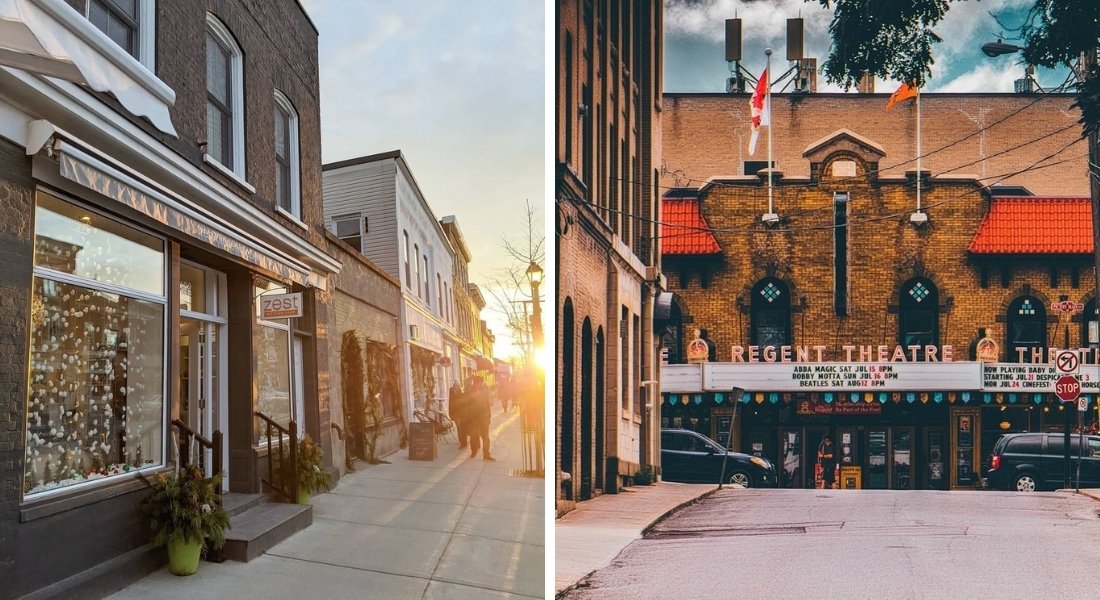 If you have already visited the Thousand Islands area , the village of Picton will bear a family resemblance.
It is the most important village in the county. Parking is free and easy, and the main area can easily be explored on foot.
I recommend that you walk the section between Picton Harbor and 555 Brewing Co. It will for sure make you fall in love with Picton.
Don't miss the historic Regent Theater and indulge in the best ice cream of the region at Slickers County Ice Cream .
You will also stroll through many small local shops and antiques.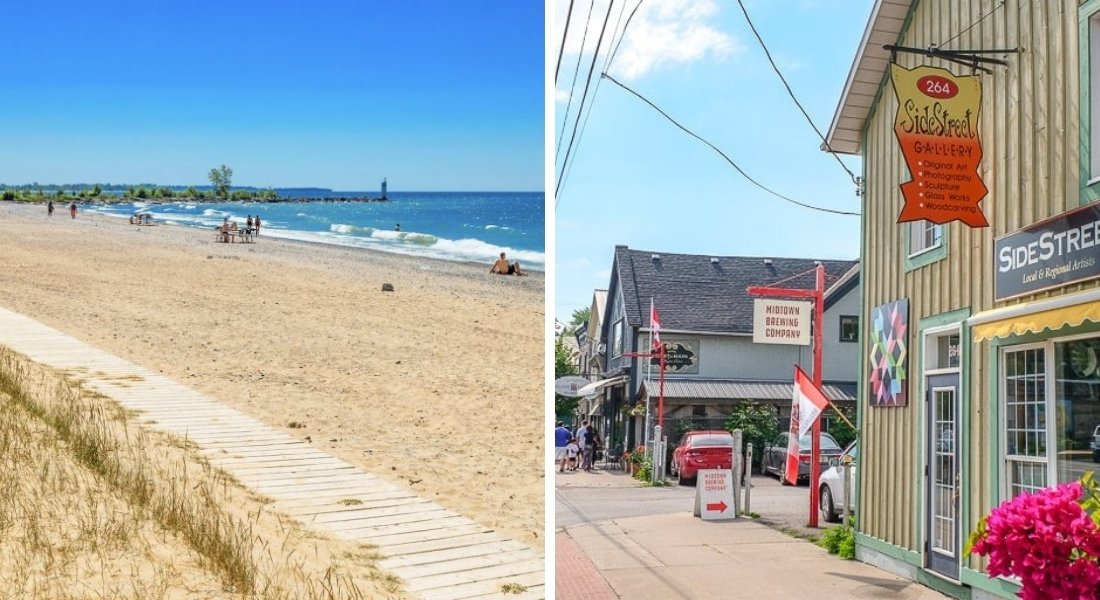 You will find a similar charm in Wellington , the second largest village. Although less popular than Picton, it is also worth a visit.
I strongly recommend that you stop at the Farmer's Market , because in addition to local products, you will also find crafts of all kinds.
If time allows, visit the small art galleries . You're in store for a surprise.
If you haven't had the chance to access a beach in Sandbanks Provincial Park, you will be happy to know that Wellington has its own beach, the Wellington Rotary Public Beach .
 
Experience the motel revival 
This is an Ontario trend that has grown in popularity in recent years.
Several moteliers have bought old motels and turned them into little gems. And it was in Prince Edward County that it all started.
The updated rooms have not lost any of the retro motel atmosphere, and the restaurants and outdoor spaces are perfect for gatherings.
If you enjoy meeting other travellers on your adventures, this is the experience for you.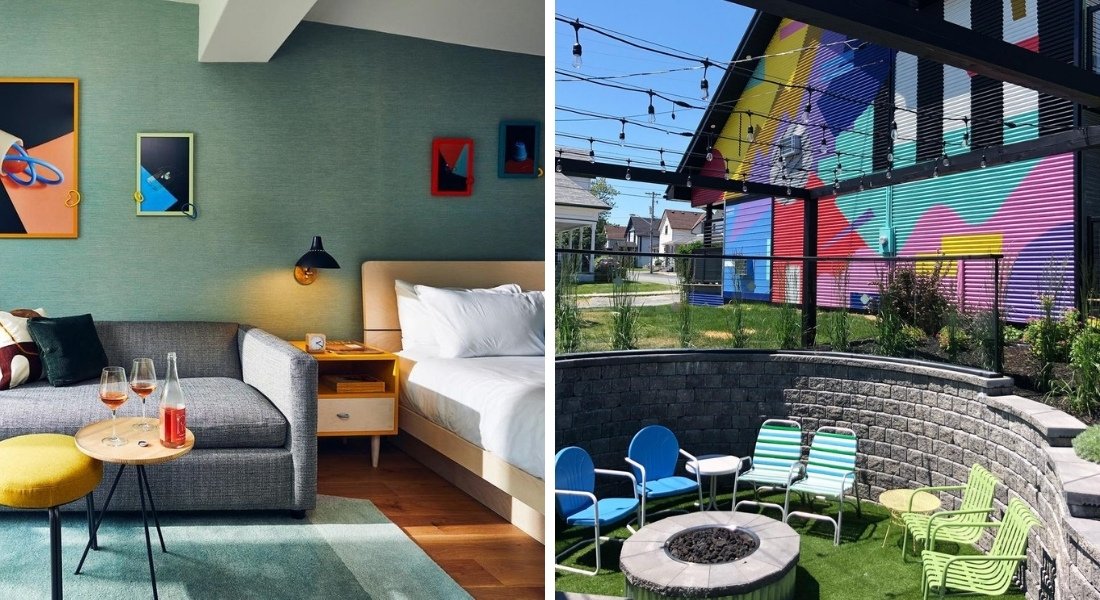 Most notable is the Drake Motor Inn , in Wellington. It is owned by the hoteliers behind the famous Drake Hotel in Toronto.
You will therefore find here a great attention to detail and unparalleled service. In the evening, gather around the fire to meet other travelers. Don't forget to ask for the S'mores tray.
A few steps away, you will find their terrace on the shores of Lake Ontario as well as Wellington Beach.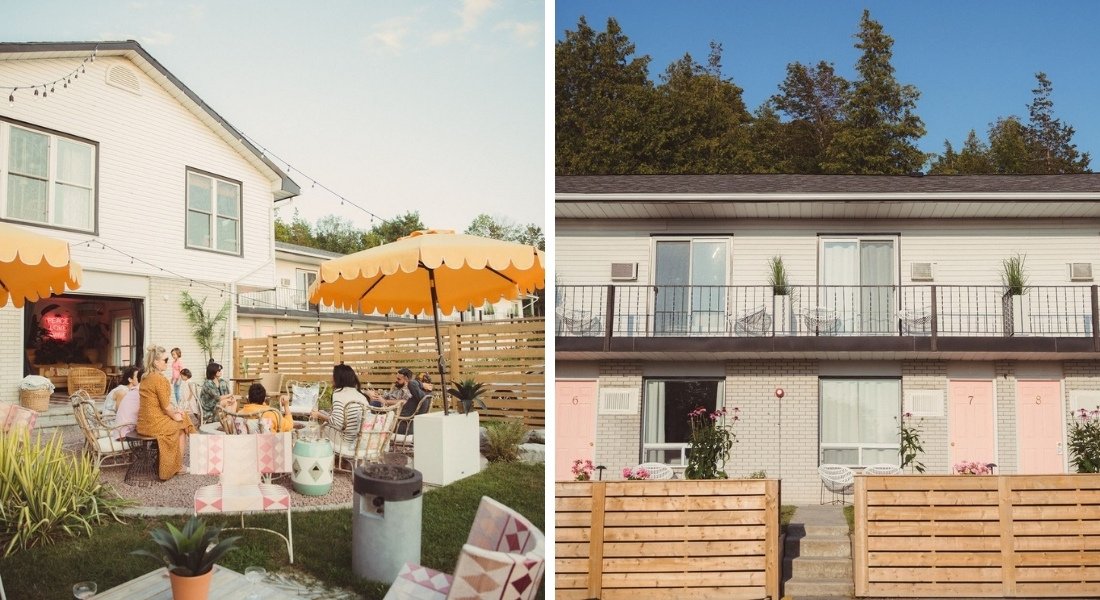 A second motel of its kind is the June Motel , in Picton. Its Boho style compliments the wine region well.
The hotel bar offers several local wines and its terrace is ideal for moments shared with locals as well as customers, all by a friendly fire.
Moreover, even if you are not staying at the motel, I still recommend a stop at the Lobby Bar .
Warning: Reservations at these reinvented motels go quickly, so remember to book in advance!
#3. Where to eat in Sandbanks ?

The Outlet Beach store has a dining option and there is a snack bar at Dunes Beach.
Despite all this, the most popular option inside the park is to bring your own lunch.
After a day at the beach, or while visiting the surroundings, I strongly recommend you try the local restaurants. After all, you are in Ontario's premier foodie region!
 
Miller House Café & Brasserie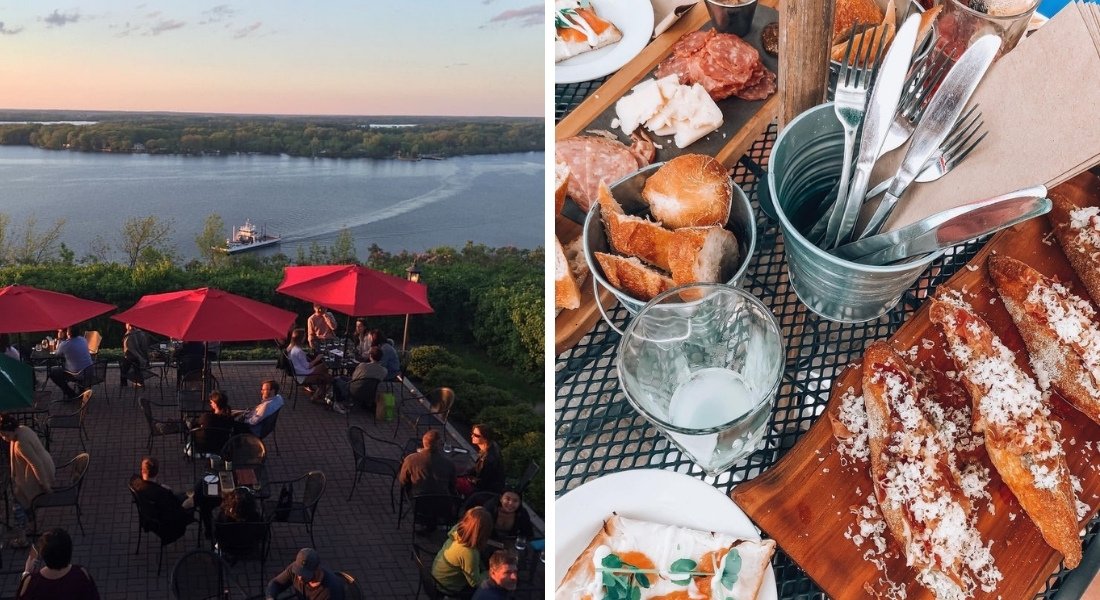 Budget : $-$$
Adress : 275 County Rd 7, Prince Edward, ON K0K 2T0
Phone number : (613)-476-1321
Website : click here
 
The Miller House has been a staple of the area for decades.
It is an inexpensive option despite its success, but be aware that it is not possible to reserve your table in advance.
Its patio overlooks the bay of Qinte, near Lake on the Mountain, nearly 62 meters above the level of Lake Ontario.
The view is simply stunning.
On the menu, you will find several sharing platters, healthy tapas and gourmet toasts. The beers and wines of the region are also in the spotlight on their drinks menu.
 
Judy's at the Bloomfield Public House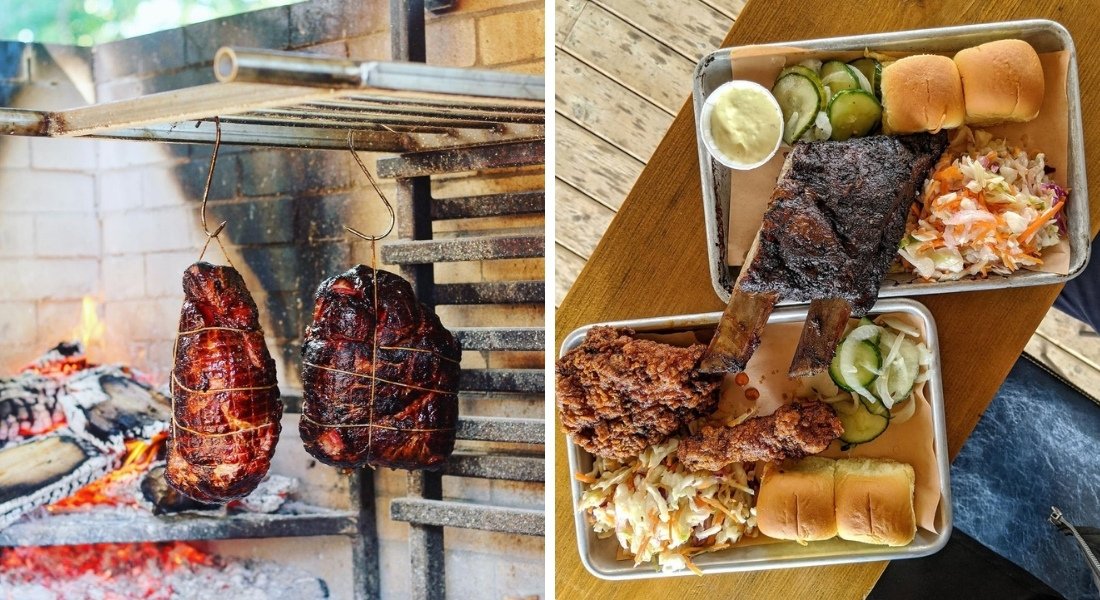 Budget : $
Adress : 257 Bloomfield Main St, Bloomfield, ON K0K 1G0
Phone number : (613)-393-9292
Website : click here
 
Bloomfield Public House is a small local market. Aside from local stands, you will find Judy's.
Ideal for lunch, they offer all the popular barbecue options, prepared in front of you, from pork ribs to fried chicken.
Top it off with one of their local micro-brewery beers and you'll be ready to take on the rest of the day!
 
Drake Devonshire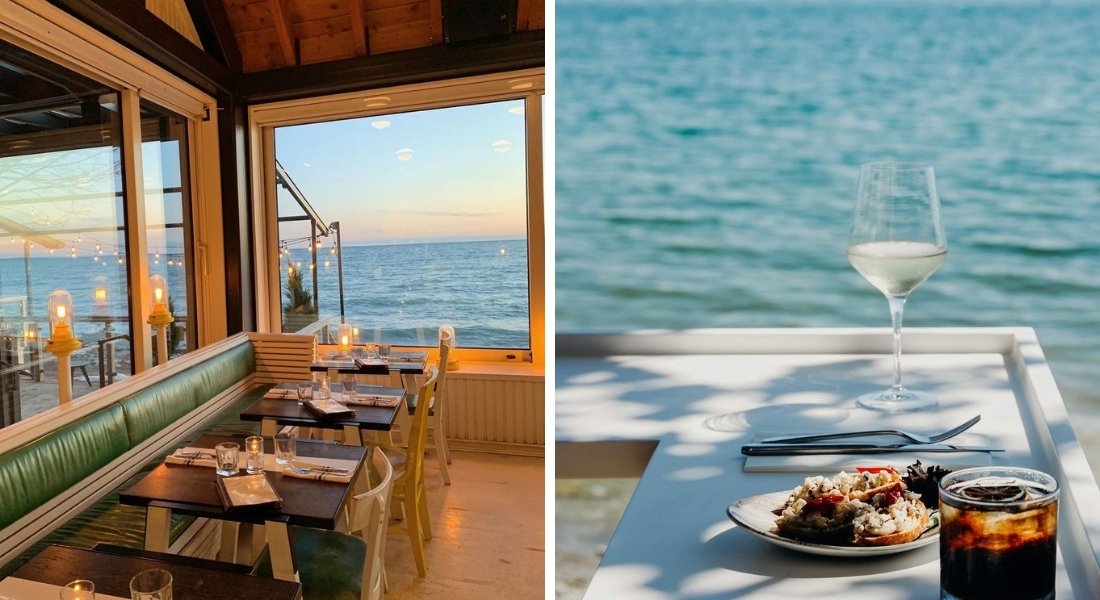 Budget : $$-$$$
Adress : 24 Wharf St, Wellington, ON K0K 3L0
Phone number : (613) 399-3338
Website : click here
 
Although a little more expensive, the Drake Devonshire is one of my favorites in Wellington.
It has the country charm with a modern twist, in addition to having a direct view of Lake Ontario and access to their own private shore of fine sand.
The evening menu is gourmet brasserie style and is very good, but I recommend going for brunch!
You will also find the most exhaustive wine and cocktail list I have come across in Prince Edward County, there is something for every taste.
 
Flame + Smith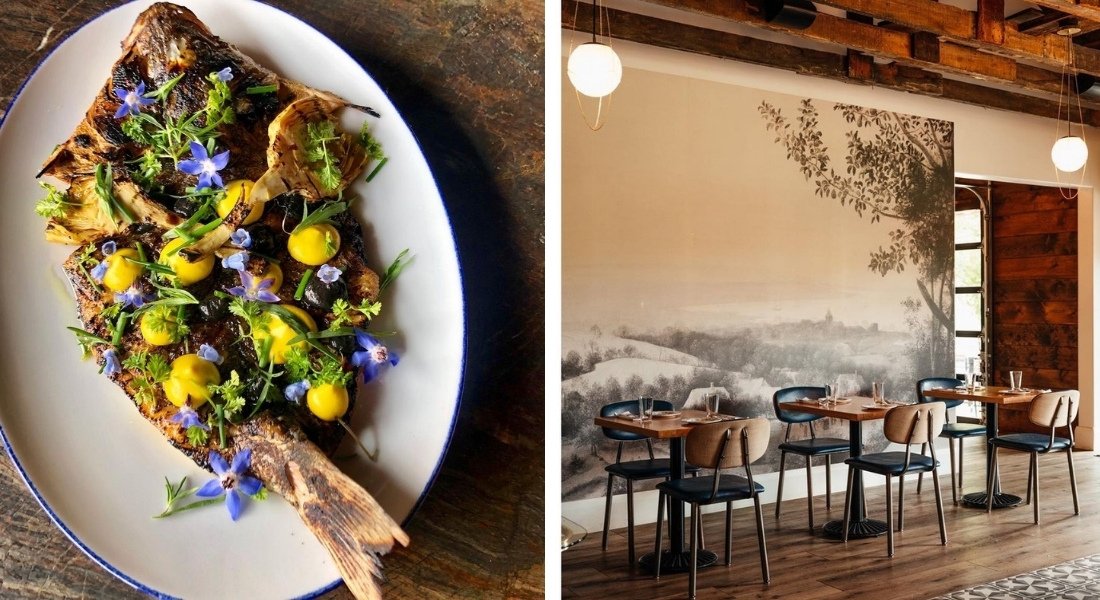 Budget : $$$
Adress : 106 Bloomfield Main St, Bloomfield, ON K0K 1G0
Phone number : (613) 393-1006
Website : click here
 
If you are looking for farm-to-table cuisine, look no further!
Flame + Smith's gourmet menu comprises of local ingredients and it respects the principles of sustainable cooking.
In doing so, the menu changes every week.
The atmosphere is friendly, the kitchen is an open concept and wood is prominent in the decor. The bar takes center stage and the wood-fired ovens warm the place up perfectly.
 
La Condesa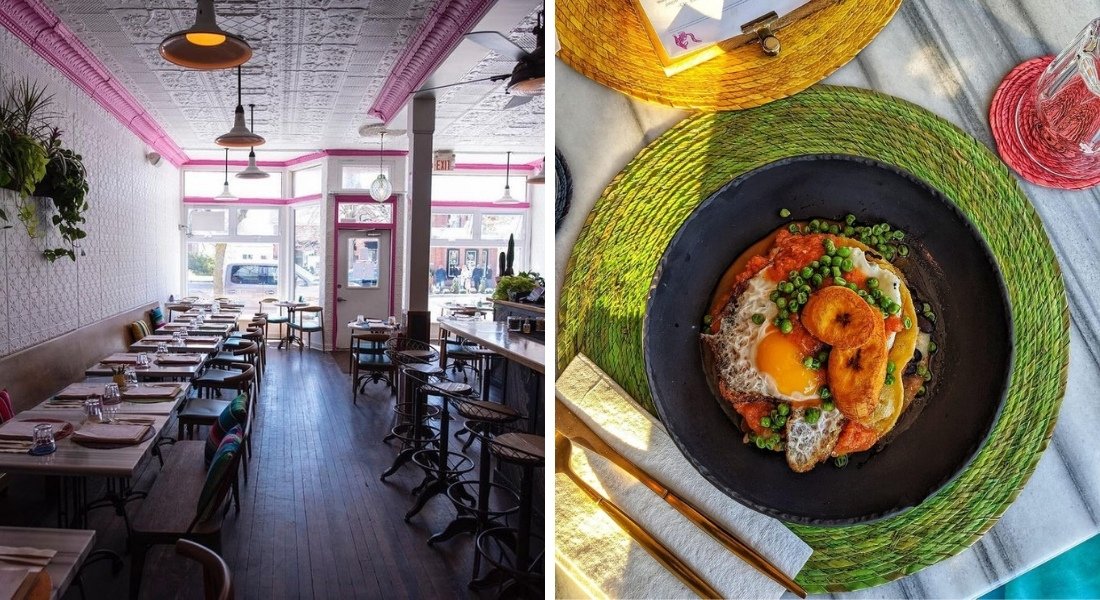 Budget : $-$$
Adress : 298 Wellington Main St, Wellington, ON K0K 3L0
Phone number : (613) 399-2007
Website : click here
 
A typical Mexican meal is the perfect complement to a day at the beach.
La Condesa offers fresh dishes as well as several cocktails made with blue agave spirits (tequila and mezcal).
The restaurant is uncluttered, but colorful, just like Mexico.
Best of all, you won't break the bank by eating here, without sacrificing the quality of the food!
I hope you have found a reason to visit this beautiful park and its surroundings. All that's left for you to do is go on an adventure to Sandbanks.
If you have any additional questions or suggestions, feel free to leave them in the comment box below.