When you have finished customizing your road trip and you are ready to proceed with the booking, simply click on the red "Book" button on the top right of the screen.


You will be directed to a secure online payment form to pay the deposit that will guarantee your booking.
The details for payment are as follows:
Deposit: 20% of the total amount
Balance: Payable 45 days before your departure date
When you click on "Book", you will first need to provide information about each traveller (gender, first and last name, date of birth).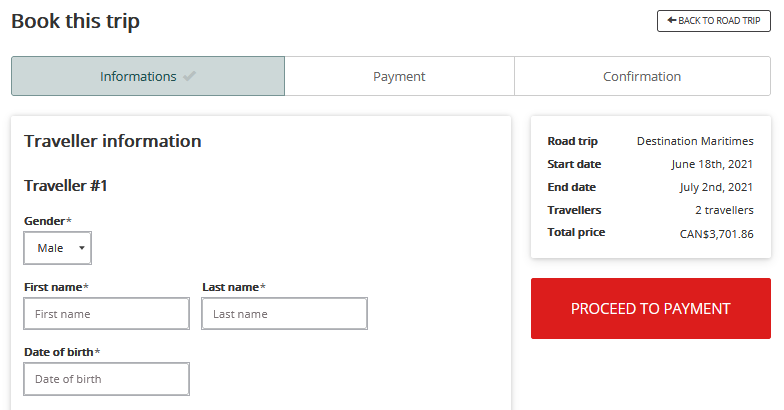 On the right side, you will see a summary of your trip. The departure date, end date, number of travelers and the total price.
Just below this information, you will be able to see the amount of payment. You have the choice of paying the required minimum deposit of 20% or paying the full amount.
At the very bottom, after filling your email address, you will need to create a password; wich will create your Customer Area. You can also add or not add cancelation protection. By clicking on each of them, you will be able to see the details of it. As soon as you select one, the total price is automatically updated, as well as the payment amount (deposit and total).

Once all the information has been entered, click on the red "Proceed to payment" button. You will be directed to a secure payment form for payment of the deposit amount (20%). If the full amount is requested, that means your departure is less than 45 days away.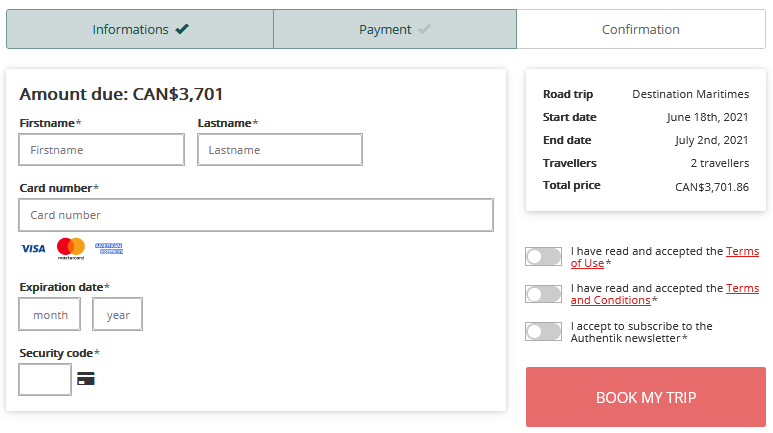 Once you complete the form, you must accept the Terms of Sale and click on the red "Book my trip" button. And you're all set!
You will then receive an email confirming your booking and that booking requests have been sent to all the accommodations and other service providers. In addition, you will be able to follow the bookings in your Client Space, print your roadbook, and much more.
---
Other tutorials on planning your road trip