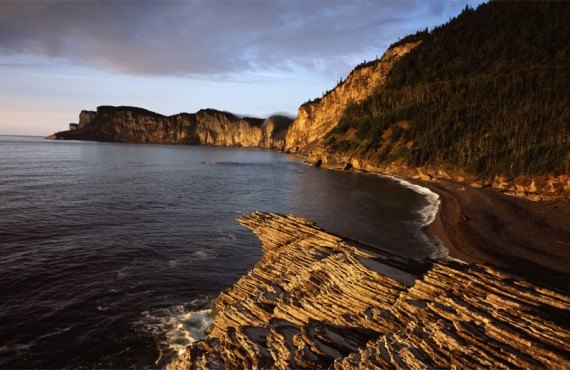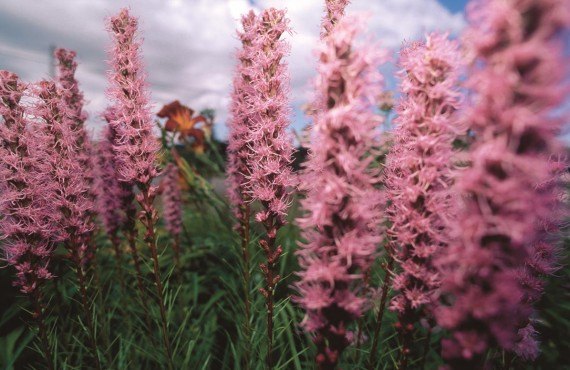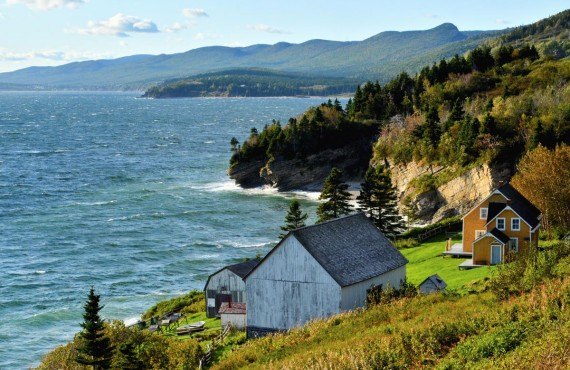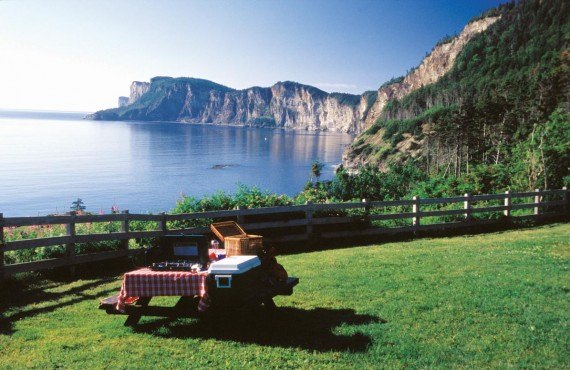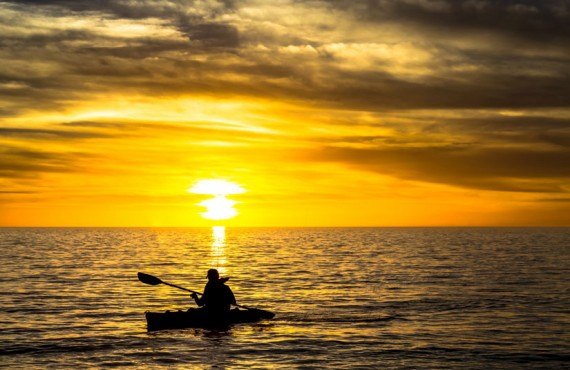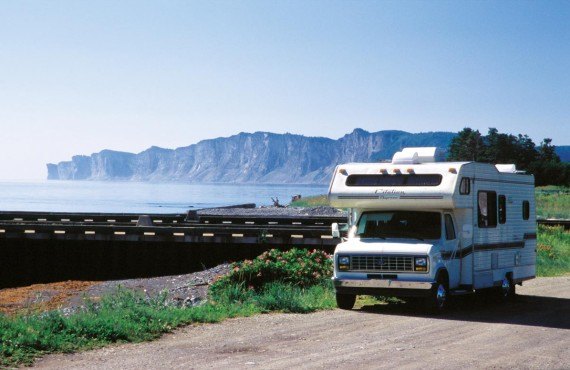 What to do
Noteworthy
Worth the detour
Must see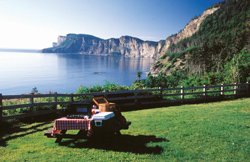 Forillon National Park is a narrow, mountainous peninsula that extends into the Gulf of St. Lawrence and marks the eastern end of the Appalachian mountain chain.
Its majestic landscapes cover a 244 km2 area that is carved out of the sea, cliffs and mountains, giving it a real "end of the world" feel.
The presence of ten different rock formations, colonies of seabirds and enigmatic arctic-alpine plants give this park its unique character.

CAP-BON-AMI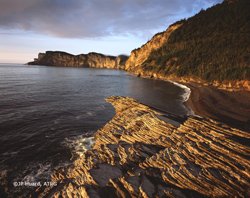 While you are in the area, you simply must visit Cap Bon-Ami, where a lookout and a hiking trail leading down to the beach offer spectacular views of the sea and the rugged cliffs.
Why not make the most of your beautiful surroundings by bringing a picnic lunch and exploring one of the hiking trails? You may be lucky enough to spot some of the wildlife common to the area, such as cormorants, seals, beaver, porcupine and black bear.
Open daily from early June to early October.

GRANDE-GRAVE
Distance (round-trip): 3 km loop
Time (round-trip): 1-2 hours
Level: Moderate
Elevation gain: 90 m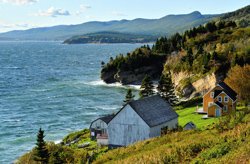 The "Une tournée dans les Parages" trail, a 3-kilometre loop, will take you back in time to the 19th century, when Grand-Grave was a thriving fishing village where cod was dried and salted for export to Europe.
Step into the warm atmosphere of yesteryear with a visit to Grande-Grave's carefully restored authentic houses and buildings, the last standing reminders of the fishing villages once common along the Gaspé coastline. Costumed interpreters will be on hand to answer your questions and bring the period to life (at Maison Blanchette, L'Anse-Blanchette, early June to early September from 1 p.m. to 5 p.m.).
Open daily from early June to early October (some buildings are only open from the end of June to early September).

FORILLON NATIONAL PARK
Season: The park is open year-round, but the period during which services are available varies according to sector.
Visitors centres:
Penouille Visitor Centre (1238 Boulevard de Forillon, Gaspé / South Sector) is open from late August to mid-September.

North area toll booth (1440, boulevard de Cap-des-Rosiers Gaspé / North Sector) is open from late June to early September.
Entrance fee: $8.50/adult/day and free for youth aged 17 and under.

CAP GASPÉSIE
Cap Gaspé is a headland located at the eastern extremity of the Gaspé Peninsula. On its eastern side, the high cliffs plunge into the sea, and on top of the cape stands a red and white lighthouse dating from 1873. Today, the Cap Gaspé , lighthouse is operated by solar power and is part of Forillon National Park.

LES GRAVES (LAST PART OF THE TRAIL)
Distance (round-trip) : 8 km
Time (round-trip) : 2-3 hours
Level: Intermediate
Elevation gain: 80 m
You can take this trail from Anse-aux-Américains, crossing through woods and overgrown fields to the Cap Gaspé lighthouse perched on the cliff. The final section of the trail leads across the cliff to the famous "Land's End", where you can look out over the ocean and breathe in the fresh, invigorating sea air.

SEA KAYAK AT SUNSET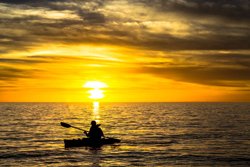 The ultimate guided excursion for observing the wildlife of Forillon National Park, including many species of seabirds, grey seals, harbour seals and more.
During this three-hour sea kayaking tour with your biologist/guide you will glide among the sandstone cliffs and small rocky islands at a leisurely pace that will allow you to enjoy nature and admire the spectacular sunset over Gaspé Bay.
The price includes a single or double kayak, paddle, nylon spray skirt, life vest, wetsuit (spring and fall) and a waterproof bag.
Early May to early October.
---
Optional activity
Where to eat
$ Inexpensive
$$ Moderate
$$$ Upscale
$$$$ Fine dining
Microbrasserie Cap Gaspé ($)
New family-owned microbrewery with a shop and a tasting room on site. You can sample an array of products such as German and Americn-inspired beers, as well as flavoured bears made with local ingredients. Snacks are served; you can also bring your lunch.
Open daily from 3 p.m. to 9 p.m. in high season.
---
Café de l'Anse ($-$$)
This simple and unpretentious bistro offers regional dishes made with local products. You can even sit on the terrace with a view of the sea. You must try one of the house specialities: cod cakes, smoked fish, brandade de morue (a local codfish stew) and the Fisherman's Pot.
Open in summer from 8 a.m. to 9 p.m. daily. In winter, open for lunch Saturday-Sunday from 8 a.m. to 1 p.m.
---
Brise-Bise ($$)
Clients flock to Brise-Bise for its house specialties: crab and lobster club sandwiches, smoked salmon and shrimp club sandwich, cod fish & chips and shrimp poutine. The restaurant also offers fine regional cuisine and family cuisine. A Gaspé institution, Brise-Bise has a warm and friendly atmosphere typical of the region.
Open for lunch and dinner, daily from 11 a.m.
---
Café des Artistes ($$)
Located in downtown Gaspé, Café des Artistes is the first coffee roaster in Gaspésie and also a restaurant offering healthy bistro cuisine, with homemade fresh pasta, grilled sandwiches, pita pizzas, salads and a menu of the day.
Open Monday-Friday from 7:30 a.m. to 9:30 p.m. and Saturday-Sunday from 7:30 a.m. to 3 p.m.
---
Marché des saveurs gaspésiennes ($$-$$$)
Lovely specialty food shop offering a wide selection of local gourmet products including excellent cheeses, desserts, maple syrup and craft beer. You can eat breakfast there or buy lunch to go and eat it in the park. There is also a small patio.
Open daily during summer from 8a.m. to 6 p.m.
---
*** Hours may vary ***
Where to sleep ?
Festivals calendar
Festival Musique du Bout du Monde
Dates: early August 2023
Festival Musique du Bout du Monde is a unique family-oriented music festival that is a celebration of world music and a cultural exchange between Gaspesian culture and other world cultures. The event also features street performers and free activities and workshops for the whole family. The famous sunrise concert is not to be missed.
Map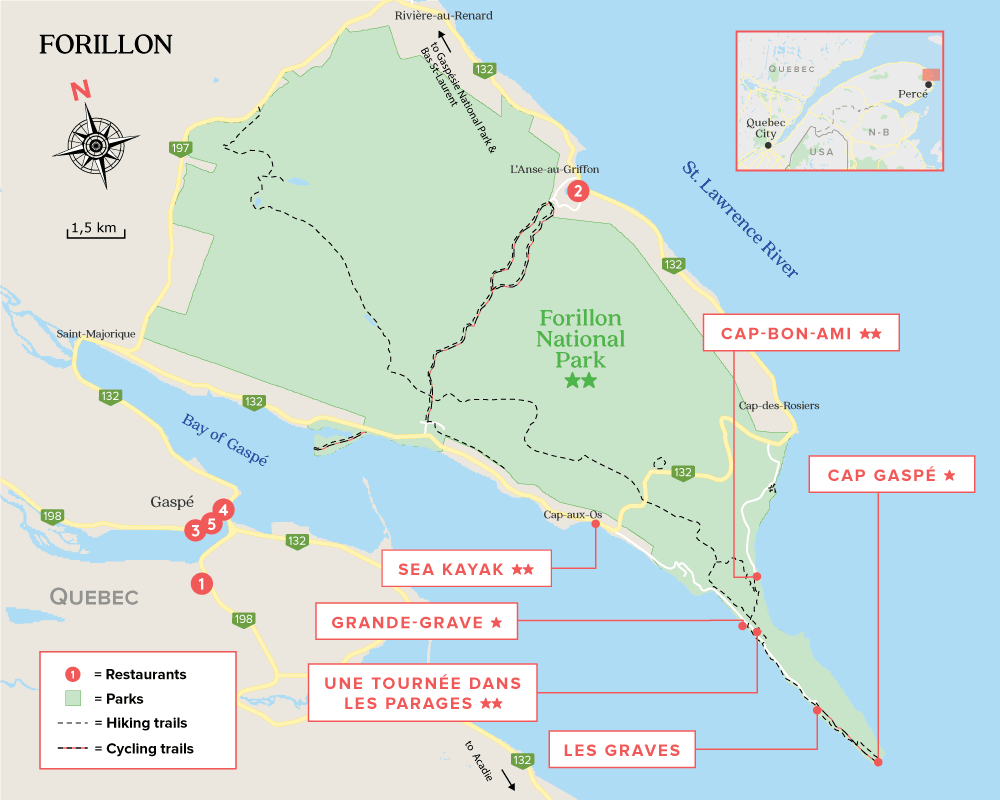 When to visit
Very Favourable
Favourable
Unfavourable
| Jan | Feb | Mar | Apr | May | Jun | Jul | Aug | Sep | Oct | Nov | Dec |
| --- | --- | --- | --- | --- | --- | --- | --- | --- | --- | --- | --- |
| | | | | | | | | | | | |
Climograph
Very Favourable
Favourable
Unfavourable
Month
Average temperature
min (°C)
Average temperature
max (°C)
Precipitations
(mm)
Overall score
January
-17
-5
91
February
-16
-4
75
March
-11
2
105
April
-4
8
94
May
1
15
90
June
7
21
81
July
10
24
107
August
10
24
98
September
5
19
86
October
1
12
122
November
-5
5
101
December
-12
-2
122
Travel reviews
majestic landscape
another stunning park but unfortunately some trails closed because too many trees down after the storm
Unforgettable
(Translated by Google) Intense personal experience with meeting the black bear (two meters from us) unforgettable!
Download our travel guide