The ultimate Western Canada RV road trip
Always dreamed of exploring the great Canadian outdoors by RV?
If your answer is yes, keep reading: below you will find the ultimate itinerary for a Western Canada RV trip.
 
Map of the ultimate Western Canada RV tour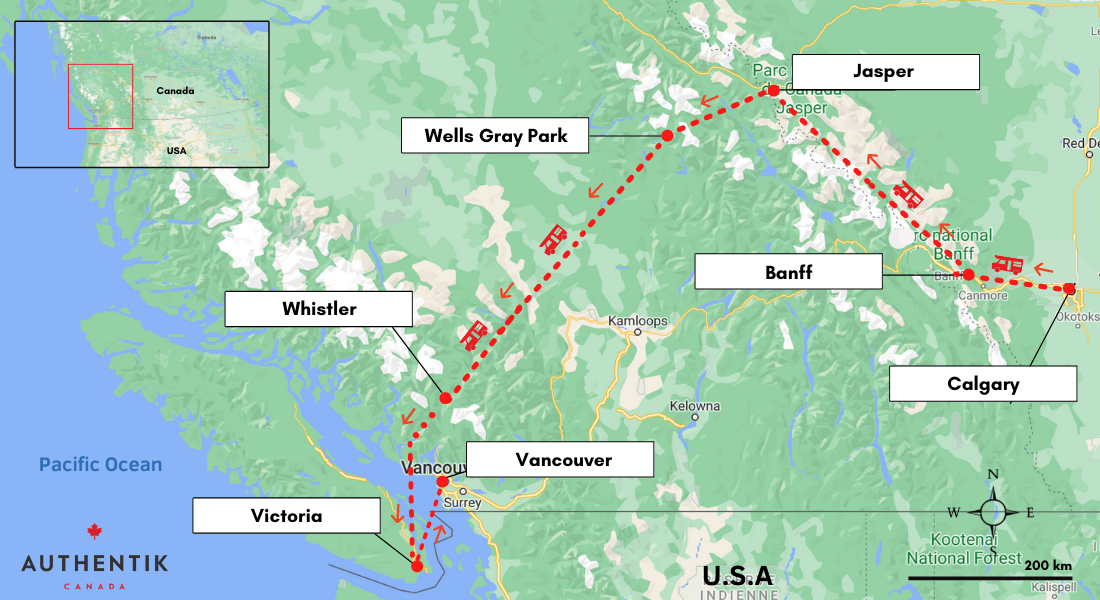 Western Canada RV tour summary
Day 1 : Calgary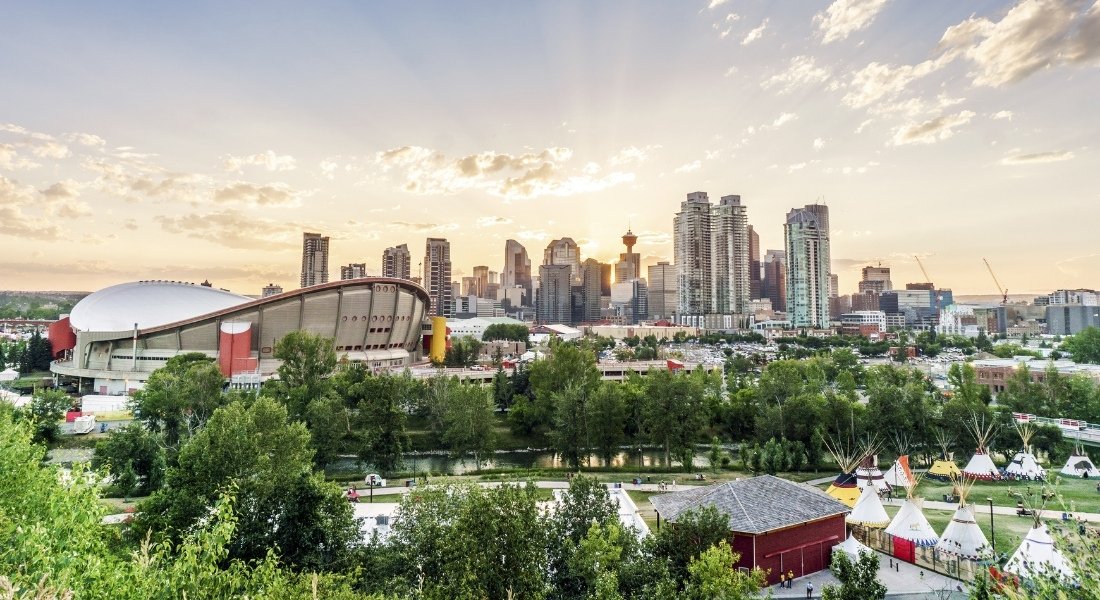 Welcome to Calgary, cowboy capital of Canada.
Your trip starts here, and to get the most from it, why not visit one of the city's main attractions?
There's plenty of choice: enjoy spectacular 360° views at the top of the Calgary Tower , delve into Indigenous culture at the Glenbow Museum , do some shopping on 8th Avenue , or take a stroll through the Stephen Avenue National Historic District .
Then head back to your hotel room for a good night's sleep. Tomorrow you'll hit the road!
Days 2-4 : Banff 

(143 km/1:28)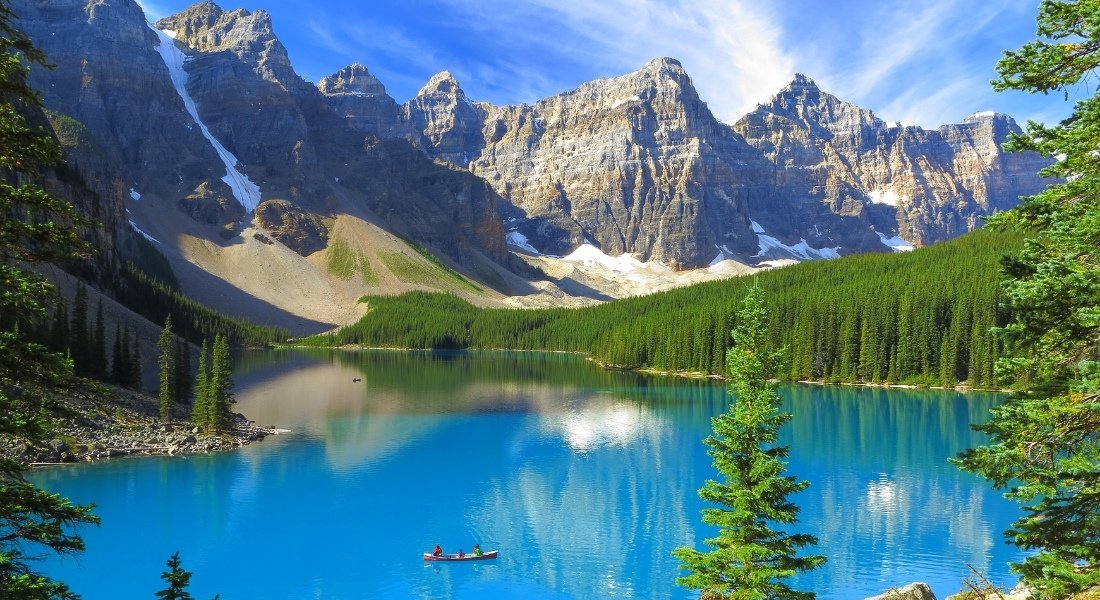 Pick up your Canada RV rental in the early afternoon, and let the road trip begin!
Today's first stop is Banff National Park.
Perched high in the Canadian Rockies at an altitude of 1,380 metres, Banff is known for its magnificent mountain scenery.
Once you're settled into your campsite, spend an enjoyable evening strolling around downtown Banff. You're sure to be charmed by its streets lined with colourful boutiques.
There is no shortage of tourist attractions and spectacular hikes in and around Banff. I particularly recommend the hike up Sulphur Mountain .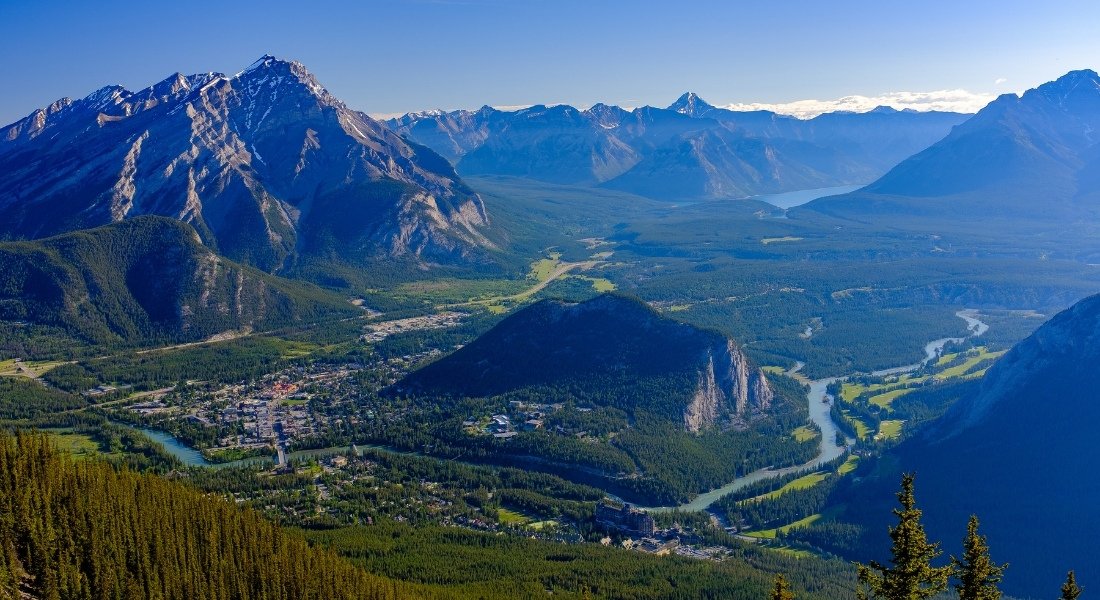 At the top, you will have a breathtaking view of the entire region. The trail itself offers a succession of postcard-worthy panoramas.
You can also ride a gondola to the top of the mountain if you don't feel up for the challenge.
If you're looking for an easy, family-friendly hike, Johnston Canyon is for you. The turquoise waters of the falls are simply beautiful.
Other hikes and sights worth visiting in the area include the Emerald Lake Trail , Takakkaw Falls , Lake Minnewanka  and the famous Lake Louise .

Days 5-7 : Jasper 

 (286 km/3:28)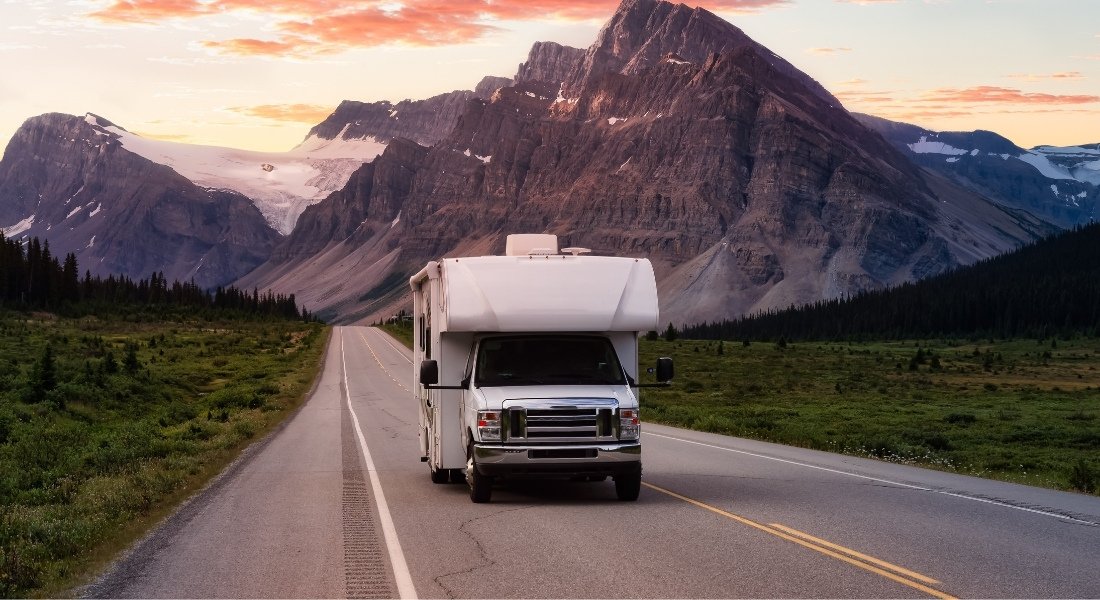 The second stop on your RV tour is Jasper National Park.
To reach Jasper, you will be taking one of the most beautiful routes in the world, the Icefields Parkway .
Be sure to get an early start, because there are many interesting stops along the way. You won't want to miss Peyto Lake , the Athabasca Glacier  and Sunwapta Falls .
Once in Jasper, you will have endless possibilities for activities to do.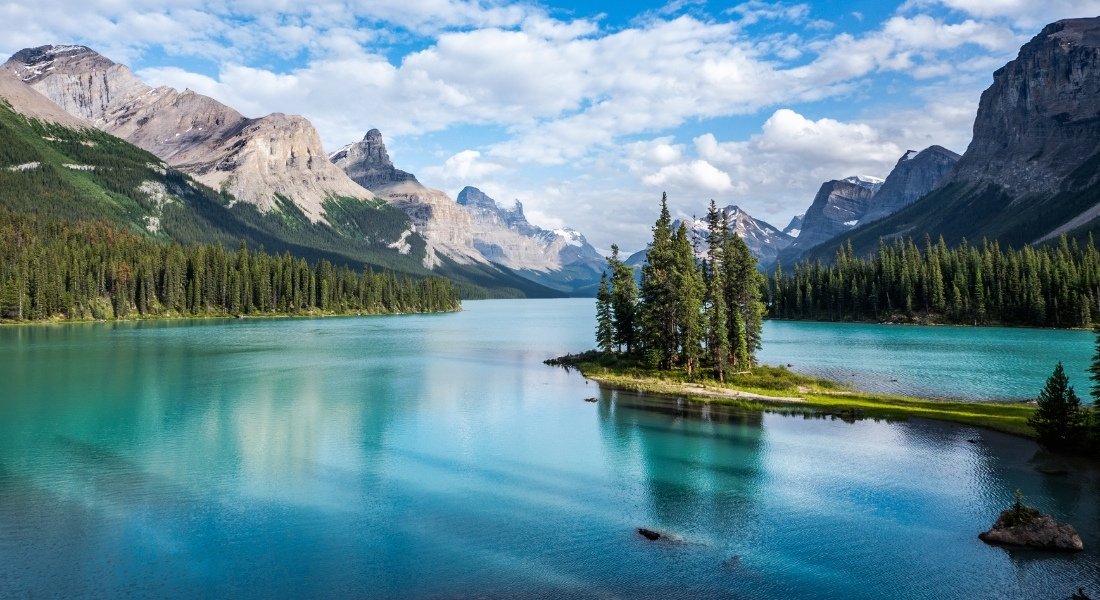 Above all, don't miss Maligne Like . Get up early for the Maligne Lake cruise, which will take you to Spirit Island , the most photographed island in the world.
The must-do hikes around Jasper are the Maligne Canyon trail and Mount Edith Cavell .
Days 8-9 : Wells Gray Provincial Park

(322 km/3:21)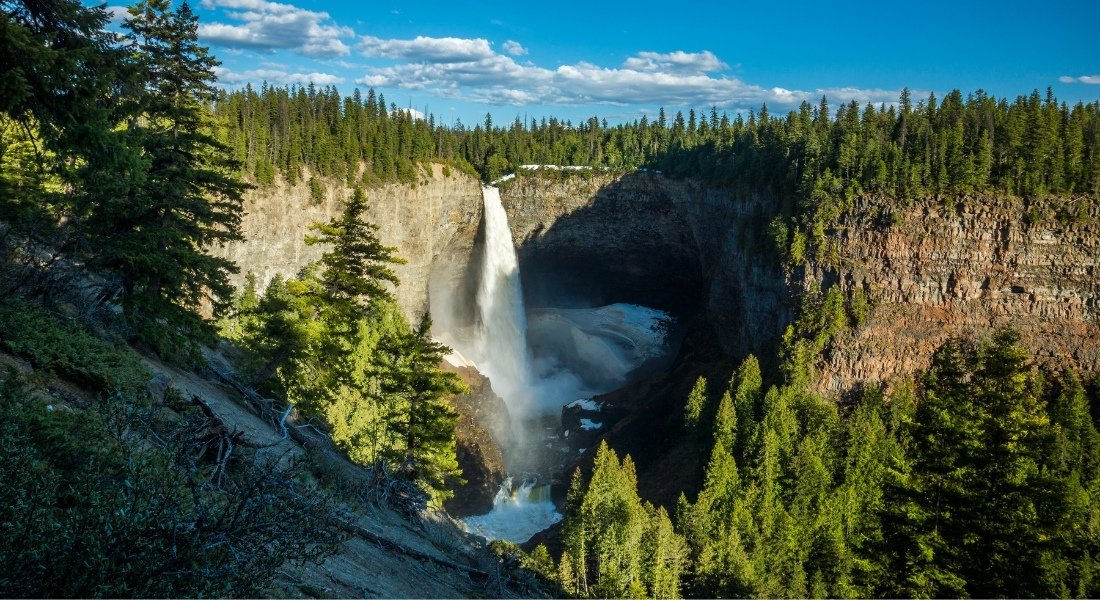 Today you will take the Yellowhead Highway  to Wells Gray Provincial Park. You have a good chance of spotting wildlife along the way, so keep your eyes open!
Make a stop at the base of Mount Robson , the highest peak in the Canadian Rockies.
Prepare yourself for a completely different experience when you get to Wells Gray Park, which has fewer tourists and services. This lush park is especially well known for its waterfalls.
Helkmen Falls  is one of the park's main attractions, plunging 141 metres into an impressive canyon.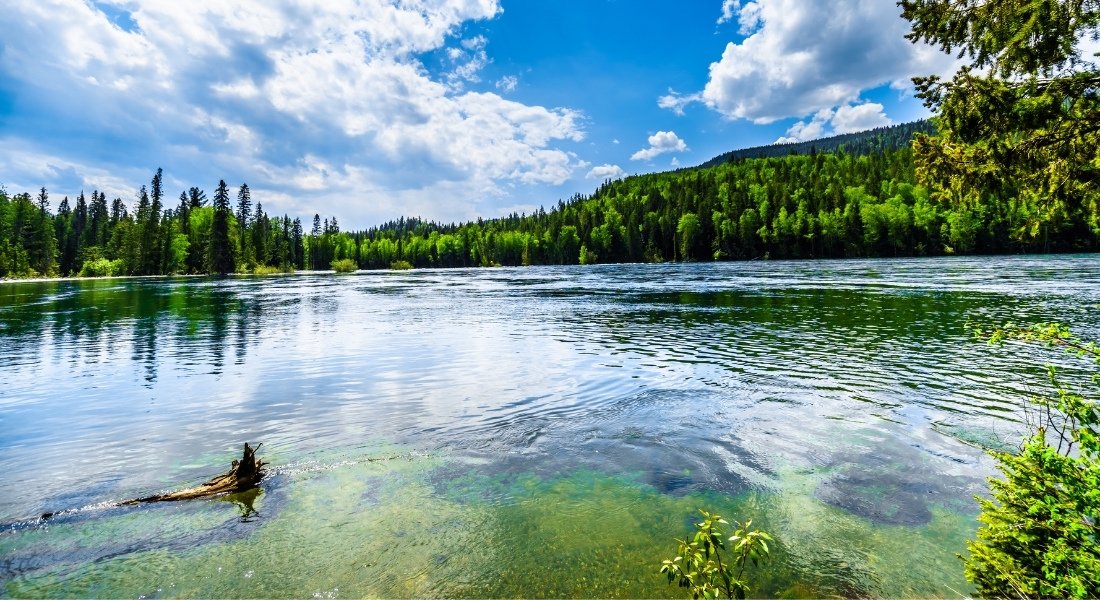 If you want to relax and cool off, you can go for a swim in Clearwater Lake .
Finally, if you visit in July or August, be sure to hike Trophy Mountain . Its incredible sub-alpine meadows of wildflowers will be in full bloom!
Days 10-11 : Whistler 

 (422 km/5:17)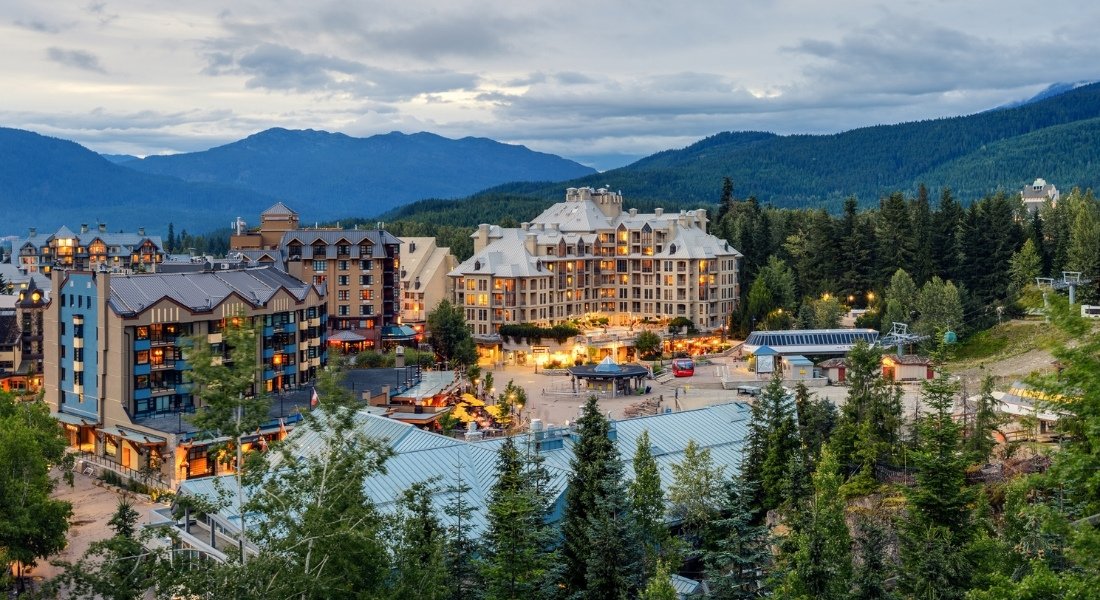 Get an early start, as this will be your longest day on the road.
Today's destination is Whistler, a bustling mountain village and Canada's most popular ski resort. Whistler hosted the Olympic Winter Games in 2010.
Spend your time here discovering the charming mountain setting of its pedestrian village .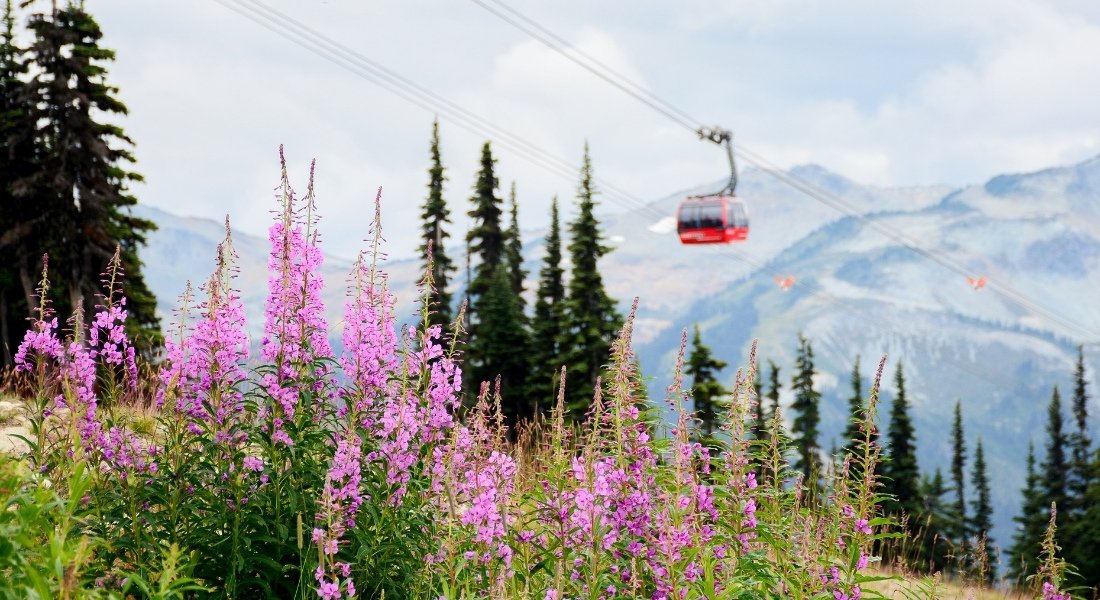 If there's one thing you don't want to miss in Whistler, it's the Peak 2 Peak Gondola .
The gondola links Whistler and Blackcomb Mountain . When it reaches its maximum height above Fitzsimmons Creek , it's the highest lift of its kind in the world with an elevation of 435 metres.
Days 12-13 : Victoria 

(219 km/4:22)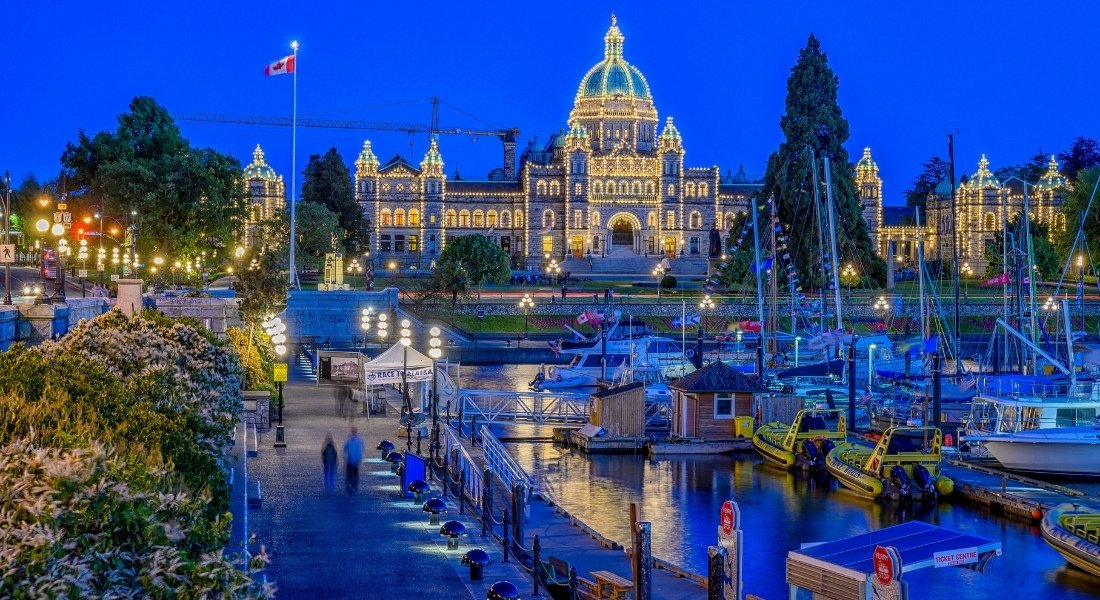 Next you take the scenic route known as the Sea to Sky Highway to the Pacific coast.
Once again, leave early so you can take your time and really enjoy the scenery.
Once you reach the coast, a ferry will take you to Victoria on Vancouver Island .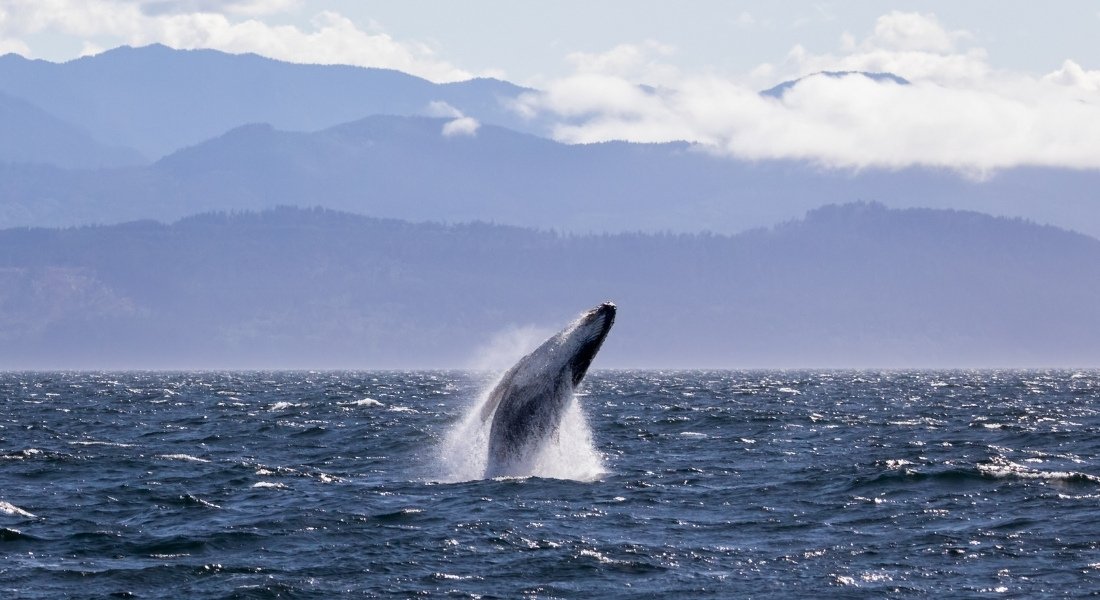 I highly recommend the Art Deco tower of the Wharf Street Visitor Centre for a taste of Victoria's Art Deco architecture. It's a great first stop to begin your discovery of the capital.
Victoria's must-see attractions include Butchart Gardens , the Royal British Columbia Museum  and whale-watching tours .
Days 14-15 : Vancouver 

 (87 km/2:27)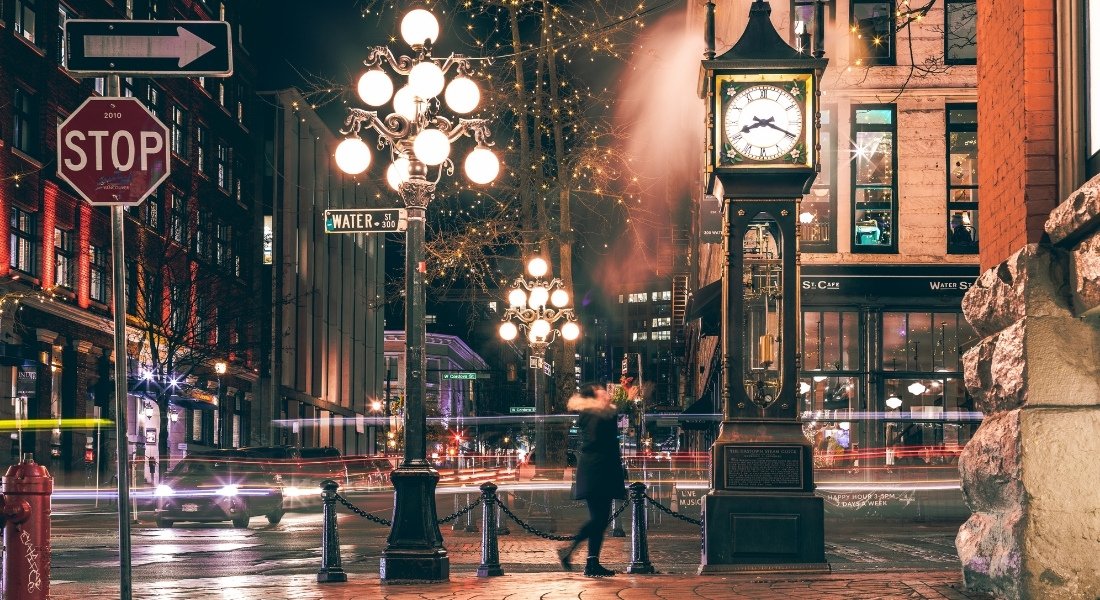 Your trip ends in Vancouver, considered to be the most beautiful city in Canada. It is ranked as one of the best cities in the world to live.
You will quickly understand why. Vancouver is a city on a human scale that is best explored on foot.
For that reason, I suggest you drop off your RV when you reach Vancouver and spend your last night in a hotel.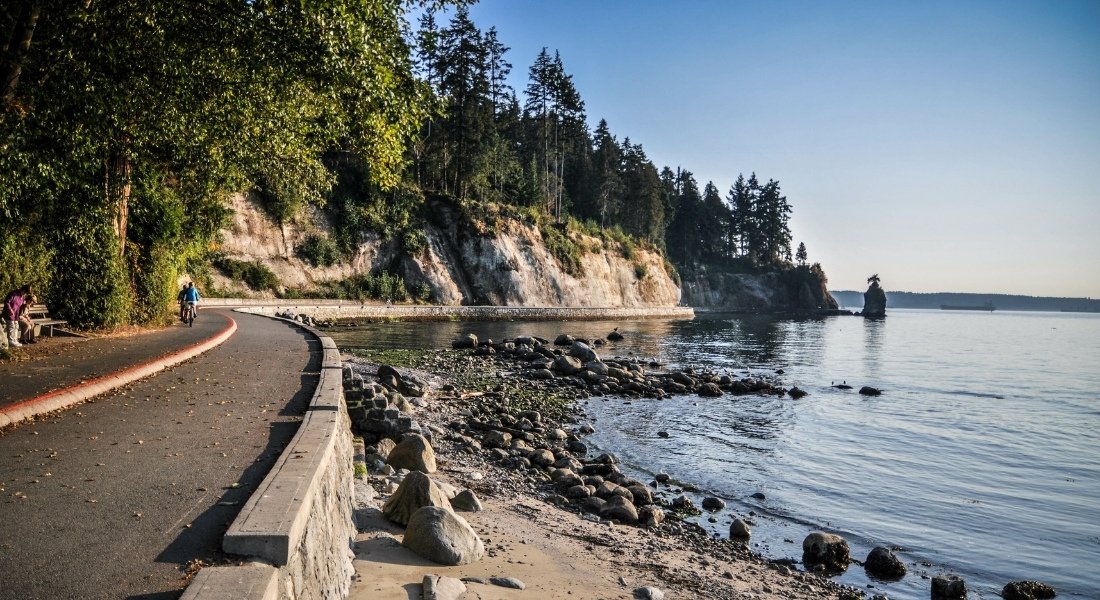 For your first day, you won't want to miss a visit to Gastown , the city's historic district. If you want to do some shopping before heading home, check out Robson Street  or Broadway Avenue .
For your second day, you simply must visit Stanley Park . It's the largest urban park in Canada and is also home to the Vancouver Aquarium .
Rent a bicycle to make the most of your visit.
And that's the end of your Canadian road trip. It's time to board your plane home, your hearts filled with memories of the land of lakes and rivers!
So are you inspired by this RV road trip itinerary? 
Don't hesitate to ask questions or share your suggestions in the comments!