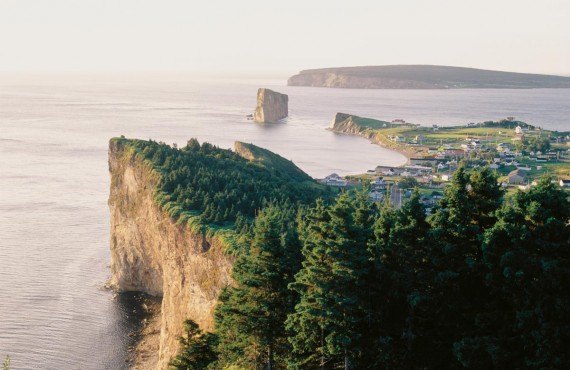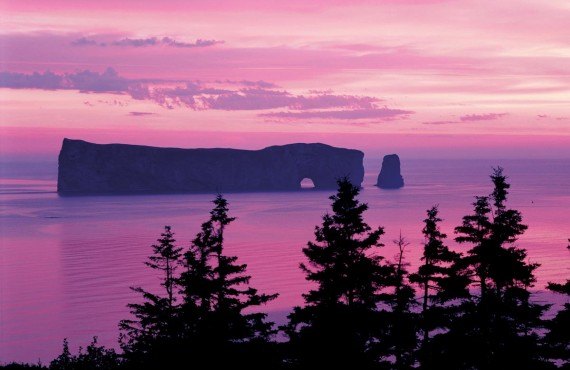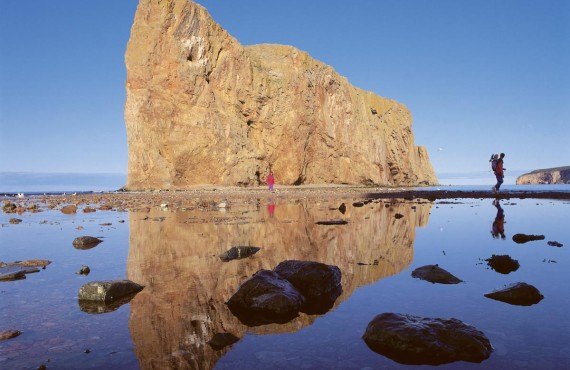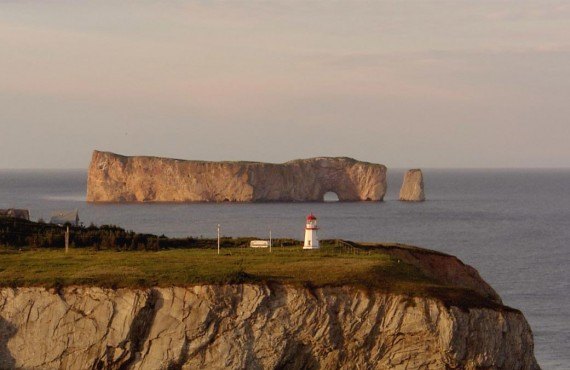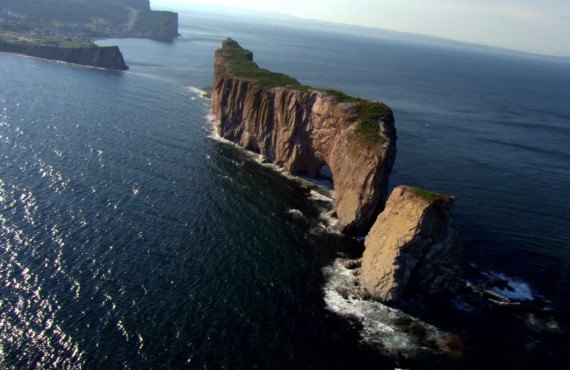 When to visit
Very Favourable
Favourable
Unfavourable
| Jan | Feb | Mar | Apr | May | Jun | Jul | Aug | Sep | Oct | Nov | Dec |
| --- | --- | --- | --- | --- | --- | --- | --- | --- | --- | --- | --- |
| | | | | | | | | | | | |
What to do
Noteworthy
Worth the detour
Must see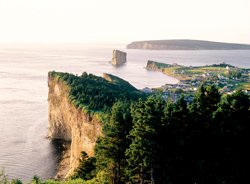 The village of Percé owes its name to the iconic Rocher Percé (which means "pierced rock"), located just offshore. The impressive sheer rock formation is 471m long, 85m high and has a hole measuring 10m in diameter; it is the tourist emblem of Quebec.

Percé is known around the world for its beautiful scenery***. It is a great place to take a stroll, and is known as one of the most beautiful villages in Québec. You are sure to leave with unforgettable memories of your time spent here.
WHAT TO DO
* = Interesting ** = worth a detour *** = worth a trip
ÎLE BONAVENTURE AND ROCHER PERCÉ CRUISE***
This cruise is indisputably one of the
most popular activities
in the area, and for good reason! After enjoying a close-up view of Rocher Percé, you will head for Île-Bonaventure, known for its seals and its bird colonies, including the famous
Northern Gannets
.
During the cruise, you will have the option of
going ashore on Île Bonaventure
to pursue your exploration on foot. You can soak up the captivating island atmosphere along four hiking trails totalling 15 km.
Île Bonaventure offers the spectacular sight of some
250,000 sea birds
including razorbills, seagulls, guillemots, Atlantic Puffins and the largest Northern Gannet colony in North America.
Duration of the boat excursion: Approximately 1 hr 15 min. The Île Bonaventure access fee of $8.50 per person is payable on site.
Bateliers de Percé
162, Route 132 Ouest 418-782-2974
LOBSTER FISHING**
What better way to learn about lobster and lobster fishing than to take to the open water with a lobster fisherman?
You will have the chance to
raise the lobster traps
for a closer look. Since lobster season will be over at the time of your excursion, the lobsters will then be returned to the water.
Your excursion will take you past île Bonaventure with its colony of Northern Gannets and the majestic Rocher Percé.
Duration of the excursion
: Approximately 1.5 hrs. Departure from l'Anse-à-Beaufils (Percé)
Observation Littoral
418 782-6007 or 418 782-4043
---
Activités optionnelles
Where to eat
$ Économique
$$ Budget moyen
$$$ Bonne table
$$$$ Gastronomique
WHERE TO EAT
CAFÉ-BISTRO DE LA VIEILLE USINE
($)
Located in L'Anse-à-Beaufils south of Percé, this dynamic cafe-bistro offers fish, seafood and regional specialties, many prepared with locally-sourced ingredients. Offers live shows throughout the summer.
55, rue à Bonfils, Percé 418-782-2277
LA MAISON DU PÊCHEUR
($$
) AND CAFÉ DE L'ATLANTIQUE
($)
La Maison du Pêcheur is a classic spot for fresh lobster and a wide variety of fish and seafood. They also serve excellent wood-fired pizza.
Café de l'Atlantique is located in the same building as Maison du Pêcheur and offers good grilled meats and its famous "steak & fries". A lively atmosphere in the evenings.
155 Route 132 Ouest, Percé 418-782-5331
LA MAISON MATHILDE
($$)
A little gem of a restaurant that simply must be experienced. Quality lobster, fish, seafood, pasta, meat and poultry dishes are served in a friendly and inviting atmosphere.
77 Route 132, Percé 418-782-2183
HÔTEL LA NORMANDIE RESTAURANT
($$)
A dining room with a view of Rocher Percé and an haute cuisine dining experience await you at the Hôtel La Normandie restaurant.
221 Route 132 Ouest, Percé 418-782-2112
LE CHAMPÊTRE
($$$)
Le Champêtre offers French and regional cuisine with an emphasis on the freshest local ingredients.
367 Route 132 Ouest, Percé 418-782-2131
Où dormir ?
Road trip
Location
Climograph
Very Favourable
Favourable
Unfavourable
Month
Average temperature
min (°C)
Average temperature
max (°C)
Precipitations
(mm)
Overall score
January
-14
-6
94
February
-14
-5
69
March
-8
-1
94
April
-2
4
64
May
3
10
80
June
8
16
81
July
12
19
77
August
12
20
71
September
8
16
73
October
3
10
108
November
-2
5
88
December
-9
-2
86