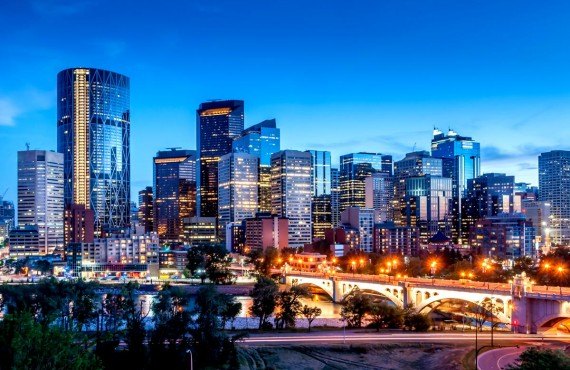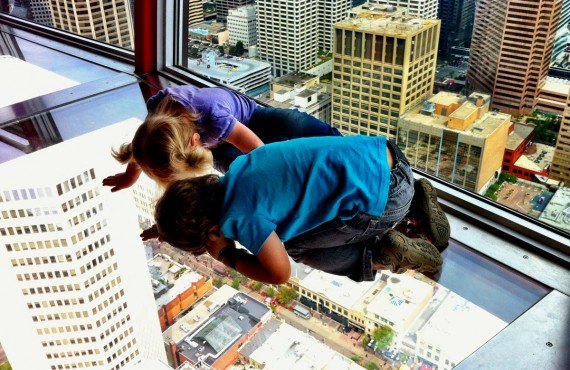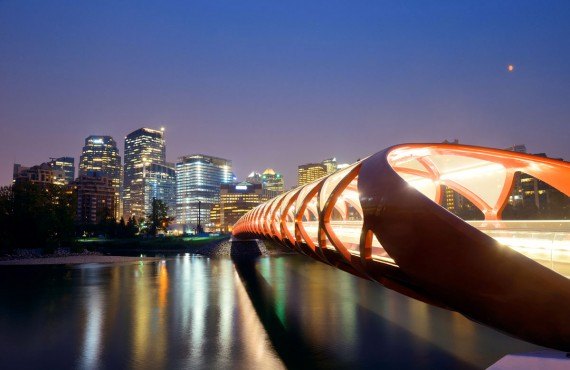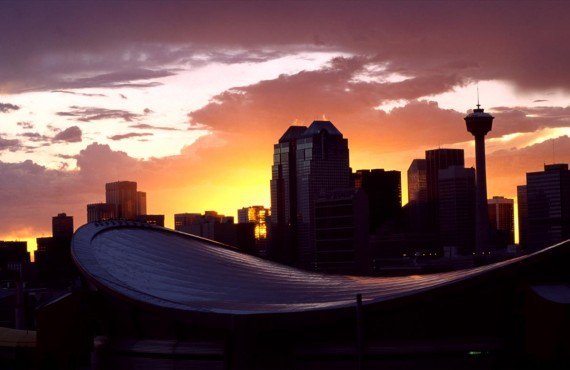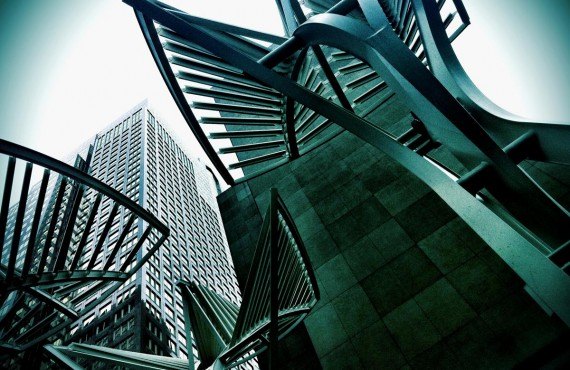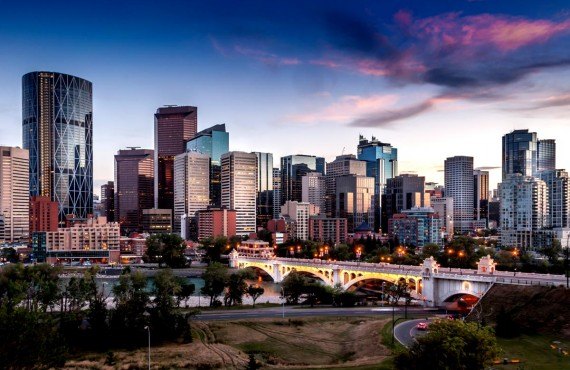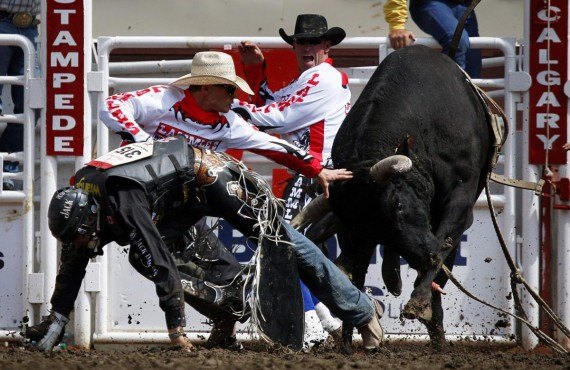 When to visit
Very Favourable
Favourable
Unfavourable
| Jan | Feb | Mar | Apr | May | Jun | Jul | Aug | Sep | Oct | Nov | Dec |
| --- | --- | --- | --- | --- | --- | --- | --- | --- | --- | --- | --- |
| | | | | | | | | | | | |
What to do
Noteworthy
Worth the detour
Must see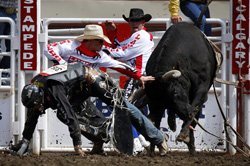 The spirit of the Old West lives on in Calgary, where the cowboy hat is just as fashionable in the boardroom as it is on the ranch.
If you visit Calgary in early July, you will experience the excitement of the Calgary Stampede, the largest rodeo event in Canada.
Calgary Tower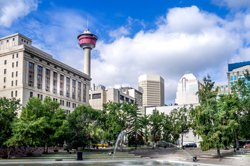 Soaring above the downtown core, the Calgary Tower observation deck offers a spectacular 360° view of the bustling city, the majestic Rocky Mountains, the foothills, and the prairies. Be sure to walk across the glass floor at the top of the tower for a birds-eye view of the city streets below: thrills guaranteed! The tower also boasts two restaurants offering panoramic views. Open daily September-May from 9 a.m. to 9 p.m. and June-August from 9 a.m. to 10 p.m.
101 9th Ave SW, Calgary / 403-266-7171
www.calgarytower.com
---

Glenbow Museum
An art and history museum located right in downtown Calgary, the Glenbow Museum houses a wide variety of world-renowned exhibitions and the largest art collection in Western Canada, in addition to permanent exhibitions that tell the story of Southern Alberta and the West to thousands of visitors each year. Audioguides available. Open Tuesday-Thursday and Saturday from 9 a.m. to 5 p.m., Friday from 9 a.m. to 8 p.m., and Sunday from noon to 5 p.m.
130 9th Ave SE, Calgary / 403-268-4110
www.glenbow.org
---

8th Avenue (Stephen Avenue Walk)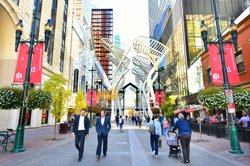 This historic pedestrian mall in Downtown Calgary is the perfect place to go for a stroll, do some shopping or pick up a few souvenirs of your Western Canada adventure. The pedestrian section of 8 Avenue SW is between 1st St SE and 4th St SW.
NEARBY

Royal Tyrrell Museum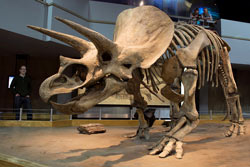 The Royal Tyrrell Museum is Canada's only museum dedicated exclusively to the science of palaeontology. Located in Drumheller, in the heart of the Canadian badlands, about 2 hours from Calgary, the museum houses one of the world's largest displays of dinosaurs. Visitors of all ages will be amazed by the gigantic tyrannosaurus skeletons. Open daily May 15-August 31 from 9 a.m. to 9 p.m., and September 1-30 from 10 a.m. to 5 p.m. In low season, open Tuesday-Sunday from 10 a.m. to 5 p.m.
1500 North Dinosaur Trail, Drumheller / 403-823-7707
www.tyrrellmuseum.com
Where to eat
$ Inexpensive
$$ Moderate
$$$ Upscale
$$$$ Fine dining
UNA Pizza + Wine ($$)
UNA Pizza serves some of the best thin-crust pizza in town, for dining in or takeaway. Also has an extensive wine list. Reservations not accepted so try to get there early, as it is a very popular spot. Open daily from 11:30 a.m. to 1 a.m.
618 17th Ave S.W., Calgary / 403-453-1183
www.unapizzeria.com/calgary
---

Native Tongues Taqueria ($$)
This delicious little taco restaurant serves cuisine rooted in the traditional street and market foods of Mexico. Their crispy fried tortillas are topped with a variety of delicious garnishes to suit all tastes: meat, vegetables, refried beans, fish, and even grilled octopus! Try one of their specialty cocktails! On weekends, you can even enjoy a traditional Mexican breakfast from 11:30 a.m. Open Sunday-Thursday from 11:30 a.m. to 11 p.m. and Friday-Saturday from 11:30 a.m. to 1 a.m.
235 12th Avenue SW, Calgary / 403-263-9444
www.nativetongues.ca
---

NOtaBLE ($$-$$$)
If you would like to slow down and savour a delicious dining experience, pay a visit to this modern restaurant with its emphasis on slow food and its cozy, gourmet casual atmosphere. The menu offers fresh, original bistro cuisine. Favourite dishes include the rotisserie chicken. Open Tuesday-Thursday from 11:30 a.m. to 10 p.m., Friday from 11:30 a.m. to 11 p.m., Saturday from 11 a.m. to 11 p.m. and Sunday from 11 a.m. to 9 p.m.
4611 Bowness Rd NW, Calgary / 403-288-4372
www.notabletherestaurant.ca
---

CHARCUT Roast House ($$$)
Everything here, from the sausages to the breads, is made from scratch using fresh, seasonal ingredients from local producers. CHARCUT's style of food is best described as urban-rustic with Italian and Country French accents. True to its name, the restaurant is the ultimate destination for meat lovers. The menu features a variety of house-made charcuterie and grilled and charcoal-roasted meats as well as fish and vegetable dishes. With a glass of wine in hand and a carnivore's appetite, you will never want to leave downtown Calgary. Open Monday-Tuesday from 11 a.m. to 11 p.m., Wednesday-Friday from 11 a.m. to 1 a.m., Saturday from 5 p.m. to 1 a.m. and Sunday from 5 p.m. to 10 p.m.
101 899 Centre Street SW, Calgary / 403-984-2180
www.charcut.com
---

River Café ($$$$)
Built more than twenty years ago, the River Café is located in the middle of Prince's Island Park, in a remarkable setting on the Bow River near downtown Calgary.
River Café was one of the pioneers of the "farm to table" philosophy, working with small local growers and producers to source the finest Alberta ingredients, and identifying the provenance of the ingredients on the menu. The restaurant serves seasonal Canadian cuisine and is dedicated to the art of preparing everything from scratch, from making their breads and desserts in-house to butchering, curing and smoking their own meats.
Enjoy an exceptional dining experience in an authentic setting, with a panoramic view of the park! Open Monday-Friday from 11 a.m. to 10 p.m. (until 11 p.m. in summer) and Saturday-Sunday from 10 a.m. to 10 p.m. (until 11 p.m. in summer).
25 Prince's Island Park, Calgary / 403-261-7670
www.river-cafe.com
Festivals calendar
Calgary Stampede
Dates: July 7 to 14, 2019
The largest annual event in Canada features an internatonally renowned rodeo competition, a fair, an agricultural exhibition, chuckwagon races, concerts, a First Nations "Indian Village", pancake breakfasts across the city, and much more.
www.calgarystampede.com
---

Calgary Folk Music Festival
Dates: July 25 to 28, 2019
Calgary's most popular music festival. Featuring over 62 artists from around the world, the festival celebrates a variety of musical genres including world music, country, alternative, blues, funk, bluegrass, traditional and more. A great activity to enjoy with friends or family.
www.calgaryfolkfest.com/festival
---

Calgary Reggae Festival
Dates: August 15 to 17, 2019
Reggae fans can move to the rhythm of local and international reggae artists. An event that transcends racial, cultural and musical boundaries, Reggaefest offers something for everyone with a Kids Zone and food and craft stands.
www.reggaefest.ca
Climograph
Very Favourable
Favourable
Unfavourable
Month
Average temperature
min (°C)
Average temperature
max (°C)
Precipitations
(mm)
Overall score
January
-14
-1
12
February
-12
1
12
March
-8
5
18
April
-3
12
30
May
3
18
53
June
7
21
88
July
9
25
64
August
8
24
58
September
4
19
44
October
-1
14
16
November
-8
5
14
December
-13
0
11
Travel reviews
Travel Guide to download
Featured roadtrip
Western conquest